YO SHORTY, IT'S OUR BIRTHDAY, WE'RE GONNA PARTY LIKE IT'S OUR BIRTHDAY...
Back in May 2009 in a small office located in South Wales, Cruise Nation opened its doors with a mission to bring cruising to the masses! Fast forward to 2019 and look how much we've grown....We now operate out of our own offices, employing over 70 staff and our deals are better than ever!
To celebrate our magical 10th birthday, we're having our biggest ever sale. We've slashed the prices on a huge range of cruise holidays and every single day we will have an exclusive discount code valid for 48 hours only that you can use on our deals. All you have to do is sign up and we'll send your code straight to your inbox.
BUT THAT'S NOT ALL...
Just to make this the best birthday celebration ever, we're also running a competition where we will refund the cost of the cruise for one booking each week in May. Just make a booking in the month of May and you could be one of the lucky ones! Terms & Conditions apply.
GET YOUR FREE GIFT HERE!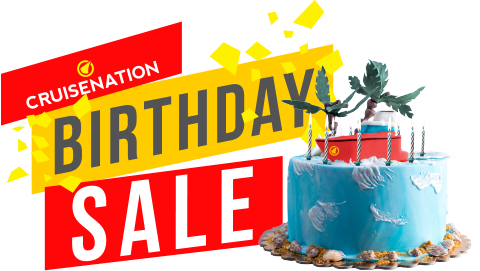 Get your FREE daily voucher code sent straight to your inbox by submitting your details in the form. Each voucher code will be valid against a different holiday and will be valid for 48 hours only so you'll need to be quick to use it!
If you can't find your voucher code in your inbox, please check your pesky spam folder as it might be in there.
When you receive your voucher details of how to use it will be on the e-mail.
Cruise Deals departing in
Price information
Prices shown here are cached, which means the price was the last available known price when last searched. Our price is always based on 2 adults sharing the lowest available room grade, unless otherwise stated. When you view a deal from the list below, we search the latest live price that is available from our hotel, flight, and cruise providers. Prices are subject to change without notice and might be lower (or higher) than currently shown on this page. E&OE.
For the latest and most up to date availability & pricing, please click View Deal or call our team on 0800 408 0757
Departure
What's Included?
Price (From)

Valencia to Barcelona

Valencia

-

Marseille

-

Genoa

-

Barcelona

MSC Divina | 7 nights

29 Oct 19

FREE centrally located handpicked hotel stay
Flights Included

£

329

View Deal

Europe, Mediterranean

MSC Divina

MSC Cruises

Valencia

-

Marseille

-

Genoa

-

Barcelona

South of France to Venice With Free Drinks

Marseille

-

Savona

-

Naples

-

Dubrovnik

-

Venice

Costa Luminosa | 7 nights

20 Mar 20

FREE centrally located handpicked hotel stay
Flights Included
Free Mealtime Drinks Package
Upgrade to Premium Cabin to get FREE All Inclusive

£

399

View Deal

Europe, Mediterranean

Costa Luminosa

Costa Cruises

Marseille

-

Savona

-

Naples

-

Dubrovnik

-

Venice

Canals, Islands & Cities

Venice

-

Corfu

-

Rome (Civitavecchia)

-

Savona

-

Marseille

Costa Luminosa | 8 nights

07 Nov 19

FREE centrally located handpicked hotel stay
Flights Included
Upgrade to Classic Cabin to get FREE Drinks with Meals
Upgrade to Premium Cabin to get FREE All Inclusive

£

399

View Deal

Europe, Mediterranean

Costa Luminosa

Costa Cruises

Venice

-

Corfu

-

Rome (Civitavecchia)

-

Savona

-

Marseille

Pearls of the Adriatic

Venice

-

Kotor

-

Dubrovnik

-

Zadar, Croatia

-

Venice

MSC Opera | 7 nights

31 Oct 19

FREE centrally located handpicked hotel stay
Flights Included
Free Upgrade to Oceanview Cabin

£

399

View Deal

Europe, Mediterranean

MSC Opera

MSC Cruises

Venice

-

Kotor

-

Dubrovnik

-

Zadar, Croatia

-

Venice

All Inclusive Taster & Venice Stay

Savona

-

Naples

-

Dubrovnik

-

Venice

Costa Luminosa | 7 nights

20 Mar 20

FREE centrally located handpicked hotel stay
Flights Included
All Inclusive Cruise!

£

399

View Deal

Europe, Mediterranean

Costa Luminosa

Costa Cruises

Savona

-

Naples

-

Dubrovnik

-

Venice

2nts Barcelona & 7nts Grand Mediterranean

MSC Grandiosa | 9 nights

07 Jan 20

Brand New Ship!

Pre-Cruise Flight Included

Pre-Cruise Hotel 2night(s) Included

£

439

View Deal

Europe, Mediterranean

MSC Grandiosa

MSC Cruises

Barcelona

-

Marseille

-

Genoa

-

Rome (Civitavecchia)

-

Palermo

-

Malta (La Valletta)

-

Barcelona

Venice Stay & 4nt Mediterranean Wonders

Venice

-

Kotor

-

Dubrovnik

-

Zadar, Croatia

-

Venice

MSC Sinfonia | 5 nights

16 Oct 20

FREE centrally located handpicked hotel stay
Flights Included

£

449

View Deal

Mediterranean

MSC Sinfonia

MSC Cruises

Venice

-

Kotor

-

Dubrovnik

-

Zadar, Croatia

-

Venice

Italian & Greek Getaway

Venice

-

Corfu

-

Rome (Civitavecchia)

-

Savona

Costa Luminosa | 7 nights

07 Nov 19

FREE centrally located handpicked hotel stay
Flights Included
Free All Inclusive

£

449

View Deal

Mediterranean

Costa Luminosa

Costa Cruises

Venice

-

Corfu

-

Rome (Civitavecchia)

-

Savona

European Cities No Fly

Southampton

-

Zeebrugge

-

Rotterdam

-

Hamburg

-

Le Havre

-

Southampton

MSC Preziosa | 7 nights

11 Sep 19

£

449

View Deal

Europe

MSC Preziosa

MSC Cruises

Southampton

-

Zeebrugge

-

Rotterdam

-

Hamburg

-

Le Havre

-

Southampton

2nts Rome & 4nts French Getaway

Jewel of the Seas | 6 nights

10 Jun 19

Pre-Cruise Flight Included

Pre-Cruise Hotel 2night(s) Included

Post-Cruise Flight Included

£

459

View Deal

Europe, Mediterranean

Jewel of the Seas

Royal Caribbean International

Rome (Civitavecchia)

-

Ajaccio

-

Marseille

-

Nice (Villefranche)

-

Rome (Civitavecchia)

Genoa to Lisbon in a Balcony

Genoa

-

Malaga

-

Casablanca

-

Lisbon

MSC Preziosa | 8 nights

01 Oct 19

FREE centrally located handpicked hotel stay
Flights Included
Free Upgrade to Balcony Stateroom

£

469

View Deal

Europe, Mediterranean, Iberian Peninsula

MSC Preziosa

MSC Cruises

Genoa

-

Malaga

-

Casablanca

-

Lisbon

Best of Balearics & Italian Culture

Genoa

-

Marseille

-

Palma De Mallorca

-

Ibiza

-

Naples

-

Livorno

-

Genoa

MSC Fantasia | 9 nights

30 May 19

FREE centrally located handpicked hotel stay
Flights Included

£

479

View Deal

Europe, Mediterranean

MSC Fantasia

MSC Cruises

Genoa

-

Marseille

-

Palma De Mallorca

-

Ibiza

-

Naples

-

Livorno

-

Genoa

Cosmopolitan Cities

Genoa

-

Rome (Civitavecchia)

-

Valencia

-

Lisbon

MSC Divina | 8 nights

04 Nov 19

FREE centrally located handpicked hotel stay
Flights Included

£

479

View Deal

Europe, Mediterranean, Iberian Peninsula

MSC Divina

MSC Cruises

Genoa

-

Rome (Civitavecchia)

-

Valencia

-

Lisbon

1nts Venice & 7nts Eastern Med Delights

MSC Lirica | 8 nights

19 Sep 19

Pre-Cruise Flight Included

Pre-Cruise Hotel 1night(s) Included

£

489

View Deal

Europe, Mediterranean

MSC Lirica

MSC Cruises

Venice

-

Bari

-

Santorini Island

-

Chania, Crete

-

Cephalonia

-

Split

-

Venice

Med Magic & Salou Stay

Barcelona

-

Palma De Mallorca

-

Marseille

-

Savona

-

Tarragona

Costa Magica | 9 nights

15 Sep 19

FREE centrally located handpicked hotel stay
Flights Included
Upgrade to Premium Cabin to get FREE All Inclusive

£

499

View Deal

Europe, Mediterranean

Costa Magica

Costa Cruises

Barcelona

-

Palma De Mallorca

-

Marseille

-

Savona

-

Tarragona

1nt Venice Stay & 7nt Montenegro & Greek Isles

Venice

-

Kotor

-

Mykonos

-

Santorini Island

-

Cephalonia

-

Bari

-

Venice

MSC Opera | 8 nights

31 Oct 20

FREE centrally located handpicked hotel stay
Flights Included

£

549

View Deal

Mediterranean

MSC Opera

MSC Cruises

Venice

-

Kotor

-

Mykonos

-

Santorini Island

-

Cephalonia

-

Bari

-

Venice

2nts Valencia & 7nts Divine Western Mediterranean

MSC Divina | 9 nights

15 Oct 19

Pre-Cruise Flight Included

Pre-Cruise Hotel 2night(s) Included

£

559

View Deal

Europe, Mediterranean

MSC Divina

MSC Cruises

Valencia

-

Marseille

-

Genoa

-

Rome (Civitavecchia)

-

Palermo

-

Cagliari

-

Palma De Mallorca

-

Valencia

Amsterdam, Belgium and Guernsey

Southampton

-

Amsterdam

-

Brugge

-

St. Peter Port, Guernsey

-

Southampton

Ventura | 7 nights

14 Jul 19

£

562

View Deal

Europe

Ventura

P&O Cruises

Southampton

-

Amsterdam

-

Brugge

-

St. Peter Port, Guernsey

-

Southampton

7nts Mediterranean Jewels & 2nts Barcelona

Costa Diadema | 9 nights

08 Jul 19

Pre-Cruise Flight Included

Post-Cruise Hotel 2night(s) Included

£

579

View Deal

Europe, Mediterranean

Costa Diadema

Costa Cruises

Barcelona

-

Palma De Mallorca

-

Cagliari

-

Rome (Civitavecchia)

-

Savona

-

Marseille

-

Barcelona

2nts Rome & 7nts Spirit of the Mediterranean

Norwegian Spirit | 9 nights

13 Dec 19

Pre-Cruise Flight Included

Pre-Cruise Hotel 2night(s) Included

Post-Cruise Flight Included

£

579

View Deal

Mediterranean

Norwegian Spirit

Norwegian Cruise Line

Rome (Civitavecchia)

-

Dubrovnik

-

Kotor

-

Messina

-

Naples

-

Livorno

-

Rome (Civitavecchia)

Norwegian Fjords

Southampton

-

Stavanger, Norway

-

Olden

-

Flam

-

Aurland

-

Sognefjord

-

Bergen, Norway

-

Southampton

Ventura | 7 nights

07 Jul 19

£

582

View Deal

Scandinavia

Ventura

P&O Cruises

Southampton

-

Stavanger, Norway

-

Olden

-

Flam

-

Aurland

-

Sognefjord

-

Bergen, Norway

-

Southampton

2nts Barcelona & 7nts Western Med Jewels

Costa Diadema | 9 nights

06 Jul 19

Pre-Cruise Flight Included

Pre-Cruise Hotel 2night(s) Included

Post-Cruise Flight Included

£

619

View Deal

Europe, Mediterranean

Costa Diadema

Costa Cruises

Barcelona

-

Palma De Mallorca

-

Cagliari

-

Rome (Civitavecchia)

-

Savona

-

Marseille

-

Barcelona

2nts Nice & 7nts Med Ocean Breeze

Costa Fascinosa | 9 nights

12 Jul 19

Pre-Cruise Flight Included

Pre-Cruise Hotel 2night(s) Included

Post-Cruise Flight Included

£

619

View Deal

Europe, Mediterranean

Costa Fascinosa

Costa Cruises

Savona

-

Naples

-

Palermo

-

Ibiza

-

Palma De Mallorca

-

Barcelona

-

Savona

2nts Venice & 7nts Eastern Med Delights

MSC Lirica | 9 nights

18 Sep 19

Pre-Cruise Flight Included

Pre-Cruise Hotel 2night(s) Included

£

619

View Deal

Europe, Mediterranean

MSC Lirica

MSC Cruises

Venice

-

Bari

-

Santorini Island

-

Chania, Crete

-

Cephalonia

-

Split

-

Venice

2nt Marseille & 7nt Wonderful Mediterranean

MSC Divina | 9 nights

25 Sep 19

Pre-Cruise Flight Included

Pre-Cruise Hotel 2night(s) Included

Post-Cruise Flight Included

£

619

View Deal

Europe, Mediterranean

MSC Divina

MSC Cruises

Marseille

-

Genoa

-

Rome (Civitavecchia)

-

Palermo

-

Cagliari

-

Palma De Mallorca

-

Valencia

-

Marseille

4nts Pisa & 7nts Mediterranean Treasures

Costa Fascinosa | 11 nights

10 Jul 19

Pre-Cruise Flight Included

Pre-Cruise Hotel 4night(s) Included

Post-Cruise Flight Included

£

629

View Deal

Europe, Mediterranean

Costa Fascinosa

Costa Cruises

Savona

-

Naples

-

Palermo

-

Ibiza

-

Palma De Mallorca

-

Barcelona

-

Savona

Norwegian Fjords

Southampton

-

Stavanger, Norway

-

Flam

-

Aurland

-

Sognefjord

-

Olden

-

Bergen, Norway

-

Southampton

Azura | 7 nights

22 Jun 19

£

630

View Deal

Scandinavia

Azura

P&O Cruises

Southampton

-

Stavanger, Norway

-

Flam

-

Aurland

-

Sognefjord

-

Olden

-

Bergen, Norway

-

Southampton

4nts Costa Brava & 7nts Mediterranean Jewels

Costa Diadema | 11 nights

04 Jul 19

Pre-Cruise Flight Included

Pre-Cruise Hotel 4night(s) Included

£

639

View Deal

Europe, Mediterranean

Costa Diadema

Costa Cruises

Barcelona

-

Palma De Mallorca

-

Cagliari

-

Rome (Civitavecchia)

-

Savona

-

Marseille

-

Barcelona

2nts Barcelona & 7nts Western Med Jewels

Costa Diadema | 9 nights

20 Jul 19

Pre-Cruise Flight Included

Pre-Cruise Hotel 2night(s) Included

Post-Cruise Flight Included

£

639

View Deal

Europe, Mediterranean

Costa Diadema

Costa Cruises

Barcelona

-

Palma De Mallorca

-

Cagliari

-

Rome (Civitavecchia)

-

Savona

-

Marseille

-

Barcelona

1nt Venice Stay & 7nt Montenegro & Greek Isles

Venice

-

Kotor

-

Mykonos

-

Santorini Island

-

Cephalonia

-

Bari

-

Venice

MSC Opera | 8 nights

25 Apr 20

FREE centrally located handpicked hotel stay
Flights Included

£

649

View Deal

Mediterranean

MSC Opera

MSC Cruises

Venice

-

Kotor

-

Mykonos

-

Santorini Island

-

Cephalonia

-

Bari

-

Venice

8nt Italy, Croatia, Greek Isles

Venice

-

Split

-

Santorini Island

-

Sarande

-

Dubrovnik

-

Italy (Ancona)

-

Venice

MSC Sinfonia | 8 nights

03 Apr 20

FREE centrally located handpicked hotel stay
Flights Included

£

649

View Deal

Europe, Mediterranean

MSC Sinfonia

MSC Cruises

Venice

-

Split

-

Santorini Island

-

Sarande

-

Dubrovnik

-

Italy (Ancona)

-

Venice

7nts Mediterranean Jewels & 2nts Barcelona

Costa Diadema | 9 nights

22 Jul 19

Pre-Cruise Flight Included

Post-Cruise Hotel 2night(s) Included

£

649

View Deal

Europe, Mediterranean

Costa Diadema

Costa Cruises

Barcelona

-

Palma De Mallorca

-

Cagliari

-

Rome (Civitavecchia)

-

Savona

-

Marseille

-

Barcelona

1nts Venice & 7nts Eastern Med Delights

MSC Lirica | 8 nights

29 Aug 19

Pre-Cruise Flight Included

Pre-Cruise Hotel 1night(s) Included

£

669

View Deal

Europe, Mediterranean

MSC Lirica

MSC Cruises

Venice

-

Bari

-

Santorini Island

-

Chania, Crete

-

Cephalonia

-

Split

-

Venice

4nts Salou & 7nts Mediterranean Jewels

Costa Diadema | 11 nights

04 Jul 19

Pre-Cruise Flight Included

Pre-Cruise Hotel 4night(s) Included

Post-Cruise Flight Included

£

679

View Deal

Europe, Mediterranean

Costa Diadema

Costa Cruises

Barcelona

-

Palma De Mallorca

-

Cagliari

-

Rome (Civitavecchia)

-

Savona

-

Marseille

-

Barcelona

4nts Costa Brava & 7nts Mediterranean Jewels

Costa Diadema | 11 nights

18 Jul 19

Pre-Cruise Flight Included

Pre-Cruise Hotel 4night(s) Included

£

679

View Deal

Europe, Mediterranean

Costa Diadema

Costa Cruises

Barcelona

-

Palma De Mallorca

-

Cagliari

-

Rome (Civitavecchia)

-

Savona

-

Marseille

-

Barcelona

4nts Verona & 7nts Eastern Med Delights

MSC Lirica | 11 nights

16 Sep 19

Pre-Cruise Flight Included

Pre-Cruise Hotel 4night(s) Included

Post-Cruise Flight Included

£

689

View Deal

Europe, Mediterranean

MSC Lirica

MSC Cruises

Venice

-

Bari

-

Santorini Island

-

Chania, Crete

-

Cephalonia

-

Split

-

Venice

2nts Venice & 7nts Journey to Spain

Rhapsody of the Seas | 9 nights

17 Oct 19

Pre-Cruise Flight Included

Pre-Cruise Hotel 2night(s) Included

Post-Cruise Flight Included

£

689

View Deal

Europe, Mediterranean

Rhapsody of the Seas

Royal Caribbean International

Venice

-

Zadar, Croatia

-

Kotor

-

Rome (Civitavecchia)

-

La Spezia

-

Marseille

-

Barcelona

8nt Italy, Croatia, Greek Isles

Venice

-

Split

-

Santorini Island

-

Sarande

-

Dubrovnik

-

Italy (Ancona)

-

Venice

MSC Sinfonia | 8 nights

25 Sep 20

FREE centrally located handpicked hotel stay
Flights Included

£

699

View Deal

Europe, Mediterranean

MSC Sinfonia

MSC Cruises

Venice

-

Split

-

Santorini Island

-

Sarande

-

Dubrovnik

-

Italy (Ancona)

-

Venice

Stockholm & Baltic Magic

Stockholm, Sweden

-

Helsinki, Finland

-

St Petersburg, Russia

-

Tallinn, Estonia

-

Stockholm, Sweden

Costa Magica | 8 nights

05 Jul 19

FREE centrally located handpicked hotel stay
Flights Included
Upgrade to Classic Cabin to get FREE Drinks with Meals
Upgrade to Premium Cabin to get FREE All Inclusive

£

699

View Deal

Europe, Scandinavia, Baltic, Russia

Costa Magica

Costa Cruises

Stockholm, Sweden

-

Helsinki, Finland

-

St Petersburg, Russia

-

Tallinn, Estonia

-

Stockholm, Sweden

8nt Italy, Croatia & Greek Isles

Venice

-

Split

-

Santorini Island

-

Mykonos

-

Dubrovnik

-

Italy (Ancona)

-

Venice

MSC Sinfonia | 8 nights

08 May 20

FREE centrally located handpicked hotel stay
Flights Included

£

699

View Deal

Europe, Mediterranean

MSC Sinfonia

MSC Cruises

Venice

-

Split

-

Santorini Island

-

Mykonos

-

Dubrovnik

-

Italy (Ancona)

-

Venice

1nts Venice & 7nts Eastern Med Delights

MSC Lirica | 8 nights

01 Aug 19

Pre-Cruise Flight Included

Pre-Cruise Hotel 1night(s) Included

£

699

View Deal

Europe, Mediterranean

MSC Lirica

MSC Cruises

Venice

-

Bari

-

Santorini Island

-

Chania, Crete

-

Cephalonia

-

Split

-

Venice

7nts Wonders of Western Med & 2nts Barcelona

Oasis of the Seas | 9 nights

08 Sep 19

Pre-Cruise Flight Included

Post-Cruise Hotel 2night(s) Included

£

699

View Deal

Europe, Mediterranean

Oasis of the Seas

Royal Caribbean International

Barcelona

-

Palma De Mallorca

-

Marseille

-

La Spezia

-

Rome (Civitavecchia)

-

Capri

-

Barcelona

1nt Venice Stay & 7nt Montenegro & Greek Isles

Venice

-

Kotor

-

Mykonos

-

Santorini Island

-

Cephalonia

-

Bari

-

Venice

MSC Opera | 8 nights

16 May 20

FREE centrally located handpicked hotel stay
Flights Included

£

719

View Deal

Mediterranean

MSC Opera

MSC Cruises

Venice

-

Kotor

-

Mykonos

-

Santorini Island

-

Cephalonia

-

Bari

-

Venice

1nt Venice Stay & 7nt Montenegro & Greek Isles

Venice

-

Kotor

-

Mykonos

-

Santorini Island

-

Cephalonia

-

Bari

-

Venice

MSC Opera | 8 nights

06 Jun 20

FREE centrally located handpicked hotel stay
Flights Included

£

719

View Deal

Mediterranean

MSC Opera

MSC Cruises

Venice

-

Kotor

-

Mykonos

-

Santorini Island

-

Cephalonia

-

Bari

-

Venice

2nts Venice & 7nts Eastern Med Delights

MSC Lirica | 9 nights

28 Aug 19

Pre-Cruise Flight Included

Pre-Cruise Hotel 2night(s) Included

£

719

View Deal

Europe, Mediterranean

MSC Lirica

MSC Cruises

Venice

-

Bari

-

Santorini Island

-

Chania, Crete

-

Cephalonia

-

Split

-

Venice

1nt Venice Stay & 7nt Montenegro & Greek Isles

Venice

-

Kotor

-

Mykonos

-

Santorini Island

-

Cephalonia

-

Bari

-

Venice

MSC Opera | 8 nights

19 Sep 20

FREE centrally located handpicked hotel stay
Flights Included

£

729

View Deal

Mediterranean

MSC Opera

MSC Cruises

Venice

-

Kotor

-

Mykonos

-

Santorini Island

-

Cephalonia

-

Bari

-

Venice

8nt Italy, Croatia & Greek Isles

Venice

-

Split

-

Santorini Island

-

Mykonos

-

Dubrovnik

-

Italy (Ancona)

-

Venice

MSC Sinfonia | 8 nights

05 Jun 20

FREE centrally located handpicked hotel stay
Flights Included

£

749

View Deal

Europe, Mediterranean

MSC Sinfonia

MSC Cruises

Venice

-

Split

-

Santorini Island

-

Mykonos

-

Dubrovnik

-

Italy (Ancona)

-

Venice

4nts Salou & 7nts Mediterranean Jewels

Costa Diadema | 11 nights

18 Jul 19

Pre-Cruise Flight Included

Pre-Cruise Hotel 4night(s) Included

Post-Cruise Flight Included

£

749

View Deal

Europe, Mediterranean

Costa Diadema

Costa Cruises

Barcelona

-

Palma De Mallorca

-

Cagliari

-

Rome (Civitavecchia)

-

Savona

-

Marseille

-

Barcelona

4nts Lake Garda & 7nts Eastern Med Delights

MSC Lirica | 11 nights

16 Sep 19

Pre-Cruise Flight Included

Pre-Cruise Hotel 4night(s) Included

Post-Cruise Flight Included

£

749

View Deal

Europe, Mediterranean

MSC Lirica

MSC Cruises

Venice

-

Bari

-

Santorini Island

-

Chania, Crete

-

Cephalonia

-

Split

-

Venice

2nts Venice & 7nts Eastern Med Delights

MSC Lirica | 9 nights

31 Jul 19

Pre-Cruise Flight Included

Pre-Cruise Hotel 2night(s) Included

£

759

View Deal

Europe, Mediterranean

MSC Lirica

MSC Cruises

Venice

-

Bari

-

Santorini Island

-

Chania, Crete

-

Cephalonia

-

Split

-

Venice

7nts Wonders of Western Med & 2nts Barcelona

Oasis of the Seas | 9 nights

01 Sep 19

Pre-Cruise Flight Included

Post-Cruise Hotel 2night(s) Included

£

759

View Deal

Europe, Mediterranean

Oasis of the Seas

Royal Caribbean International

Barcelona

-

Palma De Mallorca

-

Marseille

-

La Spezia

-

Rome (Civitavecchia)

-

Capri

-

Barcelona

8nt Italy, Croatia & Greek Isles

Venice

-

Split

-

Santorini Island

-

Mykonos

-

Dubrovnik

-

Italy (Ancona)

-

Venice

MSC Sinfonia | 8 nights

03 Jul 20

FREE centrally located handpicked hotel stay
Flights Included

£

779

View Deal

Europe, Mediterranean

MSC Sinfonia

MSC Cruises

Venice

-

Split

-

Santorini Island

-

Mykonos

-

Dubrovnik

-

Italy (Ancona)

-

Venice

7nts Wonders of Western Med & 2nts Barcelona

Oasis of the Seas | 9 nights

15 Sep 19

Pre-Cruise Flight Included

Post-Cruise Hotel 2night(s) Included

£

779

View Deal

Europe, Mediterranean

Oasis of the Seas

Royal Caribbean International

Barcelona

-

Palma De Mallorca

-

Marseille

-

La Spezia

-

Rome (Civitavecchia)

-

Capri

-

Barcelona

Icelandic Gems & Scottish Delights

Newcastle, UK

-

Dundee, Scotland

-

Thorshaven

-

Eskifjordur

-

Akureyri

-

Isafjordur

-

Reykjavik

-

Lerwick, Scotland

-

Invergordon

-

Newcastle, UK

Magellan | 13 nights

08 Jun 19

£

799

View Deal

United Kingdom, Polar Regions

Magellan

Cruise and Maritime Voyages

Newcastle, UK

-

Dundee, Scotland

-

Thorshaven

-

Eskifjordur

-

Akureyri

-

Isafjordur

-

Reykjavik

-

Lerwick, Scotland

-

Invergordon

-

Newcastle, UK

1nt Venice Stay & 7nt Montenegro & Greek Isles

Venice

-

Kotor

-

Mykonos

-

Santorini Island

-

Cephalonia

-

Bari

-

Venice

MSC Opera | 8 nights

04 Jul 20

FREE centrally located handpicked hotel stay
Flights Included

£

799

View Deal

Mediterranean

MSC Opera

MSC Cruises

Venice

-

Kotor

-

Mykonos

-

Santorini Island

-

Cephalonia

-

Bari

-

Venice

Rome, Nice & Spanish Favourites

Rome (Civitavecchia)

-

Nice (Villefranche)

-

Barcelona

-

Valencia

-

Cartagena, Spain

-

Rome (Civitavecchia)

Explorer of the Seas | 8 nights

18 Jul 20

FREE centrally located handpicked hotel stay
Flights Included

£

799

View Deal

Europe, Mediterranean

Explorer of the Seas

Royal Caribbean International

Rome (Civitavecchia)

-

Nice (Villefranche)

-

Barcelona

-

Valencia

-

Cartagena, Spain

-

Rome (Civitavecchia)

4nts Lake Como & 7nts Eastern Med Delights

MSC Lirica | 11 nights

16 Sep 19

Pre-Cruise Flight Included

Pre-Cruise Hotel 4night(s) Included

Post-Cruise Flight Included

£

799

View Deal

Europe, Mediterranean

MSC Lirica

MSC Cruises

Venice

-

Bari

-

Santorini Island

-

Chania, Crete

-

Cephalonia

-

Split

-

Venice

2nts Barcelona & 7nts Western Med Oasis

Oasis of the Seas | 9 nights

30 Aug 19

Pre-Cruise Flight Included

Pre-Cruise Hotel 2night(s) Included

Post-Cruise Flight Included

£

809

View Deal

Europe, Mediterranean

Oasis of the Seas

Royal Caribbean International

Barcelona

-

Palma De Mallorca

-

Marseille

-

La Spezia

-

Rome (Civitavecchia)

-

Capri

-

Barcelona

4nt Costa Brava & 7nt Western Med Haven

Oasis of the Seas | 11 nights

28 Aug 19

Pre-Cruise Flight Included

Pre-Cruise Hotel 4night(s) Included

£

829

View Deal

Europe, Mediterranean

Oasis of the Seas

Royal Caribbean International

Barcelona

-

Palma De Mallorca

-

Marseille

-

La Spezia

-

Rome (Civitavecchia)

-

Capri

-

Barcelona

4nt Salou & 7nt Western Mediterranean Journey

Oasis of the Seas | 11 nights

04 Sep 19

Pre-Cruise Flight Included

Pre-Cruise Hotel 4night(s) Included

Post-Cruise Flight Included

£

829

View Deal

Europe, Mediterranean

Oasis of the Seas

Royal Caribbean International

Barcelona

-

Palma De Mallorca

-

Marseille

-

La Spezia

-

Rome (Civitavecchia)

-

Capri

-

Barcelona

2nts Barcelona & 7nts Western Med Oasis

Oasis of the Seas | 9 nights

13 Sep 19

Pre-Cruise Flight Included

Pre-Cruise Hotel 2night(s) Included

Post-Cruise Flight Included

£

829

View Deal

Europe, Mediterranean

Oasis of the Seas

Royal Caribbean International

Barcelona

-

Palma De Mallorca

-

Marseille

-

La Spezia

-

Rome (Civitavecchia)

-

Capri

-

Barcelona

2nts Barcelona & 7nts Western Med Oasis

Oasis of the Seas | 9 nights

06 Sep 19

Pre-Cruise Flight Included

Pre-Cruise Hotel 2night(s) Included

Post-Cruise Flight Included

£

839

View Deal

Europe, Mediterranean

Oasis of the Seas

Royal Caribbean International

Barcelona

-

Palma De Mallorca

-

Marseille

-

La Spezia

-

Rome (Civitavecchia)

-

Capri

-

Barcelona

Balcony in The Med & Majorca Stay

Palma De Mallorca

-

Ibiza

-

Naples

-

Livorno

-

Genoa

-

Marseille

-

Palma De Mallorca

MSC Fantasia | 10 nights

10 Jun 19

FREE centrally located handpicked hotel stay
Flights Included
Free Balcony Upgrade

£

849

View Deal

Europe, Mediterranean

MSC Fantasia

MSC Cruises

Palma De Mallorca

-

Ibiza

-

Naples

-

Livorno

-

Genoa

-

Marseille

-

Palma De Mallorca

Caribbean Explorer

Southampton

-

Castries

-

Bridgetown

-

Roseau

-

St John's, Antigua

-

Miami

Explorer of the Seas | 15 nights

05 Nov 19

FREE centrally located handpicked hotel stay
Flights Included

£

849

View Deal

Caribbean, Transatlantic

Explorer of the Seas

Royal Caribbean International

Southampton

-

Castries

-

Bridgetown

-

Roseau

-

St John's, Antigua

-

Miami

4nt Salou & 7nt Western Mediterranean Journey

Oasis of the Seas | 11 nights

11 Sep 19

Pre-Cruise Flight Included

Pre-Cruise Hotel 4night(s) Included

Post-Cruise Flight Included

£

849

View Deal

Europe, Mediterranean

Oasis of the Seas

Royal Caribbean International

Barcelona

-

Palma De Mallorca

-

Marseille

-

La Spezia

-

Rome (Civitavecchia)

-

Capri

-

Barcelona

4nt Costa Brava & 7nt Western Med Haven

Oasis of the Seas | 11 nights

11 Sep 19

Pre-Cruise Flight Included

Pre-Cruise Hotel 4night(s) Included

£

859

View Deal

Europe, Mediterranean

Oasis of the Seas

Royal Caribbean International

Barcelona

-

Palma De Mallorca

-

Marseille

-

La Spezia

-

Rome (Civitavecchia)

-

Capri

-

Barcelona

4nts Lake Como & 7nts Eastern Med Delights

MSC Lirica | 11 nights

26 Aug 19

Pre-Cruise Flight Included

Pre-Cruise Hotel 4night(s) Included

Post-Cruise Flight Included

£

869

View Deal

Europe, Mediterranean

MSC Lirica

MSC Cruises

Venice

-

Bari

-

Santorini Island

-

Chania, Crete

-

Cephalonia

-

Split

-

Venice

2nts Barcelona & 9nts French Riviera

Celebrity Constellation | 11 nights

28 Oct 19

Pre-Cruise Flight Included

Pre-Cruise Hotel 2night(s) Included

Post-Cruise Flight Included

£

869

View Deal

Europe, Mediterranean

Celebrity Constellation

Celebrity Cruises

Barcelona

-

Monte Carlo

-

Nice (Villefranche)

-

Rome (Civitavecchia)

-

Messina

-

Corfu

-

Kotor

-

Zadar, Croatia

-

Venice

4nts Lake Garda & 7nts Eastern Med Delights

MSC Lirica | 11 nights

29 Jul 19

Pre-Cruise Flight Included

Pre-Cruise Hotel 4night(s) Included

Post-Cruise Flight Included

£

879

View Deal

Europe, Mediterranean

MSC Lirica

MSC Cruises

Venice

-

Bari

-

Santorini Island

-

Chania, Crete

-

Cephalonia

-

Split

-

Venice

4nts Lake Garda & 7nts Eastern Med Delights

MSC Lirica | 11 nights

26 Aug 19

Pre-Cruise Flight Included

Pre-Cruise Hotel 4night(s) Included

Post-Cruise Flight Included

£

879

View Deal

Europe, Mediterranean

MSC Lirica

MSC Cruises

Venice

-

Bari

-

Santorini Island

-

Chania, Crete

-

Cephalonia

-

Split

-

Venice

4nts Verona & 7nts Eastern Med Delights

MSC Lirica | 11 nights

26 Aug 19

Pre-Cruise Flight Included

Pre-Cruise Hotel 4night(s) Included

Post-Cruise Flight Included

£

879

View Deal

Europe, Mediterranean

MSC Lirica

MSC Cruises

Venice

-

Bari

-

Santorini Island

-

Chania, Crete

-

Cephalonia

-

Split

-

Venice

Singapore & Far East Fortunes

Singapore Harbour Front

-

Ko Samui

-

Laem Chabang

-

Sihanoukville

-

Singapore Harbour Front

Costa Fortuna | 10 nights

11 Jan 20

FREE centrally located handpicked hotel stay
Flights Included
Upgrade to Classic Cabin to get FREE Drinks with Meals
Upgrade to Premium Cabin to get FREE All Inclusive

£

899

View Deal

Asia & Indian Ocean

Costa Fortuna

Costa Cruises

Singapore Harbour Front

-

Ko Samui

-

Laem Chabang

-

Sihanoukville

-

Singapore Harbour Front

Best of Japan, Korea & China

Yokohama

-

Nagasaki

-

Busan, South Korea

-

Tianjin

MSC Splendida | 11 nights

15 Oct 19

FREE centrally located handpicked hotel stay
Flights Included
Free Upgrade to Balcony Stateroom

£

899

View Deal

Asia & Indian Ocean

MSC Splendida

MSC Cruises

Yokohama

-

Nagasaki

-

Busan, South Korea

-

Tianjin

Italian Cities & Greek Gems

Rome (Civitavecchia)

-

Messina

-

Mykonos

-

Santorini Island

-

Athens (Piraeus)

-

Capri

-

Rome (Civitavecchia)

Explorer of the Seas | 10 nights

10 Jul 20

FREE centrally located handpicked hotel stay
Flights Included

£

899

View Deal

Europe, Mediterranean

Explorer of the Seas

Royal Caribbean International

Rome (Civitavecchia)

-

Messina

-

Mykonos

-

Santorini Island

-

Athens (Piraeus)

-

Capri

-

Rome (Civitavecchia)

4nt Salou & 7nt Western Mediterranean Journey

Oasis of the Seas | 11 nights

28 Aug 19

Pre-Cruise Flight Included

Pre-Cruise Hotel 4night(s) Included

Post-Cruise Flight Included

£

899

View Deal

Europe, Mediterranean

Oasis of the Seas

Royal Caribbean International

Barcelona

-

Palma De Mallorca

-

Marseille

-

La Spezia

-

Rome (Civitavecchia)

-

Capri

-

Barcelona

4nts Verona & 7nts Eastern Med Delights

MSC Lirica | 11 nights

29 Jul 19

Pre-Cruise Flight Included

Pre-Cruise Hotel 4night(s) Included

Post-Cruise Flight Included

£

919

View Deal

Europe, Mediterranean

MSC Lirica

MSC Cruises

Venice

-

Bari

-

Santorini Island

-

Chania, Crete

-

Cephalonia

-

Split

-

Venice

Flavours of the Far East

Singapore

-

Ko Samui

-

Laem Chabang

-

Phu My

-

Singapore

Sapphire Princess | 11 nights

19 Feb 20

FREE centrally located handpicked hotel stay
Flights Included

£

949

View Deal

Asia & Indian Ocean

Sapphire Princess

Princess Cruises

Singapore

-

Ko Samui

-

Laem Chabang

-

Phu My

-

Singapore

Tokyo 2nts Stay & 8nts Roundtrip Tokyo

Tokyo (Yokohama)

-

Okinawa

-

Ishigaki Island

-

Taipei

-

Tokyo (Yokohama)

Diamond Princess | 11 nights

26 Nov 19

FREE centrally located handpicked hotel stay
Flights Included

£

949

View Deal

Asia & Indian Ocean

Diamond Princess

Princess Cruises

Tokyo (Yokohama)

-

Okinawa

-

Ishigaki Island

-

Taipei

-

Tokyo (Yokohama)

Miami & Caribbean Explorer

Miami

-

Labadee

-

Kralendijk,Bonaire

-

Oranjestad, Aruba

-

Willemstad, Curacao

-

Miami

Explorer of the Seas | 11 nights

27 Nov 19

FREE centrally located handpicked hotel stay
Flights Included

£

949

View Deal

Caribbean

Explorer of the Seas

Royal Caribbean International

Miami

-

Labadee

-

Kralendijk,Bonaire

-

Oranjestad, Aruba

-

Willemstad, Curacao

-

Miami

Caribbean Explorer

Southampton

-

Castries

-

Bridgetown

-

Roseau

-

St John's, Antigua

-

Miami

Explorer of the Seas | 17 nights

05 Nov 19

FREE centrally located handpicked hotel stay
Flights Included

£

949

View Deal

Caribbean, Transatlantic

Explorer of the Seas

Royal Caribbean International

Southampton

-

Castries

-

Bridgetown

-

Roseau

-

St John's, Antigua

-

Miami

7nts Wonders of Western Med & 2nts Barcelona

Oasis of the Seas | 9 nights

21 Jul 19

Pre-Cruise Flight Included

Post-Cruise Hotel 2night(s) Included

£

949

View Deal

Europe, Mediterranean

Oasis of the Seas

Royal Caribbean International

Barcelona

-

Palma De Mallorca

-

Marseille

-

La Spezia

-

Rome (Civitavecchia)

-

Capri

-

Barcelona

7nts Wonders of Western Med & 2nts Barcelona

Oasis of the Seas | 9 nights

21 Jul 19

Pre-Cruise Flight Included

Post-Cruise Hotel 2night(s) Included

£

949

View Deal

Europe, Mediterranean

Oasis of the Seas

Royal Caribbean International

Barcelona

-

Palma De Mallorca

-

Marseille

-

La Spezia

-

Rome (Civitavecchia)

-

Capri

-

Barcelona

19nt Med Delights & Caribbean Sights

Barcelona

-

Malaga

-

Santa Cruz de Tenerife

-

Bridgetown

-

St John's, Antigua

-

Philipsburg, St Maarten

-

St. Kitts

-

Fort de France

-

Point-a-Pitre

-

Castries

-

Bridgetown

MSC Preziosa | 19 nights

21 Nov 19

FREE centrally located handpicked hotel stay
Flights Included
Includes Transfer from Barbados port to airport

£

969

View Deal

Caribbean, Europe, Mediterranean, Transatlantic

MSC Preziosa

MSC Cruises

Barcelona

-

Malaga

-

Santa Cruz de Tenerife

-

Bridgetown

-

St John's, Antigua

-

Philipsburg, St Maarten

-

St. Kitts

-

Fort de France

-

Point-a-Pitre

-

Castries

-

Bridgetown

4nt Costa Brava & 7nt Western Med Haven

Oasis of the Seas | 11 nights

17 Jul 19

Pre-Cruise Flight Included

Pre-Cruise Hotel 4night(s) Included

£

969

View Deal

Europe, Mediterranean

Oasis of the Seas

Royal Caribbean International

Barcelona

-

Palma De Mallorca

-

Marseille

-

La Spezia

-

Rome (Civitavecchia)

-

Capri

-

Barcelona

4nt Costa Brava & 7nt Western Med Haven

Oasis of the Seas | 11 nights

17 Jul 19

Pre-Cruise Flight Included

Pre-Cruise Hotel 4night(s) Included

£

969

View Deal

Europe, Mediterranean

Oasis of the Seas

Royal Caribbean International

Barcelona

-

Palma De Mallorca

-

Marseille

-

La Spezia

-

Rome (Civitavecchia)

-

Capri

-

Barcelona

4nts Lake Como & 7nts Eastern Med Delights

MSC Lirica | 11 nights

29 Jul 19

Pre-Cruise Flight Included

Pre-Cruise Hotel 4night(s) Included

Post-Cruise Flight Included

£

969

View Deal

Europe, Mediterranean

MSC Lirica

MSC Cruises

Venice

-

Bari

-

Santorini Island

-

Chania, Crete

-

Cephalonia

-

Split

-

Venice

Princess Cays & Caribbean Paradise

Fort Lauderdale

-

Princess Cays

-

St. Thomas (US Virgin Islands)

-

St Maarten, French Antilles

-

Fort Lauderdale

Caribbean Princess | 9 nights

27 Jun 19

FREE centrally located handpicked hotel stay
Flights Included

£

979

View Deal

Caribbean, Bahamas

Caribbean Princess

Princess Cruises

Fort Lauderdale

-

Princess Cays

-

St. Thomas (US Virgin Islands)

-

St Maarten, French Antilles

-

Fort Lauderdale

Miami Beaches & Spanish Sunsets

Fort Lauderdale

-

Malaga

-

Barcelona

Allure of the Seas | 16 nights

27 Feb 20

FREE centrally located handpicked hotel stay
Flights Included
FREE Upgrade from Outside to Balcony

£

999

View Deal

Europe, Mediterranean, Transatlantic

Allure of the Seas

Royal Caribbean International

Fort Lauderdale

-

Malaga

-

Barcelona

2nts Barcelona & 7nts Western Med Oasis

Oasis of the Seas | 9 nights

19 Jul 19

Pre-Cruise Flight Included

Pre-Cruise Hotel 2night(s) Included

Post-Cruise Flight Included

£

1009

View Deal

Europe, Mediterranean

Oasis of the Seas

Royal Caribbean International

Barcelona

-

Palma De Mallorca

-

Marseille

-

La Spezia

-

Rome (Civitavecchia)

-

Capri

-

Barcelona

2nts Barcelona & 7nts Western Med Oasis

Oasis of the Seas | 9 nights

19 Jul 19

Pre-Cruise Flight Included

Pre-Cruise Hotel 2night(s) Included

Post-Cruise Flight Included

£

1009

View Deal

Europe, Mediterranean

Oasis of the Seas

Royal Caribbean International

Barcelona

-

Palma De Mallorca

-

Marseille

-

La Spezia

-

Rome (Civitavecchia)

-

Capri

-

Barcelona

4nt Costa Brava & 7nt Western Med Haven

Oasis of the Seas | 11 nights

04 Sep 19

Pre-Cruise Flight Included

Pre-Cruise Hotel 4night(s) Included

£

1019

View Deal

Europe, Mediterranean

Oasis of the Seas

Royal Caribbean International

Barcelona

-

Palma De Mallorca

-

Marseille

-

La Spezia

-

Rome (Civitavecchia)

-

Capri

-

Barcelona

3nts Barbados & 7nts Southern Caribbean

Carnival Fascination | 10 nights

25 Jun 19

Pre-Cruise Flight Included

Pre-Cruise Hotel 3night(s) Included

£

1029

View Deal

Caribbean

Carnival Fascination

Carnival Cruise Line

Bridgetown

-

San Juan, Puerto Rico

-

St. Thomas (US Virgin Islands)

-

Philipsburg, St Maarten

-

St. Kitts

-

St. Lucia

-

Bridgetown

4nt Salou & 7nt Western Mediterranean Journey

Oasis of the Seas | 11 nights

17 Jul 19

Pre-Cruise Flight Included

Pre-Cruise Hotel 4night(s) Included

Post-Cruise Flight Included

£

1039

View Deal

Europe, Mediterranean

Oasis of the Seas

Royal Caribbean International

Barcelona

-

Palma De Mallorca

-

Marseille

-

La Spezia

-

Rome (Civitavecchia)

-

Capri

-

Barcelona

4nt Salou & 7nt Western Mediterranean Journey

Oasis of the Seas | 11 nights

17 Jul 19

Pre-Cruise Flight Included

Pre-Cruise Hotel 4night(s) Included

Post-Cruise Flight Included

£

1039

View Deal

Europe, Mediterranean

Oasis of the Seas

Royal Caribbean International

Barcelona

-

Palma De Mallorca

-

Marseille

-

La Spezia

-

Rome (Civitavecchia)

-

Capri

-

Barcelona

New York, Canada & New England Radiance

New York

-

Boston, USA

-

Portland, USA

-

St John

-

Halifax

-

New York

Carnival Radiance | 9 nights

04 Sep 20

FREE centrally located handpicked hotel stay
Flights Included

£

1099

View Deal

North America

Carnival Radiance

Carnival Cruise Line

New York

-

Boston, USA

-

Portland, USA

-

St John

-

Halifax

-

New York

Las Vegas Lights & Caribbean Sunsets

Miami

-

Labadee

-

Kralendijk,Bonaire

-

Oranjestad, Aruba

-

Willemstad, Curacao

-

Miami

Explorer of the Seas | 14 nights

24 Nov 19

FREE centrally located handpicked hotel stay
Flights Included

£

1099

View Deal

Caribbean

Explorer of the Seas

Royal Caribbean International

Miami

-

Labadee

-

Kralendijk,Bonaire

-

Oranjestad, Aruba

-

Willemstad, Curacao

-

Miami

Far East Favourites

Singapore Harbour Front

-

Ko Samui

-

Laem Chabang

-

Sihanoukville

-

Singapore Harbour Front

-

Langkawi

-

Phuket

-

Penang

-

Port Klang

-

Singapore Harbour Front

Costa Fortuna | 17 nights

22 Feb 20

FREE centrally located handpicked hotel stay
Flights Included
Upgrade to Classic Cabin to get FREE Drinks with Meals
Upgrade to Premium Cabin to get FREE All Inclusive

£

1099

View Deal

Asia & Indian Ocean

Costa Fortuna

Costa Cruises

Singapore Harbour Front

-

Ko Samui

-

Laem Chabang

-

Sihanoukville

-

Singapore Harbour Front

-

Langkawi

-

Phuket

-

Penang

-

Port Klang

-

Singapore Harbour Front

Explorer Meets the Meraviglia

Southampton

-

Basseterre

-

Castries

-

Bridgetown

-

St John's, Antigua

-

Miami

-

Nassau

-

Ocean Cay MSC Marine Reserve

Explorer of the Seas | 19 nights

05 Nov 19

FREE centrally located handpicked hotel stay
Flights Included

£

1099

View Deal

Caribbean, Transatlantic, Bahamas

Explorer of the Seas

Royal Caribbean International

Southampton

-

Basseterre

-

Castries

-

Bridgetown

-

St John's, Antigua

-

Miami

-

Nassau

-

Ocean Cay MSC Marine Reserve

Singapore & Far East Gems

Singapore

-

Phuket

-

Langkawi

-

Penang

-

Kuala Lumpur

-

Singapore

Norwegian Jade | 11 nights

02 Jan 20

FREE centrally located handpicked hotel stay
Flights Included

£

1129

View Deal

Asia & Indian Ocean

Norwegian Jade

Norwegian Cruise Line

Singapore

-

Phuket

-

Langkawi

-

Penang

-

Kuala Lumpur

-

Singapore

Panama Canal it's a Miracle

Tampa

-

Cartagena, Colombia

-

Puerto Quetzal

-

Cabo San Lucas

-

Los Angeles

Carnival Miracle | 14 nights

28 Sep 19

FREE centrally located handpicked hotel stay
Flights Included

£

1149

View Deal

Central America, North America, Mexico, Panama Canal

Carnival Miracle

Carnival Cruise Line

Tampa

-

Cartagena, Colombia

-

Puerto Quetzal

-

Cabo San Lucas

-

Los Angeles

19nt Venice to Dubai Grand Voyage with Stays

Venice

-

Katakolon

-

Heraklion

-

Suez

-

Aqaba

-

Salalah

-

Muscat

-

Khasab

-

Dubai

MSC Lirica | 19 nights

29 Oct 20

FREE centrally located handpicked hotel stay
Flights Included

£

1149

View Deal

Dubai & Emirates , Egypt & Red Sea

MSC Lirica

MSC Cruises

Venice

-

Katakolon

-

Heraklion

-

Suez

-

Aqaba

-

Salalah

-

Muscat

-

Khasab

-

Dubai

Hawaii Island Hopping

Vancouver

-

Hilo

-

Maui (Lahaina), Hawaii

-

Kona

-

Kauai (Nawiliwili)

-

Honolulu

-

Los Angeles

Carnival Legend | 18 nights

24 Sep 19

FREE centrally located handpicked hotel stay
Flights Included

£

1149

View Deal

Hawaii, North America

Carnival Legend

Carnival Cruise Line

Vancouver

-

Hilo

-

Maui (Lahaina), Hawaii

-

Kona

-

Kauai (Nawiliwili)

-

Honolulu

-

Los Angeles

Norwegian Fjords, Iceland and Ireland

Southampton

-

Olden

-

Andalsnes

-

Akureyri

-

Isafjordur

-

Reykjavik

-

Dublin

-

Southampton

Arcadia | 14 nights

20 Jul 19

£

1164

View Deal

Scandinavia, Polar Regions

Arcadia

P&O Cruises

Southampton

-

Olden

-

Andalsnes

-

Akureyri

-

Isafjordur

-

Reykjavik

-

Dublin

-

Southampton

Legends of Alaska

Vancouver

-

Icy Strait Point, Alaska

-

Sitka

-

Skagway

-

Juneau

-

Ketchikan

-

Vancouver

Carnival Legend | 11 nights

15 Sep 19

FREE centrally located handpicked hotel stay
Flights Included

£

1169

View Deal

Alaska

Carnival Legend

Carnival Cruise Line

Vancouver

-

Icy Strait Point, Alaska

-

Sitka

-

Skagway

-

Juneau

-

Ketchikan

-

Vancouver

Vancouver and Luxury Alaska

Vancouver

-

Juneau

-

Skagway

-

Glacier Bay

-

Ketchikan

-

Vancouver

Volendam | 9 nights

09 Sep 19

FREE centrally located handpicked hotel stay
Flights Included

£

1179

View Deal

Alaska

Volendam

Holland America Line

Vancouver

-

Juneau

-

Skagway

-

Glacier Bay

-

Ketchikan

-

Vancouver

Caribbean & Mexican Explorer

Southampton

-

Castries

-

Bridgetown

-

Roseau

-

St John's, Antigua

-

Miami

-

Cozumel

-

Costa Maya

-

Miami

Explorer of the Seas | 20 nights

05 Nov 19

FREE centrally located handpicked hotel stay
Flights Included

£

1179

View Deal

Caribbean, Transatlantic, Mexico

Explorer of the Seas

Royal Caribbean International

Southampton

-

Castries

-

Bridgetown

-

Roseau

-

St John's, Antigua

-

Miami

-

Cozumel

-

Costa Maya

-

Miami

13nt Memphis, New Orleans & Caribbean Glory

New Orleans

-

Key West

-

Freeport

-

Nassau

-

New Orleans

Carnival Glory | 13 nights

16 Sep 19

FREE centrally located handpicked hotel stay
Flights Included

£

1199

View Deal

Caribbean

Carnival Glory

Carnival Cruise Line

New Orleans

-

Key West

-

Freeport

-

Nassau

-

New Orleans

Thailand, Vietnam & Bali

Singapore

-

Ko Samui

-

Laem Chabang

-

Phu My

-

Singapore

Sapphire Princess | 15 nights

20 Feb 20

FREE centrally located handpicked hotel stay
Flights Included

£

1199

View Deal

Asia & Indian Ocean

Sapphire Princess

Princess Cruises

Singapore

-

Ko Samui

-

Laem Chabang

-

Phu My

-

Singapore

7nts Barbados & 7nts Southern Caribbean

Carnival Fascination | 14 nights

21 Jun 19

Pre-Cruise Flight Included

Pre-Cruise Hotel 7night(s) Included

£

1199

View Deal

Caribbean

Carnival Fascination

Carnival Cruise Line

Bridgetown

-

San Juan, Puerto Rico

-

St. Thomas (US Virgin Islands)

-

Philipsburg, St Maarten

-

St. Kitts

-

St. Lucia

-

Bridgetown

Caribbean, New York & Boston

Southampton

-

Castries

-

Bridgetown

-

Roseau

-

St John's, Antigua

-

Miami

Explorer of the Seas | 20 nights

05 Nov 19

FREE centrally located handpicked hotel stay
Flights Included

£

1249

View Deal

Caribbean, Transatlantic

Explorer of the Seas

Royal Caribbean International

Southampton

-

Castries

-

Bridgetown

-

Roseau

-

St John's, Antigua

-

Miami

Alaska/Glacier Bay in a Balcony

Seattle

-

Icy Strait Point, Alaska

-

Skagway

-

Ketchikan

-

Victoria, British Colombia

-

Seattle

Carnival Legend | 9 nights

01 Sep 19

FREE centrally located handpicked hotel stay
Flights Included
Free Upgrade to Balcony Stateroom

£

1249

View Deal

Alaska

Carnival Legend

Carnival Cruise Line

Seattle

-

Icy Strait Point, Alaska

-

Skagway

-

Ketchikan

-

Victoria, British Colombia

-

Seattle

South America to The Med

Buenos Aires

-

Rio de Janeiro

-

Salvador

-

Maceio

-

Santa Cruz de Tenerife

-

Arrecife, Lanzarote, Canary Islands

-

Malaga

-

Barcelona

Costa Pacifica | 23 nights

27 Feb 20

FREE centrally located handpicked hotel stay
Flights Included
Free Mealtime Drinks Package
Upgrade to Premium Cabin to get FREE All Inclusive

£

1279

View Deal

Canaries, Mediterranean, South America, Transatlantic

Costa Pacifica

Costa Cruises

Buenos Aires

-

Rio de Janeiro

-

Salvador

-

Maceio

-

Santa Cruz de Tenerife

-

Arrecife, Lanzarote, Canary Islands

-

Malaga

-

Barcelona

Liverpool to the Big Apple

Liverpool

-

Reykjavik

-

Corner Brook, Newfoundland

-

Halifax

-

New York

Queen Mary 2 | 14 nights

16 Jul 19

FREE centrally located handpicked hotel stay
Flights Included

£

1299

View Deal

North America, Transatlantic

Queen Mary 2

Cunard

Liverpool

-

Reykjavik

-

Corner Brook, Newfoundland

-

Halifax

-

New York

Alaska Wonders In a Balcony

Seattle

-

Skagway

-

Juneau

-

Ketchikan

-

Vancouver

Carnival Legend | 11 nights

08 Sep 19

FREE centrally located handpicked hotel stay
Flights Included
Free Upgrade to Balcony Stateroom

£

1299

View Deal

Alaska

Carnival Legend

Carnival Cruise Line

Seattle

-

Skagway

-

Juneau

-

Ketchikan

-

Vancouver

Hong Kong & Land of the Rising Sun

Hong Kong Kai Tak

-

Okinawa (Nagagusuku), Japan

-

Osaka

-

Kobe

-

Kochi, Japan

-

Hong Kong Kai Tak

Voyager of the Seas | 13 nights

08 Jul 19

FREE centrally located handpicked hotel stay
Flights Included

£

1329

View Deal

Asia & Indian Ocean, China

Voyager of the Seas

Royal Caribbean International

Hong Kong Kai Tak

-

Okinawa (Nagagusuku), Japan

-

Osaka

-

Kobe

-

Kochi, Japan

-

Hong Kong Kai Tak

3nt Melbourne & 7nt Southern Australia Explorer

Melbourne

-

Adelaide

-

Kangaroo Island

-

Port Lincoln

-

Phillip Island

-

Melbourne

Golden Princess | 12 nights

12 Nov 19

FREE centrally located handpicked hotel stay
Flights Included

£

1369

View Deal

Australasia

Golden Princess

Princess Cruises

Melbourne

-

Adelaide

-

Kangaroo Island

-

Port Lincoln

-

Phillip Island

-

Melbourne

Vancouver & Classic California

Vancouver

-

Los Angeles

-

San Diego, California

-

Santa Barbara, California

-

San Francisco, California

-

Vancouver

Star Princess | 12 nights

20 Oct 19

FREE centrally located handpicked hotel stay
Flights Included

£

1399

View Deal

North America

Star Princess

Princess Cruises

Vancouver

-

Los Angeles

-

San Diego, California

-

Santa Barbara, California

-

San Francisco, California

-

Vancouver

Melbourne & New Zealand Highlights

Melbourne

-

Fiordland National Park

-

Port Chalmers

-

Akaroa

-

Wellington

-

Napier

-

Tauranga

-

Auckland

-

Melbourne

Golden Princess | 18 nights

07 Feb 20

FREE centrally located handpicked hotel stay
Flights Included

£

1399

View Deal

Pacific

Golden Princess

Princess Cruises

Melbourne

-

Fiordland National Park

-

Port Chalmers

-

Akaroa

-

Wellington

-

Napier

-

Tauranga

-

Auckland

-

Melbourne

Classic Canada & New England with Stays

New York

-

Newport, Rhode Island

-

Boston, USA

-

Bar Harbor

-

Saint John,nb (bay Of Fundy)

-

Halifax

-

Sydney, Canada

-

Charlottetown

-

Quebec

Caribbean Princess | 13 nights

02 Sep 19

FREE centrally located handpicked hotel stay
Flights Included

£

1399

View Deal

North America

Caribbean Princess

Princess Cruises

New York

-

Newport, Rhode Island

-

Boston, USA

-

Bar Harbor

-

Saint John,nb (bay Of Fundy)

-

Halifax

-

Sydney, Canada

-

Charlottetown

-

Quebec

Panama Canal & San Francisco

Santa Marta

-

Cartagena, Colombia

-

Limon

-

Puntarenas, Costa Rica

-

Puerto Quetzal

-

Cabo San Lucas

-

San Francisco, California

Carnival Miracle | 19 nights

01 Mar 20

FREE centrally located handpicked hotel stay
Flights Included

£

1399

View Deal

Central America, North America, Mexico, Panama Canal

Carnival Miracle

Carnival Cruise Line

Santa Marta

-

Cartagena, Colombia

-

Limon

-

Puntarenas, Costa Rica

-

Puerto Quetzal

-

Cabo San Lucas

-

San Francisco, California

Dubai, Mumbai, Goa & Singapore

Dubai

-

Muscat

-

Mumbai

-

Goa

-

Cochin

-

Colombo, Sri Lanka

-

Phuket

-

Singapore

Celebrity Constellation | 20 nights

30 Nov 19

FREE centrally located handpicked hotel stay
Flights Included
FREE Classic Drinks Package (Outside and above)

£

1399

View Deal

Asia & Indian Ocean, Dubai & Emirates

Celebrity Constellation

Celebrity Cruises

Dubai

-

Muscat

-

Mumbai

-

Goa

-

Cochin

-

Colombo, Sri Lanka

-

Phuket

-

Singapore

14nt New Year New York & Niagara Falls

Queen Mary 2 | 14 nights

27 Dec 19

FREE centrally located handpicked hotel stay
Flights Included
FREE Upgrade from Outside to Balcony
FREE Excursions
Amtrak Rail Included

£

1499

View Deal

Transatlantic

Queen Mary 2

Cunard

New York

-

Southampton

13nt Christmas at the Falls

New York

-

Orlando

-

Nassau

-

Great Stirrup Cay

-

New York

Norwegian Bliss | 13 nights

15 Dec 19

FREE centrally located handpicked hotel stay
Flights Included
Amtrak Rail Included
Includes Transfers

£

1649

View Deal

North America, Bahamas

Norwegian Bliss

Norwegian Cruise Line

New York

-

Orlando

-

Nassau

-

Great Stirrup Cay

-

New York

12nt China Express with Best of Fukuoka

Baoshan (Shanghai)

-

Fukuoka

-

Baoshan (Shanghai)

Spectrum of the Seas | 12 nights

07 Nov 19

FREE centrally located handpicked hotel stay
Flights Included
Free Upgrade to Oceanview Cabin

£

1699

View Deal

Asia & Indian Ocean

Spectrum of the Seas

Royal Caribbean International

Baoshan (Shanghai)

-

Fukuoka

-

Baoshan (Shanghai)

12nt European Explorer with Rome Stay

Southampton

-

Le Havre

-

Lisbon

-

Gibraltar

-

Barcelona

-

Provence

-

Livorno

-

Rome (Civitavecchia)

Enchanted Princess | 12 nights

01 Jul 20

FREE centrally located handpicked hotel stay
Flights Included
Brand New Ship!

£

1699

View Deal

Europe

Enchanted Princess

Princess Cruises

Southampton

-

Le Havre

-

Lisbon

-

Gibraltar

-

Barcelona

-

Provence

-

Livorno

-

Rome (Civitavecchia)

16nt Golden Triangle Expedition with Dubai

Dubai

-

Abu Dhabi

-

Sir Bani Yas Island (UAE)

-

Bahrain

-

Doha

-

Dubai

MSC Bellissima | 16 nights

28 Nov 19

FREE centrally located handpicked hotel stay
Flights Included
G Adventures Tour Included

£

1799

View Deal

Dubai & Emirates

MSC Bellissima

MSC Cruises

Dubai

-

Abu Dhabi

-

Sir Bani Yas Island (UAE)

-

Bahrain

-

Doha

-

Dubai

Athens & All Inclusive Med Treasures

Athens (Piraeus)

-

Taormina

-

Sorrento

-

Rome (Civitavecchia)

-

Livorno

-

Monaco

-

Ajaccio

-

Mahon

-

Barcelona

Azamara Journey | 11 nights

25 Oct 19

FREE centrally located handpicked hotel stay
Flights Included
Free House Select Beverage Package
FREE Gratuities
AzAmazing Evening

£

1849

View Deal

Europe, Mediterranean

Azamara Journey

Azamara Club Cruises

Athens (Piraeus)

-

Taormina

-

Sorrento

-

Rome (Civitavecchia)

-

Livorno

-

Monaco

-

Ajaccio

-

Mahon

-

Barcelona

Dazzling Dubai & Balcony Voyage

Dubai

-

Muscat

-

Malta

-

Lisbon

-

Southampton

Arcadia | 23 nights

20 Mar 20

FREE centrally located handpicked hotel stay
Flights Included
Free Balcony Upgrade

£

1999

View Deal

Mediterranean, Iberian Peninsula, Dubai & Emirates

Arcadia

P&O Cruises

Dubai

-

Muscat

-

Malta

-

Lisbon

-

Southampton

Tango, Salsa & Samba

Buenos Aires

-

Montevideo

-

Santos, Brazil

-

Parati

-

Buzios

-

Rio de Janeiro

-

Punta del Este

-

Buenos Aires

Azamara Pursuit | 16 nights

07 Dec 19

FREE centrally located handpicked hotel stay
Flights Included
Free House Select Beverage Package
FREE Gratuities

£

2199

View Deal

South America

Azamara Pursuit

Azamara Club Cruises

Buenos Aires

-

Montevideo

-

Santos, Brazil

-

Parati

-

Buzios

-

Rio de Janeiro

-

Punta del Este

-

Buenos Aires

Sydney,Great Barrier Reef, Shanghai & Hong Kong

Sydney, Australia

-

Brisbane

-

Great Barrier Reef

-

Manila

-

Shanghai

-

Hong Kong, China

Arcadia | 25 nights

14 Feb 20

FREE centrally located handpicked hotel stay
Flights Included
FREE Upgrade from Outside to Balcony

£

2249

View Deal

Asia & Indian Ocean, Australasia, China

Arcadia

P&O Cruises

Sydney, Australia

-

Brisbane

-

Great Barrier Reef

-

Manila

-

Shanghai

-

Hong Kong, China

Alaska and Rocky Mountaineer Adventure

Vancouver

-

Juneau

-

Skagway

-

Glacier Bay

-

Ketchikan

-

Vancouver

Noordam | 10 nights

14 Sep 19

FREE centrally located handpicked hotel stay
Flights Included

£

2399

View Deal

Alaska

Noordam

Holland America Line

Vancouver

-

Juneau

-

Skagway

-

Glacier Bay

-

Ketchikan

-

Vancouver

3nt Rio Stay & 12nt Radiant Rhythms

Rio de Janeiro

-

Buzios

-

Ilha Grande

-

Parati

-

Sao Paulo

-

Porto Belo, Brazil

-

Rio Grande

-

Punta del Este

-

Montevideo

-

Buenos Aires

Marina | 15 nights

04 Dec 19

FREE centrally located handpicked hotel stay
Flights Included
Free Transfers
FREE Upgrade from Outside to Balcony
Speciality Dining

£

2399

View Deal

South America

Marina

Oceania Cruises

Rio de Janeiro

-

Buzios

-

Ilha Grande

-

Parati

-

Sao Paulo

-

Porto Belo, Brazil

-

Rio Grande

-

Punta del Este

-

Montevideo

-

Buenos Aires

21nt Nepal & Himalayan Highlights with Dubai

Dubai

-

Muscat

-

Doha

-

Abu Dhabi

-

Dubai

Costa Diadema | 21 nights

23 Nov 19

FREE centrally located handpicked hotel stay
Flights Included
G Adventures Tour Included

£

2699

View Deal

Dubai & Emirates

Costa Diadema

Costa Cruises

Dubai

-

Muscat

-

Doha

-

Abu Dhabi

-

Dubai

14nt Northern Allure & 2nts Reykjavik

Southampton

-

Zeebrugge

-

Amsterdam

-

Copenhagen, Denmark

-

Gothenburg

-

Oslo

-

Stavanger, Norway

-

Bergen, Norway

-

Lerwick, Scotland

-

Thorshaven

-

Akureyri

-

Reykjavik

Riviera | 16 nights

28 Aug 19

FREE centrally located handpicked hotel stay
Flights Included
Free Wifi
Free Upgrade to Balcony Stateroom
Speciality Dining
FREE Gratuities

£

3299

View Deal

Europe, Scandinavia

Riviera

Oceania Cruises

Southampton

-

Zeebrugge

-

Amsterdam

-

Copenhagen, Denmark

-

Gothenburg

-

Oslo

-

Stavanger, Norway

-

Bergen, Norway

-

Lerwick, Scotland

-

Thorshaven

-

Akureyri

-

Reykjavik

Vancouver & Californian Gems

Vancouver

-

Seattle

-

Victoria, British Colombia

-

San Francisco, California

-

Monterey

-

Santa Barbara, California

-

Los Angeles

Seabourn Sojourn | 12 nights

06 Oct 19

FREE centrally located handpicked hotel stay
Flights Included
All Inclusive Cruise!
Up to $1000 Onboard Spend per Stateroom
FREE Gratuities

£

3749

View Deal

North America, Pacific

Seabourn Sojourn

Seabourn

Vancouver

-

Seattle

-

Victoria, British Colombia

-

San Francisco, California

-

Monterey

-

Santa Barbara, California

-

Los Angeles

Caribbean Odyssey The Suite Life

Bridgetown

-

Port Elizabeth (Grenadines)

-

Trois Ilets, Martinique

-

Basseterre

-

Charlestown, Nevis

-

St John's, Antigua

-

St. Kitts

-

Philipsburg, St Maarten

-

Gustavia, Saint Barthélemy

-

Basseterre

-

Terre de Haut, Ile des Saintes

-

Castries

-

Saline Bay, Mayreau, St. Vincent and the Grenadines

-

Bridgetown

Seabourn Odyssey | 17 nights

04 Dec 19

FREE centrally located handpicked hotel stay
Flights Included
All Inclusive Cruise!
FREE Gratuities
Up to $2000 on board spend Per Stateroom

£

3799

View Deal

Caribbean

Seabourn Odyssey

Seabourn

Bridgetown

-

Port Elizabeth (Grenadines)

-

Trois Ilets, Martinique

-

Basseterre

-

Charlestown, Nevis

-

St John's, Antigua

-

St. Kitts

-

Philipsburg, St Maarten

-

Gustavia, Saint Barthélemy

-

Basseterre

-

Terre de Haut, Ile des Saintes

-

Castries

-

Saline Bay, Mayreau, St. Vincent and the Grenadines

-

Bridgetown

Ultimate Alaska The Suite Life

Vancouver

-

Ketchikan

-

Sitka

-

Inian Island, Alaska

-

Icy Strait Point, Alaska

-

Juneau

-

Wrangell, Alaska

-

Misty Fjords, Alaska

-

Prince Rupert

-

Klemtu

-

Alert Bay

-

Vancouver

Seabourn Sojourn | 14 nights

24 Sep 19

FREE centrally located handpicked hotel stay
Flights Included
All Inclusive Cruise!
FREE Gratuities

£

4099

View Deal

Alaska

Seabourn Sojourn

Seabourn

Vancouver

-

Ketchikan

-

Sitka

-

Inian Island, Alaska

-

Icy Strait Point, Alaska

-

Juneau

-

Wrangell, Alaska

-

Misty Fjords, Alaska

-

Prince Rupert

-

Klemtu

-

Alert Bay

-

Vancouver

3nt Tahiti & 18nts Sublime South Pacific to Sydney

Papeete

-

Bora Bora

-

Pago Pago

-

Apia

-

Lautoka

-

Suva

-

Port Vila, Vanuatu

-

Noumea

-

Brisbane

-

Sydney, Australia

Regatta | 22 nights

14 Nov 19

FREE centrally located handpicked hotel stay
Flights Included
Free Upgrade to Oceanview Cabin
Free Wifi
Speciality Dining

£

4379

View Deal

Australasia, Pacific

Regatta

Oceania Cruises

Papeete

-

Bora Bora

-

Pago Pago

-

Apia

-

Lautoka

-

Suva

-

Port Vila, Vanuatu

-

Noumea

-

Brisbane

-

Sydney, Australia

Ultimate Alaska The Suite Life

Vancouver

-

Ketchikan

-

Sitka

-

Inian Island, Alaska

-

Icy Strait Point, Alaska

-

Juneau

-

Wrangell, Alaska

-

Misty Fjords, Alaska

-

Prince Rupert

-

Klemtu

-

Alert Bay

-

Vancouver

Seabourn Sojourn | 14 nights

12 Sep 19

FREE centrally located handpicked hotel stay
Flights Included
All Inclusive Cruise!
FREE Gratuities

£

4699

View Deal

Alaska

Seabourn Sojourn

Seabourn

Vancouver

-

Ketchikan

-

Sitka

-

Inian Island, Alaska

-

Icy Strait Point, Alaska

-

Juneau

-

Wrangell, Alaska

-

Misty Fjords, Alaska

-

Prince Rupert

-

Klemtu

-

Alert Bay

-

Vancouver

Miami & Stars of the Cuban Sky

Miami

-

Cienfuegos, Cuba

-

West End

-

Port Antonio

-

Santiago de Cuba

-

Antilla, Cuba

-

Havana

-

Miami

Seabourn Sojourn | 14 nights

26 Nov 19

FREE centrally located handpicked hotel stay
Flights Included
All Inclusive Cruise!
Up to $1000 Onboard Spend per Stateroom
FREE Gratuities

£

5099

View Deal

Caribbean

Seabourn Sojourn

Seabourn

Miami

-

Cienfuegos, Cuba

-

West End

-

Port Antonio

-

Santiago de Cuba

-

Antilla, Cuba

-

Havana

-

Miami