Spend some quality time with the family on a cruise holiday.
Luxurious, relaxing and the perfect way to see a whole multitude of different countries on one vacation. Its no surprise that over the last decade a cruise has become one of the most popular ways to spend a holiday.However, is a cruise the domain of older, retired people? Not at all! The majority of cruise companies now are family friendly and booking a cruise holiday is a brilliant way for the whole family to have a fun trip. When picking your cruise company keep in mind that its normally the bigger cruise liners in that fleet that are dedicated to families. To help you make the perfect choices we have put together some top hints and tips to follow when planning a cruise holiday. We want to make sure that everyone – young and old – gets the most out of their vacation!
Who else will be there?
No, this doesnt mean you need to snoop around and avoid booking on that same cruise as your nosy neighbour or your horrible boss (although you may well want to do that) – it simply means you should take a look at who the overall cruise is aimed it or what the theme is. While most cruise companies now cater for everyone from grannies to the tiniest toddler some are purely aimed at adults or for various reasons wont have many children onboard. Do your research but the majority of cruise companies will be more than welcoming to children and teenagers. Have a read through what each cruise offers. Some will be aimed at, and have a wide range of activities for, teenagers whilst other cruise holidays will be perfect for toddlers and much younger children. For adults cruises can offer a wide range of themes – from wine tasting to Strictly Come Dancing. These may not appeal to children but will be the perfect break another time just for the two of you!
Where will we be going?
With a cruise holiday the options are quite literally endless! Although when picking the perfect family holiday that could make it much harder to choose – we take no responsibility for any family arguments are where you are heading off to! There are cruise companies catering for around 2000 destinations so from America to Alaska, the Med and the Caribbean you really are spoilt for choice in the places you can go! Keep in mind when picking your cruise that some of the on shore activities and excursions might just be far more family friendly in some destinations than in others – America and Hawaii are normally more exciting for teenagers and have more to offer children than, for example, a European city which might not appeal to younger children. However, this isnt always the case so make sure you do your research and youll be sure to find a cruise that will appeal to everyone in your family. Your cruise operator will be a big help in letting you know the range of excursions on offer.
What is there to do on board?
Its been said that its nigh on impossible to get bored on a cruise holiday and looking at the huge range of activities offered by companies it is easy to see why. Its worth taking the time to explore which activities your cruise company offers to find the liner that is ideal for you and your family. Keep in mind that each cruise company will divide their activity groups up in a different way. Take a look through brochures and websites and ask questions about this before you book. Some 5 year olds, for example, may want to be in a group with older children (5-8 year olds) or they may be perfectly happy in a group with 3 and 4 year olds. It also helps if you have children close in age who want to stick together (or equally, if siblings most definitely do not want to stick together)!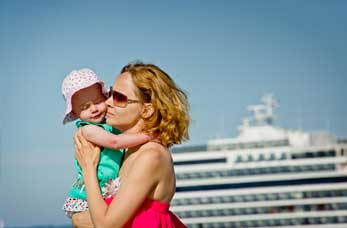 Babies and young children
Cruises are renowned for indulging their pint-sized passengers. Some cruise companies have dedicated spaces especially for 3-5 year olds including activities such as finger painting and costume characters meets. Babies are most definitely not forgotten! Some cruise companies offer nursery and creche options for babies and young toddlers. The majority will also have in-cabin babysitters on offer meaning you can enjoy a late dinner or the evening entertainment without worrying about the little one. However, be sure to double check with the cruise companies you are looking at that babies under 12 months are welcome onboard. Overs may have age restrictions of around four or six months.
Children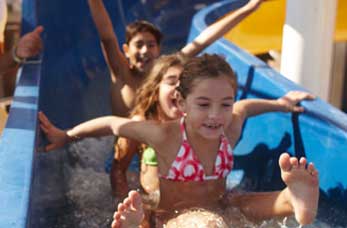 6-12 year olds will be spoilt for choice on the majority of cruises out there! Cruise liners have grown in size over the last few years and now it is not unusual to find water parks, climbing walls and bowling alleys onboard! Dedicated childrens clubs and children only activities are run on many cruise liners. These programmes mean that you can head out on shore excursions or soak up some rays by the swimming pool knowing your children are being looked after and having a great time with others their own age!
Teenagers and tweenagers
A lot of cruise companies are now starting to divide up their activities and, instead of catering for teenagers as a whole, they are looking at both the tween (12-14 years) and teenage markets. Tweens can enjoy discos, DJ parties (or even learning to DJ themselves) as well as hundreds of other activities designed exclusively for their age range. Teen only activities are specifically aimed at older teenagers with spa treatments and additional, or differently programmed, shore excursions. Video game and film nights as well as sports activities and party nights are also hugely popular with teens. Certain cruise companies also have curfews in place for teenagers and children, meaning you can rest easy knowing that your teenagers will be safe later in the night. Again, your cruise operator will be able to advise you on whether this is something that your chosen liner offers.
Adults
Parents and grandparents, lets not forget that this is your holiday too! Cruise companies understand that while youre away you might just want a little bit of down time away from young people (yours and other peoples!). Many companies have now put quiet zones or adult only areas onboard. Multigenerational cruising (cruises for the whole family – grandparents to kids) is much more popular than it ever has been so it makes sense that everyone is kept happy! Cruise liners themselves are absolutely huge – a city on the sea. This means that the activities onboard are never anything less than extensive. From countless swimming pools to climbing walls, beauty salons, cinemas, basketball and volleyball courts and even skateparks you and your children will never find yourself at a loss for something to do!
Dining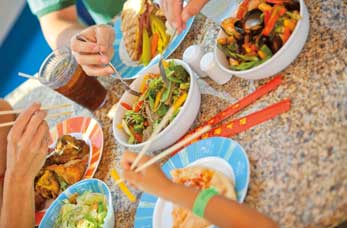 Have a chat with anyone who has been on a cruise holiday and its more than likely theyll spend hours regaling you with tales of the gigantic, delicious buffets, the sumptuous dining and the sheer amount of eateries on board – meaning that many different tastes are catered for! Back in the olden days cruise companies often only used to offer one dining option or sitting. Now the majority of liners will offer a wide range of sittings for each meal and more onboard restaurants and dining areas than you can count! More and more cruise companies are now offering exclusive childrens and/or family dining times. They offer special menus with kids favourites such as sausages, chips, pizza and of course multiple flavours of ice cream! All these options mean that you can pick a time to dine that best suits you and your family. It may also provide you with the perfect excuse to get a babysitter in and enjoy a date night, just the two of you!
Entertainment
You and your family – whatever the ages – are sure to be spoilt for choice for entertainment on each and every cruise liner currently in operation. From evening cabaret performances featuring talented singers, dancers and comedians to mystical magic extravaganzas, hilariously entertaining kids shows and multiscreen cinemas (indoor and outdoor!) showing the latest Hollywood releases there really is something for everyone. Even better, its not only when youre onboard that youll be entertained. Shore excursions are designed to offer you the very best that each country on the itinerary has in store. From hiking and biking to city tours and dolphin watching trips you wont know where to start. Many cruises even offer musicals such as Hairspray or Chicago – perfect for teenagers and adults alike to enjoy a night of theatrical culture!
Will we (and our children) be able to meet other people?
A cruise is one of the best opportunities to meet interesting people and new friends from all over the world! Children and teenagers (and tweenagers) will have no trouble making friends in the numerous activities and programmes on board each ship. A growing number of cruises are now offering family friendly activities and programmes too which gives you great opportunities to meet other families.
How much will it cost?
Budget, an all important consideration when looking into and booking a family holiday. With the sheer amount of cruise companies around and amazing deals on offer on a daily or monthly basis there will be a cruise to suit every budget.
The advantage of booking a cruise holiday – especially with children or young people – is that the majority of them are all inclusive. This means that you can easily control your budget and not worry about having to take into account extra pocket money for the children or any added expenses. In most cases you are fully able to customise the cruise trips to spend as much or as little as you want – some shore excursions or fancier dining nights may cost a little extra but taking part is completely up to you.
Questions…
Apart from following our top tips its also worth asking your cruise company a few of these questions – they'll be more than happy to answer any queries and can offer you additional advice meaning you can pick the perfect cruise for your family.
Are there any activities that the whole family can join in together as opposed to being children only?
Can I bring my children to the grown up entertainment activities such as the evening live entertainment shows or magic shows? Are they appropriate?
Do the kids require parental supervision in the childrens areas? Or am I able to leave them with qualified supervisors?
Which shore excursions are best suited to children (sometimes, especially with young children, certain planned shore excursions can present a bit more of a challenge than you may want on a relaxing holiday!)?
Am I able to leave my children onboard in childrens programmes if they choose not to go on the shore excursions?
Do you offer any babysitting services onboard?
Am I able to get baby food onboard or will I need to bring my own?
Keep these top tips and handy questions in mind when choosing your cruise holiday. A vacation on a cruise is a fantastic opportunity for the whole family to tailor their activities so that everyone gets the most out of their holiday – whether thats spending the days sunbathing by the pool or dancing the night away in the teen disco!
Are you trying to choose the best cruise option for you and your family? Have you recently been on a cruise with your family, how did you find it? Do you have any top tips for cruise holidays with the whole clan? Let us know or if you're in need of advice then give Cruise Nation a call and we'll be more than happy to answer any queries you have and help you find the perfect holiday.