If you're booking a cruise for the first time, you've come to the right place!
With so many cruise lines, destinations and types of cruises to choose between, and the ever-increasing list of popular cruise holidays, the best way to book your cruise is to whittle down the options by deciding on what kind of cruise is for you.
Finding the ideal cruise for you can be an amazing experience, as you begin to dream about your ideal holiday and start to get excited about sailing away into the sunset. No matter what kind of holiday you're after, a cruise can tick all of the right boxes once you've discovered the perfect destination and cruise type for you.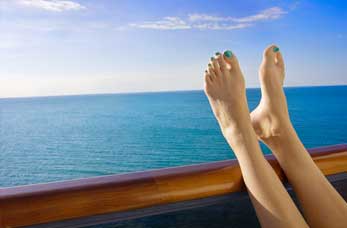 Types of cruises
Before we get into the specifics of how to choose the right cruise though, let's take a look at some of the cruise types that you can come across:
Fly and Cruise
Sometimes, you can't depart from a port in the UK for your cruise, which means you'll need to travel to another country in order to board the cruise ship. While this can seem like a chore, it can actually cut a lot of the travel time out of your cruise – in a good way. If your cruise was to depart from the UK, for example, you'd have to go through many days of travelling by sea before you reached your destination, and while it can be great to get time to explore the cruise ship and enjoy being away from the everyday stresses of life, many people also want to get to their main destination as soon as possible.
Cruise and Stay
If you'd like to combine a traditional holiday with hotels and resorts with a cruise break, which allows you to stay on-board a cruise ship while travelling, a cruise and stay option would be ideal for you. With this option, you'll travel to your destination and then go on land for a normal holiday, before returning to the ship in a number of days and either heading to a new destination, or going home.
Mini Cruise
Many people now have incredibly tight schedules, due to work constraints and family matters. If this is the case, finding the time to go on holiday can be difficult, which is why a mini cruise would be perfect for those without the time for a two week break. You'll be able to go away for a long weekend (or less, if you really haven't the time for a longer break!) and can enjoy your time off as much as possible.
Around the World Cruise
Should you have a lot of time on your hands, be it that you've just retired or you've planned to take time off work to travel, an around the world cruise could be perfect. You'll most likely be at sea for six weeks, with many, many stops at amazing destinations along the way.
All Inclusive Cruise
Cruises are notoriously believed to be expensive, but they really aren't at the end of the day. When you take into account the fact that your food, travel, entertainment and accommodation is all included in the cost of your cruise, it's easy to see why they're actually cost-effective. An all inclusive cruise could actually save you even more money as well, as absolutely everything you do on the cruise will be paid for when you book your cruise.
Casual Cruise
In the past, the tradition was that cruises were formal affairs, where one of the best bits about them was that you got to dress up in your best clothes for dinner. Nowadays, though, many people don't like having to do this. This is precisely why there's been a recent rise in the number of casual cruises that are available – these cruises allow you to dress casually throughout the cruise ship.
Family Cruise
Many people see cruises as decidedly un-family friendly, in that they believe they can't take the kids on holiday with them when going on a cruise. This really couldn't be further from the truth though, as you'll almost always be able to find children's and teenager's clubs on board every cruise line. While babies and very small children often aren't permitted for safety reasons, children and teens are most certainly allowed to enjoy a cruise with their parents!
As you can see, there's more than enough in terms of choice when it comes to the types of cruises you can select from. When choosing your cruise though, you'll want to take a number of different points into consideration, which include the following:
Food
Food is a key part of any holiday, and most people often find that the food they enjoy while on holiday is of the most importance. According to statistics, we spend 23% of our holiday budget on food, which is a considerable amount when you really think about it! While there are vast amounts of ships offering alternative dining, be sure to check out the types of on-board restaurants that are available before you book. You can usually find quite a few of them, all serving different cuisines. It's also important to find out more about the dinner attire you'll need to stick to – if you don't like having to dress up for dinner a casual cruise would be perfect for you.
Size Of The Ship
Large ships will offer countless facilities and activities for you to enjoy, such as clubs, bars, restaurants, gyms, and entertainment shows. You will never be bored on a large cruise ship, where you can always get involved in the fun and dance that is cruise ship life. However, you'll also never be short of a few quiet areas on a big cruise ship, such as the library, one of the many bars or lounges, and other areas.
Some people may prefer the quiet, less crowded and more low-key ambience of a small ship and could enjoy sailing the seas on an exclusive luxury cruise. This will give you the opportunity to relax and enjoy your time on board, while also making the most of the ship's entertainment options and restaurants.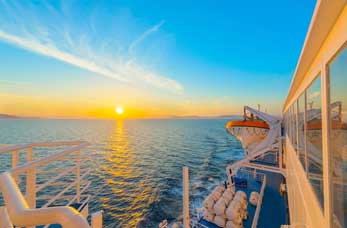 Entertainment
Once on-board a cruise ship, you will find a wide range of activities that you can take part in. The cruise will also encompass a large array of entertainment and shows for all ages, so both children and adults will be able to enjoy the entertainment provided.
There's always something that you'll enjoy in terms of entertainment on cruises, so you can constantly laugh, cry and sing along to the excellent shows the cruise ship entertainers will put on.
From cabaret to dance acts, you'll be able to choose from all sorts.
Shopping
You will often find amazing bargains on shopping at sea, as purchases are usually tax free. You will have a wide choice of shops to browse, with most holding exclusive sales almost everyday.
Everyone likes to be able to bring home a few bargains when they go on holiday, and you'll most certainly be able to do this when on a cruise. You'll be able to look forward to all kinds of shopping experiences no matter which cruise line you decide to go with in the end, as the majority of them offer excellent shops and malls.
A lot of cruise lines have retailers that they've paired up with in order to offer the best cruise shopping options, which means you could actually plan your shopping before you depart!
Find A Cruise That Matches Your Interests
Each cruise line has its own unique character. If you're travelling with children, you may want to opt for a themed cruise. For example, you could choose from one of the many family friendly cruise lines we feature on the Cruise Nation website. However, if nightlife is more your thing, then you can choose a cruise which offers a wide array of entertainment, clubs and bars, as well as opting for cruises that travel to destinations that are well-known for their excellent nightlife options. For a quieter and more relaxing trip, you may want to consider a small cruise line.
No matter what your preferences are in terms of what you want to do or what you want to get out of your cruise, there's always something to suit you. Here at Cruise Nation, we can work with you to suggest the best cruise options, to make sure you get the best cruise booking possible.
There's no limit to the amount of detail you want to go into when narrowing down your search either – in fact, the more certain you are of what you want, the easier it will be to make your decision!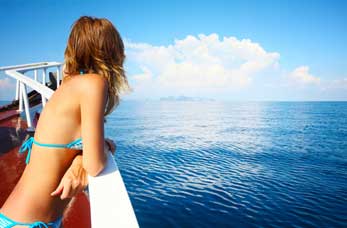 Work With Travel Agents That Specialise In Cruises
Working with travel agents that specialise in cruises will save you doing all the research and booking yourself, which may save you a few headaches. For instance, Cruise Nation is the ideal cruise broker, as we list some of the biggest and best cruise lines in the world, and you can choose cruises that travel to a veritable multitude of destinations. There are all kinds of cruises to choose from, and there's no stopping you from getting in touch with us today to find out more about what we have available.
If you really want to make the most of your cruise holiday though, you should take a look at our cruise deals, which can provide you with some amazing financial savings at the end of the day! If you want to cut the cost of your holiday as much as possible, our cruise deals will be ideal.
Book Ahead For The Best Deals
Cruise lines offer everything from special early bird prices to huge on-board credits, and they'll even offer to pay for drinks and will include excursions. However, these are rarely available at the last minute. Generally, the earlier you book, the better cruise deal you will get. You will also get the widest range of dates and cabins; leaving it to the last minute could mean you won't get a choice of cabins or the date you want to travel.
There will also be lots to choose from when booking early on, and you'll be able to take the time to really think about what you want to do on your cruise, where you want to go and what type of cruise you would like to go on. There's no point in rushing and then ending up with the wrong cruise!
Book At The Last Minute
While booking ahead of time does have its obvious benefits (as mentioned above), there are lots of pluses to booking at the last minute as well. For instance, you can get the pick of the cut-price deals, as a lot of the time the last few spaces on a cruise will be offered at a reduced price, especially if the sailing date is drawing near.
Alongside this, if you like to decide things at the spur of the minute and you want to go on a cruise as soon as possible, a last minute deal can help you to do just this.
Knowing what you want when you book a cruise can help you to avoid any stress when it comes to actually pinning everything down. There's nothing worse than booking a holiday and then, once you're on it, realising you made a mistake in your choice of cruise type or destination. By following the simple advice in this blog, you can really get the most out of your cruise by being certain of what you want before you click the 'book now' button!
What did you think of this blog? Can you think of any other tips for booking cruises? Make sure you let us know your thoughts, we'd love to get your feedback!
Images courtesy of Shutterstock