Discover four of our favourite Greek islands to explore as you cruise your way around Greece.
Island hopping is very popular with travellers from across the world, especially in the wonderfully diverse Aegean and Ionian Seas. With an estimated 6,000 Islands of all shapes and sizes in Greece, there really is plenty to see when on a Greek island holiday or on a Greek Island Cruise. Amongst our range of cruise holidays, we offer a number which all sail through the beautiful seas and sheltered bays, discovering sandy beaches, coastal caves and rugged yet beautiful landscapes that the country of Greece has to offer.
Of all the islands that belong to Greece, only 227 are actually inhabited – which is astonishing considering that Greece is a major European nation. Our cruises thankfully head to the inhabited ones, including the countries capital and mythical city of Athens, as well as heading to fascinating ports in Corfu, Mykonos and the quieter Kefalonia. You can expect a warm welcome in whichever destination the ship drops anchor in, and just to give you a little insight into what to expect, this blog will run through all the sights and sounds on offer in those four popular island paradises.
Greek island holidays have long been popular with British holidaymakers. They remain a great choice if you are looking to keep the whole family entertained for the duration of your trip, no matter what your idea of fun is.
There is a real wealth of traditional cultures, values, delicacies and people to discover when your liner sails through the tranquil transparent oceans and drifts under the clear blue skies. You'll find yourself in an optimum state of relaxation; the voyage will have you floating over distant horizons with your mind totally at ease. You will find many atmospheric villages and monasteries, fascinating museums and most of all, a laid back lifestyle.
For many visitors, the temptation to return to Greece year after year is too much. So they do!
Here at Cruise Nation, we understand that the biggest attraction of that summer holiday is to get away from it all. Many of us desire to simply find a place in the sun or to just meander down the streets of a new and unique rugged town that offers a culture which is far removed from your normal routine. Luckily for you, our cruises offer a mixture of all those things. You can relax on the decking during the daytime or simply hop onto the land to explore the enthralling sights and sounds, tastes and atmosphere of say, Argostoli; a small but vibrant little town which sits on a shallow lagoon on the island of Kefalonia.
Our Greek cruises have it all; there is a plethora of history in these diverse landscapes. The rugged terrains of the archipelagos of the Aegean and Ionian Seas provides a heritage you will find nowhere else in Europe, or the world for that matter! If history isn't your thing, you can try your hand at scuba diving, snorkeling, water skiing, sailing or even windsurfing. Our first port of call is the Island of Corfu as it is one of our most popular stop offs.
Corfu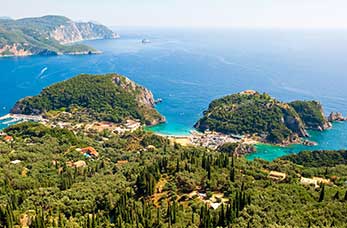 Corfu is the second largest of the Ionian islands, and this also includes its small satellite islands. Corfu's history is packed full of stories of battles and conquests and there are a number of historic castles on the island. The fortifications are interspersed with villages and monasteries which makes Corfu a destination for more than just relaxing on the beach. There is years and years of culture to explore and Corfu Town is surprisingly cosmopolitan and is a little touch of Venice and Naples, of course with a dabble of uniquely Greek culture.
In the northern part of the island you will find the dominating Mt. Pantokrator. It is over 1,000 meters high and it offers superb views over the island and surrounding bays. There are several villages to stop and see along the way including Strinilas which offers a change from the decking of your liner and is an excursion that we certainly recommend. It is a fantastic place to grab a bit eat during the spring and summer months, offering a real taste of true Greek life.
If lazing on the beach is more your thing then you must make sure you head down to Paleokastritsa. It is famous for being the islands most treasured beauty spot and is busy with day trippers throughout the holiday season. The bay is usually full with luxury yachts whose passengers come to dive in the tranquil oceans, taking it easy and admiring the backdrop of beautiful green hills.
Besides the main town on the island with its handful of museums and historical sites, there are water parks, riding stables, scuba centers and old castles to explore. There are many sleepy villages hidden away which can be visited on hikes or via an organised coach trip if you desire.
Corfu really is characterised by its superb natural beauty as well as the array of culture on show. Kavos is the most action packed town on the island and is where you will find the nightclubs which become very busy after holidaymakers have vacated the shallow waters of the coastline in the town. Rich with greenery and much more lush than mainland Greece, Corfu offers everything you could want and is inscribed by UNESCO as a World Heritage Sight, it is not to be missed.
Everyone from Napoleon to Odysseus visited Corfu; they were no doubt in awe of the beauty of the island, and it really is hard to put into words just how breathtaking this island is. The only way to really find out is to book yourself on a trip there, take a look at our Greek Isles and 2 night Venice Stay trip for more information.
Mykonos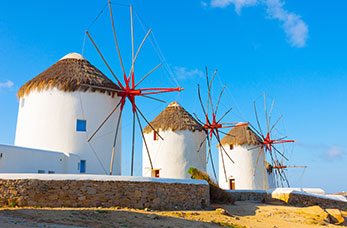 The main attractions on the isle of Mykonos include its beaches where you can sunbathe, relax, snorkel or even party if that's more your thing. Paradise Beach is where you will normally find a majority of tourists who enjoy its incredible soft sands and gentle waves which wash up on shore.
Amongst the things to check on on this Island, you should make sure to make time to visit the town of Little Venice which is possibly the most stunning place on the island. The Chora neighborhood overlooks the southwest of the town of Mykonos and its harbour and there are many historic homes which have been transformed brilliantly into many cozy restaurants, bars, shops and nightclubs, making the area a bustling little corner of the island, whichever time of day or season you visit.
The Kato Myli Windmills are amongst the most iconic features on the island, it only take an hour or so to visit them, so theres no excuse. They overlook Little Venice and date back to the 16th century when islanders used them to grind grain. They are no longer in operation but stand as a monument to the islands past and to the early innovations that Greece is regarded for. This windmills are a great place to stop and grab a bite to eat and while you're at it you could pop into the nearby Mykonos Agricultural Museum, which is a part of the Mykonos Folk Museum.
Mykonos is Greece's most famous cosmopolitan island and is a whitewashed paradise in the heart of the Cyclades. Glamour meets simplicity in this enclave of Greece, weather you want good food and drink or to go out and enjoy the bars in the evening, Mykonos will not only meet, it will succeed your expectations.
Kefalonia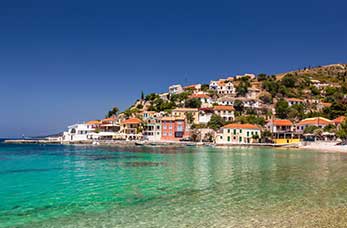 The next stop on our tour of the Greek islands is the Ionian island of Kefalonia which is also known by its Italian name of Cefalonia. The island is quiet, clean and friendly. There is a wealth of breathtaking scenery on offer on this gorgeous island including lush forests, rugged mountains and crystal clear bays. Kefalonia is allabout nature, the towns which intersperse this along the coastline are an inconvenience, but only a minor one.
Apart from Fiskardo, all the towns were levelled in 1953 so what you see on the island is quite new and designed to mimic the traditional greek style. This does not distract from the beauty and the culture of the isle whose capital is Argostoli (where our liners moor) as well as secondary settlements such as Lassi, Skala and Sami.
Lixouri and Argostoli face each other on the shores of a lagoon to the north of the island and is very popular with boats and yachts. It is an upmarket destination with plenty to including many restaurants and eateries which line the narrow streets.
Athens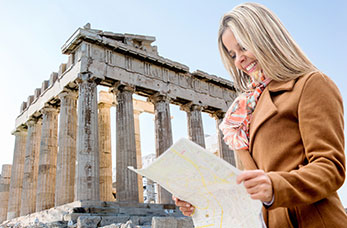 Finally, we arrive in Athens. Not only is it the capital of Greece, it is by far the most bustling as well as being the largest metropolis in the country. The city is steeped in history with the stories of mythical legends and gods never far from any traveller to visits this city, it is one of the oldest and historical sites in the world and is proudly home to two UNESCO world heritage sites, the Acropolis and the Daphni Monastery.
So, what can you expect when your liner drops anchor in the port at Athens? There are many things to do in this city which has a recorded history of around 3,400 years, the main attractions being the myriad of ruins which make the city (which is the largest in Greece), the biggest historical site in Europe. There have been plenty of conquerors who have fancied their chances of taking Athens for themselves over the years, namely the Romans and the Persians, and all have left a remarkable footprint on this metropolis.
If you're into your history then Athens is your archeological playground, with the ruins of the Panathenaic Stadium, Hadrians Arch, the beforementioned Acropolis, the Kerameikos and Theatre of Dionysos. There's plenty of to see, especially with the undulating landscape which allows visitors to take in expansive vistas over the city and surrounding area.
Central Athens has been pedestrianised over the last few years and you'll find plenty of big name high street fashion stores in the busy central district. Next to this area is an easily navigable area of ancient ruins which is comprised of archaic crumbling stones where once stood the epicentre of an empire which ruled across much of the surrounding lands which of course are now separated into their own separate nations.
The core area of Athens to discover historical artifacts is the Plaka neighborhood; it has been inhabited for thousands of years and sits to the eastern side of the famous imposing Acropolis. The area comprises of a network of narrow and intertwined streets which spring many a surprise for tourists who visit from all around the world. Even when visiting for a short period of time, it is possible to visit many interesting sites, mainly due to the compact nature of the central Athens area.
When you embark on any cruise with us here at Cruise Nation, you can be sure that there is something to see for all the family. From our European Cruises to our Cruises in the Mediterranean, there is plenty for anyone of any age or persuasion to indulge in. Our Greek Island Cruises are no different, and as you can tell from this blog, there is a wealth of beautiful scenery, luscious landscapes and interesting cultural sights to take in when island hopping on the Aegean and Ionian Sea.
Please browse our website for more information how you can book yourself onto one of our luxury cruises, whichever part of the world you are interested in exploring!