Soak up the sunshine as you cruise your way along the Mexican Riviera.
Starting at the NorthWest border of California lies thousands of miles of beautiful warm and exotic coastline, situated along the Mexican Riviera down to the southern point of Guatemala. Nestled along the route are some of the most beautiful seaside towns and ports that South America has to offer, from the beautiful old world charm of Puerto Vallarta to the party town of Cabo San Lucas,a Mexican Riviera Cruise. Each holds something for everyone to enjoy.
In the 1920s, the coastline was little more than a series of seaside villages and fishing towns, but since a rise in tourism in the 1960s it has become one of the most glamorous tourist destinations in the world. Known for it's brilliant year round weather and gorgeous waters, the Mexican Riviera has long been a popular route for the world's biggest cruise lines.In 2011, cruise tours specifically to this beautiful area were reduced, especially to the cities of Acapulco and Mazatlan, however, the area has been under massive tourist renovations and improvements. Now more and more cruises are returning to this wonderful area.Those who stop off at even one or two ports on their journey will see the charm and wonder that the area has to offer.
Each port offers a fantastic opportunity for water sports such as kayaking, sailing, surfing and many more, the area also gives the chance to walk along miles of coastline promenades and beaches.Mazatlan has so much to offer, from a large 'old town' area and emerging arts scene to 10 mile promenades. Puerto Vallarta will offer you excellent nightlife and is a fantastic scene for foodies to try local cuisine. Being on the coastline, seafood is a must try, with the seaport town of Ensenada having some of the freshest lobster you'll ever eat. All this and more awaits you on a journey through the Mexican Riviera.
Cruise Lines and Itinerary
Whilst many cruise lines had stopped visiting just the Mexican Riviera, most if not all will have a few stops on the beautiful coastline on the way down to the Panama Canal, or offer short trips along the coast as part of a 'California Baja' tour. More and more cruise lines are returning to this fantastic area, here's a list of some of the lines that offer journeys that we work with:
Carnival
Norwegian Cruise Line
Royal Caribbean
Princess Cruises
Holland America
Celebrity
Cunard
As you can see, some of the world's top cruise liners travel through these ever warm and wonderful coasts. With varying lengths of visiting, be sure to plan out everything that you want to do and where you want to go. Usually, these journeys will begin in Los Angeles, San Diego or San Francisco, giving you the wonderful opportunity to explore some of America's most famous and iconic cities too.
There are various options to consider when going on a cruise to the Mexican coastline. One of the best features of a cruise here is the high level of variety and flexibility as you will be offered, either relaxing or keeping busy, you can really do as you wish. With the added comfort and leisure of a top of the range cruise ship, you'll be guaranteed an unforgettable vacation full of fond memories.
The options of your itinerary vary massively, as Mexico is such a great cruise line destination, or you can go on a three day cruise or as part of a round the world trip from LA to Sydney. Whatever you plan to do, the Mexican Riviera has something to offer everything for a time span that suits whoever. Here's some of the lengths on offer.
3 night cruises
offer a perfect chance for those wanting to explore Mexico and try a cruise for the first time. It's also great for family reunions or long weekends. These trips will give you a look at Baja California and a chance to journey into the Sea of Cortez and the Californian Gulf. These cruises generally set sail from San Diego and will go through to Ensenada.
Also optional is to add an extra night to go to the beautiful island town of Catalina, which has boutiques, restaurants and much more for those seeking to explore south of the border more.
7 night cruises
will give you a broader journey along the coast, offering 2 nights at the party town of Cabo Lucas or at the charming Mazatlan. This is the most popular way to explore the coastline, and for good reason. With each town having so much to offer, it's the best way to get a real flavour for the passion, life and great weather in the area is to visit as many as you can.
For those wanting to explore even more,
10 – 12 day cruises
travel around the Sea of Cortez (now known as the Gulf of California) and will give you a wide and deep insight into the area. Named after Spanish Conquistador Hernan Cortes in 1539, the sublime cruise destination is UNESCO World Heritage Site and has a huge range of wildlife, with over 5,000 species of macroinvertebrates. Lobster anyone?
There's loads of options for travelling to this superlative part of the globe, and with so much time to spend here, you'll need to know what there is to do!
Attractions of the Mexican Riviera
Acapulco
Acapulco remains Mexico's ultimate resort town. In its hey day of the 1960s it welcomed in many glamorous celebrities there for the glorious weather and splendid views of the ocean. The must do attraction of the area, however, is to go see the perfect cliff diving off La Quebrada by the young men of the town.
Throughout the day tourists gather with open mouths and gasps at the ready to watch in suspense as the divers climb up the cliff face ready to jump into the small body of water below, landing with a precision perfect dive. A truly unforgettable sight that is made all the more impressive by the fact that upon completing a dive they climb right back up!
Catalina
26 miles off the South California coast is this island that is just perfect for a single day trip, as is the case for many visiting parties from the mainland. The main town of Avalon is minutes away from the landing pier and holds a number of boutiques and cafes to enjoy whilst docked. If time affords you the opportunity, a tour around the Catalina Casino is a great slice of culture.
During the second World War the Casino was a place where locals travelled to have a great time and enjoy some famous bands of the time. It is a well maintained insight into an incredible moment of modern history.
Puerto Vallarta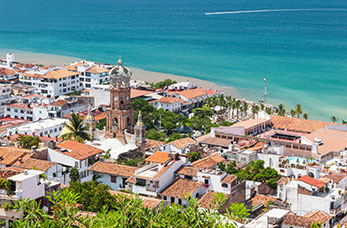 If it's the old world charm of Mexico you're after, the Puerto Vallarta is the perfect place for you. Offering nightlife, restaurants and luxury the quaint cobblestone city offers loads of beaches that are great for swimming and water sports. The stand out beach would be Playa de Muertes, meaning 'the beach of the dead'.
Along the bay be sure to touch all the old sculptures which are rumoured to bring you good luck in life. Finally, visit the Bay of Banderas , which is a unique mountain covered in the base of a jungle. A quick boat ride will take you over to this one of a kind destination.
Cabo San Lucas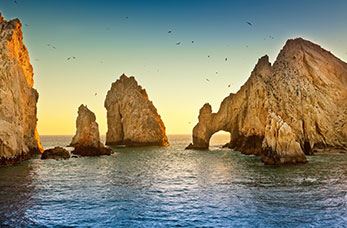 Around the spring months the town at the tip of the Baja becomes home to many happy college students who use the area as a spring break party destination. Whether that's your thing or not, the towns offers beautiful views of sea, desert and mountain. You can even go for a camel ride through the desert one day, or enjoy the indigenous wildlife.
From December to April, tourists are able to catch sights of travelling whales migrating on their annual journey, as well as much more wildlife to view. Water sports are, of course, plentiful and the area also plays home to many international level golf courses.
Mazatlan
Mexico's largest port suffered from the well documented and unfortunate events that took place therein 2011. Nonetheless, the area is a haven for sport fishing, surfing, sailing and scuba diving. With a ten mile promenade that offers a perfect stroll after a great day of watersports, be sure to visit the city's 'old town' for something a little different on your cruise.
Here you'll find the city market place, cathedral and the Plaza Republica city square, with an exciting emerging art scene. Natural beauty abounds too, with the steep Sierra Madre mountain offering striking views. Why not take an open air taxi 'pulmonia' and take it all in after a busy day?
Ensenada
For many Cruises this will be your final stop, but the large seaport town has more to offer than a final destination. The area is renowned for it's deep sea fishing, with a thriving seafood industry and also great days out for enthusiastic game fishers. Local lobster is a speciality, and will come straight from sea to plate the very day you eat.
Avenida Primera offers a wide variety of shopping opportunities for those looking for something a little less ocean centric and the must see attraction is a natural wonder known to the locals as "La Bufadora". This is a giant blow hole that tourists flock to in the hopes of getting covered (or not) in water from the giant geyser.
Cruises to the Mexican Riviera
With so much on offer, it's clear to see that Mexican Riviera cruises are a great option. Whether for 2, 3, 7 day cruises or even longer, Cruise nation can offer you a vacation with unforgettable memories. With hundreds of cruise deals on offer, you'll be able to find the best one for you at the very best price.
Whether you choose to go with princess cruises or celebrity cruises, we'll be here to help you with whatever you need. If you have any questions please don't hesitate to get in contact with us on 0800 408 0757, or get in touch online.