Here's your guide to 22 of the most romantic destinations in the world…
There are thousands of locations across the world that provide wonderful opportunities for couples to explore, relax or simply unwind in new surroundings. But if you want to make a great impression – or simply show someone how much you care – here is our list of the top cruise destinations for loved-up couples.
1. Venice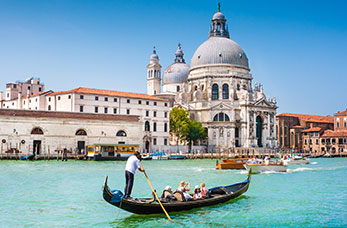 Venice is a quintessential romantic European location – steeped in history, majesty, and hundreds of interlocked and hidden side streets. Virtually every tourist guide will recommend that you hire a gondola, but this wonderful city has so much more to offer – especially if the thought of busy boat rides surrounded by tourists isn't your idea of romance. For a beautiful view of the city, visit San Marco at dawn to see Venice at its most serene. It will be blissfully tranquil and you will have the perfect opportunity to explore the enigmatic Doge's Palace. It will feel as if you're the only two people in the world.
2. Barcelona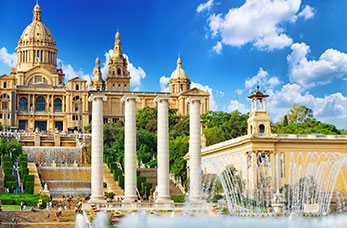 A living and breathing gothic landscape, Barcelona has a reputation for embracing romanticism with every fibre of its being – from the epochal heights of Gaudí's stunning masterpieces, to the tiny restaurants that characterise its streets. Barcelona is undoubtedly easy to fall in love with. To find the perfect idyllic spot for you and your partner, journey to the Parc de la Ciutadella. This mesmerising garden has fountains, a zoo, and is even home to the Museu d'Art Modern. You won't find anywhere more charming in this beloved city.
3. Copenhagen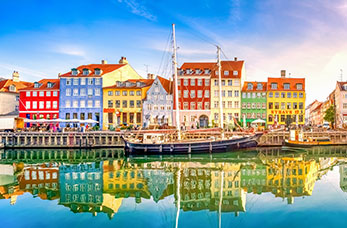 A city built upon the principle of hygge, meaning coziness, Copenhagen is breathtakingly romantic. With stunning architecture, an endless variety of boutique coffee shops, and beautiful canal tours, there is no better place to cuddle up with a loved-one and enjoy the scenery. For the perfect Copenhagen meeting place, take a short walk to The Little Mermaid statue – inspired by the fairy tales of Hans Christian Anderson.
4. Reykjavik
A gorgeous winter retreat, Reykjavik encapsulates romance and escapism. For the ultimate experience for two, take a trip to the natural hot springs of Grjotagja and bask in the healing properties and gentle stream. This cave is absolutely gorgeous and is a wonderful location to relax and unwind – making it a popular location for couples
5. Dubrovnik
Dubrovnik is the worst kept secret in Croatia – but it's still one of the most romantic and charming cities in all of Europe. If you would like to see the best views of Dubrovnik, then take a walk along the Medieval city walls – offering a panoramic and heart-stopping view across the coast. There are plenty of hidden alcoves throughout this walk. And nowhere else in Dubrovnik is there a better place to stop and share a memorable kiss.
6. Santorini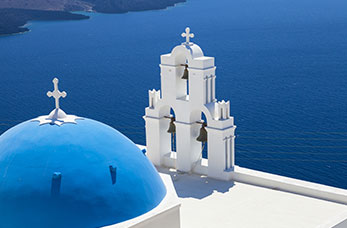 Located in the midst of the Aegean Sea, Santorini is a paradise of volcanic sands, cerulean waters, and iconic white-washed buildings. With an exclusive night-life scene and gorgeous cliff-top bistros, Santorini is a very popular wedding and honeymoon location. And it's easy to see why. If you want to find the perfect romantic location, take a short walk to Megalochori – the island's oldest village, dating back to the 17th century.  You will have phenomenal panoramic views of the island – and you'll find a number of delicious gelato bars along the way.
7. Rome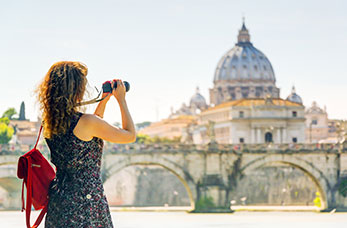 Rome is eternal – a skyline chiseled with unforgettable temples, basilicas, and stunning churches. The Italian capital has a reputation for being overly busy, but the beauty of Rome is that there are thousands of secluded and stunning sites – perfect for finding a romantic moment in the city. One of the most beautiful is the Fontana dei Quattro Fiumi, situated perfectly within the Piazza Navona. This charming Bernini fountain is located in the midst of a fantastic selection of restaurants, bars, and Renaissance sculptures. This is the perfect location to explore the romantic charm of Rome.
8. Marrakech
World renowned for eclectic souks and beautiful fragrances, Marrakech is a wonderfully passionate destination located in Morocco. During the day, there are plenty of shopping and sightseeing activities to keep you occupied – but it's at night when the city really comes into its own. With the right tour guide, you can take a late night hot air balloon ride across Marrakech – waiting for the sun to rise. So sip some champagne and enjoy one of the most romantic moments of your life.
9. Istanbul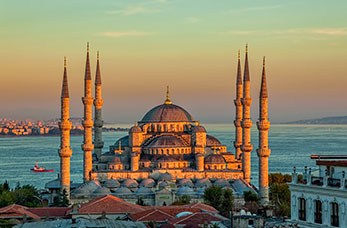 Istanbul has a reputation for being warm, embracing, and housing some of the most decadent and stunning art treasures in the world. But it is also the ideal location for romance and fine dining – making it one of the most popular honeymoon destination in the world. To experience Istanbul at its most charming, enjoy a gorgeous seaside meal overlooking the Bosphorus and stunning Hagia Sophia. You will be hard pushed to find a better view in all of Europe.
10. New York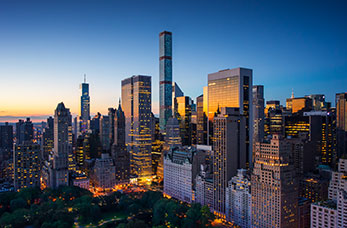 There's a saying that New York is a city that never sleeps. An urban jungle of high rises and effervescent lights, Manhattan has its own pulse – and it won't wait for anyone else. Once you've soaked in the traditional sites of Central Park and the Empire State Building, both romantic in their own right, travel to the Meatpacking District. The now-iconic Highline Garden, filled with indigenous plants and scenic walks, provides unparalleled views of the city.There's plenty of opportunities to sit back, relax, and enjoy this oasis escape in the midst of Manhattan. And it's even better if you have someone special to share it with.
11. San Francisco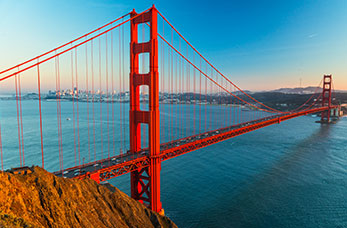 Diverse, multi-faceted, and bursting with energy, San Francisco embodies the effortlessly cool exterior of the West Coast.  And there is another reason why couples flock to this destination every year. San Francisco is a haven for couples who want to experience more than a traditional coastal city. Visit Pier 39 to experience the best of what San Francisco has to offer. Adorned with fabulous seafood restaurants, this spot is a gorgeous marina of sea lions and other unforgettable sights. Escape to Pier 39 at dusk when the city is at its best.
12. New Orleans
A city known for throwing outrageous parties, you might not associate New Orleans as a romantic destination. But once the glorious indulgences of Mardis Gras have passed, this city transforms itself one again – and the French Quarter is made for couples. Beyond the heady heights of Bourbon Street, there are a number of gorgeous spots that couples can marvel in the relaxed ambiance of New Orleans. An absolute must-see is Jackson Square Gardens – overlooking the distinctive and fairytale-like Saint Louis Cathedral. Surrounded by beautiful greenery and fragrant roses, these gardens are a welcome retreat from the gentle hum of the French Quarter. The perfect location for an unforgettable romantic moment.
13. St. Lucia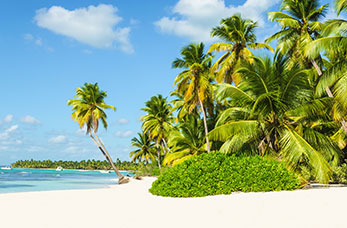 A tropical paradise if there ever was one, St. Lucia is situated in the Caribbean Sea and is a phenomenal island of palm trees and unspoiled mountain landscape. The beauty of St. Lucia is that couples can enjoy the benefit of near seclusion, with all the fabulous amenities that offer this island has to offer. There are few places better suited to sharing a romantic moment than St. Lucia.
14. Buenos Aires
Passionate, spirited, and filled with excitement, Buenos Aires is a very popular destination for couples who want something extraordinary. The city is vast, but one of the best spots is Buenos Aires Japanese Gardens. Whilst it cannot be classified as traditionally Argentinian, these gardens are truly magical and offer the perfect opportunity to escape city living and enjoy a private moment together in the warm sun.
15. Rio De Janeiro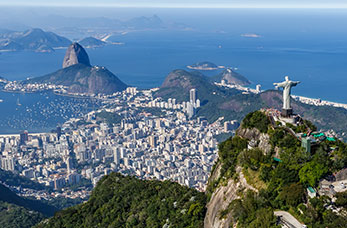 Unless you've been living under a rock, you'll have heard a lot about Rio De Janeiro recently. But now that the World Cup is long gone, this might be another good time to visit the beautiful Rio De Janeiro. It's a hugely diverse and exciting city, and there's no better way to appreciate the romanticism of Brazil than with a cable car to Sugarloaf Mountain. Providing spectacular views of Rio, these cable cars start at Babilônia Hill and journey all the way up to Morro da Urca Hill. It really is a lovely opportunity to experience something extraordinary with a loved one.
16. Santiago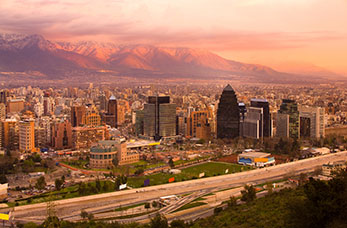 Santiago is a magical city and no trip is complete without visiting Parque Forestal. With quirky flea markets selling art, and couples reclining in the afternoon breeze, Parque Forestal is made special romantic moments. There is also a fascinating museum located within this charming park.
17. Champagne Bay
Situated in the heart of Dominica, Champagne Bay has earned its title as the honeymoon destination for the adventurous. Providing a fantastic opportunity to snorkel and swim in the beautiful sea, Champagne Bay lets you do as much or as little as you like. Underwater kiss, anyone? One thing is guaranteed, however – you'll be hard pushed to find a more romantic beach destination than this.
18. Tokyo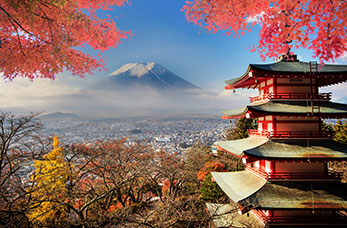 Tokyo is unlike any other city in the world. Filled with an endless number of skyscrapers and neon advertisements, the best way to experience Tokyo is at night. And it's a wonderful excuse to get close, too. Try visiting the Sunshine 60 Observation Deck at the top of Sunshine 60 Building. With a gentle breeze, this site is a secluded retreat from the hustle and bustle of Tokyo city living.
19. Phuket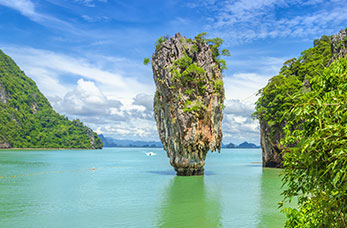 A gem in Thailand's gorgeous islands, Phuket is a favourite amongst couples who love sand, sea, and exquisite natural landscape. To share the perfect moment together, hire a boat and sail into the Andaman Sea to see Phuket at its finest. Bring a picnic. You'll never experience anything else like this in the world.
20. Dubai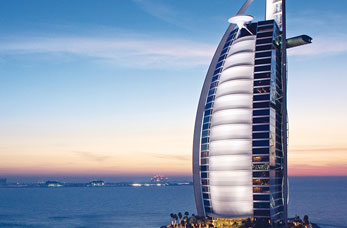 Dubai is one of the most diverse cities in the world. You can shop, go on a hot air balloon ride, and then travel on an Arabian horse in the desert. The Al Dhabi Stables offers an exclusive opportunity to go for a midnight horseride under the stars. Couples can experience the romanticism and beauty of this unique part of the world – whilst enjoying truly mesmerising views. It's unlikely you'll find a better opportunity to share a kiss than this.
21. Sydney
There are few travellers who would deny that Sydney is a magical and invigorating city. If you are lucky enough to visit this lovely location, then travel to Circular Quay for a romantic outdoor picnic for two. There are a number of restaurants, bars, and attractions situated across this stretch. You'll also get fabulous views of Sydney Opera House and the Sydney Harbour Bridge.
22. Bay of Islands
For those couples who like to travel further afield, Bay of Islands is located in North New Zealand and is unmissable.Known for its stunning natural beauty, this site offers a range of water activities and sunbathing opportunities. Couples can enjoy all the benefits of happily lazing at the beach without all the crowds. Perfect.
If you would like to learn more about any of these locations, or booking a cruise, please contact our helpful team today.