Harmony of the Seas is set to sail in May next year… so we thought we'd give you a little insider information before the big day!
Harmony of the Seas is set to be the biggest cruise ship ever, so you can imagine there's a lot of buzz around this beautifully designed ship already. If you've yet to read or see anything about the Harmony of the Seas – check out this video below…
When it comes to cruise ships, we love our stats – sometimes it's the best way to help demonstrate just how big the ships really are.  Here's a couple of the stats we've compiled about Harmony of the Seas so far…
Facts about Harmony of the Seas:
16 guest decks
227,000 gross registered tons
5,497 guests at double occupancy
2,747 staterooms
Harmony of the Seas is the first in a new generation of Oasis class ships from Royal Caribbean. The Oasis class combines innovative technologies with revolutionary architecture, for examples the Splashaway Bay – an interactive aqua park for kids. This new aqua park will feature the tallest slide at sea – The Ultimate Abyss, which is not for the faint-hearted as it features a thrilling 100ft plunge that spirals the height of ten storeys. As well as this dramatic slide, the Aqua Park will also feature a jungle gym, giant drench bucket and a trio of swirling slides; Cyclone, Typhoon and Supercell which are guaranteed to keep the kids busy for hours!
There's also plenty of features onboard the Harmony of the Seas that'll improve your whole stay at sea. There's virtual balconies for inside cabins and a bionic bar to which you can send your order via your tablet or phone before it's brought up to your room by one of the waiters or waitresses onboard. That's what we call service!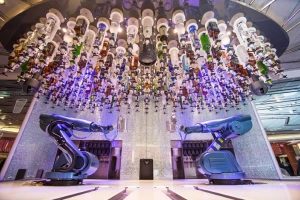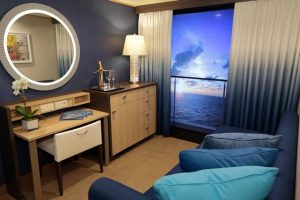 As new features are announced for the Harmony of the Seas, we'll be keeping our blog updated with them – so remember to keep checking back! What feature would you most like to see be added to the ship? Let us know in the comments below.