Going on a family cruise holiday doesn't need to be complicated. Take a look at these 10 do's and don't for a stress-free family escape.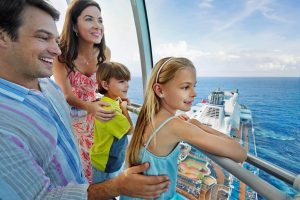 Booking a cruise holiday as your next family getaway makes a lot of sense. A cruise holiday offers so much flexibility with plenty for everyone to see and do, regardless of age. Besides the exciting destinations that you will visit cruise holidays can be great value for money. David Fiske, a family cruise blogger, shares his top tips on things to do and things to avoid when planning your ideal family getaway.
Do:
1. Do consider your itinerary very carefully, especially if you have younger children. While you may wish to explore the museums of Italy or the bustling markets of Spain will your children enjoy it as much as you will? All parents fear the dreaded words "I'm bored" and there's nothing worse than having your ideal getaway ruined by arguments. Choose an itinerary that offers a mix of destinations so you can choose freely between culture, beaches, shopping, or sightseeing.
2. Not all cruise ships are created equal so make sure you do your research first. Italian lines MSC Cruises and Costa Cruises are renowned for offering excellent value family-friendly holidays while American lines Royal Caribbean, Carnival and Norwegian Cruise Line offers plenty of activities across their ships for thrill seekers. British line P&O Cruises offers great value family-friendly itineraries aboard some of its ships complete with all the creature comforts from home.
3. If it is possible, do try and book outside of the school summer holidays as it can save you money. The prices of most holidays increase during the school summer holidays due to a spike in demand. Consider a winter getaway over Christmas or a half term getaway as an alternative.
4. Do register for the kid's clubs as soon as you board. Most cruise lines offer some form of club for children usually between the ages of three and 17. Some have parent-supervised play sessions for infants and toddlers too. By registering with the club children can participate in sessions when they want to (or when you fancy a relaxing couple's spa treatment or that romantic meal for two you have longed for!). There's no commitment so if your child doesn't like it then they don't have to return. With a plethora of child-friendly activities, games and events and separate teen clubs they will be hooked from day one!
5. Do think about purchasing an all-inclusive drinks package. In the baking heat you and your family might end up drinking more and so a drinks package might be worthwhile to limit bar costs. It may sound like an expensive upfront purchase but you can quickly see a return on your investment after just 3 or 4 drinks each day.
Don't:
1. Don't forget to pack all the medication your family needs for the holiday. This will include essential medications for illnesses but this also should include preventative medication. Paracetamol, insect repellent, rehydration salts, and antihistamine creams should be packed along with the sun tan lotion and aftersun cream. You might not need them but if you don't pack them and discover you do then either you need to spend your day in port visiting pharmacies or pay an expensive visit to the on-board doctor.
2. Don't book shore excursions unless you know there is something you absolutely want to do. Children can be unpredictable and while it can feel great knowing you've pre-booked and pre-paid your shore excursions it can be costly if your child falls ill or wakes up in a grumpy mood forcing you to cancel your tickets at the last minute. If there is an excursion you really want to do then this would be the exception to the rule as some excursions sell out before the start of the cruise.
3. Don't book a balcony or suite if you plan to spend most of your time out and about. A balcony cabin offers you a private outdoor space to relax but it costs more than an inside cabin (no view) or an outside cabin (with a window out to sea). If you are travelling on a budget and plan to spend little time indoors then book the cheaper cabin instead.
4. Don't worry about the food, even if your child is the world's fussiest eater. Dining room menus are varied and offer something for everybody and the kid's menus often feature a variety of popular classics. Buffet restaurants can be an alternative to the dining room and offer a tremendous range of food from across the globe.
5. Don't forget to factor in additional costs. While your food and accommodation are included in the price your drinks often are not. You will also find service charges (or gratuities) added to your on-board bill which are distributed amongst staff. Some port-to-city transfers are charged for by some cruise lines too. These costs usually don't amount to a large figure but some cruise passengers forget to factor these costs into their budget and are surprised when presented with a bill at the end of the voyage.
More about David from Ports of Call Blog

David Fiske is a cruise holiday travel expert who regularly provides tips and advice on his blog Ports of Call. As a family man, David has been there and done that when it comes to cruising with the kids so he's able to offer insightful advice to those planning their first cruise with children. David is a member of the International Travel Writers Alliance and regularly contributes to cruise publications such as 'World of Cruising Magazine'.