Thought cruise ship cabins were nothing special? Well we're about to change your mind…
When you consider that cruise ships are moving vessels, it can be easy to think that the accommodation onboard is simple and understated in order to provide simple efficiency. However that couldn't be further from the truth. Cruise ships are like floating holiday resorts but better. Cruise ships offer more choice than a resort and that rings true across the entertainment packages, dining options and accommodation too. But you don't need to take our word for it, just take a look at these luxurious cruise ships cabins to get just a hint of what life on a cruise ship can be like.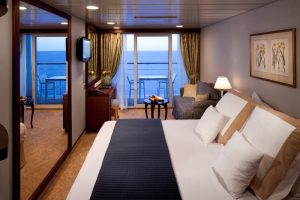 1. Azamara Club Veranda Stateroom
Azamara is all about timeless elegance and you can see this reflected in the tasteful decor of their staterooms.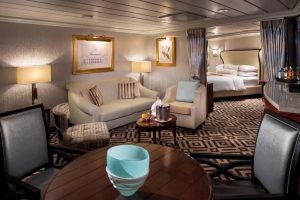 2. Azamara Club Ocean Suite
Choose an Ocean Suite for your Azamara cruise and you'll get all this cushty space to yourself!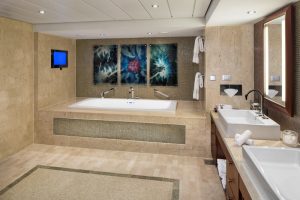 3. Celebrity Silhouette Penthouse
You're probably wondering if it would be wrong to spend your entire cruise just kicking back in this bathtub… and no it wouldn't, it would be so, so right!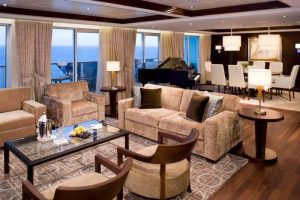 4. Celebrity Solstice Penthouse Suite
Yep, your Penthouse suite comes with its very own piano on the Celebrity Solstice.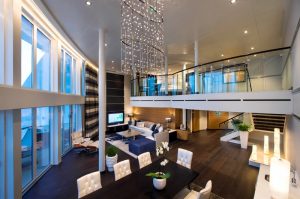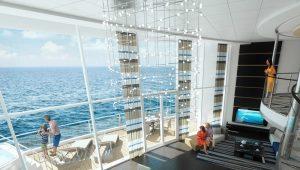 5. Royal Caribbean Quantum of the Seas and Anthem of the Seas Royal Loft Suites
The Loft Suites on the Royal Caribbean Quantum Class ships are the epitome of how cruise ship design is changing. These split level lofts feature spacious seating and dining areas, tasteful modern decor and a private balcony with a whirlpool bath.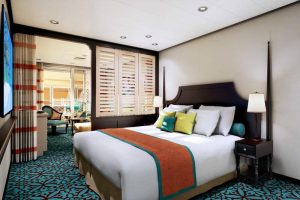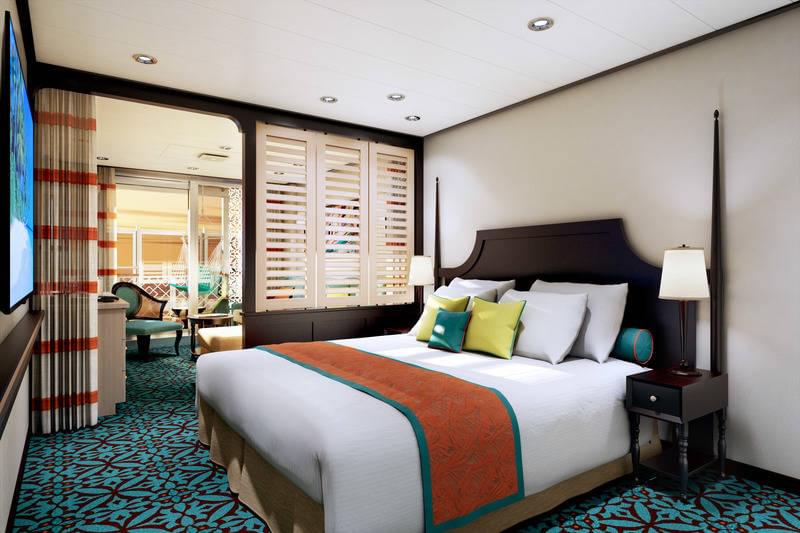 6. Carnival Vista Havana Cabana Suite
Carnival Vista is a brand new ship for 2016 and many of the cabins, lounges and restaurants have been given a whole new look. These Havana Cabana cabins have a cuban influence and feature a verandah style outdoor area complete with a hammock and separate seating to lounge and enjoy the sunshine on.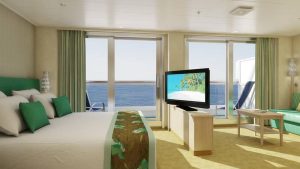 7. Carnival Sunshine Cloud9 Spa Suite
Bright and spacious, the Cloud9 Spa Suites on the Carnival Sunshine are designed to compliment your spa experience by giving you a light and ambient living space with refreshing colour schemes.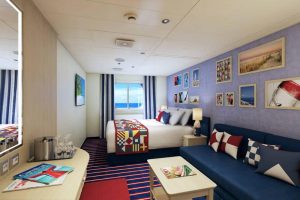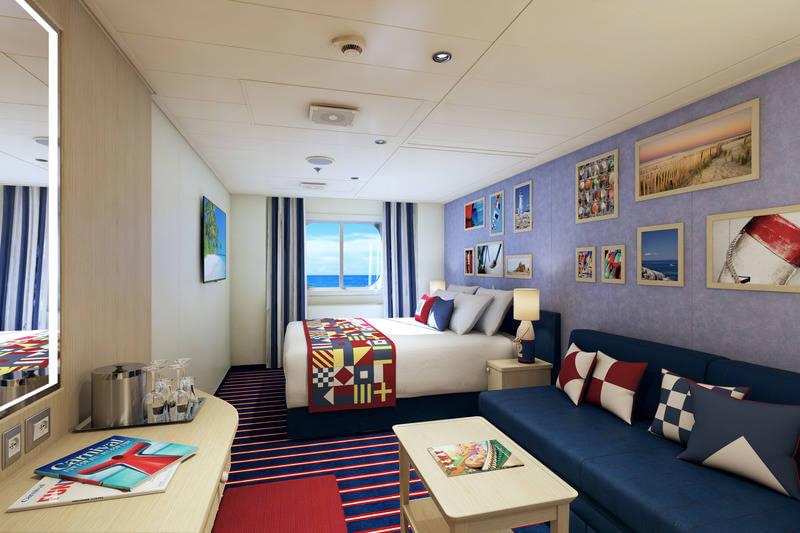 8. Carnival Vista Family Harbour Suite
Just like the Havana Cabana cabins above, the family suite staterooms on the Carnival Vista also have a totally new look from the rest of the fleet. Featuring a colourful and fun design representing countries from around the world, the family cabins have a definitive international, nautical appeal that cruisers of all ages will appreciate.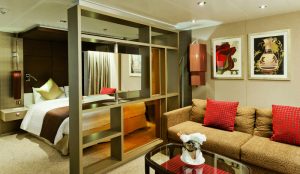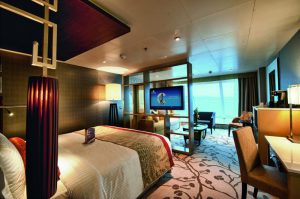 9. Costa neoRomantica Samsara Suite
These Samsara Suites on the Costa neoRomantica have an opulent decor with a hint of Asian influence. We love the layout of the seating area, perfectly positioned for gazing out over the ocean whilst enjoying your morning cup of coffee.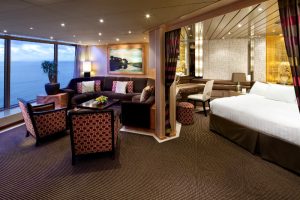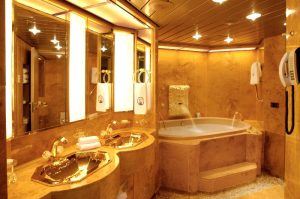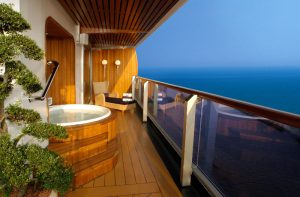 10. Holland America Oosterdam and Rotterdam Pinnacle Suites
Everything about the Holland America Pinnacle suites denotes luxury. From the gold finish on the sinks in the bathroom to the ambient lighting, incredible open view and plush soft furnishings. We don't think we'd ever want to leave after a stay in one of these suites!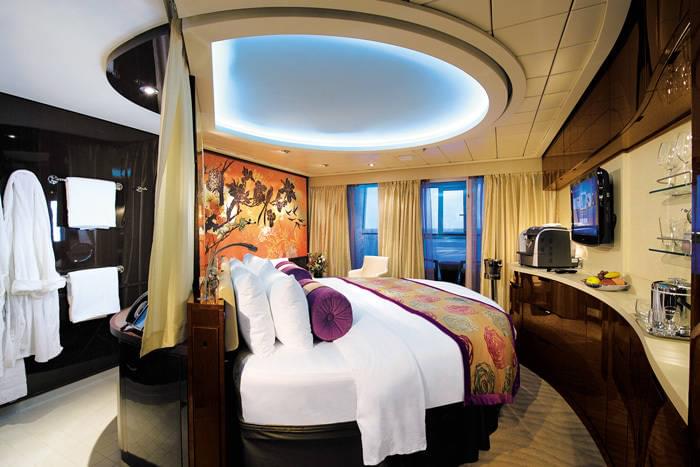 11. Norwegian Epic Penthouse Suite
Possibly one of the most unique cruise ship cabin designs, the Penthouse Suite on the Norwegian Epic features a plush, curved bed in the centre of the room, perfectly positioned to take advantage of the sea view.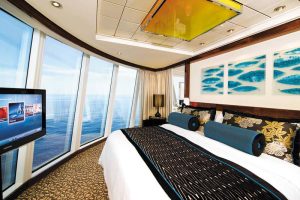 12. Norwegian Epic Delux Owner's Suite
Wake up to an incredible new view every day in this beautiful suite on the Norwegian Epic. With floor to ceiling views and a big, cosy bed – there's nothing more you could want for.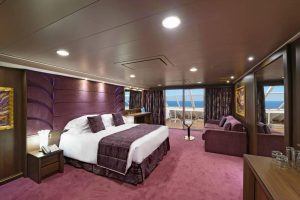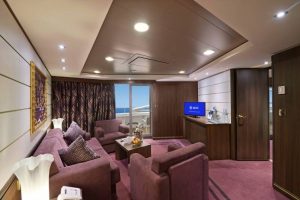 13. The Royal Suite on MSC Preziosa
Sleek and modern, the Royal Suite aboard MSC Preziosa is perfect for those who love their space! With a separate seating area and large balcony, you can sprawl out and enjoy your own peaceful and private surroundings.
Which suite would you most like to stay in? Let us know in the comments below or over on Twitter with @CruiseNation.