Our travel writer, Penelope Cruise, recently visited the Carnival Vista in the shipyard – here's what she had to say about her experience…
It's not every day you get to pop on a hard hat and head to a shipyard to see a new vessel being built. But last week I found myself in that very position. I was lucky enough to be among a handful of people invited to visit the Fincantieri shipyard in Monfalcone, Italy, to see the new Carnival Cruise Line ship in all its glory.
The shipyard itself is like a maze with bits of steel all over the place and hundreds of workers hammering and soldering away.
Carnival Vista doesn't launch until next year, but construction on the 3,936-passenger ship is well underway. The shell of the ship is in place and now miles upon miles of cables and wiring are being put into place.
And, of course, the red and blue funnel, which has become a real signature to the Carnival brand, is sitting in pride of place on the top deck of the ship. But the funnel isn't actually made alongside the rest of the ship. It's been specially made elsewhere, alongside the bridge (which is where the Captain sails the ship from), and both parts been added onto the ship once complete.
I visited the shipyard alongside several senior members of the Carnival Cruise Line team, and it was their first time seeing the progress being made on their new ship. It's a project they've all been working on for some time, so for them to see it all come to life was very exciting. As well as having a full tour of the shipyard (where we saw work being carried out on a new Princess Cruises ship and also got a glimpse of the warehouse were work is beginning on MSC Cruises' new ship MSC Seaside), we also got to check out some mock-ups of what the cabins will look like on Carnival Vista.
It will be a while before the interiors start to look like the finished product, but cabins are being fitted as I type and in a year's time you could be staying in one as you sail around the Med. Sounds tempting doesn't it?!
From an iMAX cinema to a massive waterpark – this ship will have it all. And to get you all excited about Carnival Vista and what you can expect, here's our guide to the newest and biggest ship in the Carnival Cruise Line fleet.
Cabins
The cabins on board Carnival Vista are fun, just like the rest of the brand. There's set to be lots of bright colours and bold patterns and that was shown in the mock up cabin. The majority of the cabins on board are similar to those you'd find on any other Carnival ship, but they're more modern and funkier than ever before. But the line has also introduced two completely new types of cabins. The first is the Havana stateroom or suite. The Havana area is exclusive to those staying in that area – it's like a members-only club complete with its own Havana Bar, pool and club. The cabins have more outdoor space and there's even a hammock for those who want to kick back and relax. This part of the ship is set to be VERY cool and is all about relaxation. To help make that a reality all guests staying in the Havana cabins must be over 12 years old. It's not an adult's only area but it's also not going to be full of young children roaming around. But families haven't been forgotten about – far from it in fact, because another new type of cabin is the Family Harbour staterooms. These cabins have families in mind and they're even close to the new Family Harbour Lounge which is a 24-hour area exclusive to those staying in these cabins. Here you'll be able to get your hands on breakfast and snacks, but it's also a place for fun and games too. If you're a parent looking to get some alone time during your cruise, then the Family Harbour cabins will come to your rescue because you also get access to a free evening use of Carnival's Night Owls babysitting service.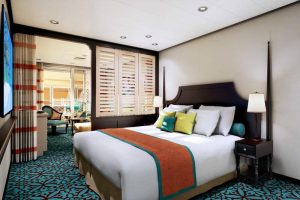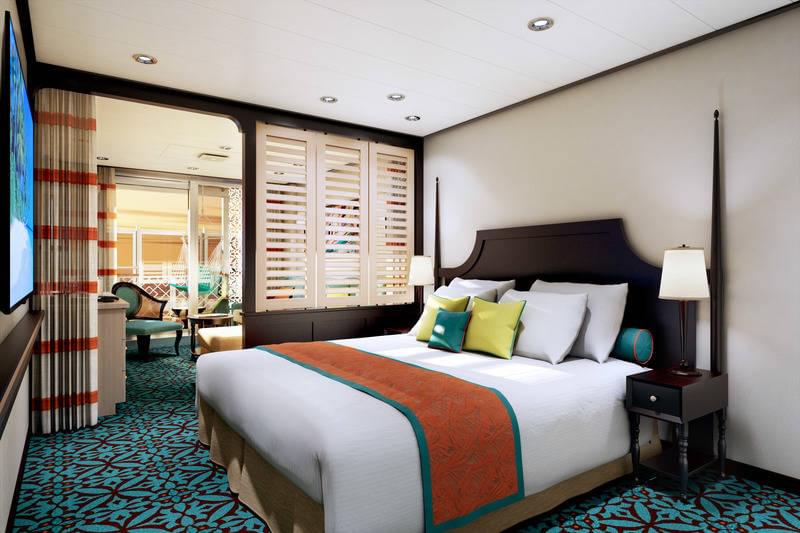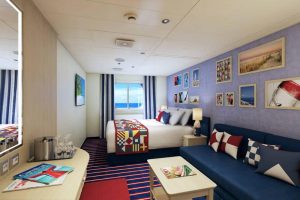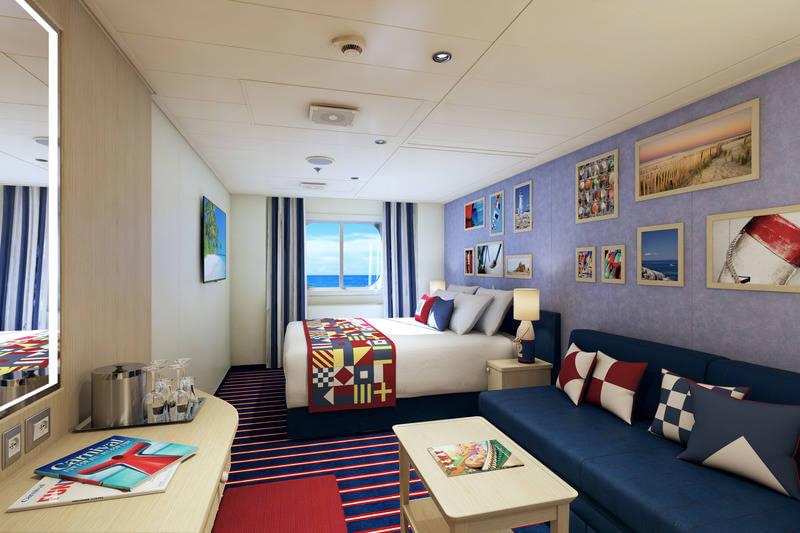 Dining
The new additions on board don't stop with the cabins, because there are also a few new dining experiences too. One of the new venues that I'm particularly excited about is the Seafood Shack. Think lobster rolls, fried prawns and crab cakes and it's enough to have my taste buds going into overdrive! Other firm favourites, including steakhouse Fahrenheit 555, Japanese venue Bonsai Sushi, Guy's Burger Joint and the Blue Iguana Cantina will be returning on Carnival Vista. Other restaurants include Italian Cucina del Capitano and Ji Ji Asian Kitchen will feature alongside main dining rooms Horizons and Reflections. Plus for the first time, a Carnival ship will have a Chef's Table.
Beer fans will feel at home in the RedFrog Pub which serves beer that is actually brewed onboard the ship in its own microbrewery. They'll also be beer taps on some of the tables for those who are just too comfortable to get up and walk over to the bar. This is bound to be a hit!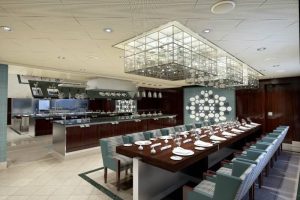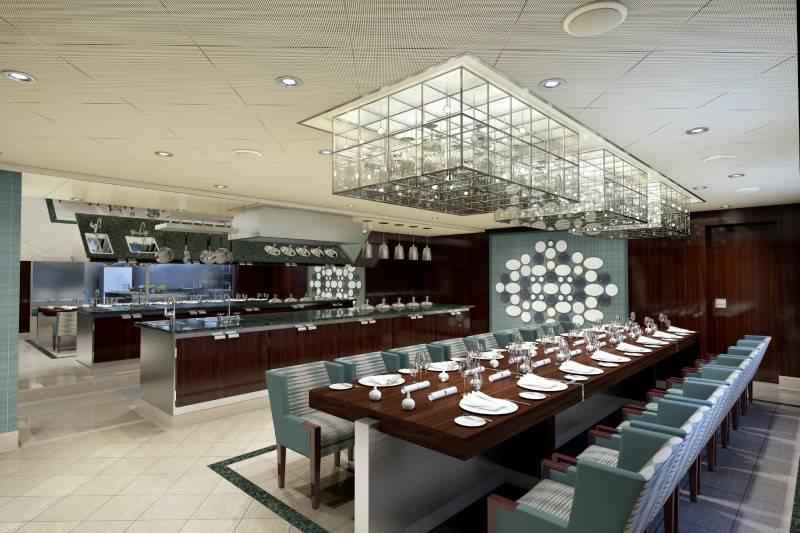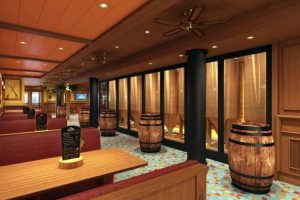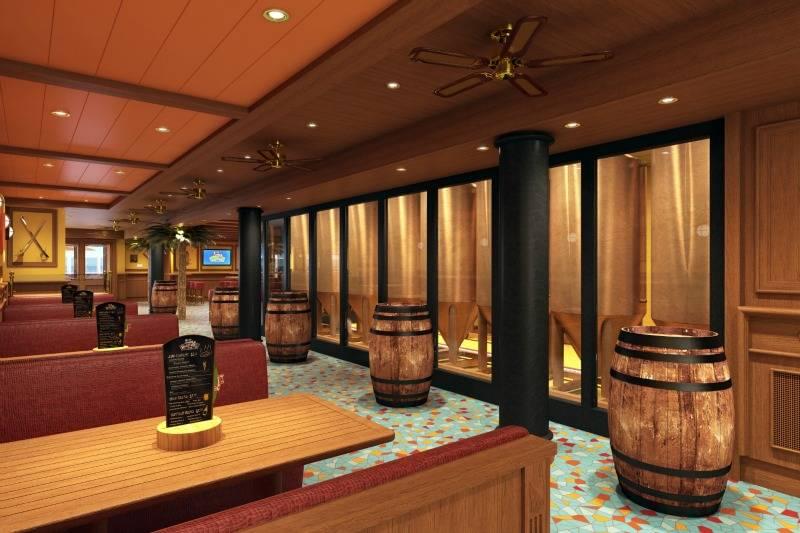 New Experiences
As with all new ships, Carnival Vista will have some unique experiences that you won't find anywhere else at sea. Among the new innovations is the first iMax theatre at sea! Yes, that's right you'll get to watch all the brand new movies at the same time as when they come out in the US.
Another 'first' is the Sky Ride, an adrenaline thrilled ride where guests strap into a bike which is hanging above the ship. It looks a little bit like a pedalo which hangs from a track around the top deck of the ship and I've never seen anything else like it. Personally I'm terrified of heights but this is one innovation that I won't be missing out on, regardless of my fear.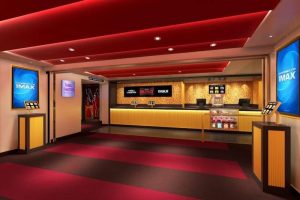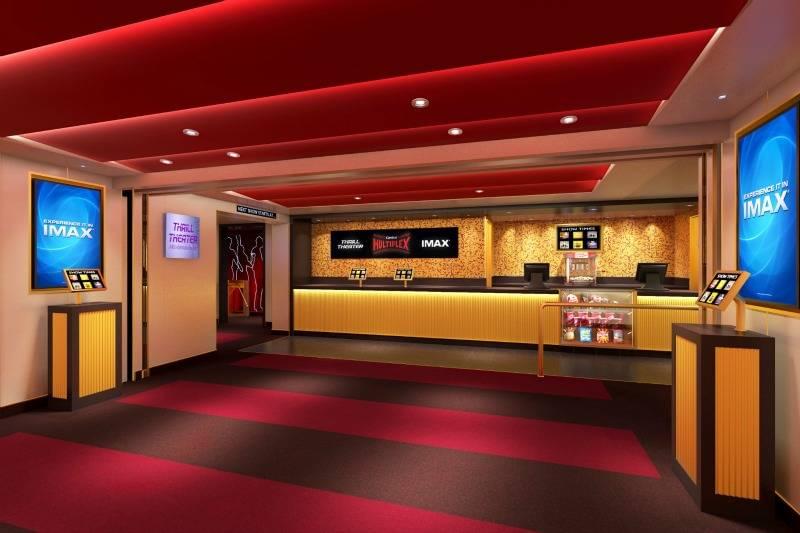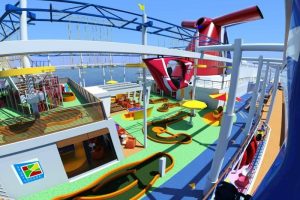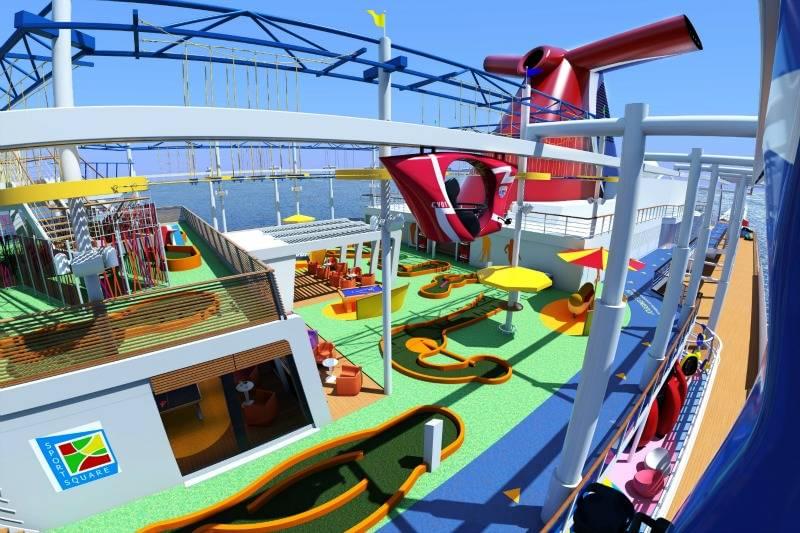 Fun, fun, and more fun!
As a brand, Carnival is all about the fun. And while there are lots of exciting new things to see on board, some of the fun elements which have become samples on a Carnival cruise will be returning onboard Vista. Carnival WaterWorks waterpark is back and it's bigger than ever with waterslides galore. There's also a new addition here, a ride called Kaleid-O-Slide.
The SportsSquare area is also returning and it will have a ropes course, football area, ping pong tables, and mini bowling.
And for the children – there's also Seuss at Sea which is part of the line's partnership with Dr Seuss Enterprises!
Check out the full tour of the ship in this short video from Carnival:
Carnival Vista will be sailing in the Mediterranean in May 2016 until October before heading stateside where it will homeport in Miami, Florida! Cruise Nation already have some fantastic offers for sailings on the Carnival Vista, so I'd recommend checking them out if you want to be the first to sail on this amazing ship.
What do you think of the Carnival Vista from what you've seen so far? Let me know in the comments below!
Penelope Cruise XOXO