Princess cruise line are expanding their sweet sailings in a partnership with Chef Norman Love – the internationally acclaimed master chocolatier and pastry designer.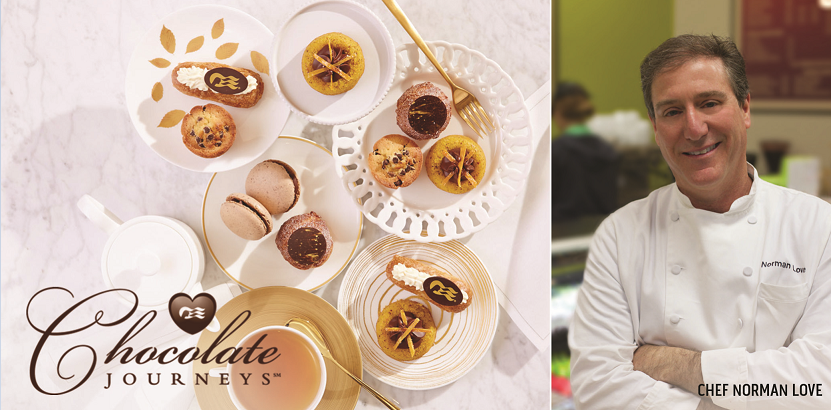 The popular chocolate cruise feature from Princess has been extended and and now includes custom-crafted desserts in new venues on each ship in the fleet, as well as unique chocolate pairings with tea for the ultimate culinary experience.
The new range, rolling out fleet-wide in early 2016, comprises:
International Café Treats* – Every day in the International Café a chocolate treat will feature, from milk chocolate mousse, caramel and chocolate flan to peanut butter chocolate tarts and milk chocolate Chantilly éclairs.
Horizon Court Breakfast Items– Savoury breakfast items featuring touches of premium chocolate will be on offer, such as chocolate muffins, Bretons, puff pastry and Danishes.
Horizon Court Evening Treats – Every evening, a new chocolate cake will be available.
Afternoon Tea – Guests will be treated to chocolate bites paired with a selection of teas and other traditional afternoon tea fare.
Chocolate Soufflé – Available on select evenings during the voyage, the main dining room dessert menu will feature a new signature chocolate soufflé.
Chocolate Cookie– New premium cookies will be introduced in select locations around the ship including the International Café and Movies Under the Stars.
"We're delighted to continue our partnership with one of the most decorated chocolatiers in the world," said Jan Swartz, president of Princess Cruises. "It's been an exciting journey working with Chef Love to create and share a variety of unique and delicious experiences that continue to surprise and delight our chocolate-loving guests."
Norman Love said: "Without a doubt, chocolate is everyone's guilty pleasure. These new chocolate creations give guests even more opportunities to indulge in something that makes them instantly happy, while creating lifelong memories aboard Princess Cruises."
Launched in November 2014, Chocolate Journeys is an immersive chocolate experience offering guests delectable desserts, wine and chocolate pairings and specialty chocolate cocktails. Additional information can be found at www.chocolatejourneys.com.
Are you craving a Chocolate Journey with Princess cruise line? Let us know if it's on your wishlist or if you've already experienced it – we'd love to know what you think!