Find out what it's really like to have a cruise holiday on the Carnival Breeze…
Recently we were lucky enough to be invited by Carnival cruise line, on an exclusive trip to find out what a holiday on the Carnival Breeze is really like. Just like any other guest, we experienced everything that a Carnival cruise ship has to offer, allowing us to expand on our expertise of cruising and impart our knowledge to our customers and others who are thinking of cruising with Carnival. Before we go on, here's a bit of a spoiler alert… whilst you may think we're biased (we sell Carnival cruises after all) we genuinely had an incredible time, and if we did come across anything which we weren't exactly feeling, it was pretty easy to come up with a way around it, hence why you'll find a few of our top tips scattered throughout the post as well as listed at the end for your perusal. Now that's all out of the way, we better get started… we have A LOT to get through!
Day 1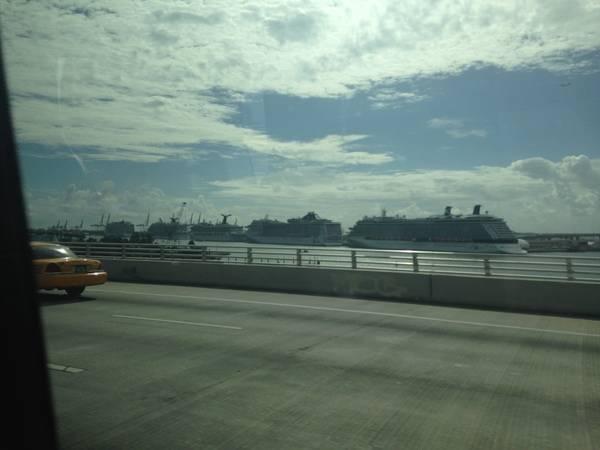 Miami Cruise Port
Miami is the world's busiest cruise port, capable of holding up to 10 cruise ships at any one time. When we arrived at the port, 5 gigantic cruise ships were waiting for guests to board – quite the sight to behold! With each of the ships carrying around 3,000 to 4,000 passengers, you can imagine the port can get pretty busy! Carnival had arranged Priority Check In for us and if your budget allows, we'd definitely recommend paying the $59.95 extra per cabin for this service. It enables you to skip the queues and take a seat in the priority lounge with access to toilets, free WI FI and iced water whilst you wait. We were onboard within an hour of arrival and it meant that we were among the first on the ship so it was relatively quiet, giving us a great opportunity to have a look around.
Welcome Onboard Tour
We were given an exclusive tour around the ship from Guest Services Supervisor, Isabel. If you have the pleasure of meeting Isabel during your cruise you'll quickly find out she's polite, helpful and has a wicked sense of humour! We toured the ship from top to bottom and one of the main stops the Cloud 9 spa (which smells amazing may we add). At the very top of the spa, on deck 12, there's a whirlpool – which looks simply blissful! Near to the spa you'll also find the fitness centre where there are treadmills, cross trainers and running machines all positioned looking out at the expansive sea view. Up in the gym there's also fitness classes and personal consultations on offer, so if you want to kick-start a new fitness regime during your time onboard, you'll be perfectly equipped to do so. After the spa and fitness centre, we ventured outside onto deck 12 where you can find the Serenity area – especially for adults and furnished with hammocks, private sun pods, sofas and loungers so you can take your pick and get super-comfy in the sun. The Serenity area is situated at the front of the ship, whereas if you head to the back of the ship on the same deck, you'll find the running track, sports court and Sports Square where there's a high ropes course, mini golf, table tennis plus lots more. Whilst on the tour we also got to have a look at Blush dining room and the Ovation Theatre. As both of these locations were not officially open yet, we had an exclusive peek when nobody else was around. Seeing both of these spaces empty really allows you to appreciate the size and scale of the ship and all of the detail which has gone into its design.
Caribbean Sail Away Party
If you're new to cruising with Carnival, then the Sail Away Party is a must! This lively event hosted by Matt, the Cruise Director (from the UK himself) is just what you need to get you in the mood ready for a week filled with fun. Matt has an infectious sense of fun and before you know it, you'll find your feet leading you toward the Lido Deck and joining the group of fun-loving guests who are already getting into the groove. One of the songs which you'll come to associate closely with Carnival is the Cupid Shuffle – which is now a firm favourite with the team here. There's nothing that quite evokes your sense of memory than a certain song or scent so much so that now, every time we hear that jam, we're day dreaming about being back in the Caribbean sunshine with a cocktail in hand!  Even if you're a self-confessed introvert – push your boundaries and get up and join the dancing crowd – we promise you'll feel exhilarated and there's no better way to kick off your cruise.
Guy's Burger Joint
For lunch on our first day onboard, we decided to sample the delights of Guy's Burger Joint – it was pretty hard to resist the scent of freshly grilled burgers! Guy's Burger Joint is a collaboration between Carnival cruise line and Guy Fieri who's an American restauranteur, author and TV presenter. Guy's restaurants have found fame for their unfussy yet high quality, authentic American cuisine. The Burger Joint is a pretty popular dining spot onboard and it's likely you'll have to queue before you get your meal – but we can assure you the queue does go quickly! You can choose which burger you'd like from the menu and once you have it you can get fries, salad and other sides from the self-serve counter located just opposite near the seating area. Make sure you work up an appetite before tucking into one of the burgers; they're bigger than you'd think considering they are free! Another word of warning – they are also deliciously messy so make sure to grab yourself some cutlery and a napkin…just in case!
Red Frog Rum Bar
The Red Frog Rum Bar is perfectly positioned in one corner of the Lido Deck, conveniently close to the pool and Guy's Burger Joint. We sat here and enjoyed the atmosphere which has a distinctive Caribbean vibe. There's colourful beach inspired memorabilia and the Red Frog itself even has it's own story. We indulged in one of the many amazing, refreshing cocktails onboard but if you want our tip – you can't go wrong with a Miami Vice or Strawberry Daiquiri! If you're not the dancing type, then pull up a stool here for front row seats to the Sail Away party.
Welcome Aboard Show in the Ovation Theatre
The Welcome Aboard Show is around 1 hour long and it's a great opportunity for you to get to know the entertainment staff onboard and find out more about the kind of entertainment that will be available to you throughout your cruise. The show kicks off with a song and dance before a welcome chat with Cruise Director Matt and his team.  If you're cruising with kids, then the Welcome Aboard show is a chance to familiarise them with some of the staff who work in the kids clubs like Club 02 and Night Owls. The Ovation Theatre was one of our favourite spots onboard. The lower level features small marble tables to hold your drinks whilst the upper levels are furnished with high back chairs which you can sink into and enjoy the entertainment.
Day 2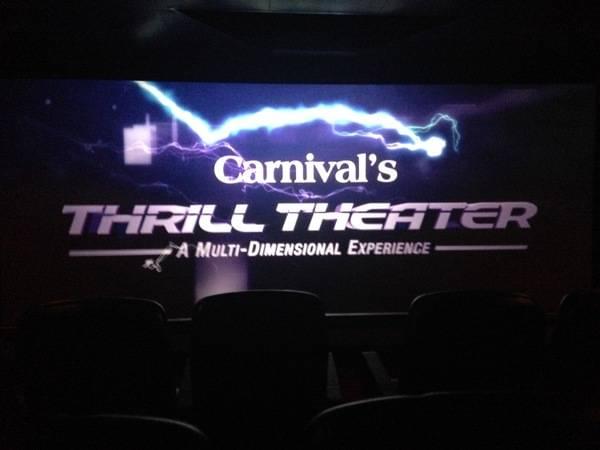 Thrill Theatre
The Thrill Theatre has various showings throughout the day and a variety of film content suitable for both adults and children. The showing we viewed happened to be Cartoon Favourites, featuring the likes of Angry Birds, Spongebob Squarepants and Wile. E Coyote and the Roadrunner. The visuals really jump off the screen and this 3D experience is made 4D by the moving seats and extra effects that bring the screening to life. In fact it's safe to say we were all flinching as objects appeared to tumble from the screen and during certain moments there was plenty of 'oohing' and 'ahhing' as real bubbles filled the room during one of Spongebobs underwater escapades. Each showing lasts around 15-20 minutes and there is a surcharge for the experience which is $5.50pp for a single showing. If you have a couple of sea days in row then the Thrill Theatre is a great way to spend some time.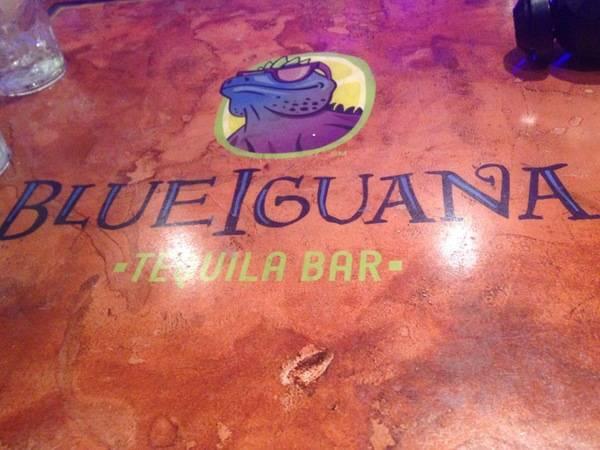 Blue Iguana Tequila Bar
The Blue Iguana Tequila Bar and Burrito Bar have a distinctive Mexican atmosphere – which is a pretty amazing achievement considering they are just across the Lido Deck from the all-American Guy's Burger Joint and the RedFrog Caribbean Rum Bar. Nestled in their own corners of the deck, Blue Iguana Tequila Bar and the Burrito Bar give you the chance to sample Mexican inspired cocktails and snacks. There's fiery burritos and tacos to sate your appetite and chilled Mexican beers and several brands of tequila to quench your thirst and liven things up!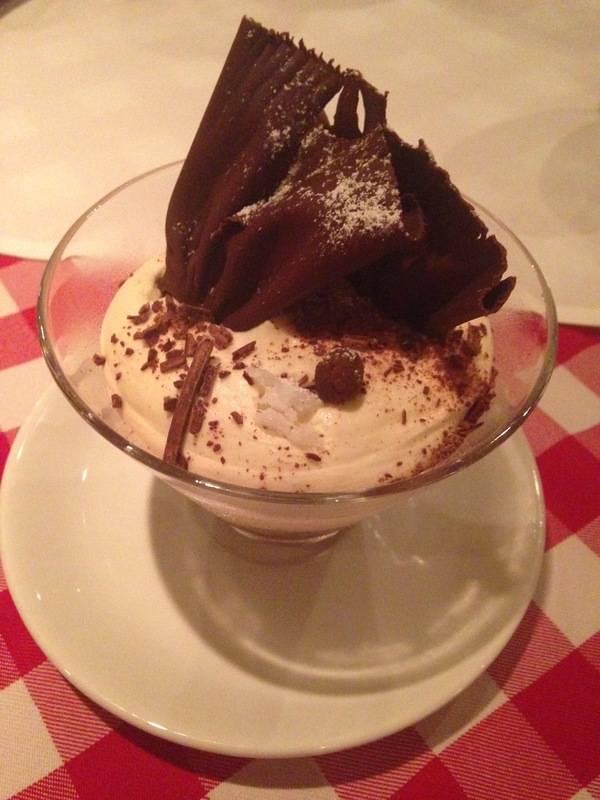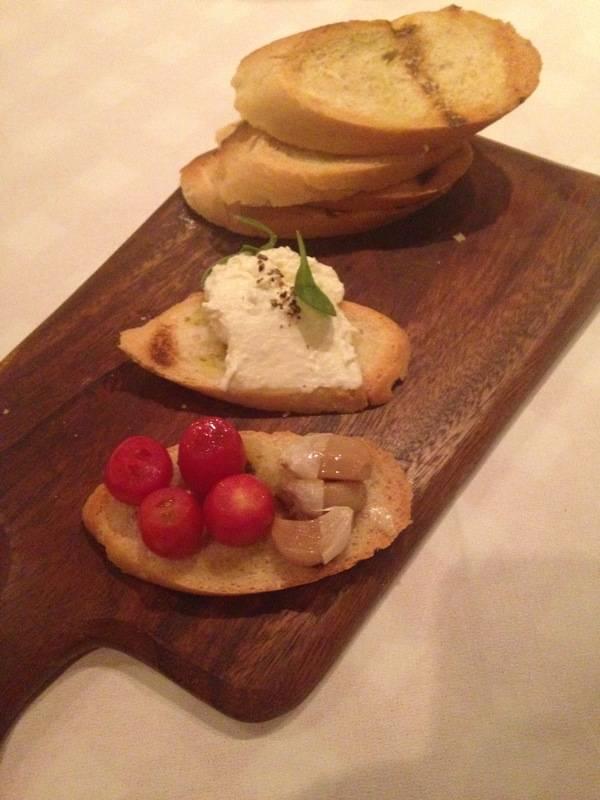 Cucina del Capitano
This Italian restaurant is one of the Carnival speciality dining spots. There's a surcharge to dine here of $15 per adult and $5 per child – but we can assure you, it's well worth it! The decor of the restaurant is phenomenal with Murano glass inspired light fittings and a low, tiled ceiling featuring ornate designs that makes this dining spot feel like an authentic, Italian trattoria. The walls around the restaurant are adorned with memorabilia including photos which highlight the Italian heritage of previous Carnival ship captains and officers. Two of our absolute must-try dishes are the Il Capitano's Signature Arancini (fried risotto balls) and Nonna's Meatballs! It's also worth noting that you can dine at Cucinca del Capitano during lunchtime for free. The menu is different – but still great nonetheless. On arrival you're presented with a form which has a variety of choices including different pastas, sauces and ingredients such as chicken, peppers, onion, spinach and sausage meats; then you just tick what you'd like, the waiter collects it and before long your custom pasta dish is served to you.
Piano Bar 88
The Piano Bar has a sophisticated, lively atmosphere and it's tastefully decorated with thick, midnight blue curtains sprinkled with glitter resembling stars twinkling and luxe blue velvet chairs and sofas. The bar itself curves around a sleek black piano and you'll see elegant martini glasses and a cornicopia of premium drinks labels available to choose from.  Around the bar area you'll find song menus and request slips so that you can fill out your song choice and give it to the pianist or waiter. Many of the tunes are good old classics that'll have you singing along in no time, think Maggie May and Mustang Sally and you're on the right track.  What we love about this Piano Bar is it's not something you're likely to find even in your nearest city centre. Live piano music (especially that which you're encouraged to sing along to) has been given a bit of a rebirth here on the Carnival Breeze and we love the good old fashioned fun of it. Tip: If you want your song to get played quicker, a small tip will see to that!
Day 3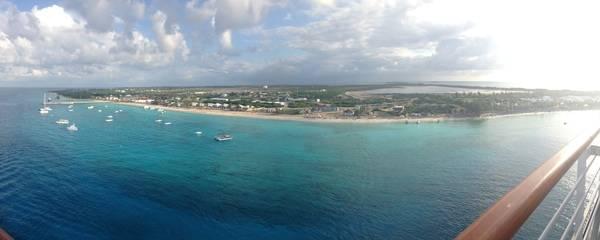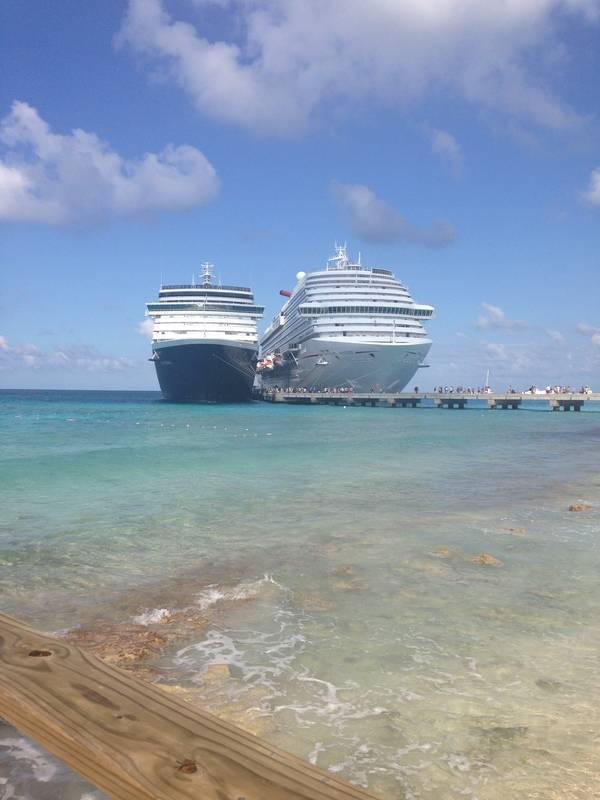 Grand Turk
As our first port of call for the cruise, we were all pretty excited to see Grand Turk and its picturesque beaches and crystal clear waters. When you arrive in the port the first building you'll come to is the duty free shop, pass through here and you'll find a square with a fountain and around it are several tendors where you can book excursions (although booking in advance is always recommended). There's a selection of souvenir and jewellery shops around the square as well as Ron Jon's Surf Shop and Jimmy Buffett's Margaritaville which features a swimming pool and lively bar area. Carnival had arranged for us to go on their Stingray experience excursion and we couldn't have been more excited! The Stingray experience also included snorkelling so once we were onboard the boat we were equipped with flippers, snorkelling masks and life jackets. The crew gave an excellent brief about snorkelling and it wasn't long before even the novices amongst the group were rearing to go. The group size is around 20-30 and there's a team of four crew taking care of you – and boy can these guys swim – they dive and move under the water like seals! Sticking your face directly into the water and breathing takes some getting used to, but once you look down you're instantly rewarded with the sight of dozens of colourful fish of all shapes and sizes swimming around you. If you have concerns about how deep the water is, let us put your mind at ease because it's surprisingly not that deep. Although you can't touch the sea bed, you can quite clearly see it and the crew were able to easily dive to the bottom and pick up conch shells. You're given around 20 minutes to snorkel and whilst you might not be quite ready to give it up and get back on the boat, you soon remember that the Stingrays await! The boat lands on a tiny island with a white sandy beach and from here the crew will encourage you to wade into the water to about thigh level. The crew gently guide a Stingray toward the group and you're then given the opportunity to feed and stroke it. Whilst watching all this occur you may find other Stingrays swirling around your feet as they scout the seabed for food. Back up on the beach, before you board the boat, the crew will show you how to remove a conch from the shell, prepare it for eating (conch is a popular choice on the local menus), and even try a bit from yourself. Nothing can prepare you for how big the conch actually is when it emerges from the shell! Once we were back onboard we gently sped back toward port with soft Caribbean music playing, the sun shining and the sea breeze blowing through our hair – bliss! As you most likely know, the Caribbean is one of the best places to spot dolphins but even still, you can imagine our surprise and delight when the captain of the boat announced that dolphins were headed right for us! They swam alongside and in front of the boat before jumping up a couple of times and then swimming off into the distance. One of the highlights of our trip!
Super Star Live at Ocean Plaza
Back onboard, we had some time to freshen up and planned to meet for pre-dinner drinks at Ocean Plaza where Super Star Live was well under way. Super Star Live is like next-level karaoke; instead of singing along to recorded tracks, you're singing with a live band complete with drummer and guitarist! With a live band backing you up, it definitely builds up the atmosphere and you'll see the crowd bopping their heads to even those who perhaps aren't so blessed in the vocals department! On our cruise, we were lucky enough to be onboard with American gospel singer Sherri Bryant who delivered an absolutely amazing performance and we're pretty sure she earned herself more than just a few new fans during her holiday! Super Star Live takes place on a few nights during each sailing and you can find details of when it's on by taking a quick look at the Carnival Hub app or your Fun Times daily news leaflet. If you're in Ocean Plaza around tea time, it's worth noting their truly amazing looking cakes. Stacked layer upon layer these huge cakes regularly include Chocolate, Carrot and Strawberry variations. Yum!
Dance Hits and Mixes in Liquid Nightclub
This night club is amazing. Whether you're 21 or 71 you'll find folks of all ages in here, tearing up the dance floor. The design of the club is sleek and contemporary and not for one moment would you ever think you're on a ship in the middle of the ocean. Bar tenders expertly mix your drinks in a flurry of twirling cocktail shakers and flying spirit measures and blue lights and plush seating add to the cosmopolitan atmosphere. The DJ isn't just your average DJ either, all of the DJ's across the Carnival fleet are expertly trained by DJ Irie who is the official DJ of the Miami Heat basketball team. Expect Latin-infused beats, smooth R'n'B and some pretty epic mash-ups of your favourite pop tunes. There's also the signature Carnival Cupid Shuffle, so if you've ever wanted to be part of a collective dance routine then this is your chance as everyone gathers on the dance floor and starts the shuffle moves! Keep an eye out for cocktails served in amazing Carnival branded disco balls – they cost around $12 but you get to keep the disco ball cup to take home with you!
Day 4
La Romana
When we arrived in La Romana the weather was incredible. Not only this but there were butterflies everywhere! Every now and then a cloud of these colourful creatures would sweep upwards from the side of the ship and spread out before fluttering on to their final destination, wherever that may be. If you look down into the water around the ship you'll see blooms of hundreds of jellyfish casually drifting. The aft is where you'll get the best view of La Romana from the ship, look into the distance beyond the bridge and you'll see a cluster of colourful buildings. For our port visit in La Romana, we asked the ship staff where was the best place to visit, which led us to Altos de Chavon, a charming historic village around 10 minutes taxi or bus ride from the cruise port. Taking the taxi or bus to the village gives you a chance to appreciate some of the inland scenery that the Dominican Republic has to offer and it's around $7pp each way, which is pretty reasonable.  Altos de Chavon is a recreation of a Mediterranean-style village and it's the most popular attraction in the area. Scattered around the village you'll find an archaeological museum, amphitheatre and a cultural centre. The village also has a variety of shops available including those selling souvenirs and general goods but also a tea brewery which even has a chocolate flavoured tea. Take your time to wander the narrow, cobbled alleyways of this quaint village and you'll notice several low-key dining spots and bars. If you look over the wall opposite the church you'll be rewarded with a magnificent view of the Chavon River. On the way back from the village, after your bus or taxi has pulled up, to the left of the buildings at the port you'll find a market selling a great selection of handmade wares including paintings, sculptures and hats weaved from the leaves of palm trees – your perfect chance to shop if you're seeking a locally made souvenir of your travels. It's probably worth us mentioning that we saw several other cruise guests around the port who were covered top to toe in dust and mud – our curiosity got the better of us and after asking one of them where they'd been they excitably told us they'd been on a dune buggy excursion. It looked like they'd had the best fun ever so if you're into active pursuits then this could be something to bookmark if La Romana is on your itinerary.
Main Dining Room
Each night during our cruise (except the nights at the speciality restaurants) we dined in the Blush restaurant. Here we had an allocated dining time of 8pm, but if you don't want to be restricted to a set time each night you can venture to Sapphire restaurant which features the same menu as Blush but you can have any-time-dining. In the Sapphire restaurant you can also request the table size you sit with so if you want to dine with just another couple or a larger table of 6, the maitre'd can arrange this for you, helping you to meet some new people on your cruise. If you do choose Blush restaurant you'll benefit from having the same waiter every night which allows you to build a great rapport with them. We were lucky to have Head Waiter Iwan and Assistant Waiter Mohammed serve our table each evening and from the very first night they learnt our names, preferred drinks and wowed us with their fancy napkin folding creations. The menu in the restaurant changes daily so even on longer cruises, it's unlikely you'll get bored of what's on offer. On the right hand side of the menu there's a Ports of Call special which offers local dishes inspired by the port of call you've just visited, giving you a chance to taste some of the cuisine the locals enjoy. Whatever you do, make sure that one night you save plenty of room for dessert and order the Warm Chocolate Melting Cake. This is Carnival's signature dish and it's best enjoyed after you've built up an appetite so that you can savour every mouthful! It's incredible! Another tip for this restaurant is that you can order smaller portions of mains as starters, larger portions of starters for mains and you can order as many starters, mains and desserts as your heart desires!
Day 5
Dr Seuss Parade
If you're cruising with kids, there's no better way to start their day than with the Dr Seuss Parade. Head to the Limelight Lounge on Deck 5 and grab a seat because it won't be long before you're greeted by Thing 1, Thing 2 and the rest of the Dr Seuss crew. The little ones will be handed cardboard cut-outs of their favourite Dr Seuss characters before they begin their adventure around the ship, getting other cruisers in the lively spirit as they go!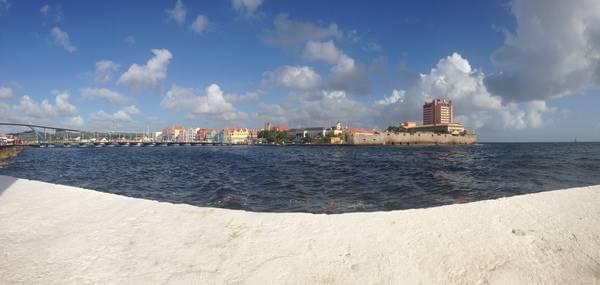 Curacao
If you have a late stay in Curacao (we had to be back on the ship by 9pm) we'd recommend starting your visit into port with the beach. The shops are open late so after a few hours on the beach you can venture back to town for a bite to eat before hitting the shops (of which there are many!). You'll find the likes of Pandora, Victoria's Secret, MAC, Swarovski and lots more. The town of Curaco itself is perhaps one of the most beautiful in the Caribbean. The squares are filled with palm trees and as you walk toward the main part of the town along the waterfront there's a row of market stalls selling handmade items like driftwood painted signs, clothing and bags. Across the other side of the water is an idyllic row of colourfully painted houses – it's picture perfect and as a result it's a scene which you'll most likely recognise from promotional campaigns for the Caribbean. If you have an interest in wildlife, keep an eye out for birds in this area, we spotted a brightly coloured bird sitting on one of the palm trees almost as soon as we stepped foot off the ship. The Dutch heritage of Curacao is displayed quite proudly around the town with souvenirs like windmills and delftware-style pottery being available along with information panels along the walk to and from the ship which display the fascinating history of Curacao.
WaterWorks and SportsSquare
We decided to beat the crowds and head back onboard the Breeze relatively early. This left us plenty of time to make use of the ship facilities whilst it was still quiet. If you're feeling active then WaterWorks and SportsSquare are the perfect places to expel all your energy! WaterWorks features twisting, swirling slides that descend over two storeys whilst SportsSquare is where you can challenge your friends and family to games like table tennis, pool and mini golf. You can even test your head for heights on the high ropes course!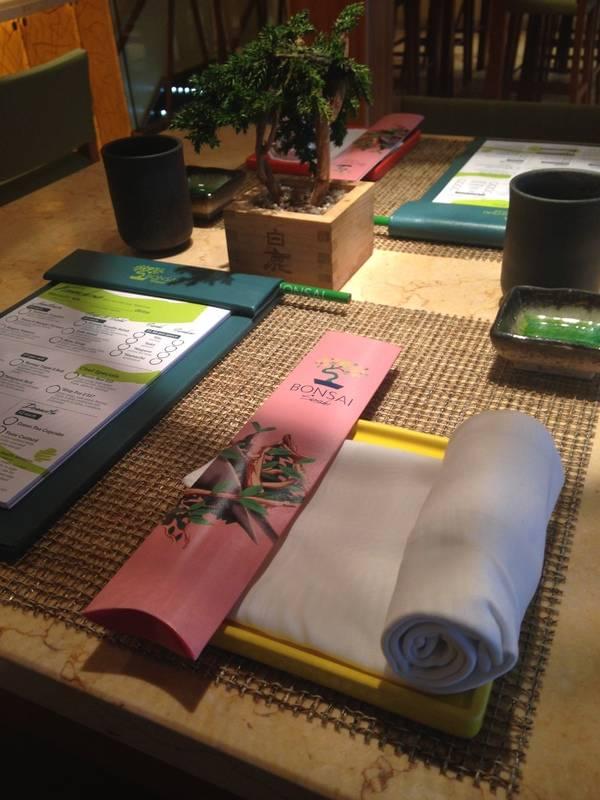 Bonsai Sushi
The Bonsai Sushi is an a la carte dining spot on the breeze. You can order a selection of sushi dishes but also other Asian inspired dishes such Miso Soup and Bonsai Noodle Salad. The decor in this dining spot has a light and contemporary ambience which makes a refreshing change to the deep reds and blacks you typically find in your local Asian restaurant. If there's a couple of you dining then consider choosing the Sushi Ship, your food will be served in a wooden boat which is pretty epic because then you'll be able to say you had sushi in a ship, on a ship… or something like that. When you've had your fill of the savoury dishes, why not round off your meal with a hot sake and a green tea muffin for the ultimate experience.
Check out the Bonsai Sushi menu here.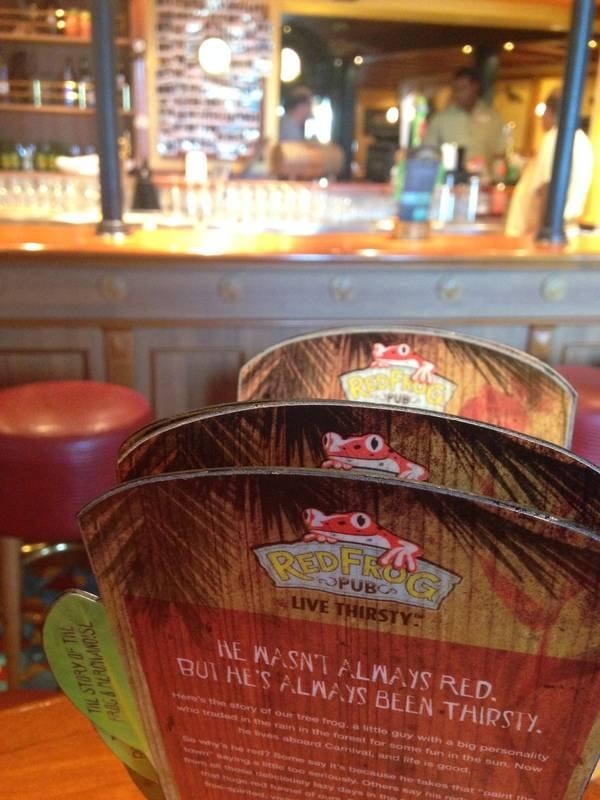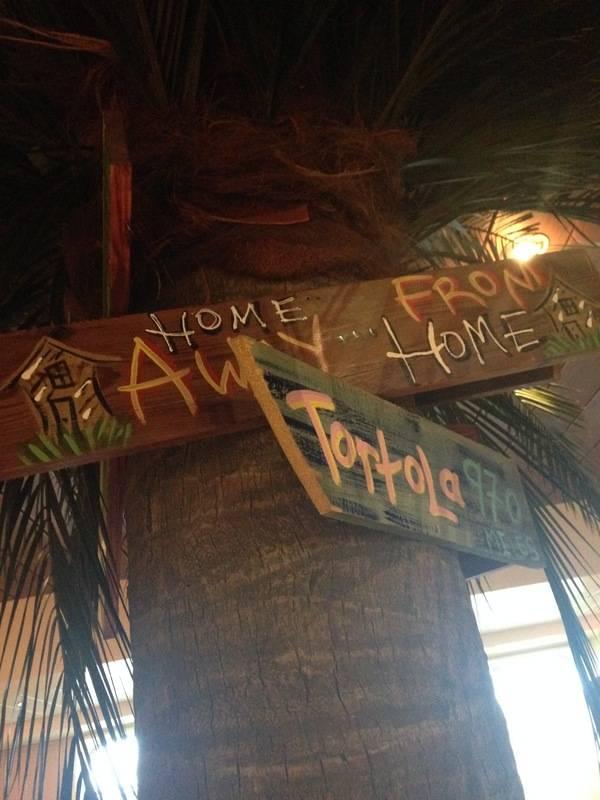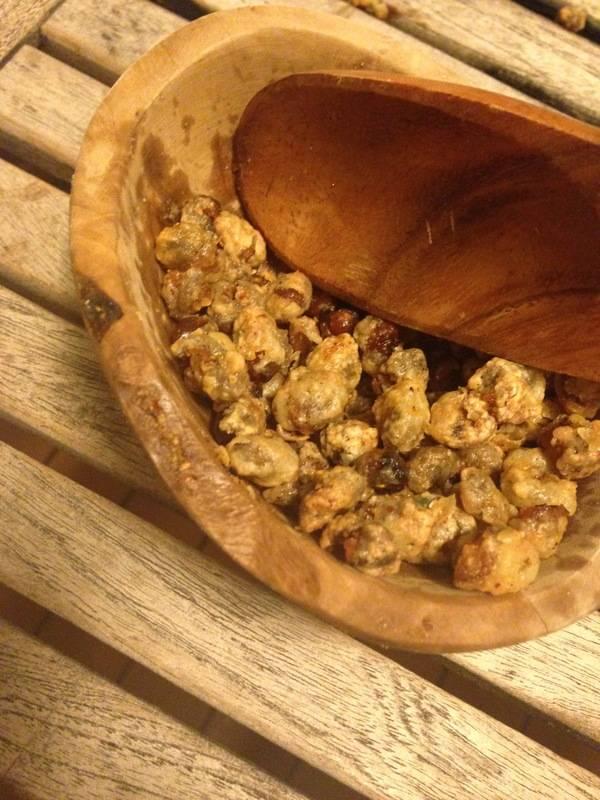 Red Frog Pub
The Red Frog Pub was our home away from home whilst on the Carnival Breeze. The relaxed decor, super-friendly staff, great entertainment and chilled vibe meant that this quickly became our regular haunt. During the day you can watch sports games on the flat screen TV's, put your favourite jam on the juke box and even play darts. Most days around 5.30pm you can get involved with a traditional pub quiz and then as the evening wears on you can listen to live music from the likes of talented musicians like guitarist and solo singer James. Friendly members of the Red Frog team (we have to mention Scholar and Regino!) keep your drinks topped up and are always at hand if you want some advice on which cocktail to try next! If you happen to make good friends with Regino during your cruise, make sure to try his Pigeon Peas which are a delectable deep fried treat. They may not look all that appetizing, but trust us – you'll love them!  Also, if you're a fan of beer pong – make sure to sign yourself up for the Beer Pong Competition which takes place throughout each sailing just outside the Red Frog Pub – get your game face on though, you'll most likely be up against US college grads for whom beer pong is pretty much part of the curriculum. If beer is your tipple of choice make sure to try the Red Frog labelled beer which is fantastic if you like a darker, smooth malt. For a lighter beer try Red Stripe which is brewed in Jamaica – perfect for chilling out with after a day in the sunshine.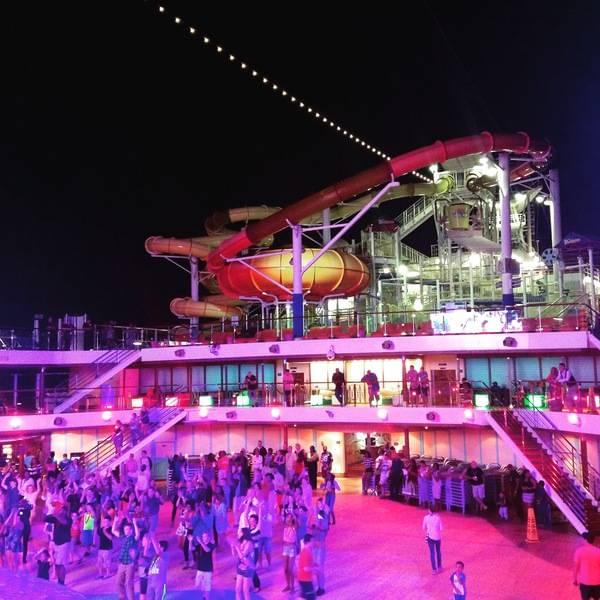 Caribbean Beach Party and Mexican Fiesta on the Lido Deck
We rocked up to the Caribbean Beach Party just as it was getting started up on Lido Deck. As much as we might try, a picture just can't capture how amazing the atmosphere is for the evening events on Lido Deck. The area is all lit up with pretty string lights, cheerful steel drum music beats in the background and the warm Caribbean sea air brushes over you, giving you ultimate holiday vibes. Matt the Cruise Director leads the beach party along with other members of the entertainment team. There's dancing aplenty as well as speciality cocktails on offer in exclusive tikki-style cups.
Day 6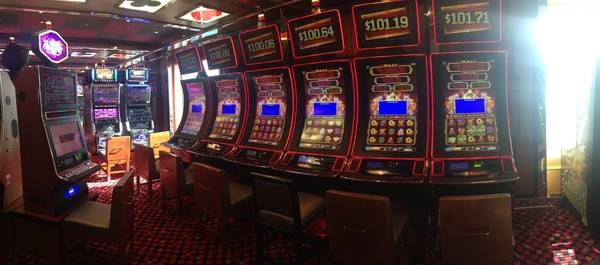 The Casino
If you like a dabble in the casino then you won't be disappointed with the one onboard Carnival Breeze. There's a wide selection of machines as well as tables for roulette and craps. There's no cash needed for the machines, instead you can charge everything to your sail and sign card. If you do win on roulette or craps you can cash in your chips at the counter and you'll be given cash in hand rather than this being added to your sail and sign account, however if you win on the machines this is automatically transferred to your account.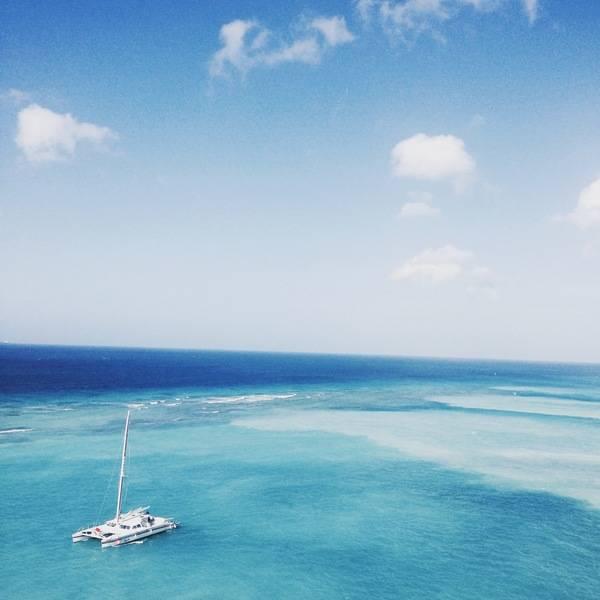 Aruba
The weather in Aruba was hot, hot, hot – which gave us the perfect excuse to head to the beach for a refreshing dip in the turquoise sea. The water is so warm you can just wade right in without having to give yourself time to acclimatise – a nice change from the icy clutches of the waters we're used to here on Swansea beaches! We headed to Eagle Beach which you can access via the public transport bus, it's less than $5 for a return ticket and it takes less than 10 minutes to get there. What we will say is that they do pack the buses quite tightly with passengers, so much so that it can be quite hard to get off unless a bunch of others are getting off with you. To get to the bus stop where you can purchase your tickets and jump on, come out of the cruise ship port building and go straight ahead, you'll come to the main road and you'll see a crossing. Go over the crossing and then you should see the ticket booth ahead of you. However if you wanted to take a taxi then you'll see the queue for them right outside the port building. Whilst we spent our time mainly at the beach in Aruba, there is also a bustling town featuring candy-coloured buildings with steeped, ornate facades around the upper storey windows. There's activities on offer such as ATV tours, jeep tours an archaelogical museum and even an Aloe Vera factory and museum.
Dive in Movies
Each night of the cruise there's a movie up on Lido Deck where you can watch blockbuster films under the stars… whilst at sea (seriously how amazing is that?!). During our cruise there were movie choices like Guardians of the Galaxy, Cinderella and Mission Impossible. Free popcorn is served from the Red Frog Rum Bar and you can grab yourself a space on one of the sun loungers, relax and get lost in a great movie as the warm sea breeze of the Caribbean gently blows around you.
Day 7
Behind the Scenes Tour
We would recommend this tour to anyone and everyone – no matter what your interest level is in how cruise ships operate.  It's fascinating. You'll get to explore the kitchen and galley, listen and ask questions to key members of staff such as the Sous Chef, Laundry Manager and Theatre Production Manager. You'll find out more about how the staff live and work, how the supplies are stored plus you'll visit the engine room and even the bridge where you'll get to chat with the Captain himself. This tour is so revealing and the equipment that the cruise ship has is majorly impressive, take for example the giant press which dries bed sheets from wet, irons them AND folds them too (we wanted to take it home!). At the end of your tour you'll receive a goodie bag – we won't say too much (we don't want to spoil the surprise) but there is a little fact leaflet which includes amazing numbers on the amount of food the ship goes through in one week such as 65,000 eggs and 60,000 slices of bacon! One thing to bear in mind is that the tour does take 3 1/2 hours and there is very little opportunity to rest your feet, so if you do find it difficult walking for long periods of time this might be one to avoid. Despite this, because we found the tour so interesting, the time flew and before we knew it, it had come to an end.
Playlist Productions – Latin Nights
We were so impressed with the production value of Latin Nights. It's quite impressive overall to have that level of production in any theatre – let alone on a ship at sea. The music was hypnotic, the singers were fantastic and the dancing was on point and so it wasn't long until the audience was shimmying in their seats. The show took us on journey through the decades of Latin music including Santana, Enrique Iglesias and more recently Pitt Bull. The show lasts around 20 minutes and afterwards you definitely feel pumped and ready for a night of dancing in the Liquid night club! We won't explain too much about the show – otherwise we'll spoil the surprise!
Day 8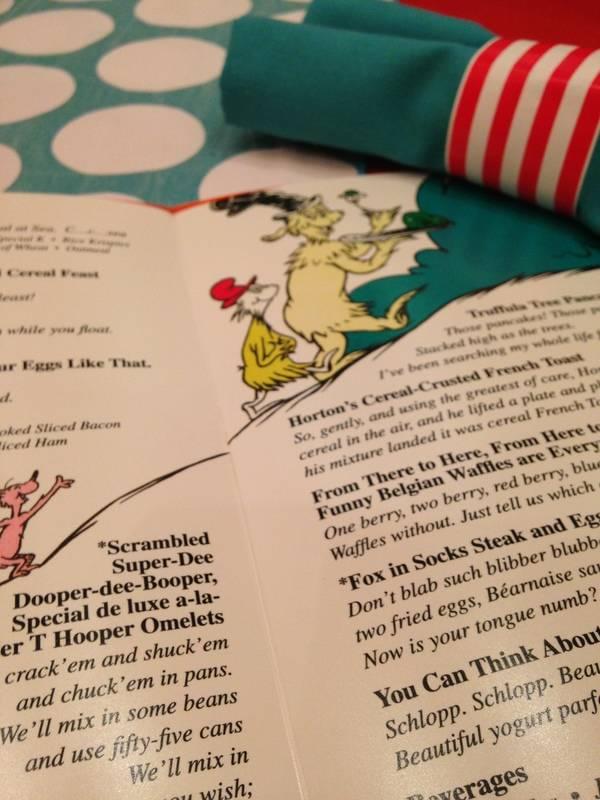 Dr Seuss Green Eggs and Ham Breakfast
Those who are young in years as well as those who are young at heart will love the Dr Seuss Breakfast on the Carnival Breeze. Despite being an additional $5pp you're not really paying for the food, you're paying for the experience. The menu features many of the dishes you'd expect to see on a typical breakfast menu but with an unique twist. The waffles come with blue and red cream, the pancakes come stacked high and equally as colourful as the waffles. Whilst you're waiting for your food Thing 1, Thing 2 and the Cat in the Hat came over to say hello – cue lots of photo opportunities! Mid breakfast the waiters and waitresses bust out into a dance performance, keeping things lively and fun.
Retail Therapy
Sea days offer the perfect chance to indulge in some retail therapy and with new sales and offers every day, there's always an extra excuse to treat yourself! Shops onboard include jewellery, watches, sunglasses, Carnival branded souvenirs, perfumes, premium alcohol and cigarettes. There's also the Carnival sweet shop – Cherry on Top which we are pretty sure is the shop everyone is talking about when they say they "feel like a kid in a candy shop". Rows of Pick n Mix line the walls, a giant sherbet dispenser lets you customise your flavours and giant lollipops in every shade twinkle in the lights. As if that weren't enough to sate your sweet tooth, there's also a selection of gourmet icecream flavours if you're in need a treat to cool you down.
Library Bar
If you're seeking a quiet haven onboard but don't fancy spending an afternoon in your cabin, then the Library Bar is the place to go. Grab your holiday read and head to deck 4 where you'll find the Library bar. Inside the lighting is dimmed for an ultra cosy feel, there's also cupboards packed with books should you forget to bring one. Perhaps the most unique feature of this location is the self-serve wine bar which enables you to get yourself a chilled glass of wine with ease.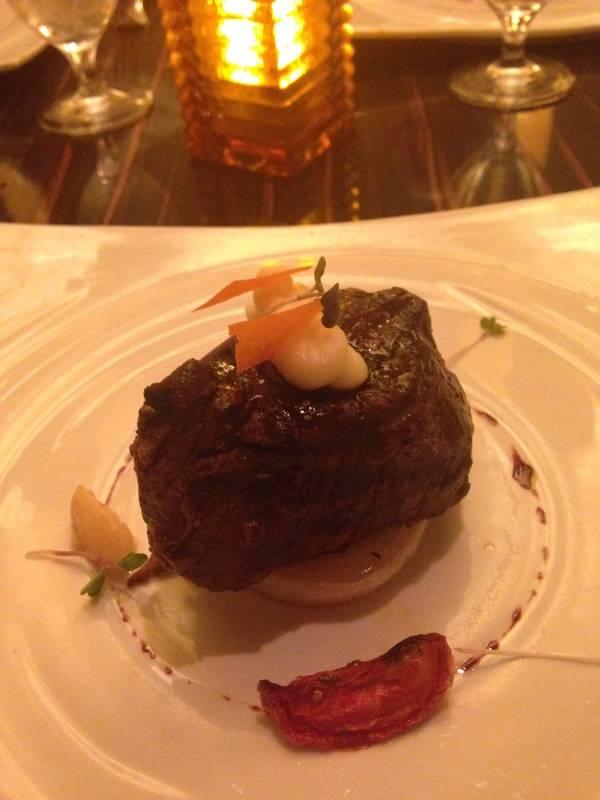 Farenheit 555 Steakhouse
They say you should always save the best to last and that's exactly what we did with Farenheit 555, the onboard speciality steakhouse. Throughout our cruise we'd heard a lot about Farenheit and by the time we sat down to dine our expectations were astronomically high and yet, we were still overwhelmed by how good the food was. Even the bread was exceptional (wish we could have taken some home!). Before you make your selections from the menu, the service staff give you a short presentation on the meats to help make your choice easier and tell you a little about how each steak is cooked. The majority of our party opted for Filet Mignon for our main dish and reflecting now on how good it was has us practically salivating. To go with your main there's the option of various sauces and sides which are finely cooked but still unpretentious – there's nothing worse than when food is so fussy you have no idea what you're going to end up with. One of the most talked about foods that Farenheit to offer is the cheesecake (you'd think it would be steak right?). The cheesecake is nearly four inches tall and it's not for the faint hearted as this is some wedge of dessert! Our group decided to share one portion between two and even then they found they couldn't finish it. The base of the cheesecake is delicious crumbly biscuit and the top of the cake is frosted with light, fluffy and slightly zesty meringue. If you're not a cheesecake fan then you simply cannot go wrong with the Chocolate Sampler – which has a little of all the desserts. There's Bittersweet Chocolate Cake, Banana Pannacotta, Tiramisu and Chocolate Marquise plus a taste of some of the sorbets and icecreams too – delicious!
Check out the Farenheit 555 menu here.
Tips for Cruising with Carnival
Before arrival at the departure port, fill your luggage tags in and attach them to your bags in advance – it's super busy and the last thing you want is your luggage to be whisked away and get lost amongst all the other bags.
Book Priority Check In – we were onboard within the hour of arrival, if you don't book Priority it can take significantly longer to get onboard.
Download the Carnival app before you get onboard, the app features a map, what's on guide (so helpful if you leave your daily paper guide in your cabin), access to purchase WI FI packages and a chat feature so if you want to get in touch with the person you're travelling with, you can just send them a quick message.
Just like with an airport, you can't carry liquids in your hand luggage onboard.
If you want to freshen up before dinner in the evening, pack a change of clothes in your hand luggage – due to the volume of luggage yours may not arrive in your room until around 7pm.
There's no rules when it comes to ordering in the restaurants. You can order two appetizers, mains or desserts or even have a larger version of a starter as a main and vice versa.
There's open access to soft drinks dispensers 24 hours a day, you can also get iced water from any of the bars for free.
If it's your birthday during your cruise, you may get a special treat from Carnival!
Likewise, if you've cruised with Carnival before, you might get a little something from them in your cabin!
Take a photo of your cruise news every morning, that way you don't have to carry it around and you can always check your photos to see what's on if you feel like getting involved with an activity whilst you're on deck.
It's worth noting that Carnival work with a charity called Cruise for St Jude which is a children's hospital. Carnival have raised hundreds of thousands of dollars for the charity over the past few years and you can get involved too by taking part in the Cruise for St Jude event whilst you're onboard.
Keep an eye out for art auctions – sometimes they offer free champagne and a free piece of art just for attending!
If you're a solo traveller or part of the LGBT community, there are dedicated meet-ups onboard that give you the chance to meet like-minded people and make new friends.
If you want your song to get played quicker in the Piano Bar 88, then a couple of dollars tip will help move it up the queue.
It's worth noting that can you can smoke in both the casino and the nightclub on the Carnival Breeze.