Have the holiday of a lifetime on this giant playground!
There's nothing quite like a holiday with Royal Caribbean. Providing fun for the whole family they are one of the top choices for cruise enthusiasts in the UK. Even if you don't know much about Royal Caribbean, it's likely that you've seen their TV advertisements and other placements around the web and radio. Despite being one of the most recognised brands in cruising, there's still a world of fun that you probably don't know about just yet if you've never cruised with Royal Caribbean before. But that's all about to change. In this blog we're going to lift the lid on one of Royal Caribbean's biggest ships – Anthem of the Seas to show you exactly why you should think about booking your next cruise holiday onboard.
1. Dine in Wonderland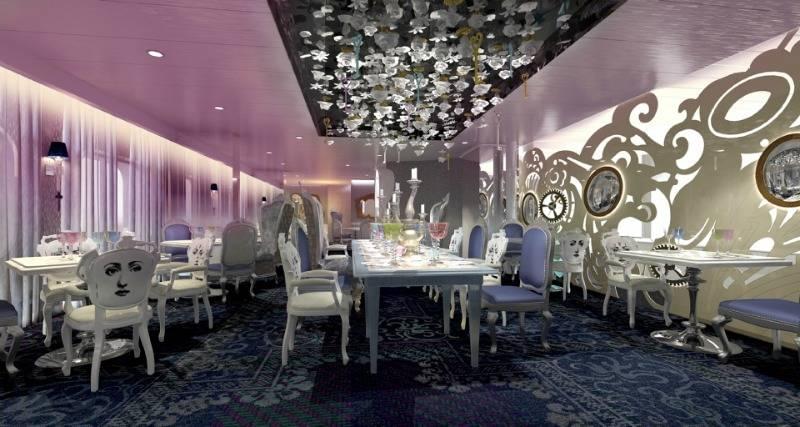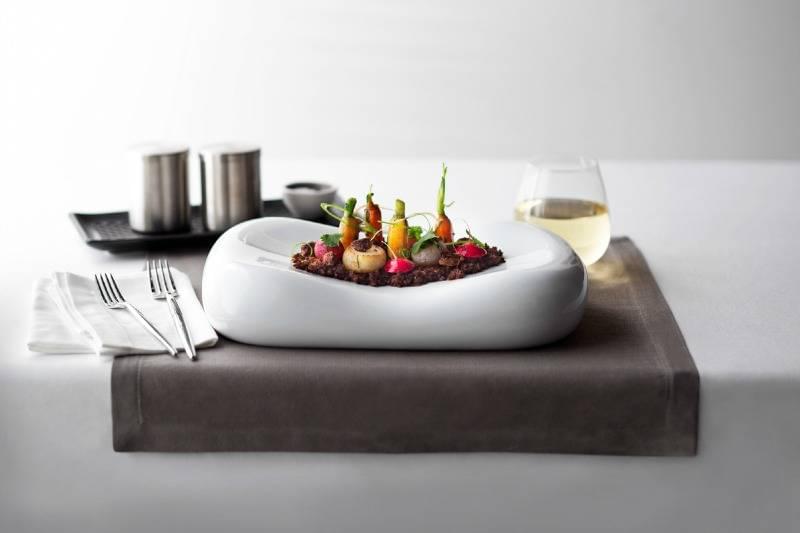 The Wonderland restaurant onboard Royal Caribbean's Anthem of the Seas is something that relatively few people know about (unless they've been on the ship!). We like to think of it as the hidden gem of the Anthem. The theme of the restaurant is loosely based upon Alice in Wonderland and the decor features elegant mismatched chairs, quirky cutlery and glassware and whimsical mirrors and clocks mounted on the walls. The restaurant seats approx 62 people – so make sure to book in advance because demand is high for Wonderland! On the menu you can expect to find some epic treats including Baked Alaska, Chocolate Lava Cake, Vanishing Noodles and Veggies in the Garden (just take a look at that presentation in the picture above!). There's lots of other oddities in the Wonderland restaurant including the menus… but we can't say any more because we don't want to spoil the surprise!
Cost: $45 per person
2. Spot the Stowaway Piano Player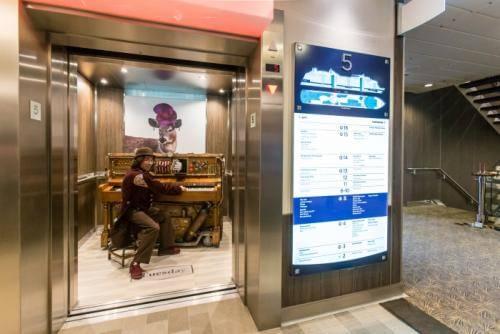 Imagine waiting for the elevator to arrive on your floor and the doors pinging open to reveal this steam-punk style piano player tinkling the ivories to jovial ditties and tunes. Probably not what you'd expect to find pop up in a cruise ship elevator, or any other area of a cruise ship for that matter. Not only does the piano appear to let off steam when the pianist goes into overdrive with fast-paced songs, but the little ones will love the secret compartment filled with lollipops! However, the Stowaway Piano Player is a mystery and only some are lucky enough to spot him during their cruise –  he constantly moves around the ship and pops up when you least expect it!
Cost: Included
3. Escape from the Future
If you have a smart phone, chances are good that in the past few years or so you got swept up in the Escape the Room app craze. The game on the app basically involves using your detective and puzzle solving skills to escape the room you're locked in before moving up levels into different rooms with different themes and challenges. Puzzle Break is a company which has essentially brought this game to life by developing rooms with real-life puzzles that'll need all your savvy to crack so that you can beat the clock and get out of the room before your hour is up. It's fast-paced, challenging and at times extremely frustrating! The Puzzle Break on Anthem of the Seas has a modern, futuristic theme and you'll be locked in this space with around 8-10 other guests as you work together to find the clues, solve the puzzles and release the key so that you can all escape!
4. Meet the cast of Madagascar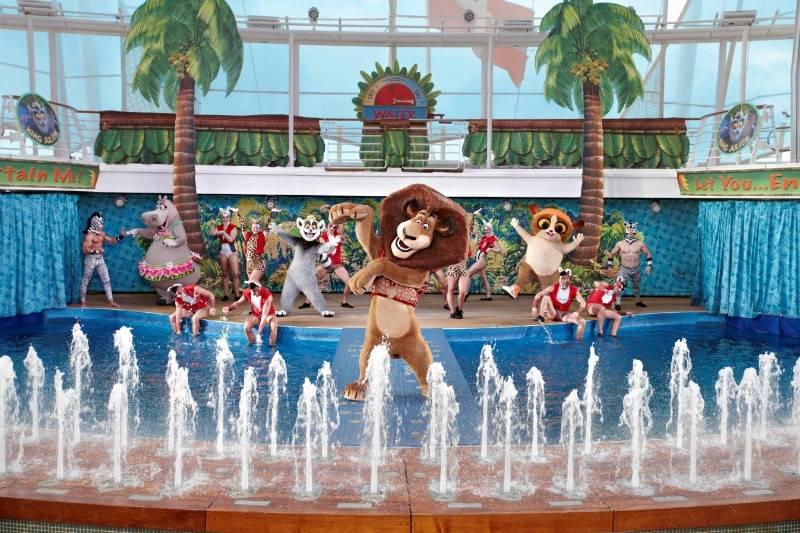 Thanks to the exclusive collaboration that Royal Caribbean has with Dreamworks, it's not unusual to find characters like Shrek and Princess Fiona or Po from Kung Fu Panda strolling around the Royal Caribbean fleet. Whilst bumping into your favourite movie heroes around the ship is something you'll cherish, nothing beats seeing Alex the Lion, King Julian, Gloria the Hippo and the rest of the Madagascar crew deliver an epic performance in the Aqua Theatre on Anthem of the Seas. Kids and adults alike will appreciate the singing and dancing all delivered amongst spouting water jets and colourful light shows. Situated on the aft of the ship, the Aqua Theatre also provides some pretty astounding views, so whilst you're waiting for the show to start you can admire the amazing ocean sunset.
Cost: Included
5. Meet Gigi the Giraffe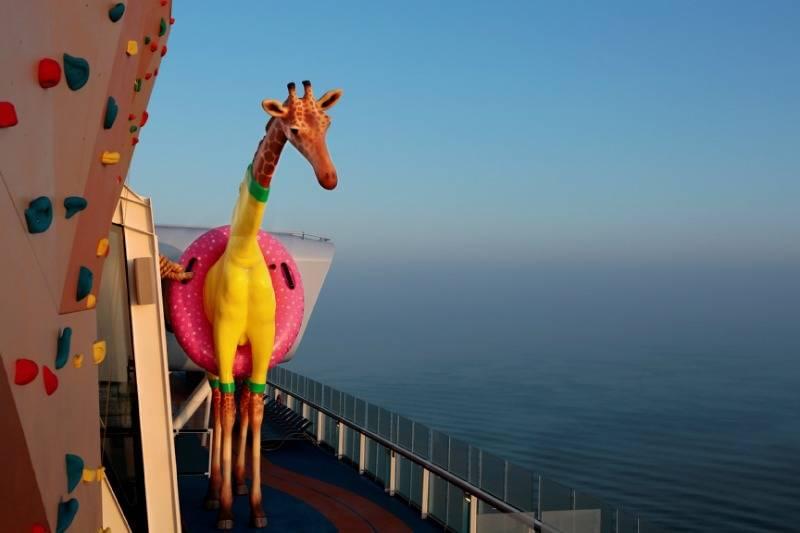 if you don't know about Gigi already then you'll be interested to find out that she's a 32ft whimsical work of art created especially for Royal Caribbean. Donning her very own pink polka dot life ring, Gigi proudly looks forward over the ship next to the rock climbing wall. Check out the video below of Gigi being installed on Anthem of the Seas…

Cost: Included
6. Reach for the moon in the North Star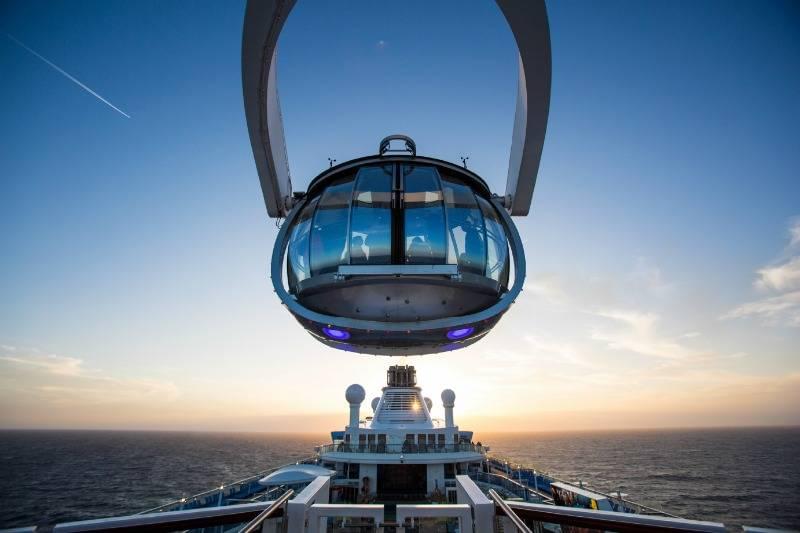 The North Star is a feature which when you see, you automatically think Royal Caribbean. Featured heavily in Royal Caribbean's advertising, the North Star was the first feature of its kind on a cruise ship and it still remains to be the only feature of its kind. First installed on the Quantum of the Seas in 2014, it was then also added to the Anthem of the Seas in 2015. The North Star extends on a 135ft mechanical arm that lifts the pod to become the highest point on the ship. As well as lifting the pod higher, the mechanical arm can also manoeuvre the pod over the side of the ship, so with glass walls it offers incredible views and makes it feel as though you're zipping along 300ft above the ocean in your own little bubble.
Cost: Included (but bare in mind that the queues can be quite lengthy)
7. Watch robots dance at Two70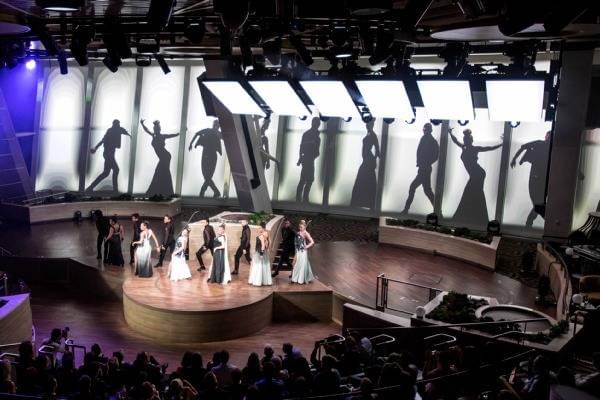 Using seamless video projection, Royal Caribbean engineers have created what they call Vistarama. Like the North Star, it's a feature you won't find anywhere else but on Royal Caribbean. Vistarama transforms the two floors of Two70 into any scene you can imagine using seamless video projection. There's 18 projectors in total which illuminate the panels to show everything from calm, panoramic views to jiving dancers.  In Two70 you'll also have the chance to watch the RoboShow which delivers surprise performances throughout the duration of your cruise. The show comprises of six RoboScreens which are mounted on mechanical arms that enable them to move, tilt and pivot. Each screen measures over 7ft and the mechanics operate them in an impressive displays of futuristic lights and colours.
Cost: Included
8. Go head to head on the Bumper Cars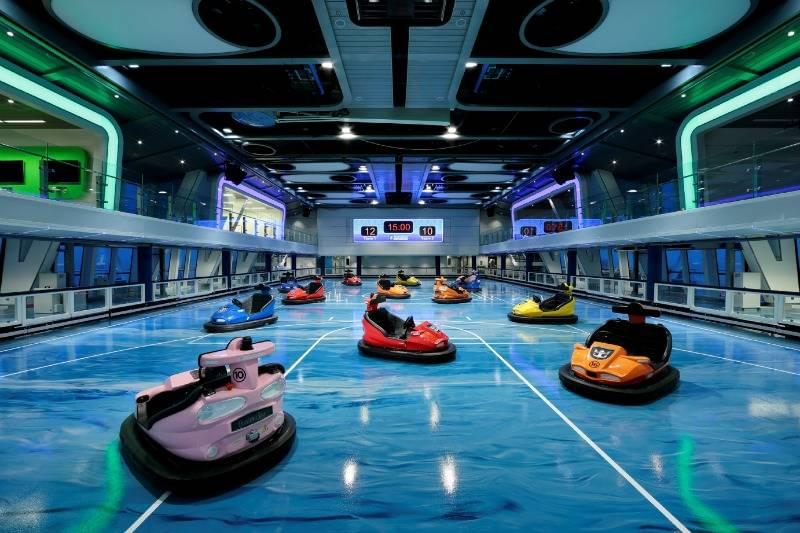 The SeaPlex on Anthem of the Seas is really quite incredible. Who'd have ever thought that one day you'd be able to go on bumper cars or ice skate on a cruise ship? Despite the challenges, Royal Caribbean have made it happen! In the SeaPlex you'll find colourful bumper cars that you can hop in and take on your friends and family in a battle of the bumpers!
Cost: Included
9. Feel like Bambi on Ice in the Ice Rink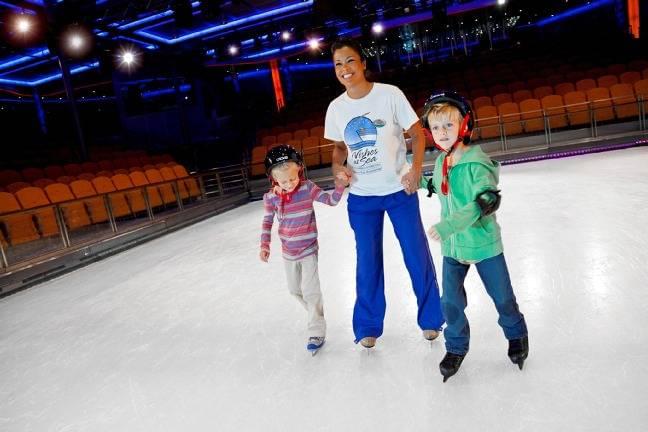 The ice skating rink on Anthem of the Seas is something which still amazes many guests onboard (as well as those who are yet to even try a cruise!). However, when you think of Anthem of the Seas as less like a ship and more like a giant floating city, it starts to make sense. There's a variety of bars, lounges and restaurants spread out over different neighbourhoods onboard, and similarly there's a selection of entertainment too. Ice skating is free on the Anthem and you can grab a pair of skates and safety equipment at almost any point during your cruise. By the end of your holiday you could be the next Torvill or Dean!
Cost: Included
10. Feast on the food at Jamie's Italian
Collaborations with celebrity chefs are becoming something of a trend for cruise lines, however perhaps one of the most noted is that between Jamie Oliver and Royal Caribbean. The restaurant 'Jamie's Italian' first launched on Quantum of the seas but it's also now found a home on Anthem of the Seas too. The restaurant decor is edgy and unique but yet still warm and inviting; there's splashes of colour, rustic chalkboards, hanging herbs and vibrant art. It feels a little like home but also like one of those quirky restaurants you go to when it's a special occasion. Whilst we could talk about the decor for days (who doesn't love a scatter cushion?!), we really need to talk about the food – because it's beautiful! Tasty cured meats and olives are served on chunky planks – perfect for sharing, twirls of pasta are drizzled with fresh tomato sauce with flakes of parmesan scattered on top and crunchy bruschetta is topped off with fresh crab and avocado. This is just a little teaser of the menu too, because there's plenty of choice including some fantastic seafood options! If you're a bit of a foodie then you'll be in your element in Jamie's Italian so make sure to book early to avoid disappointment!
Cost: A La Carte
11. Get served by Bionic Bartenders
Royal Caribbean have made many headlines for their innovative Bionic Bartenders which have contributed to Anthem of the Seas earning SmartShip status. Two mechanical robot arms are installed beneath an impressive selection of spirits and liqueurs, ready to whip you up your favourite tipple or cocktail in seconds. The Bionic Bar is connected to the Royal Caribbean app, so whilst you're on board you can place an order for a drink through the app, the Bionic Bartenders will create it and then it's delivered to your room by room service. Even if the Bionic Bar doesn't become your regular haunt whilst you're onboard, it's definitely worth ordering one or two drinks here to watch the Bartenders in action.
Cost: Drinks priced seperately
That brings us to the end of our reasons to book a cruise on the Anthem of the Seas – although it would be easy for us to come up with even more! Whether you're a family, group of friends or couple – the Anthem has plenty to keep your holiday filled with fun. What did you think of our list of reasons? Did we miss out any which you think we should have included? Let us know what you think in the comments below!