Looking for a cruise which features some amazing natural attractions along the way? Take a look at these 10 ports which offer spectacular scenery…
Flaam
Flaam is situated at the innermost point of the world's deepest and second longest fjord – Sognefjord. Surrounding the tiny village of Flaam you'll find epic mountains and thundering waterfalls and as you cruise into port you're welcomed with pastures of possibly the greenest grass you'll ever see. Flaam is a great starting point for many excursions. For starters there's the Flamsbana railroad which is world renowned for the beautiful scenery you'll witness along the route. The train journey, which was named the 'Best Railway Journey in the World' in 2014 by Lonely Planet, climbs from sea level in Flaam up some 900 metres into the mountains. If you want to sit and marvel at the views of this fairytale-like destination, head to the Stegastein Viewpoint which sits 650 metres above the fjord and offers incredible panoramic views.
Official Flaam visitor website: https://www.visitflam.com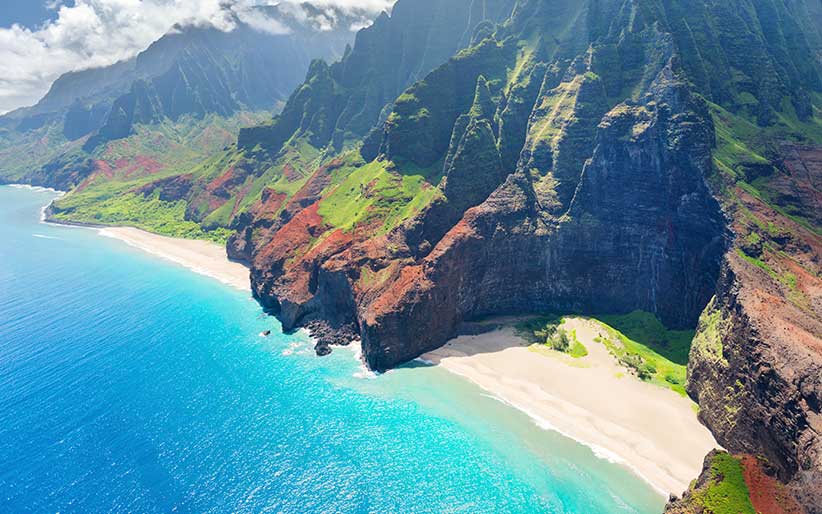 Kauai
On the other side of the island of Kauai from the cruise port is Tunnels Beach and it's well worth the 1 hour drive across the island to see. This monumental stretch of coastline is awe-inspiring in its beauty. Mountain peaks are shrouded in dense, green forest and the ocean is marbled with shades of blue and green. Tunnels beach is a paradise for both sun seekers and adventure enthusiasts; it's a hotspot for snorkelling and scuba diving, it offers watersports like surfing and windsurfing and because the beach is backed by lush tropical forest it also has some great hiking opportunities. Tunnels Beach has earned its name due to the lava tubes which have formed a utopia of underwater caverns that are just begging to be explored. In the past visitors have been known to spot sea turtles and an array of tropical fish at Tunnels Beach which is also referred to as Makua.
Official Kauai visitor site: http://www.kauai.com/tunnels-beach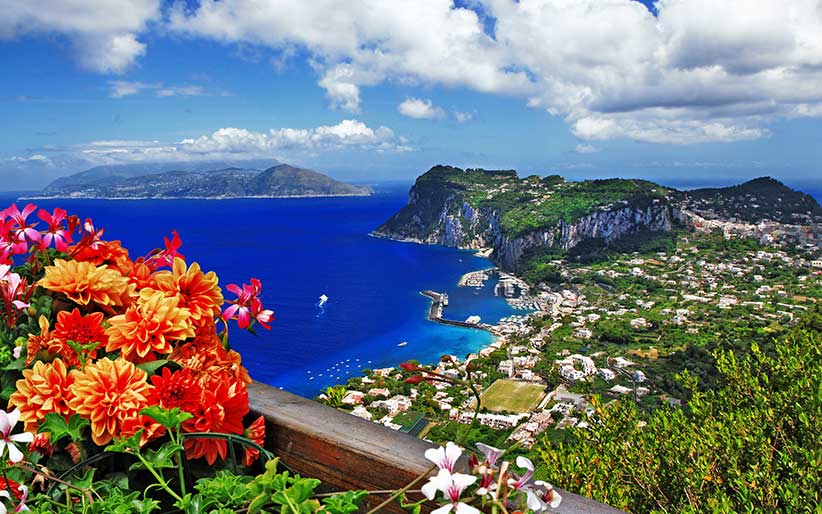 Capri
Situated in the Gulf of Naples, the island of Capri is well known for its beautiful and rugged landscape. There's a wealth of natural beauty to discover in Capri, from the Blue Grotto to the giant stacks of Faraglioni's rocks situated just off the mainland. For the most beautiful view of the island and surrounding areas, head to the summit of Mount Solaro which is 589 metres above sea level. Don't worry about pulling on your hiking boots just yet though because you can catch a ride on the chair lift which soars over the landscape whilst you enjoy the sun on your face and breeze through your hair.
Official Capri visitor site: http://www.capri.com/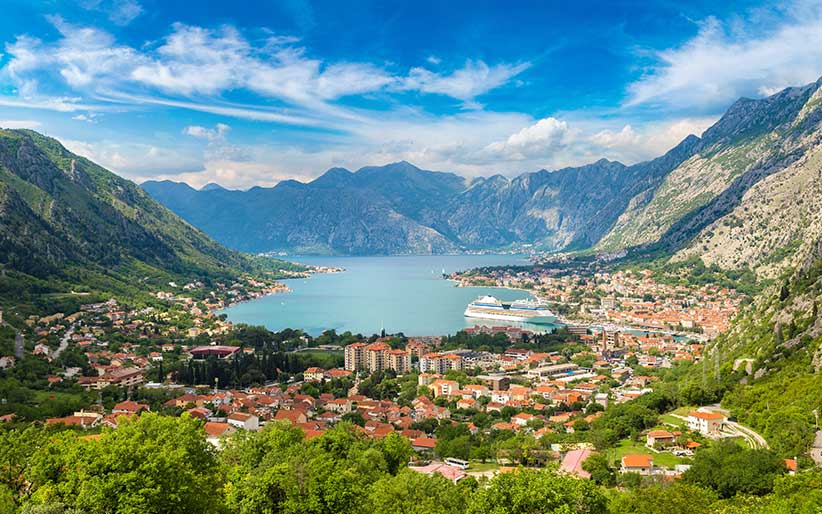 Kotor
Kotor is a spectacular sight and quite unlike anywhere else you'll visit in the Mediterranean. It's like a fusion of Dubrovnik old town and the Norwegian Fjords. Lined by steep mountains like the fjords but peppered with the colourful terracotta roofs that'll remind you of Dubrovnik, it makes for a striking combination. Kotor is tucked away in the Gulf of Kotor in Montenegro and as well as offering fascinating Venetian fortifications and a UNESCO World Heritage Site to discover, it also has some remarkable natural attractions to admire. There's gorges, straits, foot hills and bays to explore and the unique sub Mediterranean climate here has contributed to the growth of a variety of flora and fauna. The best way to see and appreciate the landscape around Kotor is by boat, hiking or mountain biking.
Official Kotor visitor site: http://www.visit-montenegro.com/main-cities/kotor/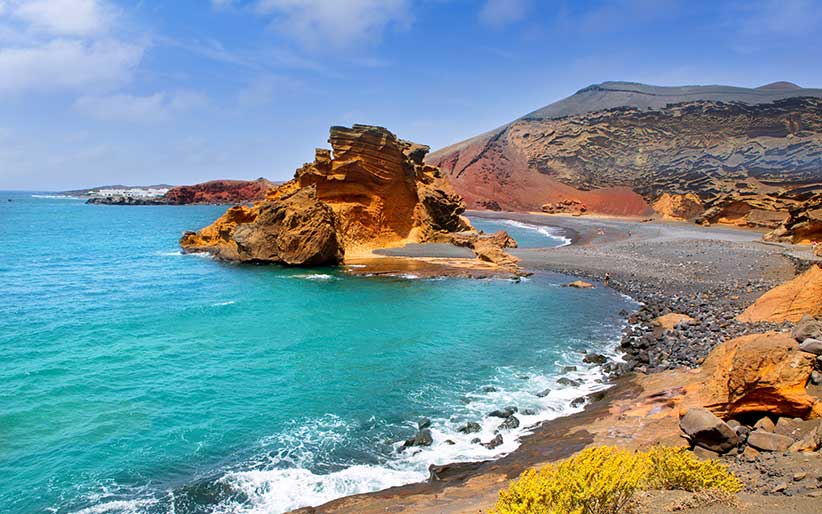 Lanzarote
Lanzarote is one of the Canary Islands and it's been a popular destination for UK holidaymakers for generations. The Canary Islands are one of the farthest-flung territories of Spain, located in the Atlantic Ocean off the coast of Africa.  The island emerged some 15 million years ago, created from fiery eruptions and solidified lava streams that created unusual rock formations. On the west coast of the island you'll find Timanfaya National Park which has stretching vistas of red rocks and black sand which looks reminiscent of the surface of planet Mars. Home to the Fire Mountains of Lanzarote, Timanfaya National Park has volcanic soils and no vegetation, giving it a stark and somewhat foreboding appearance. Timanfaya is a UNESCO Biosphere Reserve and only certain areas are open to the public as part of the effort to conserve the 5,000 hectacres which make up the park. Whilst you're exploring, feel the heat coming off the stones laying on the dormant volcanoes or take a camel ride for a unique experience. On Lanzarote you'll also find a stunning choice of beaches to relax on, with sands of several colours. As well as the typical golden shores there's also black and red sand beaches so make sure your camera is charged and ready to capture their beauty!
Official Lanzarote visitor site: http://www.hellocanaryislands.com/lanzarote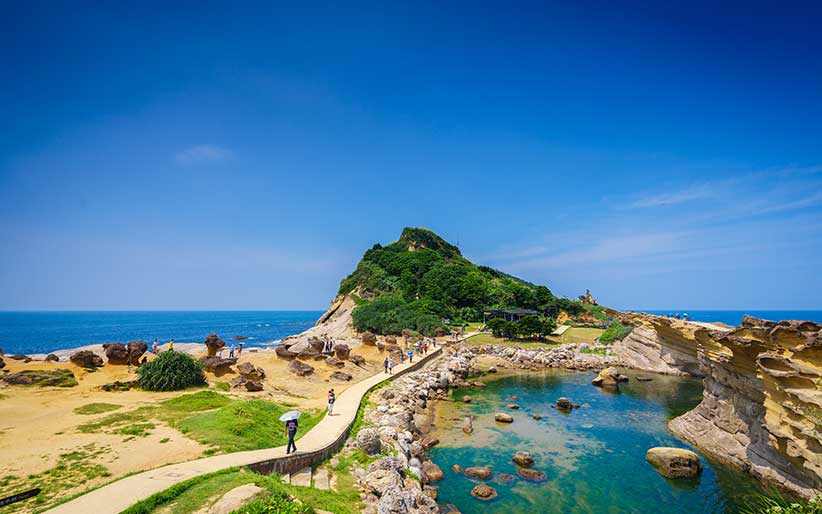 Taipei
As the capital of Taiwan, it's hard to imagine any natural wonders being present in this sprawling metropolis. However you'd be wrong because on the outskirts of the city you'll find Yangmingshan National Park and Yehliu Geopark. Yangmingshan National Park is home to Seven Star Mountain – Taiwan's tallest dormant volcano. As if this weren't enough to impress you, there's also natural hot springs, lakes, fumaroles, waterfalls and picturesque cherry trees dotted around the landscape. Due to the volcanic activity and humid climate, the soil of the National Park is highly acidic and as a result it's where you can find some high-altitude plants like the Hairy Japanese Maple. There's a diverse selection of vegetation in the park however; subtropical monsoon rainforests, mountain ridge grasslands and evergreen forests are all present here.
The Yehliu Geopark was formed as geological forces pushed Datun Mountain out of the sea and today the cape, which stretches 1,700 metres into the ocean is where you'll find some of the most bizarre rock formations on earth. Several of the unique rock formations along the cape have been named including the Queen's Head (which really does look like the head of a Queen), the Sea Candles which are smooth pillars of rock, Ginger Rocks which have a surface that looks like it's been etched with criss-crossing lines and Fairy Shoe which looks looks like… well… a fairy shoe. However, possibly the most unique of all are the giant Mushroom rocks which you can see in the picture above.
Official Yangmingshan National Park visitor site: http://english.ymsnp.gov.tw/
Official Yehliu Geopark visitor site: http://www.ylgeopark.org.tw/ENG/info/YlIntroduction_en.aspx

Sir Bani Yas Island
This island is a true paradise! It's located 250km off the shore of Abu Dhabi (it's a 45 minute flight from Abu Dhabi airport). More than half the island is taken up by an Arabian Wildlife Park which is home to over 10,000 free-roaming animals including Arabian oryx, giraffes, cheetahs, hyenas and gazelles. In 2014 Sir Bani Yas won the award for 'World's Best Sustainable Tourism Destination' at the World Travel Awards. The island was formed millions of years ago by geological forces, even today you can see the 'salt domes' which were created by these forces in the process. Sir Bani Yas was established as a nature reserve in 1971 by the late ruler and founder of the United Arab Emirates Sheikh Zayed bin Sultan Al Nahyan who began his visionary 'greening of the desert' programme with this destination. Millions of trees have been planted on the island and as an effort to conserve and protect several species from extinction they were introduced here. In their 2016-2017 season MSC will be calling at Sir Bani Yas Island where you'll be transported from the ship by tendor, also keep your eyes peeled for a tailor-made package we're planning to put together for the Celebrity Constellation in December and January which will feature a stay on the island so that you can enjoy and explore for longer.
Official Sir Bani Yas Island visitor site:  http://www.sirbaniyasisland.com/

Aqaba
Aqaba is the only coastal city in Jordan. It makes up part of the tourism triangle of Petra and Wadi Rum. Also known as the Valley of the Moon, Wadi Rum is just over a one hour drive from Aqaba and well worth planning for a cruise excursion here. Whilst Petra is one of the most remarkable sites of interest in the world, Wadi Rum gives you a chance to explore the landscape of Jordan which, similarly to Lanzarote, has a Mars like appearance (so much so that it was used as the set for the 2015 movie starring Matt Damon The Martian).  Wadi Rum has been inhabited by humans since prehistoric times and the markings of cultures like the Nabateans are still visible on rock faces throughout the valley. Sandstone and granite rock formations stand out from the otherwise remarkably flat landscape and in the distance you may be lucky to spot a herd of camels. If you have the chance, it's worth sticking around for sunset when the sandstone is highlighted in stunning shades of pink, orange and red in the setting sun.
The cruise into Aqaba port is quite impressive too. If you look beyond the industrial features that have been created to facilitate this bustling port you'll see craggy mountains dotted with fauna in the distance. The city of Aqaba is surrounded by these mountains and to see the bustling cityscape against the wilderness of these desert mountains is quite extraordinary. For scuba diving enthusiasts, Aqaba gives a unique opportunity to explore reefs, shipwrecks and even long-forgotten army tanks which have been taken over by marine life.
Official Jordan visitor site: http://uk.visitjordan.com/

St Lucia
One of the most sought after holiday destinations in the Caribbean is St Lucia. This tiny island has a lot to offer – despite being just 27 miles long and 14 miles wide. An Emerald blanket covers most of the island, including the Piton Mountains which soar upwards, creating a magnificent view on your approach by ship. Whilst some of the Caribbean islands are highly regarded for certain elements such as the food, music, diving or culture – St Lucia has all of this for you to enjoy. Aside from the impressive UNESCO World Heritage site of the Piton Mountains, there's plenty more natural attractions for you to explore including a volcano and the chance to zipline over the jungle canopy. For those who are keen to explore the marine life around St Lucia, there's the chance to spot dolphins and whales from a traditional pirate-style ship or dive beneath the waves to marvel at the multi-coloured coral reef which is teeming with exotic, colourful fish.
Official St Lucia visitor website: http://www.saintluciauk.org/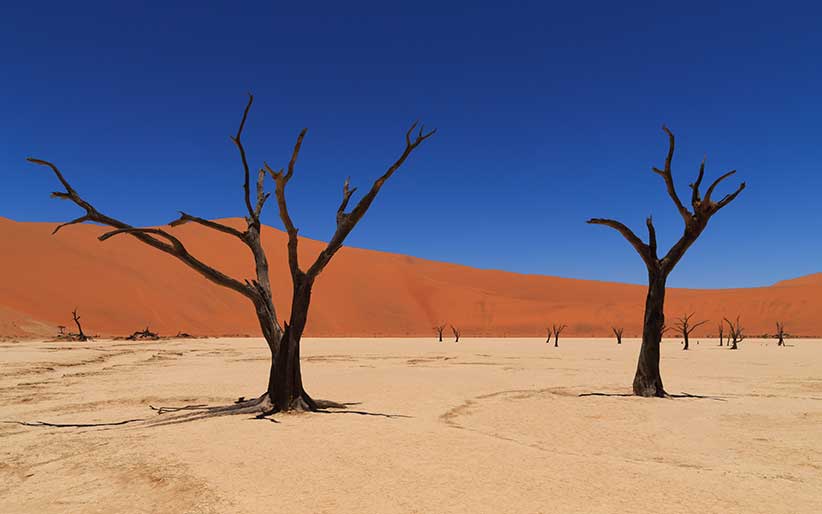 Walvis Bay
Located in Namibia in South Africa, Walvis Bay is perhaps one of the most underrated cruise ports in our eyes. On approach into the harbour it may look little more than a sprawling industrial estate with a desolate desert beyond, but on closer inspection there's some hidden gems. Take for example Bird Island. Whilst the island may be man-made, there's a flurry of flamingoes and pelicans which have taken up residence here. In fact there's so many birds on this island that it's become the centre of the guano industry. Then there's the Dune 7 sand dune which is magnificent in it's size. It appears like a giant orange wave in the desert and in fact, there are excursion providers that'll give you the opportunity to surf this giant sea of sand.
Head a little further inland, just over an hours drive and you'll arrive in the Namib Nauklaft desert – proclaimed to be the oldest desert on earth as well as being the largest nature reserve in Namibia. Despite the harsh climate, a surprising number of flora, fauna and wildlife manages to survive in the arid conditions of this desert. Snakes, geckos, hyneas and gemsboks all live here along with a variety of other creatures and unusual insects.
Official Namibia visitor website: http://www.namibiatourism.com.na/ 
So there you have 10 of our favourite cruise ports for exploring natural attractions? Have you visited any of them, or do you plan to now you've read a little more about them here in our blog? Let us know in the comments below or over on our Facebook page or on Twitter.