Should we be looking to the sea rather than the sky when it comes to the future of travel?
Turbine engines, robotic bartenders and wearable technology – no we're not talking about the latest episode of 'The Gadget Show', we're instead talking about cruise ships and the insatiable drive of the companies behind them to ensure each one is bigger and better than the last. One of the ways that cruise lines are ensuring that their ships leave a lasting impression, is their integration of technology into the guest experience. Let's take a look at just some of the ways that cruise ships are leading the way for tech in travel…
Booking
When it comes to booking a holiday, cruising has been perhaps left behind a little – after all there's a huge variety of cabins and it's difficult to explain how each one differs, which is why so many cruise customers prefer to call and speak to a consultant before committing to a purchase. However this is now changing, most cruise lines now offer customers the ability to book online and if required, add flights too. However something which is currently missing in the cruise holiday industry is the ability to book online via a tour operator or cruise agency which have packages available from several different cruise lines. This is something we're working on here at Cruise Nation and we're just months away from release. Our website will become the first platform in the world where customers can compare and book cruise holiday packages from 14 different cruise lines, adding elements such as flights and hotel stays to complete their holiday packages. Once customers have booked, they can login to the Cruise Nation website and easily pay the balance of their cruise, they'll also be given details to log in to their chosen cruise line website. Once logged into the online portal of the cruise line they are holidaying with, guests can enhance their cruise by booking spa treatments, speciality restaurants and excursions.

Entertainment
Whether it's the moving and pivoting theatre stage or the hundreds of lights that set the mood and ambience for each production; technology is used every day in the entertainment features on board cruise ships. Royal Caribbean are one of the cruise lines which have taken their entertainment to the next level using technology. Their Robotic Entertainment first made a debut on the Quantum of the Seas and it's been a huge hit with guests on board who have witnessed its impromptu displays that show everything from the silhouettes of jiving dancers to abstract shapes and colours which pulse to the musical beat. The Robotic Entertainment is installed in the TW070 cafe, lining the walls 270 degrees around the perimeter. By day the screens showcase panoramic vistas whilst come evening there's a dazzling performance display as the screens (which are mounted on robotic arms) twist and pivot showcasing colourful imagery.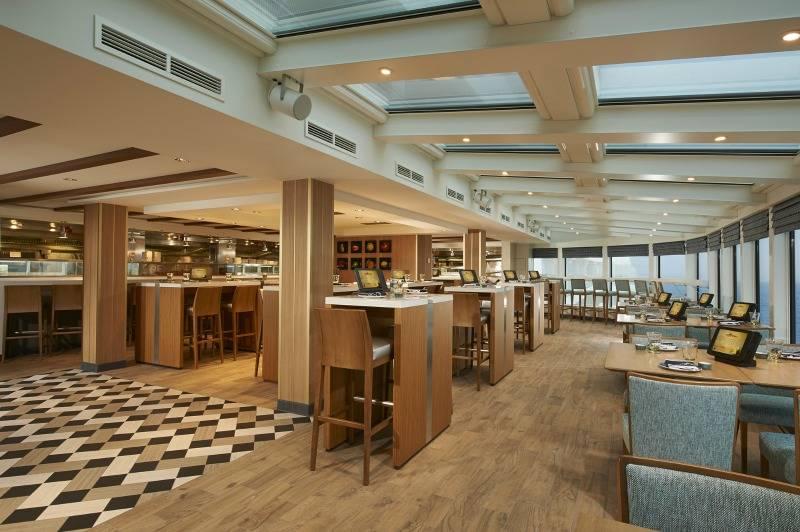 Dining
Technology has even found its way into some of the on board dining venues, Food Republic on the Norwegian Escape being one of them. The flagship restaurant has been designed in collaboration with the Pubbelly Boys, a Miami-based trio of culinary super stars. Food Republic features touch-screens on each of the tables which display the menu and allow the guests seated at that table to directly place their food order through the screen. This solution makes service swift and enables guests to have a superior dining experience without long wait times. If there's one thing we have to talk about in this blog post, it's Royal Caribbean's Bionic Bar. Visually the bar is quite striking as almost any type of spirit you can think of is mounted upside down from the bar ceiling whilst two robotic arms work away underneath to create your chosen cocktail. You submit your drink order on a tablet device mounted on each of the tables surrounding the bar, either choosing one of the pre-loaded options from the menu or opting to create your own masterpiece. Either side of the bar you'll notice mirror like screens which on closer inspection actually display the details of the drink currently being created along with the name of the person who ordered it and the approximate wait time if you're thinking of submitting a new drink order. Once your cocktail has been created, it's transported down the bar where you have to present your Sea Pass card in order to release it. The bar is a spectacle to watch and due to the novelty of it (where else can you get drinks served up by a robot?!) the bar does tend to attract the crowds, which makes us think that Royal Caribbean have most definitely got it right with this tech feature!

Activities
Enrichment is becoming a big part of the cruise experience as guests on board seek a mixture of relaxation as well as making the most of having the time and freedom to learn something new or develop a new skill. Take for example Celebrity who have collaborated with technology giant Apple to develop the first ever iLounge at sea. In the iLounge guests can develop their computer skills and expand their digital knowledge with the help of certified tech professionals. Even the more traditional of cruise lines such as Cunard haven't escaped the introduction of digital experiences; the Cunard ConneXions programme enables guests to learn a variety of new computer tips and tricks. Cruise lines provide guests with incredible activity and entertainment features on board throughout their cruise, and whilst each evening at turn down guests are provided with a print out of the next days activities and events, cruise lines such as Carnival now have apps available which help you check opening times of restaurants, navigate your way around the ship with deck plans, chat with friends around the ship using the messaging feature and save activities you want to get involved with or events you want to watch during your cruise.
Accommodation
If you're new to cruise, you might just be wondering how a cruise ship stateroom would compare to a hotel room. And you'd be pleasantly suprised with the comparison. Most cruise ship staterooms now feature an interactive flat screen TV from which guests can access a variety of TV channels, movies on demand and check their stateroom charges, there's a mini bar with a selection of tipples to quench your thirst and of course a telephone. However, the tech doesn't stop just there. In select cabins on Royal Caribbean there are in fact virtual balconies created from HD LED screens which display a live feed of the real view outside of the ship. We've seen these virtual balconies in real life and the result is nothing short of impressive. For those who appreciate the value of an inside stateroom but don't ever want to miss the incredible views offered on a cruise, then this truly is a genius solution. It's not just Royal Caribbean using tech to enhance their guest experience, Regent Seven Seas give guests complimentary use of an ipad and an ipod in all of the suites on the Seven Seas Mariner, which is a suite-only ship might we add!

Kids Club
Cruise lines are joining forces with some of the biggest brands in gaming to create some epic entertainment options for their younger passengers. Celebrity Cruises boasts one of the biggest XBOX experiences at sea whilst Norwegian cruise line has partnered with Nintendo to create the biggest Wii experience with a giant screen in the atrium of each ship in their fleet. Guests on board can now challenge one another to Wii Sports, Wii Play and Wario Ware amongst others. In addition to their XBOX offering, Celebrity Cruises also features a unique experience for tweens and teens onboard with their video project iTake. Young visionaries can brainstorm a storyboard for their holiday video before heading out equipped with a Go Pro Hero 3 and wide-angle video camera to capture the shots that best showcase their holiday experience – even if some of them are underwater!
Check In
Just like with airlines, guests can now check in online for their cruise ship. By entering the passport details and even a card ready to bill expenses to at the end of the cruise, they can save time spent queuing to get on board at the embarkation port. Some cruise lines such as Royal Caribbean even allow you to take your own boarding photo that will be synced with your account so that bar and restaurant staff can identify you when they swipe your account card for payment on board. Recently MSC cruise line announced a partnership with Samsung which will see a variety of features arrive on their ships, one of them being smart wristbands. Instead of carrying a card around with you on a lanyard or in your pocket, you have a simple wristband which uses contactless technology for you to bill drinks and other items to your stateroom account. Using the wristband, parents can also track where their children are on board in conjunction with the MSC app, a handy feature for parents with kids at an age where they are old enough to explore on their own – yet you still want to keep a close eye on their whereabouts!
Looking at each aspect of a cruise holiday, it's clear to see that cruise lines are embracing the future of technology for the benefit of their guests. But what do you think about tech becoming such a big part of the travel experience? We'd love to hear your thoughts in the comments below!