Make sure you don't miss out on these experiences next time you're onboard!
When it comes to holidays, cruise lines have really got it going on with their entertainment offering. Picture any land-based holiday resort and it's hard to imagine it featuring an acrobatic aqua display or West End shows like Grease or We Will Rock You – but with cruising this is all part of the package.
Entertainment experiences on cruise ships has become big business as cruise lines have become more and more competitive in their bid to provide the most entertaining experiences at sea. With so much now on offer, we thought we'd have a rundown of the 11 best entertainment features onboard some of the world's most popular cruise lines. Take a look below to find out some of our favourites which we think steal the spotlight…

The Cavern Club – Norwegian Epic
The Cavern Club may well be a new addition to the Norwegian Epic, but it's already making headlines for its impressive ambience and talented performers including Beatles tribute acts and fresh, new vocalists. The hip venue is adorned with art inspired by the Fab Four including photography of the band throughout their career and also not forgetting their famous album covers. Plush dark leather chairs and booths provide you with comfy seating to sink into, and the exposed brick work walls give this venue a true feeling of being in the original cellar cavern of the club in Liverpool.
Price: Included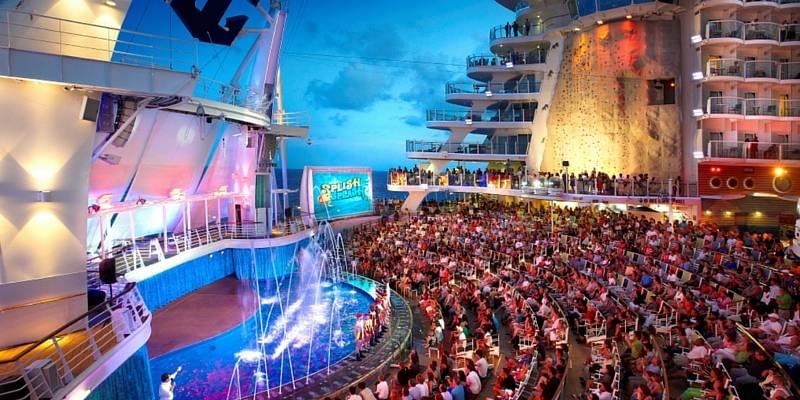 Aqua Theatre – Oasis Class Ships– Royal Caribbean
Watch in amazement as acrobats leap from dizzying heights into this small pool situated on the aft of Royal Caribbean's Oasis-Class ships. As well as keeping you on the edge of your seats with a series of death defying stunts, the Aqua Theatre also showcases synchronised swimming performances and coordinated water canon shows for some impressive aqua acrobatics. The Aqua Theatre has seating for up to 600 guests and as you prepare for the show to start you can admire the amazing ocean views. The Aqua Theatre has three main shows; Let Me Entertain You, Oasis of Dreams and Oceanaria. Whilst Oasis of Dreams and Oceanaria feature spangled costumes and mystical intrigue, Let Me Entertain You sees the arrival of some familiar faces – the cast of Madagascar including Alex the Lion and King Julian!
Price: Included
 Latin Nights – Carnival Cruise Line
Make sure you've got your dancing shoes on because trust us you'll want to shake and shimmy your way through this entire performance. There's an infectious sense of energy that radiates from the dancers on stage down into the crowd. As you sit enjoying the show with a rum cocktail in hand, you'll be transported through the decades of Latin music from Carlos Santana to Ricky Martin and Pitbull in this lively and expertly produced performance.
Price: Included

Billboard Onboard – Holland America
Billboard Onboard is a new feature on the Holland America fleet and it's one of the most exciting debuts to have ever been made in the cruise holiday industry. With cruise lines placing more interest and emphasis on their entertainment programmes, they're looking outside of the box to develop new partnerships and collaborations and Billboard Onboard is one of them. The entertainment feature debuted on the new ms Koningsdam which launched in April this year. Billboard Onboard is all about providing a platform where guests can listen to a number of Billboard Chart hits that span a variety of genres and decades.
Price: Included

Elyria – Celebrity Cruises
 Celebrity Cruises are one of the best cruise lines for creating an environment for their theatre performances and events. Take for example their Indulgence event which is seductive and tantalising with its speak-easy styling and assortment of pop up performers, decadent desserts and free-flowing cocktails, which all add to the atmosphere. Whilst Celebrity events like Indulgence are worth noting, the theatre production of Elyria steals the spotlight. You'll feel as though you've entered another world with this dreamlike performance that combines music, dance and humour to tell a powerful love story.
Price: Included

Planetarium – Queen Mary 2 – Cunard
The Planetarium onboard Cunard's Queen Mary 2 is simply spectacular. It enables you to gaze up at projections of stars, planets and illuminations that light up the ceiling of the theatre in a magical display. It's the only Planetarium at sea and Cunard have involved a variety of guest speakers and lecturers onboard who give guests an overview of the cosmos above them as they cruise across the ocean. The Planetarium has 150 seats and offers four short programmes. Created in conjunction with New York's American Museum of Natural history Hayden Planetarium, the programmes are narrated by the likes of Tom Hanks and Harrison Ford and each film gives perspective on the earth's alignment and positioning in the solar system.
Price: Free – However you must obtain a ticket whilst onboard

We Will Rock You – Anthem of the Seas – Royal Caribbean
Royal Caribbean has an enthralling entertainment schedule and We Will Rock You is just one of the many highlights. The show is an Olivier award-winning spectacle that wowed over 6.5 million people during its record breaking 12 year run at the Dominion Theatre in London. Written by legendary comedian and author Ben Elton, We Will Rock You features legendary hits like Radio Gaga, Bohemian Rhapsody, I Want to Break Free and of course Queen's most iconic jam 'We will Rock You'.
Price: Included

Cirque Dreams and Dinner – Norwegian Breakaway – Norwegian Cruise Line
You'll find it hard to believe that you're on a cruise ship as you take a seat under the big top of the Spiegel Tent. The yellow and red striped ceiling gives this dining venue a definite cirque ambience. As you're presented with a lavish three course meal you'll find it hard to concentrate on your food with the display of contortionists, acrobats and variety of circus acts which take to the stage during your dining experience. Each course of your meal is delivered gracefully to your table by servers on roller skates – which you may not notice as you'll transfixed by the performances on stage!
Price: $29.99 standard $39.99 premium

 
Magic to Do – Princess Cruise Line
Magic to Do is the theatre show written by Oscar®, Grammy® and Tony® award-winning composer of Wicked, Godspell and Pippin – Steven Schwartz. The enchanting tale of Magic to Do is available exclusively on Princess cruise line. The show combines incredible musical performances with mesmerising onstage illusions and magical acts. With Schwartz overseeing the creative development of the show, he's brought together a key group of Broadway talent including Jim Steinmeyer who's been a mastermind of magic for the past 25 years, Don Frantz Associate Producer of The Lion King and Beauty and the Beast and last but by no means least Gabriel Barre who worked on the national tour of Pippin among others. Magic To Do will showcase some of Schwartz's most famous songs including Day by Day and Defying Gravity along with a new number, A Little Magic written exclusively for Princess cruise line.
Price: Included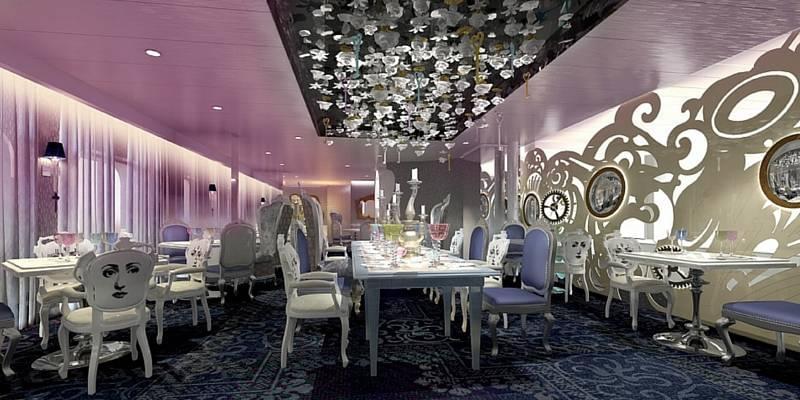 Wonderland Restaurant – Anthem of the Seas –Royal Caribbean
Wonderland offers a culinary adventure that will delight all ages. From the moment you step through the door of the restaurant it's as though you've entered into an imaginary and surreal environment that's loosely associated with Alice in Wonderland. Wonderland can be found on Royal Caribbean's Anthem of the Seas and it seats 62 guests at any one time – so booking in advance is most definitely advised.  There's ooey gooey molten chocolate cake, marvellous baked Alaska and savoury dishes like vanishing noodles and succulent vegetables presented in front of you as though they have yet to be plucked from the ground. The restaurant is spectacularly decorated with elegant mismatched chairs, whimsical clocks and mirrors and intricate touches like quirky cutlery and glassware. As if that weren't enough to delight you, there are also some extra special surprises about dining here that we simply refuse to tell you about because we can't spoil the surprise!
Price: $45 per person

Green Eggs and Ham Breakfast –Carnival Cruise Line
Much like Royal Caribbean's Wonderland Restaurant, the Dr Seuss Green Eggs and Ham Breakfast is a culinary adventure and a great way to start any day. With tables adorned with colourful red, blue and polka dot decorations and performances from Thing 1, Thing 2 and The Cat in the Hat – this is a dining experience that will charm the whole family. Adults and children alike will be delighted by the stacks of pancakes and waffles decorated with blue and red cream and lashings of syrup and chocolate sauce whilst those seeking a more wholesome breakfast can select made to order omelettes. When your belly is full and you simply can't take another bite, capture the memory of the best breakfast ever with a selfie with one of your favourite Dr Seuss characters!
Price: $5 per adult, $5 per child
So there you have 11 of the best entertainment features onboard cruise ships. Have you experienced any of them on any of your cruise holidays? Or perhaps you plan to see them on a future cruise? Either way we'd love to hear your thoughts – even if you think we've missed out on your personal favourite entertainment feature, so let us know on Twitter, Facebook or in the comments below.