As parents around the UK set about planning their Summer holidays, MSC Cruise Line has been busy enhancing their children's entertainment across their fleet.
Recently MSC Cruise line announced that they had 11 new cruise ships on order including the Meraviglia, the Seaside and the Sea View. However it's not just new ships that MSC are focusing on, they're also investing in improving the facilities and services onboard their current fleet. One of the main areas of focus over the past few months has been their children's entertainment.
MSC are already highly regarded for their partnerships with hugely popular family brands Chicco and Lego, however MSC have further expanded on this offering with a series of new activities which include a DOREBRO sports programme and a children's cooking class in collaboration with Michelin-starred chef Carlo Cracco.
Gianni Onorato, Chief Executive Officer of MSC Cruises, commented, "As a family-owned company, from day one we have understood and focused on the importance of offering families and their children an unforgettable, stress-free holiday on board our ships. As a result, activities for children and  other family-related services have always been at the very core of our guest offering and are strengthened on an ongoing basis by further additions, making us a great choice for a family holiday."
 MSC Cruises caters to families with an extensive offering which includes kids clubs which are segmented by age along with daily entertainment productions which are suitable for all ages. Family dining options are also available as are modern and fun-filled onboard facilities such as aqua parks, swimming pools, bowling alleys and 4D cinemas and dedicated shore activities designed with the needs of the entire family in mind.
Antonio Paradiso, managing director MSC Cruises UK & Ireland, said "We understand that travelling with little ones can sometimes be stressful so we have tried to make life as easy as possible by ensuring there are activities on board our ships to suit children of all ages."
New this summer is the DOREBRO sports programme, an onboard entertainment innovation designed especially for children who love sport. Children from 3 to 11 years old and teens aged 12 to 17 can join the programme, which is currently on most MSC Cruises ships sailing in the Mediterranean and the Caribbean. The programme offers an exciting variety of sports and active games for all levels, broken down into two daily sessions. The programme has been designed in collaboration with King's Active, the UK-based company that is expert in designing engaging and fun youth activities to inspire the sports stars of the future. By the end of July, the sports programme will be available on 9 of the MSC ships.
The key features of the DOREBRO sports programme include:
Two 45 minutes sports sessions run each day, one in the morning and one in the afternoon
Sports on offer include football, basketball, baseball, handball and dodge ball
A dedicated sports coach trains groups of children in age-appropriate activities (3-6 , 7-11, 12-17 year olds)
Parents are invited to join in with family activities with fun competitions and prizes on offer
A range of exciting merchandise including t-shirts and sports bags mean children can remember their holiday forever
Alongside this addition, starting this summer season MSC Cruises has also introduced "DOREMI Chef by Carlo Cracco", a cooking class designed in collaboration with the two-starred Michelin chef Carlo Cracco. Led by MSC Cruises chefs and the onboard MSC Cruises mascot DOREMI, children aged 3 to 11 will learn (amongst other things) how to make homemade pasta from scratch while receiving plenty of cooking hints and tips from the globally renowned chef. Upon completion of the course, each child will receive an official mini-chef certificate signed by Carlo Cracco himself.
MSC Cruises also offers its guests a wide range of onboard entertainment especially for children, developed in collaboration with the LEGO® Group, the world's leading toy producer. As part of this ongoing relationship, LEGO® Group has also recently launched a very special LEGO® MSC Cruises toy of MSC Meraviglia – the company's new next-generation smart ship that launches in June 2017. The toy is available to buy on board in the MSC Cruises Logo shop.  At the end of their cruise children will graduate with a LEGO diploma and be presented with a souvenir certificate by the LEGO Sailor mascot – confirming that they are now a Junior Master Builder.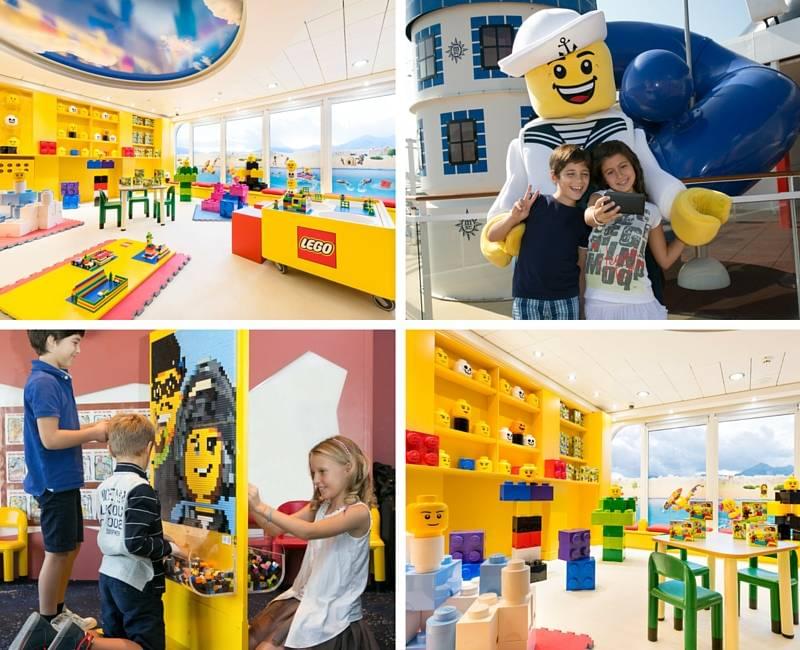 Some of the LEGO® activities include:
DUPLO® Play Pen: a construction challenge for children under the age of three
Building Happening: two separate challenges for children aged six to eleven to build the most elaborate structure
LEGO® Vertical Play Wall: a challenge where two teams compete to build a vertical structure against a specially created wall
LEGO® Tech Challenge: a special area containing all of the latest games consoles to play LEGO video games
A range of services for babies and young children are available onboard including the Mini Club for children under 3 as well as a dedicated childcare service giving parents the freedom to enjoy the ship, safe in the knowledge that their children are being cared for. Many of these services are offered in collaboration with Chicco® – the leading global baby brand. For younger children and babies, Chicco helps parents handle the schedule of a baby's day from feeding to napping to changing. The collaboration means that there is a wide choice of childcare equipment and services available, making cruising even easier and stress-free for families with babies and toddlers.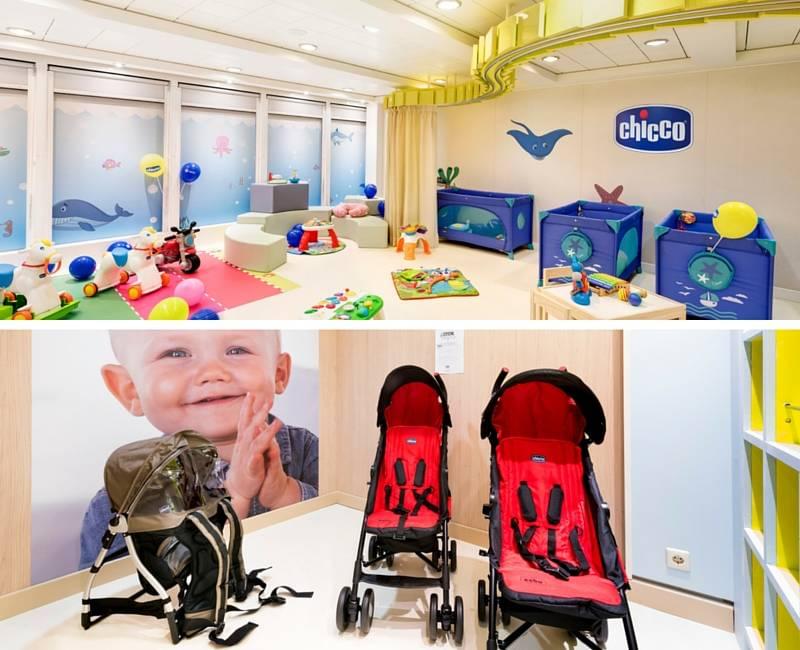 The Chicco services include:
Baby equipment throughout the ship including bottle warmers, cribs and strollers (all free of charge)
A Chicco corner in the onboard shop selling everything a parent would need during their holiday
MSC BabyTime – a daily programme dedicated to playtime between babies and their parents
MSC BabyCare – a daily service that allows parents to leave their babies in the expert care of highly trained staff
A specially designed children's menu and warm milk available 24 hours a day (for a small charge)
Interested in booking one of our MSC Smart Packages? We've got holidays starting from £399pp for 8 nights in the Mediterranean including flights and a free city stay, take a look at our packages here.