Crystal Cruises is the first-ever luxury cruise line to make the awe-inspiring journey.
In an industry first and extraordinarily rare endeavour, Crystal Serenity today embarks on a 32-night journey through the Northwest Passage, the Arctic region north of Canada that was unattainable until just 100 years ago. Following more than three years of planning and preparation, Crystal's award-winning vessel welcomed nearly 1,000 intrepid guests aboard in Seward, Alaska, embarking on what promises to be an experience punctuated with rare wildlife encounters; insightful visits to remote communities; rugged treks on land and icy waters; and immersive onboard enrichment from some of the world's top expedition experts.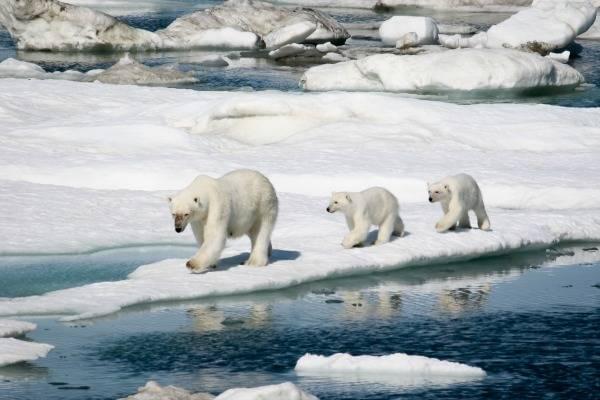 "Every aspect of this voyage is literally unparalleled in the luxury cruise industry, and nearly the entire travel industry as well," says Crystal's CEO and president, Edie Rodriguez. "It is a tremendous undertaking to embark on such a historic journey, but also an honour for us to be able to offer the world's most discerning travellers the opportunity to experience a region of the world that so few others have or ever will."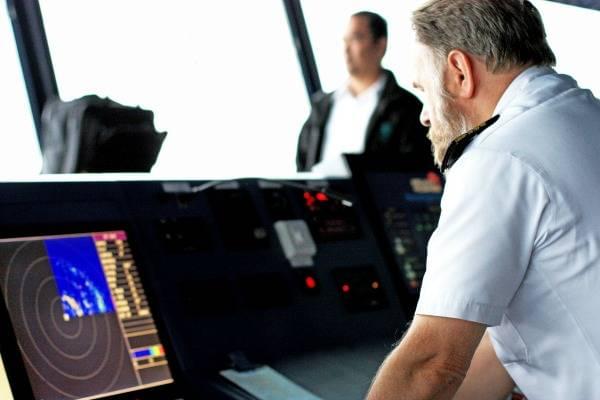 Throughout the voyage, which will conclude in New York City on September 16, Crystal Serenity will sail with additional crew, training and equipment in consideration of the unique operating conditions in the far north.  Two veteran Canadian Ice Pilots will be on board to advise the Master of Crystal Serenity, Captain Birger J. Vorland and his bridge team. Earlier this year, the Captain and ice pilots attended an ice navigation simulator training in St John's Newfoundland, and during a routine scheduled dry-dock in May, Crystal Serenity was outfitted with two ice searchlights, forward looking sonar, a thermal imaging camera and software to improve the ability to pick up small contacts on the radar such as small amounts of ice.  In addition, Crystal Serenity will be receiving constant ice condition updates form Canadian Ice Services that can be overlaid on its electronic navigation systems.  This technology is not typically found on cruise ships and represents the best possible preventive measures to detect any unforeseen anomalies along the ship's path.
During the route of the Northwest Territories the ultra-luxury ship will be accompanied by the RRS Ernest Shackleton, a powerful and high ice classed vessel with a crew that has years of experience operating in polar conditions.  It is well outfitted to be a first responder to virtually any emergency that might arise, and carries two helicopters and supplemental safety equipment, as well as additional expert guides and adventure equipment. Shackleton's crew will also assist with Crystal's specially designed excursions ashore, which range from adventurous to extreme in the remote conditions of the Arctic. Flight-seeing journeys over glaciers; navigating floating sea ice via kayaks; "wet landing" by zodiac; polar bear and other wildlife sightings; and Crystal's brand new Unexpected Adventures (impromptu opportunities to explore ashore and in the surrounding areas) will all expand travellers' horizons.
True to its policy to continually "surprise and delight" guests by exceeding their expectations of enriching world travel, Crystal has seen to every detail to ensure travellers are comfortable and prepared for the unprecedented trip. Specially designed parkas, boots and other outdoor gear have been provided to guests, sporting official Crystal Northwest Passage expedition patches, while added technological perks are evident throughout the ship. Four premium telescopic binocular sets stand at the ready near the floor-to-ceiling windows in Palm Court, as well as large flat-screen TVs for streaming updates from crew and expedition team members, safety precautions and fascinating facts about the voyage. An in-depth photographic journey into the history of the passage and its previous explorers is displayed near the stylish Galaxy Lounge.
Adds Rodriguez, "The wealth of historical, cultural and natural wonders waiting to be discovered in this region is seemingly endless, and our guests are inquisitive, savvy world travellers who will certainly relish the opportunity to explore it."
From Seward, the Arctic itinerary includes port calls in Kodiak, Dutch Harbor, and Nome, Alaska; Ulukhaktok, NW Territories; Cambridge Bay and Pond Inlet, Nunavut; Ilulissat, Sisimiut, and Nuuk, Greenland; Bar Harbor, Maine; Boston, Massachusetts; Newport, Rhode Island, and New York, New York. The ship will transit waterways including the North Pacific Ocean; Bering Sea & Bering Strait; Chukchi & Beaufort Seas; Amundsen Gulf; Dolphin & Union Strait; Coronation Gulf; Dease Strait; Queen Maud Gulf; Victoria Strait; Larsen Sound; Franklin & Bellot Straits; Peel Sound; Parry Channel; Barrow Strait; Prince Regent Inlet; Lancaster Sound; Croker Bay; Navy Board Inlet; Eclipse Sound; Baffin Bay; Davis Strait; Labrador Sea; North Atlantic Ocean.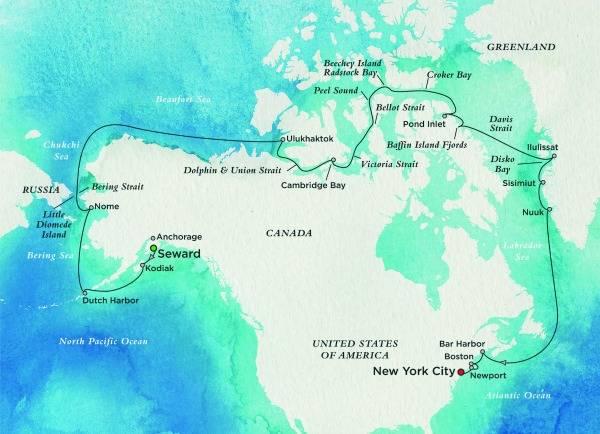 Due to the tremendous response from travellers regarding the 2016 Northwest Passage sailing, Crystal has announced it will sail the route again in 2017, available for booking now.  The voyage has garnered unprecedented international interest from intrepid travellers, welcoming guests from the United States, Canada, Germany, Switzerland, Great Britain, Australia and more than a dozen other countries.
Crystal Cruises is the World's Most Awarded Luxury Cruise Line™, having earned more "World's Best" accolades than any other cruise line, hotel, or resort in history.  Crystal Cruises has won "World's Best Cruise Ship" in Condé Nast Traveler's Reader Choice Awards for 22 years; been voted "World's Best Large Ship Cruise Line" by Travel + Leisure readers for 20 years; and the "Best Luxury Cruise Line" by Virtuoso for two-consecutive years (2014 & 2015). In summer 2015, Crystal embarked on the most significant brand expansion in the history of luxury travel and hospitality, introducing three new classes of cruising – the recently launched Crystal Yacht Cruises (December 2015), Crystal River Cruises (July 2016) and Crystal Exclusive Class Ocean Cruises (autumn 2019) – as well as Crystal Luxury Air (April 2016) and Crystal AirCruises (2017).
Crystal Cruises will shortly be available from our luxury cruise holiday brand, Maison du Cruise.