We sent our Online Manager, Neil, on a Fathom cruise to discover more about this new niche in cruise travel. Find out about his experience below…
I must admit, when the opportunity to experience Fathom first-hand presented itself I had absolutely no idea what to expect. I knew that it involved cruising to the Dominican Republic and taking part in activities with the local community but I was not at all prepared for the adventure that I was about to experience.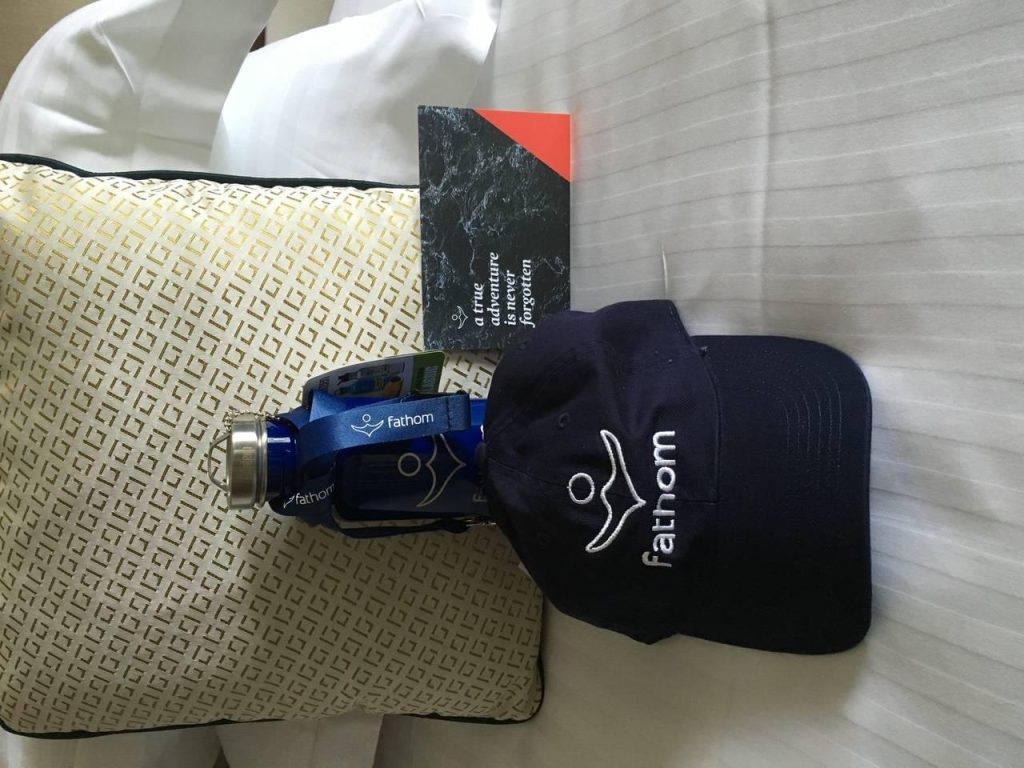 Fathom is part of the Carnival Group and began operating in April 2016. Sailing aboard the former P&O Adonia, the ship makes 7-night voyages alternately to Cuba and the Dominican Republic from Miami. In the Dominican Republic, guests have the opportunity to work alongside local Dominican residents on a variety of different activities each aimed at providing a lasting benefit to the community.
The Ship
Having come off the Carnival Vista just a week before, the Adonia couldn't have been more different! The Adonia has a capacity of just over 700 which perfectly lends itself to the Fathom experience. You get pretty much everything you'd expect on a modern luxury cruise ship albeit on a smaller scale. The décor of the ship is simply beautiful and really feels like you're stepping back in time to a golden age of cruise travel. There are multiple dining options including The Conservatory (buffet restaurant), the Pacific Restaurant (main dining room) and the Ocean Grill for speciality dining (supplement applies). The food throughout the ship was of a very high standard and there was no shortage of choice. We ate in the buffet restaurant for breakfast most mornings, and typical fare included fried and scrambled eggs, bacon, sausages, mushrooms, French toast, yoghurts, fruit, cheese and cold meats. We ate in the Pacific Restaurant on most evenings. The service in here was generally excellent and all of the waiting staff were very attentive. There was generally a choice of about 6 different dishes each for starter, main and dessert including a vegetarian option where appropriate.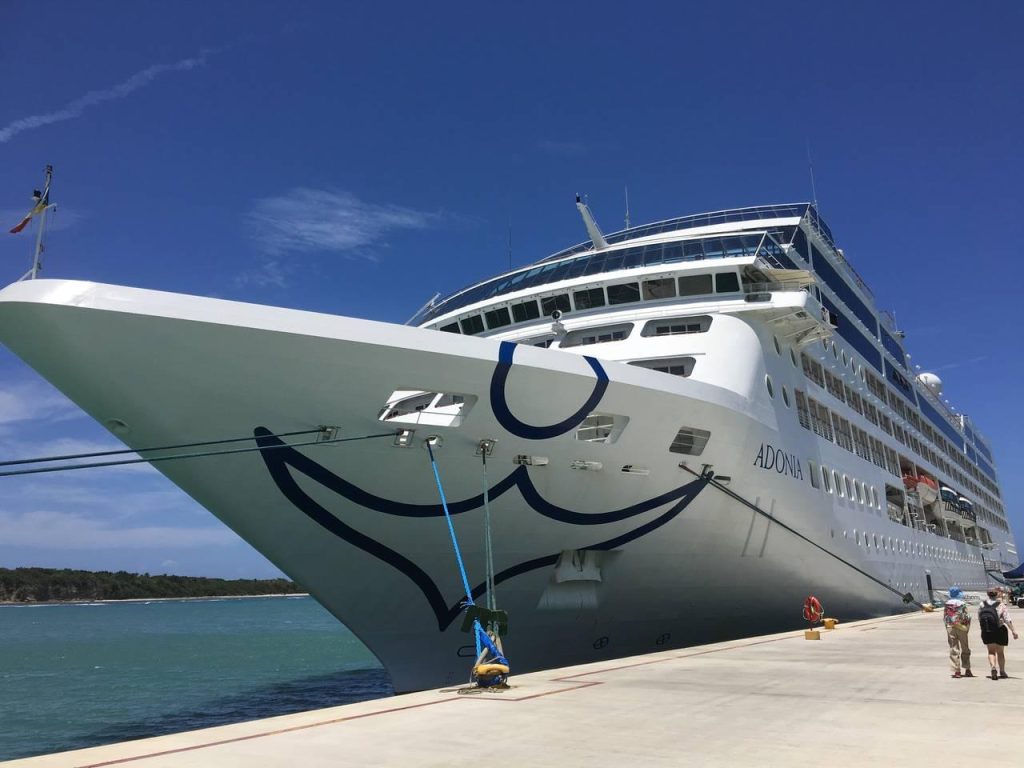 We were lucky enough to spend one evening in the Ocean Grill. I absolutely love my food so this was a real treat. There is a supplement of $25 but in my opinion this is an experience that you really must try once on board and its excellent value for money. The menu has been put together by Chef Emil Vega who has personally trained the Ocean Grill staff. We were treated to about 6 courses (I've forgotten exactly how many!) which consisted of delicacy's from a variety of different regions including the Dominican Republic. The whole evening was fantastic from start to finish and was a real highlight for me.
There are also a variety of areas on board where you can socialise with your fellow travellers. The Crow's Nest is a large bar with excellent panoramic views out of the floor to ceiling windows. The Curzon Lounge boasts a stage and a dance floor with a large seating/viewing area. On the top deck you'll find the beautiful Glass House. This venue is found on four of P&O's other ships and is a wonderful venue for relaxing and having a pre-dinner drink. It absorbs a huge amount of light and this results in a really beautiful public area. Down on Deck 5 there is a public bar/lounge called Anderson's. Again, this is a beautifully fitted area that's perfect to sit back and relax. The guests in this area were often entertained by an on board pianist.
On the main deck of the ship there is a pool flanked by two hot tubs. This area also includes plenty of sun beds (no towel reservations required!) and a bar.
Amber Cove
It takes around a day and a half for the Adonia to sail from Miami to the Dominican Republic. The port it docks at is called Amber Cove – and it's absolutely beautiful! As the name suggests, Amber Cove is flanked by two peninsulas so you get fantastic panoramic views from the ship. When you disembark, there is a long walkway that takes you in the port. If you're feeling lazy, you can jump in one of the bicycle carriages and let someone else take the stress (for a small tip!)
Once you're in Amber Cove, you'll notice immediately how clean and pretty it is. There are a selection of small souvenir shops, the standard duty free shop, a market where you can buy locally produced gifts, and a coffee shop (which sells some really good coffee and also has wi-fi). Then you have a large pool complex with water slides, a zip wire, large poolside bar and a restaurant. This was the perfect place to relax in the afternoon when the impact activity had been completed!
Although Amber Cove is a gated area (meaning it's completely secure) you are free to jump in a cab and go out to explore some more of the island.
Impact Activities
When you make a booking on Fathom you'll get sent all your booking information including a prompt to choose your impact activities. These activities are included in your fare although a couple of them had a $20 supplement where further materials were required. I chose CAMS (creative arts, music and sport), concrete flooring and reforestation. Although I chose based on what activities I thought I'd enjoy, I really had no idea what to expect!
We sailed from Miami port on Sunday evening and experienced beautifully smooth seas. It takes about a day and a half to get to Amber Cove and during this time the on board Fathom team hosted two 'cohort meetings' where you meet your Fathom 'Impact Guide', other guests on the ship and discuss the upcoming activities. We also learned about the history and culture of the Dominican Republic which gave us a great understanding of what to expect.
CAMS
My first impact activity was on Wednesday morning. I'm not used to getting up at 6:30am on holiday but we were due to leave at approximately 7:30am so this was necessary. I boarded the air-conditioned bus with the others on the same activity and off we went. During the journey, our impact guide explained that we were heading to a school with around 30 children!! On arrival, we were greeted by all of the children signing for us – it was a wonderful moment and one that I will remember forever. We were all split into groups and along with one other Fathom guest, we had 4 children to teach English! They ranged from 8 to 11 years old and once we got the initial introductions out of the way, we started a range of activities from counting to learning the names of family members (mother, father etc). All of the children were so enthusiastic and their English was much better than I thought it would be – at least far better than my Spanish!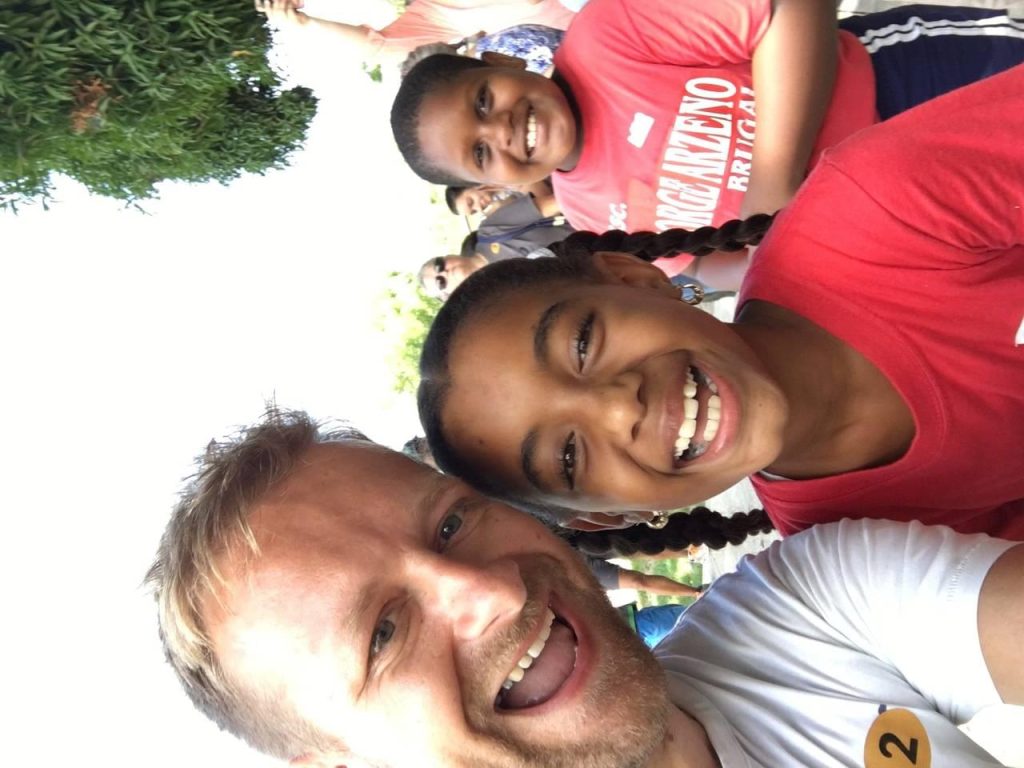 We spent half of the 3 hour session in the classroom, and then went out to the school yard to play an impromptu game of volleyball, danced and sang songs. The kids loved the time outside and before we knew it the session was at an end. We gathered in a large circle where the children gave their thanks to us, and we reciprocated. There was time for a few photos before we headed back to the ship.
This was probably my favourite out of the three activities that I did. The children were absolutely fantastic, so enthusiastic and willing to learn. Although they might not have picked up a huge amount of English during our session, the ongoing program will undoubtedly help them improve.
Concrete Flooring
According to our Impact Guides, 80% of the houses in the community in which this activity takes place do not have a solid floor. Instead they have dirt floors which are prone to flooding, can carry disease and can't be cleaned. In most cases, during this activity you lay down a concrete floor in a family home. However, we were incredibly lucky that we got to work on a project putting a new concrete floor into a school playground which was previously covered with dirt and gravel. Once the cement mixer was up and running, we formed a long production line passing full buckets of cement along until they were emptied on the playground and the empty buckets passed further down the line to be re-filled. Although we had a short break of around 20 minutes for drinks and snacks, we worked for the remainder of the three hours in the searing heat. By the end of the morning, I was completely covered in concrete and my t-shirt was soaked-through with sweat. We finished the playground and I can honestly say that every single member of the team worked incredibly hard. It wasn't only grown men who participated, but women and children too. On completion, the Principal of the school thanked us (in Spanish translated by one of our guides). The school has around 160 children and when the children came back to school from their Summer break the following Monday, the new playground would be a complete surprise!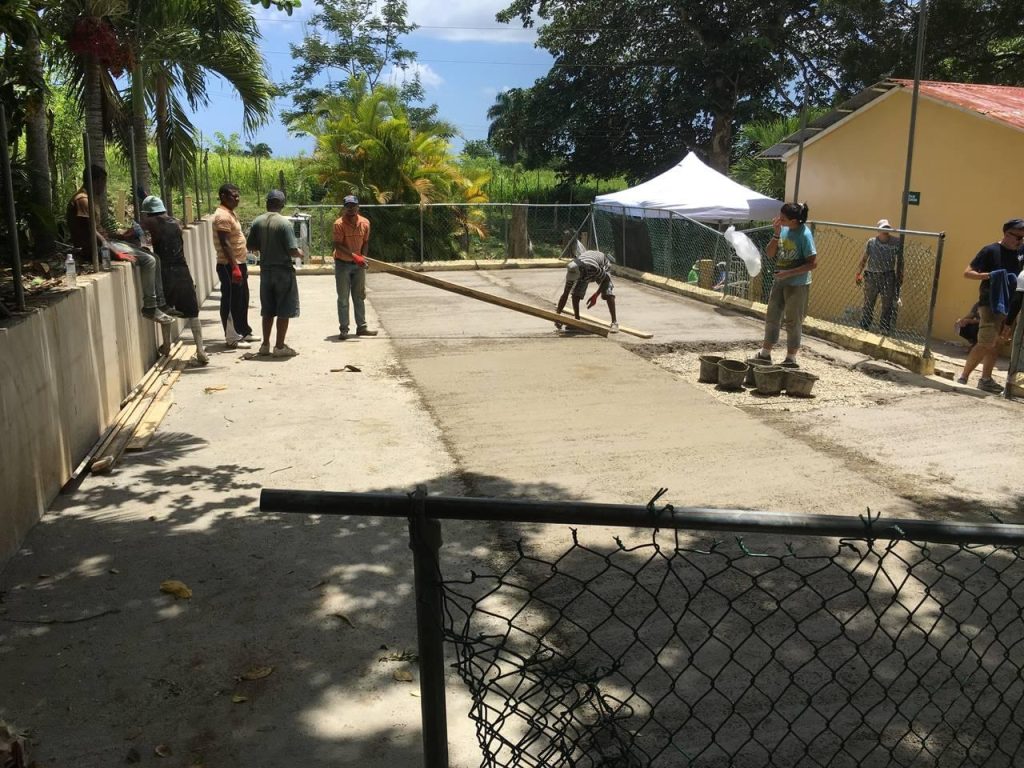 I must add that this activity was very physically demanding! A combination of heavy buckets and the searing heat did not make for an easy morning. Having said that, it was incredible to be part of such a hard-working team and it was extremely satisfying to have completed the job.
Reforestation
The final activity that I took part in was reforestation. Other members of my group did this activity on a different day and it appeared that you would either be planting trees in a wooded area, or planting saplings in a nursery. By all accounts the tree planting was quite labour intensive so maybe I was fortunate that I was planting little baby saplings in a nursery greenhouse! Once we arrived at the conservation site we were split into groups so each could do a different activity. We started physically planting the seeds into mini bags of soil that had been prepared by the other groups. After a set amount of time we swapped so we each had a chance to try the different activities. The other activities included filling the bags with soil, and then forming a production line to pass those bags into the greenhouse. One of the guides was also doing a small tour of the forest area where he explained more about the types of trees that were found there including almond trees, acai (which is a type of fruit), mahogany and pine. It was great to actually taste a fresh almond and some acai.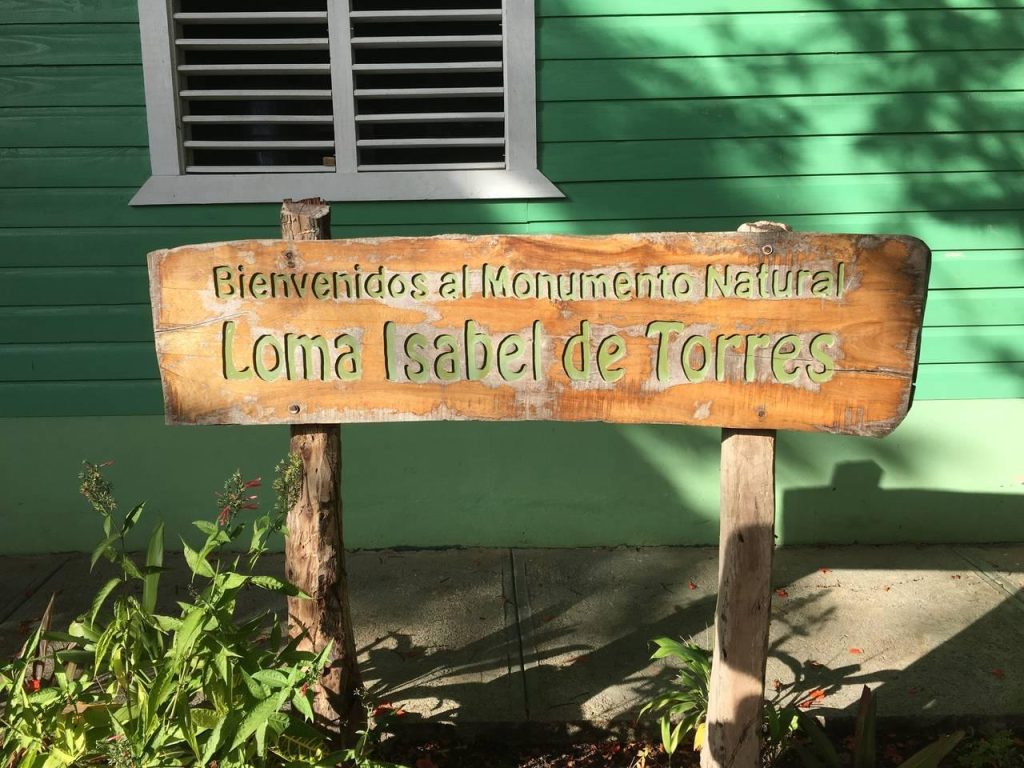 Although this activity wasn't anywhere near as demanding as the concrete flooring the day before, it was amazing to see the huge amount of tree saplings that had already been created by Fathom visitors – each at different stages of growth.
On-Ship Activities
Throughout the duration of the cruise, there were a wide range of activities on board the ship. Some of these activities were designed to assist in the delivery of the on land activities such as 'empowering English' and 'Spanish phrases' (for the activities where communication with Dominicans was required) whereas some of the activities were far more typical of a cruise such as the Fathom game show, wine tasting class and dance classes with on board tutors Douglas and Débora! There was also an on board band called 'The Craze Band' who were all Brits. They played a massive variety of different music throughout the cruise and were pretty central to the entertainment on the ship. I'd be doing them a disservice if I didn't mention the 'Bandioke' on the penultimate night of the cruise. You can pretty much imagine what it's all about and it was very lively and entertaining!
Final Thoughts
Overall, I enjoyed my experience with Fathom immensely. I spoke with lots of other passengers throughout my time on board and they were all very, very positive about their time on and off the ship.
This is not your typical cruise but then it's not a cruise where you'll spend all your time 'working' either. The impact activities are a huge part of the Fathom experience and for me they were what made this experience so special. If you're looking for something a little bit different, whilst still enjoying the cruising environment on an adorable ship, then Fathom is definitely something you should consider.