Find out what makes the Free at Sea promotion such a great deal…
One of our most popular promotions here at Cruise Nation is the Norwegian Cruise Line Free at Sea deal. Whilst the name explains a lot… there's still a few details you might find you need to get your head around, after all there are so many cruise lines and offers available that all the information can become a little overwhelming.
We wanted to provide a clear idea of what you can expect to gain from the Free at Sea promotion so you can decide if it's really the right deal for you. So let's begin with some frequently asked questions about Free at Sea.
To give an overview about the promotion, Free at Sea is an offer devised by Norwegian Cruise Line. It's available with selected 2017 sailings (it was previously available with 2016 sailings) and selected stateroom grades (not Guarantee staterooms). Depending on the stateroom you choose (Inside, Ocean View, Balcony or Suite) you'll benefit from a choice of one or more out of four free packages. These packages are; Ultimate Beverage Package, Speciality Dining Package, 250 Minute Internet Package or $200 per stateroom on board credit.  This handy table below shows you how many options you can choose depending on your stateroom:

By this point, you may find that you have even more questions than when you first started to read this blog post, which is why below we've answered some of the most frequently asked questions about Norwegian's Free at Sea promotion…
Q: WHAT DRINKS/BRANDS ARE INCLUDED IN THE ULTIMATE DRINKS PACKAGE?
A: There are a variety of spirits and cocktails, wines by the glass and bottled or draft beer up to $15 within the package available for guests to choose from. The Premium Drinks package includes fountain soda, juice and non-alcoholic beers. Check out the image below which shows all the drinks available with the promotion – you won't be disappointed!
Q: WILL I BE ABLE TO ORDER THE DRINKS PACKAGE, AND DRINK ON BOARD IF I AM 18-20?
A: Generally guests must be 21 years of age or older to purchase or consume alcohol, with the exception of Alaska and Hawaii itineraries and European roundtrip itineraries. On Alaska and Hawaii sailings Norwegian Cruise Line permits young adults between 18 and 20 years of age to purchase and personally consume wine and beer only while on board and with the consent of an accompanying parent. Authorisation is given only when the accompanying parent completes the Young Adult Alcoholic Beverage Waiver form. This form can be obtained and completed at the Guest Services Desk on embarkation. On round-trip European voyages guests 18 years of age or older are permitted to consume wine and beer when sailing without having to complete the Young Adult Alcoholic Beverage Waiver form. The ship's staff have the right to ask for identification to provide confirmation of age. Guest must be at least 21 years of age at time of sailing to qualify for the Premium Drinks Package. Guests under 21 will receive the soda package.
Q: WHAT DRINKS ARE INCLUDED IN THE SODA PACKAGE?
A: Guest may obtain fountain soda and non-alcoholic beer at any bar, lounge or restaurant throughout the duration of the cruise.
Q: CAN A DRINKS OR DINING PACKAGE BE PURCHASED FOR GUESTS WHO ARE THE 3RD AND 4TH ADULT SHARING IN A STATEROOM?
A: Drinks and dining packages can be purchased for guests who are the 3rd and 4th adult, under the condition that all packages are the same as those sharing the room.
Q: ARE THE DRINKS AND DINING PACKAGES AVAILABLE INCLUSIVE OF THE 18% SERVICE CHARGE?
A: The Premium Drinks/dining package option includes 18% gratuity on the package if it is purchased before the cruise. If purchased on-board, there may be a VAT charge on the purchased drinks within certain European itineraries.
Q: ARE THERE ANY LIMITATIONS ON THE AMOUNT OF ALCOHOLIC DRINKS THAT CAN BE ORDERED UNDER THE FREE DRINKS PACKAGE BENEFIT?
A: There is no limit to the amount of drinks consumed under the promotion, however guests who choose to consume alcohol must do so responsibly. The ship's staff may refuse to serve alcoholic beverages to any guest who does not consume alcohol responsibly.
Q: WHAT RESTAURANTS ARE INCLUDED IN THE SPECIALITY DINING PACKAGE?
A: The Speciality Dining package covers 6 restaurants: Teppanyaki, Margaritaville, Moderno, La Cucina, Bistro and Cagneys, with no additional charge and also includes the 18% Gratuities and Speciality Service Charge. Speciality Dining Packages include one main course per person at Cagney's and Le Bistro restaurants. Additional main courses will be charged at $10.00. Guests who want to dine at any of the following venues will have an upcharge fee – Ocean Blue ($15), Bayamo ($10), Cirque Dreams and Illusionarium ($10 regular seats/$15 premium seats/$35 VIP seating on Breakaway), Sushi Bar ($7), Pincho Tapas Bar ($7), and Raw Bar ($7 – does not include Seafood platter). Not included are Bake Shop items, Ice Cream Bar, Gelato, Chef's Table, Special Occasion/ Holiday menus (New Year's, Christmas, etc).
Q: WHAT IS INCLUDED IN THE INTERNET PACKAGE, AND ON WHAT DEVICES WILL I BE ABLE TO ACCESS IT?
A: The internet package allows 250 minutes of uncharged usage. This is accessed through a login, linked to the stateroom and is available throughout the ship. The internet is accessible on all devices capable of connecting to Wi-Fi, however can only be used on one device at a time.
Q: WHAT CAN THE ON BOARD CREDIT BE USED FOR?
A: The on-board credit is automatically added to the guest's shipboard account and can be used towards personal on-board expenses for example spa treatments, shore excursions or souvenirs from the on-board shop. (It cannot be used towards the service charge and in the casino). On board spending money has no cash value and is not transferable.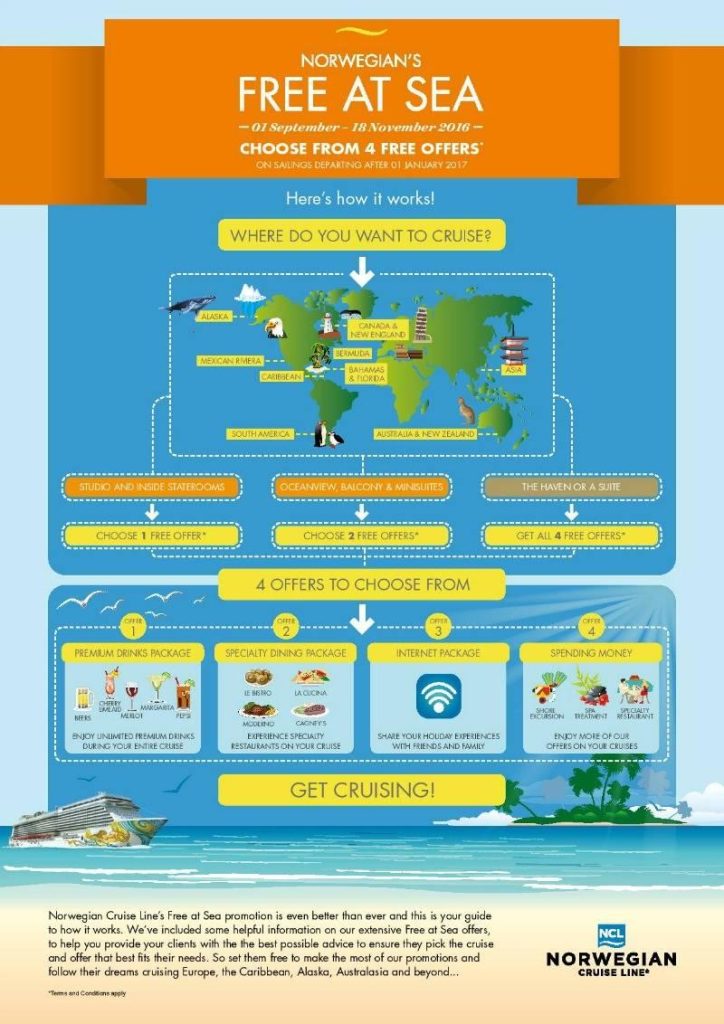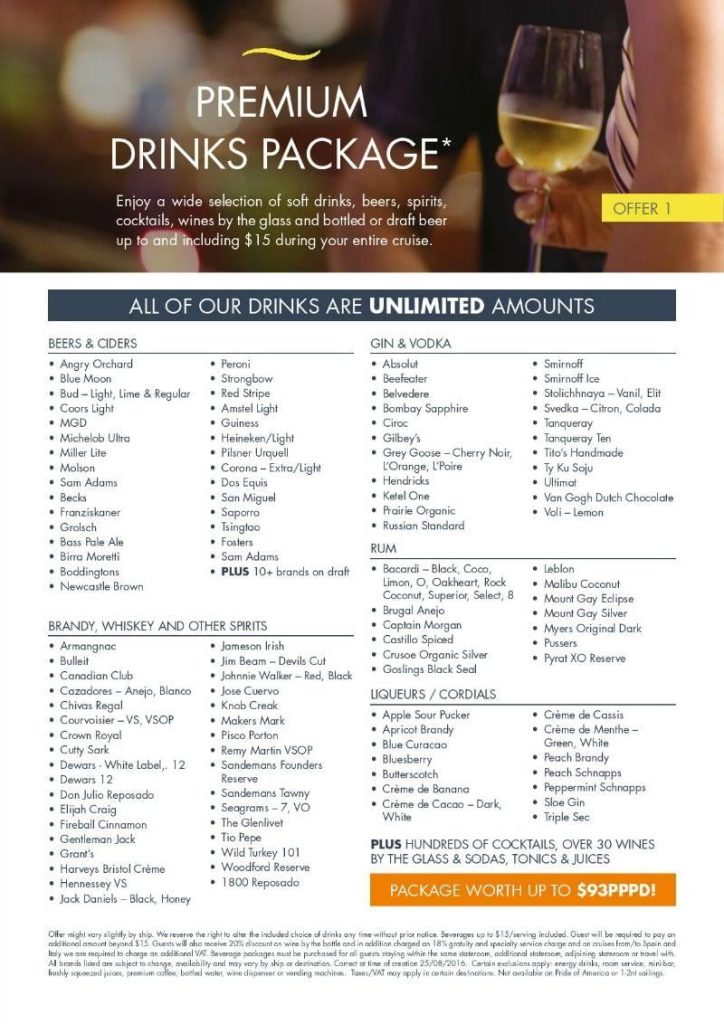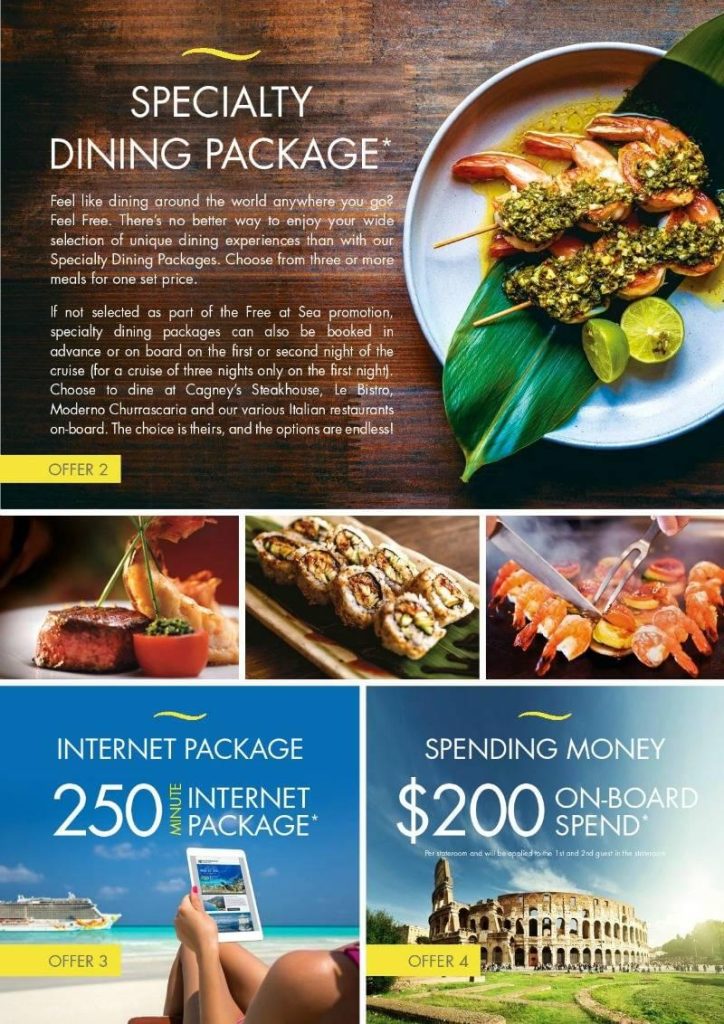 If you have a question about the Free at Sea promotion that we haven't managed to answer in this blog, leave us a comment or ask us on Facebook or Twitter. If you're interested in seeing the Norwegian Free at Sea holidays we have available, check out our latest deals which start from £549 including flights and free stays as well as your cruise! You'll likely notice that we've automatically included the Drinks Package with our offers which is because it's the most popular. However if you'd prefer one of the other packages instead such as the 250 minute WiFi package that's no problem because we can easily update and change the package to include this instead.