Princess Cruise Line are working with Discovery Communications to extend the Discovery at Sea programme into onboard youth zones.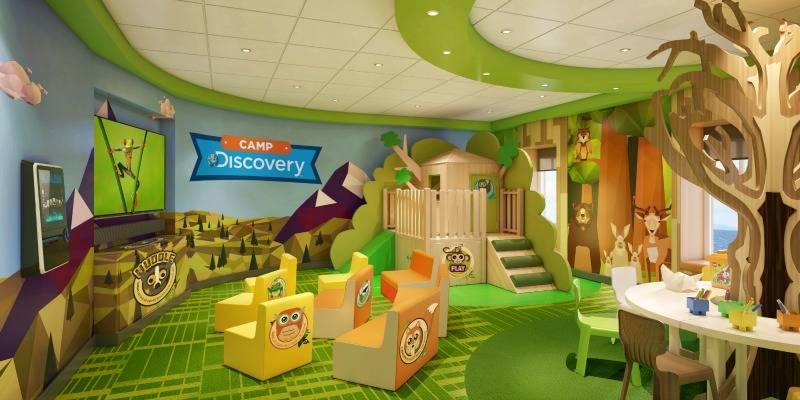 As part of the initiative, all of the onboard children's clubs are being redesigned with a fresh, new look. The enhanced play zones will also feature new experiences and games for the children that evoke a sense of learning and play.
Grand Princess is the first ship to have the renovated facilities onboard after undergoing a refit last month. The multi-million pound investment is now being rolled out fleet-wide as part of Princess Cruises' partnership with Discovery Consumer Products.
Princess Cruises has three children's clubs, each of which has been redesigned:
The Treehouse, (formerly Pelicans) ages 3-7: A forest and animal-themed centre that will focus on play time, creativity and the natural world
The Lodge, (formerly Shockwaves) ages 8-12: Inspired by the great outdoors, this centre will include sports activities and fun places for kids to explore and relax
The Beach House, (formerly Remix) ages 13-17: Will offer a contemporary surf-themed lounge for teens to socialise in
In addition, the line's youth programme will be renamed 'Camp Discover' and will feature new activities and games for children including:
Hands-on science experiments based on TV show "MythBusters"
Destination-immersive activities that focus on the cultures and nature found in the Caribbean, Alaska and Europe
Interactive scavenger hunts
Animal Planet puppet and mask-making, inspired by local wildlife
Cake decorating as part of Princess' JrChef@Sea programme
These activities are currently being introduced on all Princess ships.
Other non-Discovery activities that will be added through the expansion include dance classes, mini golf tournaments, talent shows, video game play, theme nights, paper airplane challenges and LEGO boat-building competitions. A family carnival-type experience with booths and activities will also be set up in the piazza once on each sailing.
The brand new children's centres will be on Caribbean Princess when the ship arrives in Southampton this May to sail the British Isles over summer 2017. Sapphire Princess will also feature the redesigned centres when the ship makes its maiden visit to Europe in April 2018, sailing roundtrip from Southampton to the Mediterranean and northern Europe.
Interested in a cruise with Princess? Visit our website to view our Princess cruise line holidays.