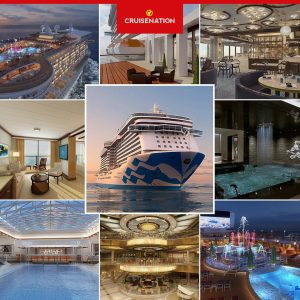 Princess welcomes their newest addition to the fleet –  The Majestic Princess cruise ship!
The Majestic Princess will share many similarities with her sister ships Royal and Regal Princess, however as she will be based in China, she will feature some fantastic extras such as 'Sing On The Sea Karaoke Suites' where passengers can experience private karaoke rooms fitted with sofas, large TV screens and Mini Bar. And in addition, the Majestic Princess has partnered with speciality Chef Richard Chen, formerly of the first Chinese Restaurant in North America with a Michelin Star – Wing Lei – to create 'Harmony', a Cantonese restaurant that will feature his interpretation of classic Cantonese dishes.
Majestic Princess will take her maiden preview voyage from Trieste to Rome at the end of March and will then complete a handful of Med itineraries until Summer 2017, she will then sail across to China where she will home port year-round. However, her Far East itineraries are yet to be revealed.
What will she feature?
Dining: World Fresh Marketplace*, The Bakery, International Café, Alfredo's Pizzeria, Lobster & Dim Sum Bar*, Chopsticks Noodle Bar*
Speciality Dining: La Mer French Bistro by Emmanuel Renaut*, Crown Grill, Chef's Table Lumiere, Harmony*, Ocean Terrace, Ultimate Balcony Dining
Leaves Tea Bar*
Hollywood Pool Club
Sing on the Sea Karaoke*
The Seawalk
The Shops of Princess
Vista Gaming Lounge
Movies Under the Stars
Princess Watercolour Fantasy Show
Musical Productions
Princess Live
The Princess Luxury Bed
SLEEP by Princess
Hollywood Conservatory
Lotus Spa
The Enclave at Lotus Spa
Family Friendly Kids Club
Art Gallery
Princess Sports Central
Ship Facts:
3,560 Guests
1,346 Crew
Tonnage: 143,700
Length: 1,083 Feet
Height: 224 Feet
Inaugural Cruise: April 4th 2017
of Cabins: 1,780
Decks: 19
Princess Cruises are renowned for ensuring that guests 'Come Back New' when they take a Princess Cruise, so like the rest of the fleet Majestic Princess will include 'The Princess Luxury Bed' which has a scientifically engineered mattress and bed springs, a plush two-inch pillow top, European-inspired duvets and 100% luxurious Jacquard-woven linens.
Some of our brilliant team are lucky enough to be joining her Maiden preview voyage this weekend and are really excited to share lots of pictures with you!
In the meantime, we would love to know what your thoughts are on Princess' latest addition to the fleet?
If you would like to sail on this fantastic new ship, visit our ­­­­ Majestic Princess Cruises page for more info or Call us now on 0800 073 6521.