With 70 years of exploration under their belt, we're here to explain why Holland America should be your cruise line of choice for visiting Alaska.
When it comes to visiting Alaska and experiencing the culture and landscape, Holland America are unbeatable in the service they provide to cruisers. Below we're going to explore the ways in which Holland America make this trip so special for their guests…
The Denali Land and Sea Journeys by Holland America enable you to get so much more from your visit to Alaska. Along with your cruise visiting ports like Juneau, Skagway, Ketchikan and Glacier Bay, you'll also get the chance to spend time exploring the breathtaking beauty of Mt Denali National Park. The park is spread over 6 million acres and is home to an array of wildlife including caribou, moose, wolves, bears and Dall's sheep. Of course all that exploring means you'll need somewhere comfy to rest your head – which leads us on to reason number 2…
Holland America are dedicated to a future exploring in Alaska. So much so that they've built McKinley Chalet Resort which covers 60 acres and sits at the gates of Mount Denali National Park. At this private retreat, guests can relax and eat after a day out exploring. The resort,which is centered around Denali Square, features….
Karsten's Public House – This is the bustling heart of Denali Square and it offers impressive 2-storey views of the park. At Karsten's you can sit and enjoy a leisurely meal and drink or even pick up a grab 'n' go packed lunch.
Amphitheatre – This is where guests can attend a variety of presentations from National Park Rangers and naturists. There's also regular locally themed cultural demonstrations and performances.
Artists in Residence – Holland America have recognised that artists have been visiting National Parks for inspiration since the 19th century. To celebrate this, they've created an Artist in Residence cabin where guests can drop in and see the artists at work on their pieces that have been inspired by Denali.
The Gold Nugget Saloon – Guests can enjoy raucous entertainment at this venue which offers drinks and live music.
Below you can see some pictures of McKinley Chalet Resort.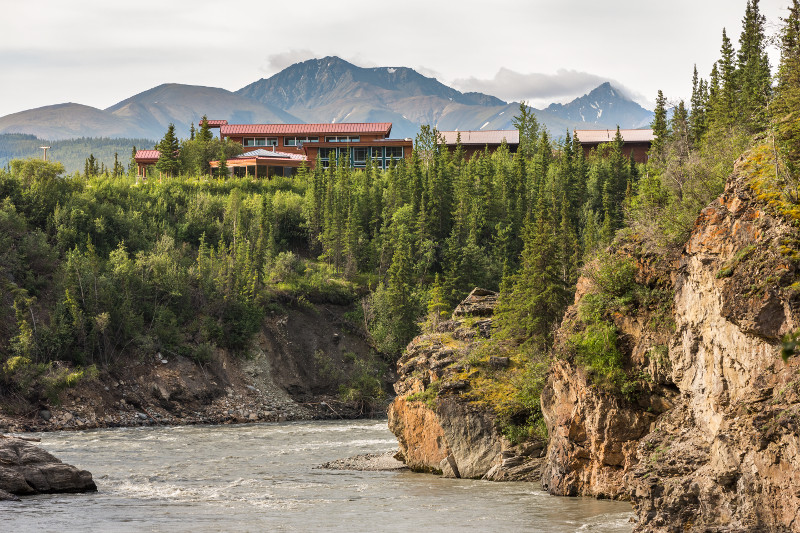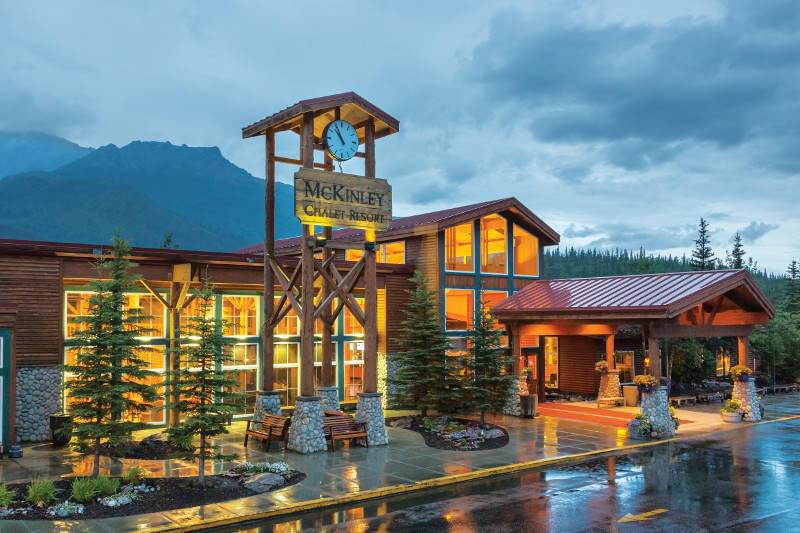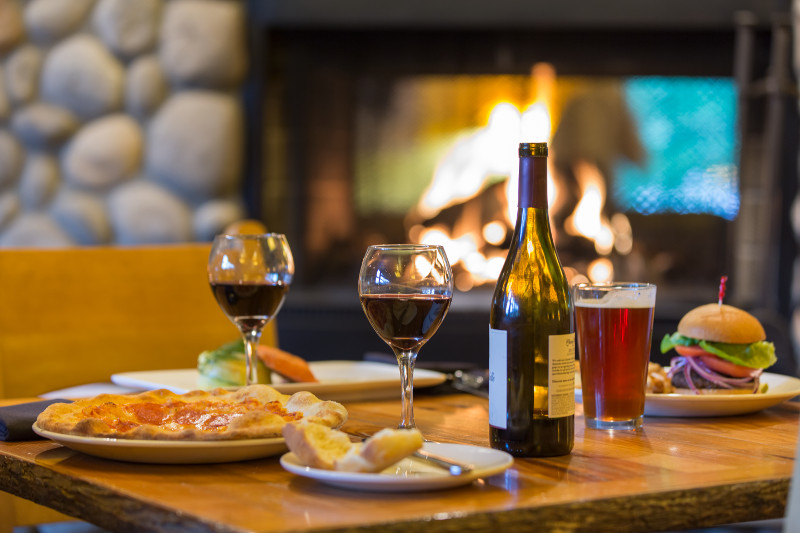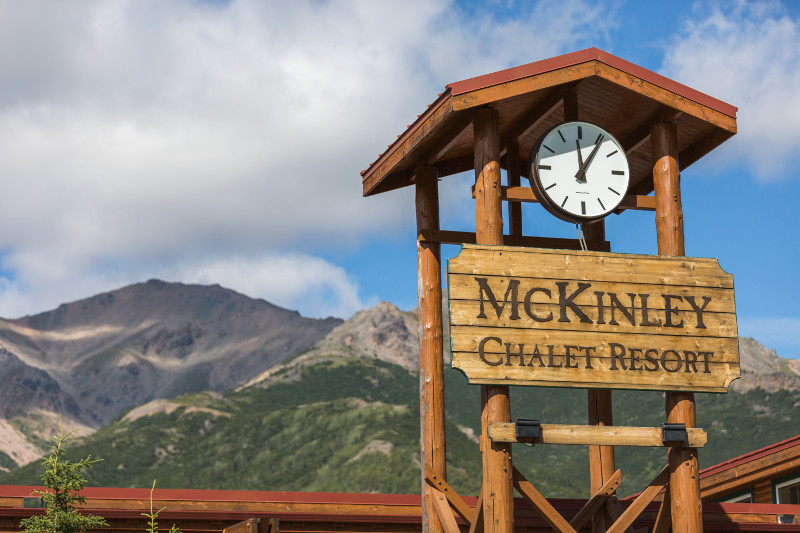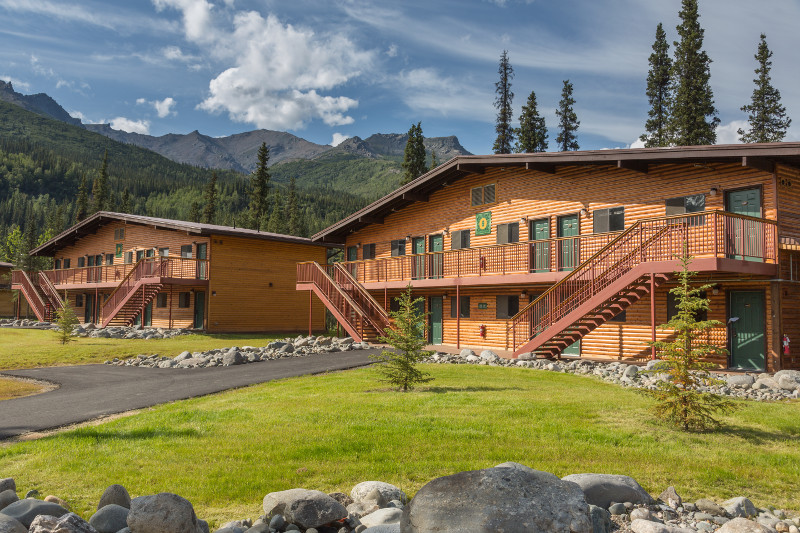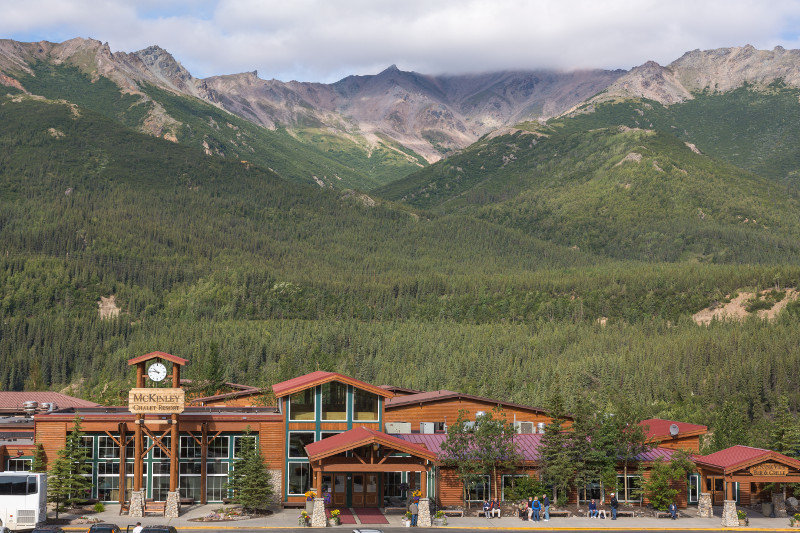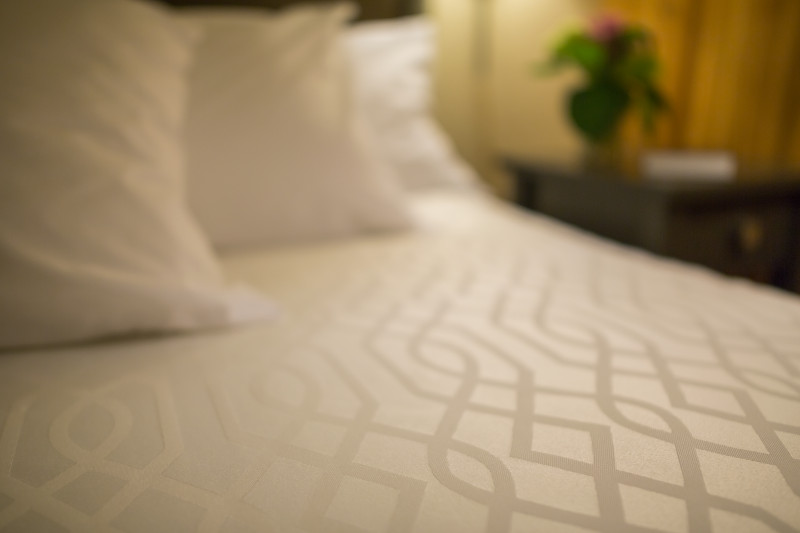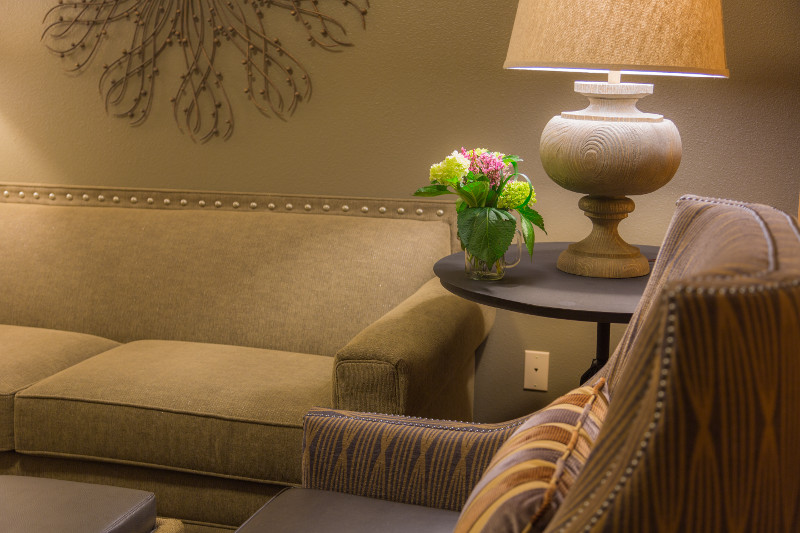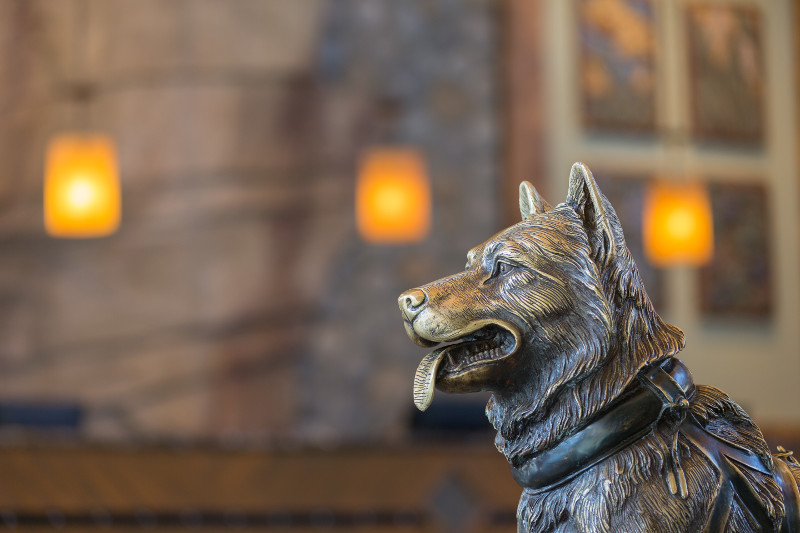 3. Our third reason for choosing Holland America is their packaged-in McKinley Dome Train service. This train features a domed glass roof that is designed to let those travelling on it appreciate the spectacular views from a new perspective.
4. Holland America also offer a Yukon AND Denali Land and Sea Journey.  You can choose from 3, 5 or 7 day holidays (and even team them up with our Smart Packages which include your flights and city hotel stays). Along with your knowledgeable Journey Host, you'll travel deep into the Yukon and revisit the 1898 history of the region when gold was first discovered in a tributary of the Klondike River. You'll ride the White Pass and Yukon Route railroad and experience a visit to towns such as Dawson City and Fairbanks to discover the gold rush heritage. Following your Yukon experience you'll be transferred to McKinley Chalet Resort to continue your journey in Denali National Park.
5. Holland America have partnered with the BBC to create BBC Earth Experiences on board. This feature takes inspiration from the popular television documentary narrated by David Attenborough, which held the entire nation captivated. The partnership sees events created onboard including presentations from noted naturists and scientists, orchestra performances that accompany dramatic landscape footage, nature photography workshops and themed kids activities. The BBC Earth Experiences onboard were recently enhanced with a 'Frozen Planet' inspired performance.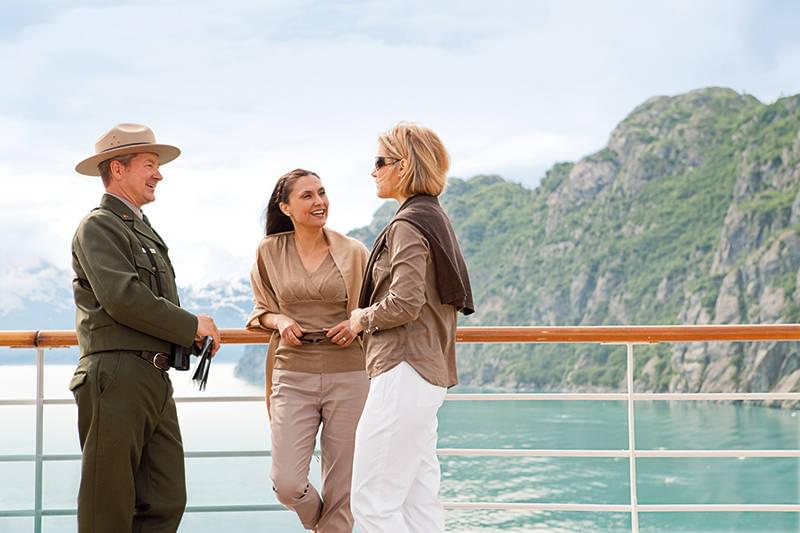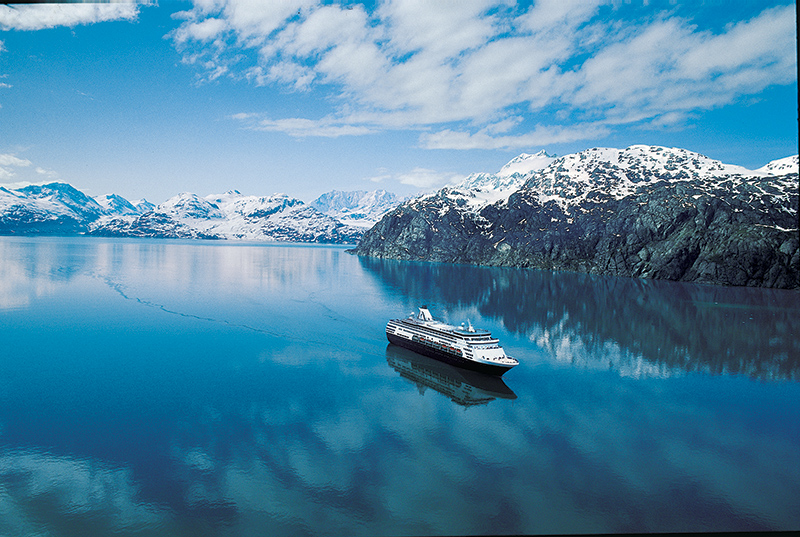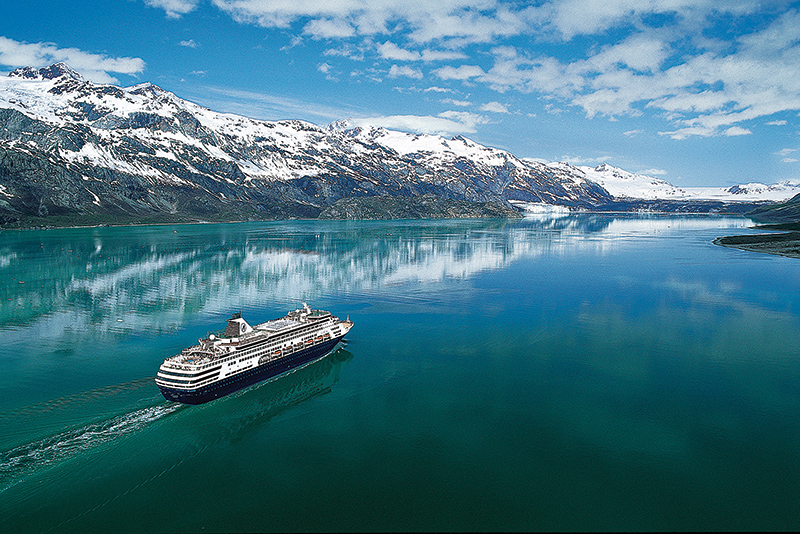 6. When it comes to planning for your trip to Alaska, Holland America provide some comprehensive resources including a packing list and a library of 16 podcasts from Glacier Bay Rangers speaking about everything from 'Sea Otters' to 'Bears on the Beach' and 'Bird Life to Lookout For'.
If you'd like to find out more about discovering Alaska with Holland America, make yourself a cuppa, put your feet up and get ready to learn more about this amazing destination in this 16 minute video. Trust us, you'll be looking for your passport long before it ends so you can get planning your trip here!
If you're interested in seeing our Alaska cruises with Holland America, visit our website for more information on itineraries and departure dates.