Find out all about the Norwegian Bliss from Norwegian Cruise Line in our blog guide below.
Set to launch in June 2018, the Norwegian Bliss is the 16th ship in the Norwegian Cruise Line fleet. Cruisers hoping to travel on the Bliss can enjoy Caribbean and Alaska itineraries with selected sailings along the Mexican Riviera.
The ship has been designed to incorporate many of the features that Norwegian cruise line are known for that promote a sense of freedom and flexibility onboard.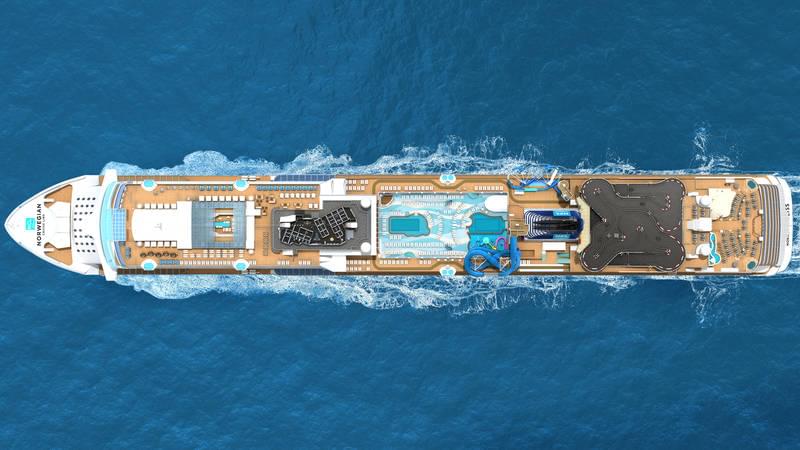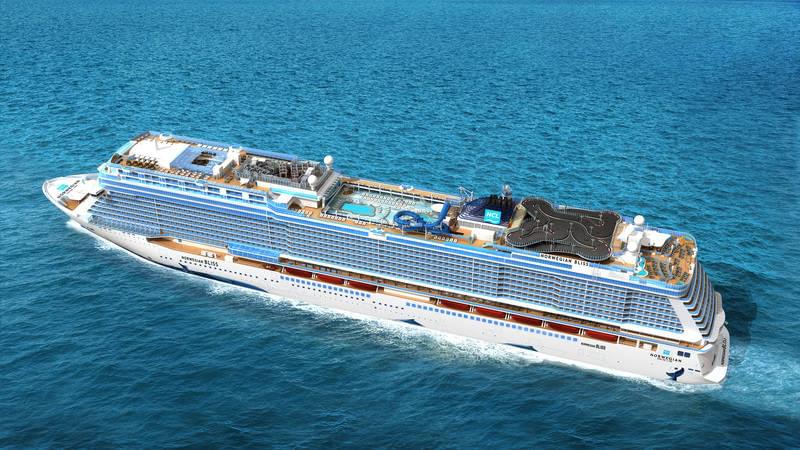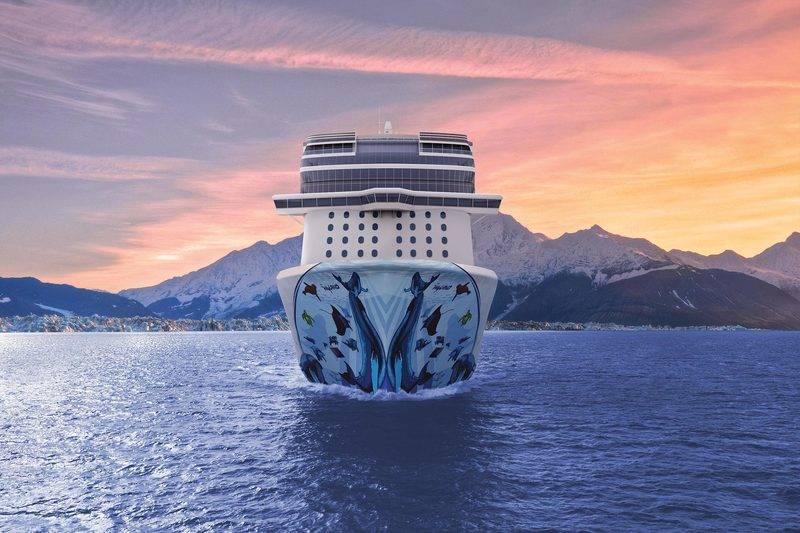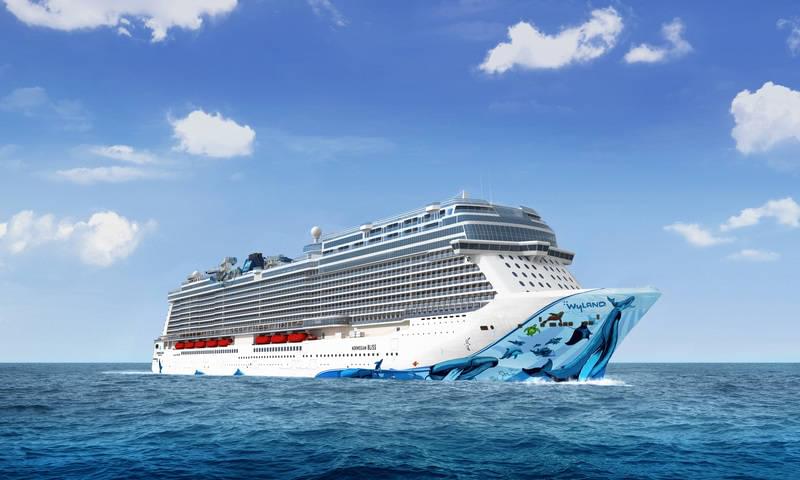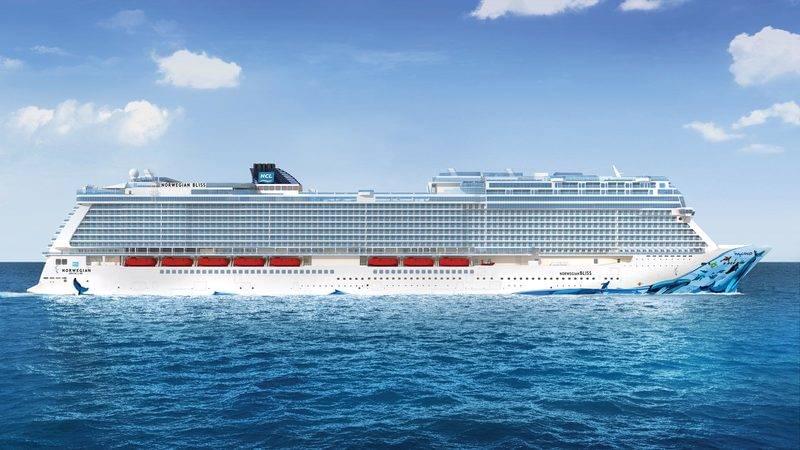 Ship Stats
Gross Tonnage: 167,800
Guest Capacity: 4,004 guests
Overall Length: 329.8m  (1,082ft)
Cruise Speed: 23.2 knots
Max Beam (wide point of ship below waterline): 41.5m (136ft)
Crew: 1,716
Engines: Diesel Electric
Largest open air lazer tag at sea
Longest competitive race track at sea
Activities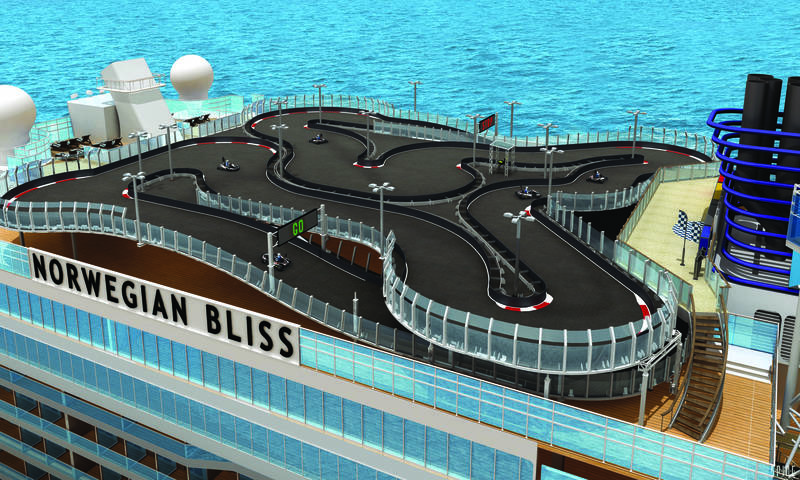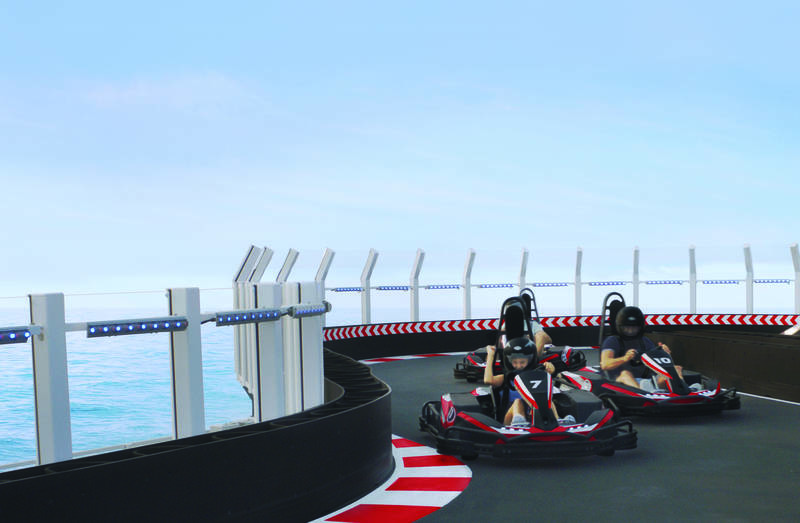 Go Karting
When it comes to activities onboard, Norwegian Cruise Line is one of the best for providing a wealth of choice for their guests. Following the huge success of the race track that featured on the sister ship, Norwegian Joy, the go-kart course has been introduced on the Bliss and it's the longest at sea stretching for almost 1,000ft over two levels. The electric go-karts have four speed settings ranging from novice to advanced and are capable of reaching speeds of 30mph, there's even a special 'turbo boost' feature that can be used once on each lap to make the race more competitive. Those seeking relaxation needn't worry about any noise as the karts run quietly, but for those doing the driving they'll hear the atmosphere of a real race with the sounds of an Andretti engine being played through speakers in the karts headrest.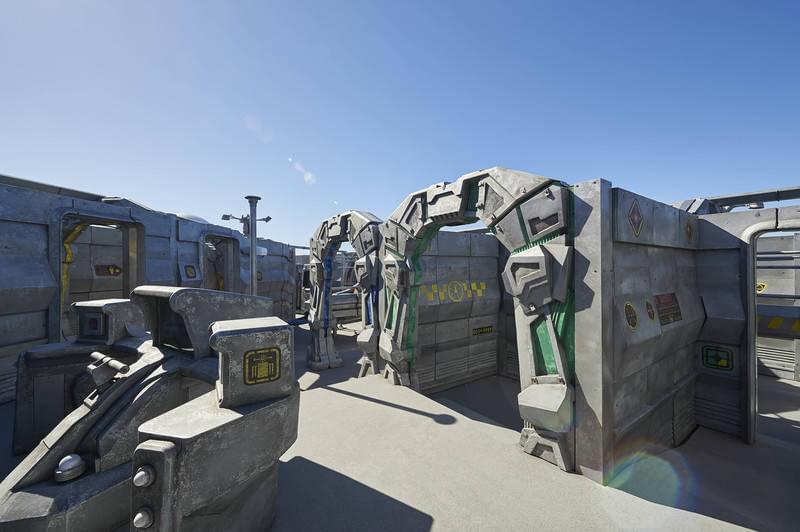 Laser Tag
Cruisers of all ages will enjoy the amazing open-air laser tag course which is themed on an abandoned space station. The course is open in the daytime and even at nighttime too, adding another level of atmosphere to the game which guests can play against family and friends with state-of-the art laser guns.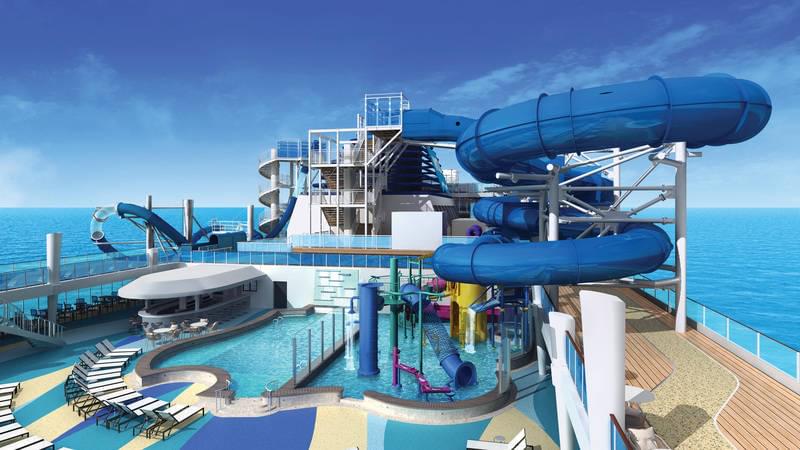 Swimming Pools and Aqua Park
After all that excitement, you're going to need somewhere to cool off and the Norwegian Bliss boasts two spacious pools with an expansive sun deck and 6 infinity hot tubs that scale the side of the ship for incredible views. The ships aqua park will leave you in awe as it has not one, but TWO multi-storey slides. One of the slides, Ocean Loops, is a high-speed, free-fall experience with two exhilarating loops – one which extends over the side of the ship and the other which is see-through and stretches down to the deck below.  The second slide, the Aqua Racer, gives guests the chance to race side by side for over 360ft on inner tubes – there's even a translucent section which rewards racers with stunning sea views as they twist and turn to the finishing line.
For little ones, there's a purpose-built Kid's Aqua Park featuring water cannons, slides, tipping buckets and splash pads which are sure to have the children squealing with delight!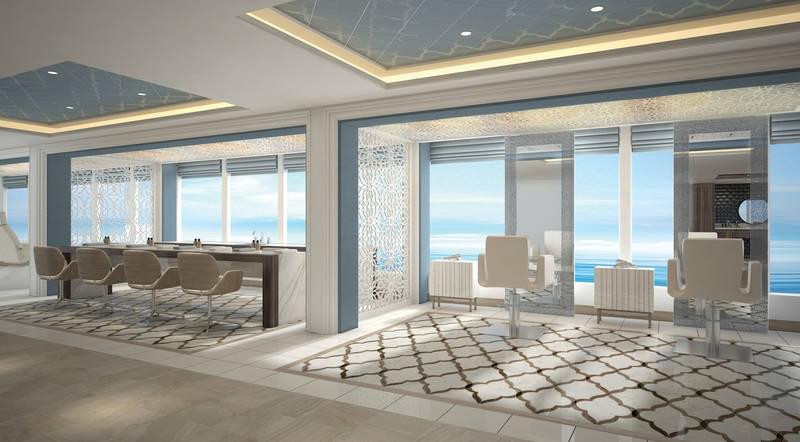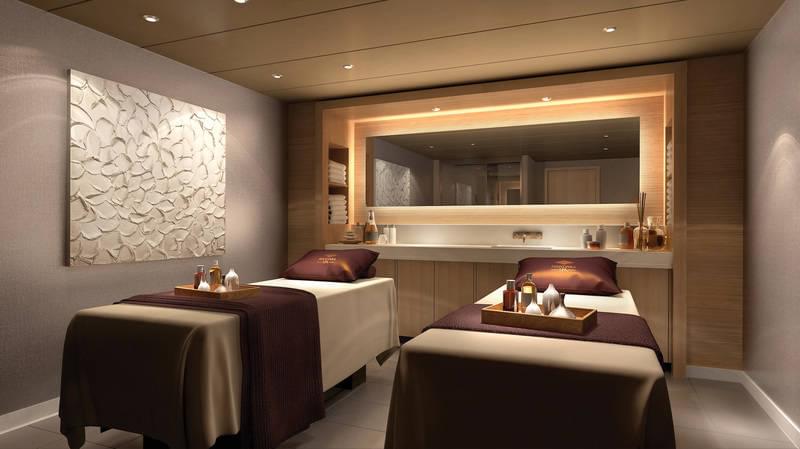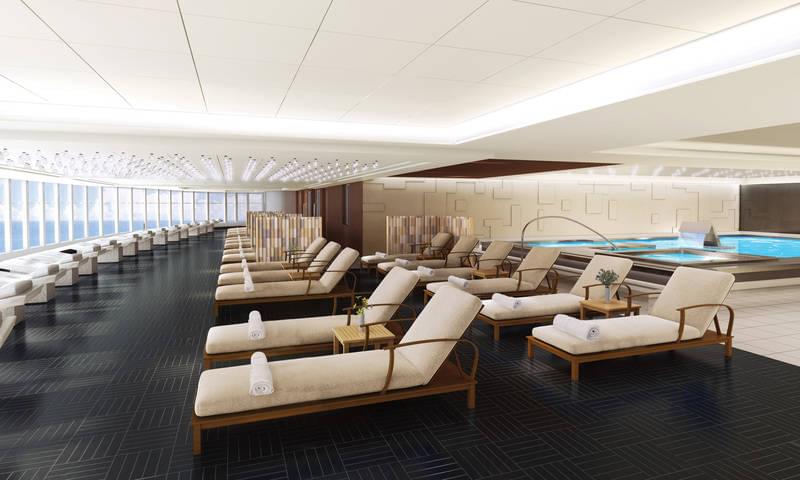 Spa
Located on the aft of Deck 16, the Mandara Spa on the Norwegian Bliss provides ultimate relaxation with 24 treatment rooms, a full-service salon offering a range of beauty treatments, a barber shop, a fitness centre and a thermal suite. The expansive thermal suite is the perfect place to relax aching joints after a day exploring. Guests can unwind in the vitality pool, clear mind and spirit in the unique experience showers, reduce inflammation and improve respiratory functions in the salt room, cleanse the body in the steam room or sauna, cool down in the snow room, or catch up on their latest reading on one of the 17 heated stone loungers.
Fitness Centre
The fitness centre will feature state-of-the-art equipment from TechnoGym®. Guests can work out with cardiovascular and strength-training equipment or take part in one of the onboard exercise classes such as TRX, Norwegian Fight Club and RYDE Cycle.
Dining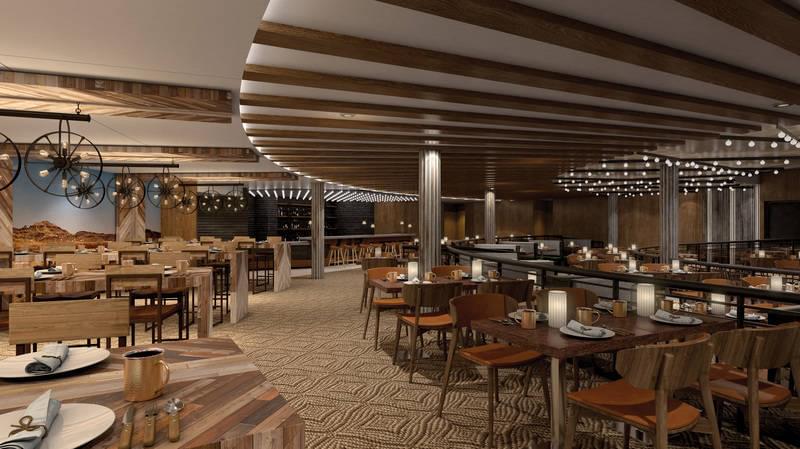 Q
Q is unique to the Norwegian Bliss and takes its inspiration from a Texas Steakhouse. There's hickory and oak-smoked BBQ meats and you can tap your boots to live country music.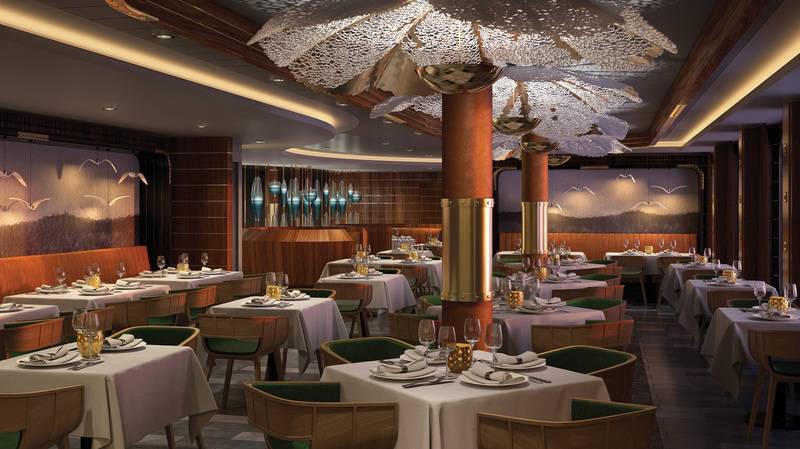 Ocean Blue
Enjoy fresh seafood in this nautically-themed restaurant which also has an alfresco area on the Waterfront where you can enjoy sea views. The seafood here is locally-sourced from the ports of call; on an Alaska itinerary you can expect to see dishes featuring Alaska Salmon on the menu, whilst if you're island-hopping the Caribbean there's delicious ceviche or grilled snapper to enjoy.
Coco's
Coco's is also unique to the Norwegian Bliss and it's a paradise for those with a sweet tooth. Chocolate pralines, crepes, speciality coffees and other divine treats are sure to tempt you as you take a stroll around 678 Ocean Place.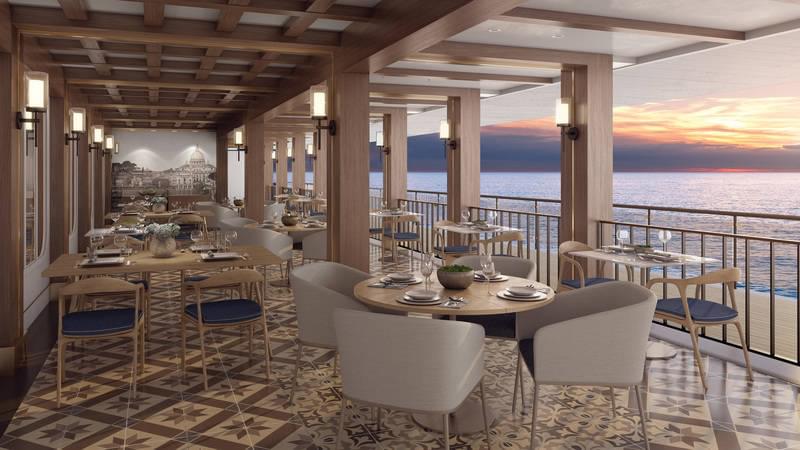 La Cucina
Tuck into the flavours of the Tuscan countryside with traditional dishes that have been given a contemporary twist. Dishes such as lobster fettuccine or classic carbonara are on offer in this beautiful setting with both indoor and outdoor tables.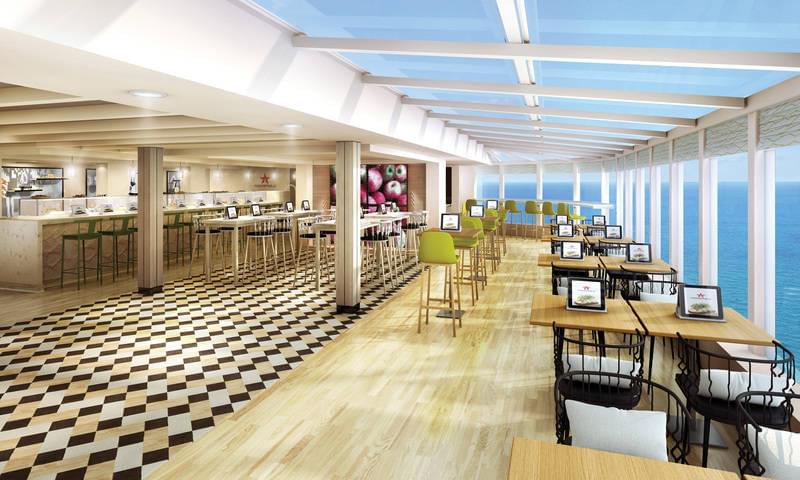 Food Republic
This interesting dining spot was food introduced on the Norwegian Escape. It's a successful collaboration between Norwegian Cruise Line and well-loved restauranteurs – the Pubbelly Boys. Recipes from around the world are embraced in this casual dining spot such as sushi from Japan, noodles from China and a whole host of other favourites.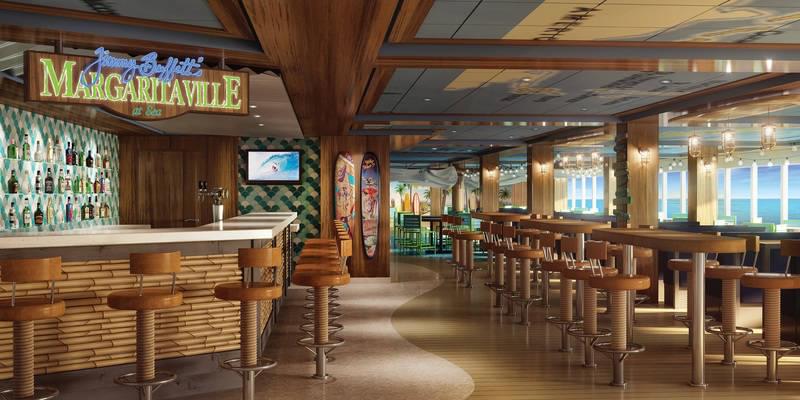 Jimmy Buffett's Margaritaville at Sea
There's no better place to get you in the mood than this colourful and fun dining spot and bar. Chow down on well-loved favourites like the Cheeseburger in Paradise and wash it down with a Who's to Blame Margarita. When your belly is full and your thirst is quenched you can chill out listening to the island grooves.
Cagney's Steakhouse
An American-style steakhouse, Cagney's offers premium cuts that will set your mouth watering. Don't miss out on Norwegian's signature truffle fries or made-from-scratch jumbo crab cakes!
Los Lobos
This premium Mexican restaurant offers traditional dishes with a contemporary twist. From handcrafted margaritas to carne asada marinated in guajillo chiles and tequila to Ibarra chocolate ice cream topped with dulce de leche sauce, the chefs at Los Lobos focus on the details and unique flavor combinations.
Teppanyaki
Teppanyaki turns dining into an experience as you gather around the table and your chef prepares your meal right in front of you in a heart-stopping display of twirling knives and flying vegetables. Watch as they expertly slice and dice and prepare your handpicked cuts of meat for a truly unique meal. Make sure to try the chilled sake-infused Wasabi cocktail!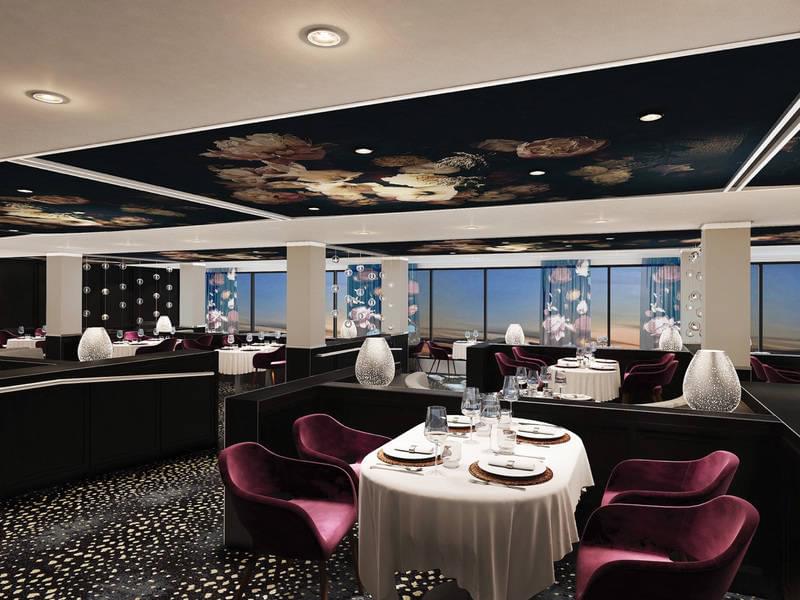 Le Bistro
Le Bistro is the signature French dining spot of Norwegian Cruise Line. On the Bliss you'll discover that this sophisticated dining spot has floor to ceiling glass windows which present incredible views to those enjoying a meal here.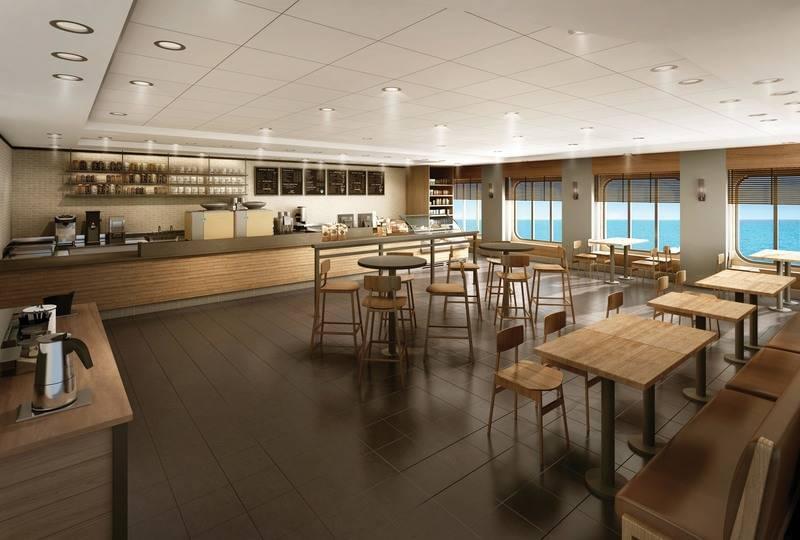 Starbucks
Just because you're on holiday doesn't mean you don't want you daily caffeine fix right? Well luckily for you Starbucks have taken up shop on the Norwegian Bliss so now you can enjoy a spectacular range of speciality coffees and baked treats during your cruise.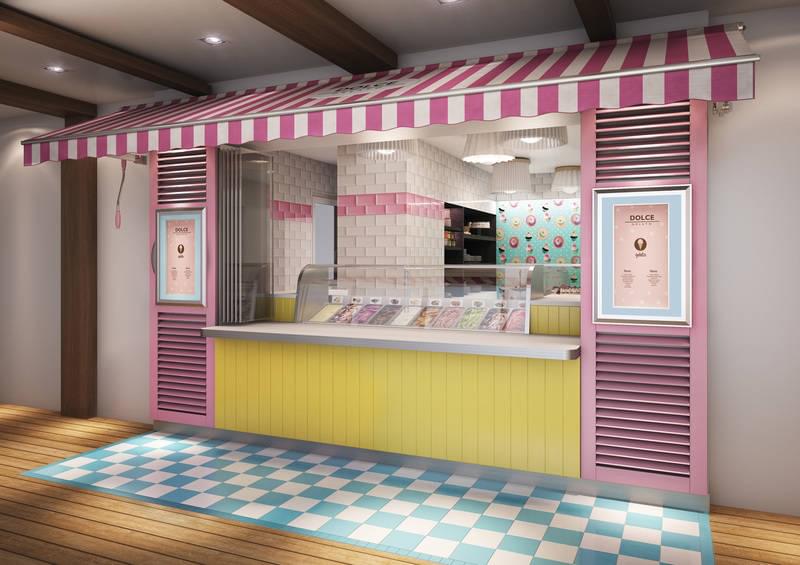 Dolce Gelato
A holiday just isn't a holiday without at least one icecream cone! Dolce Gelato is situated on Ocean Walk and provides a great variety of flavours which are all made fresh onboard!
Savor Main Dining Room
With stylish decor and an extensive menu of freshly cooked dishes, dining at Savor is an ultimate delight.
The Bake Shop
Indulge your sweet tooth with decadent treats available à la carte, such as French macarons, chocolate pralines and cupcakes.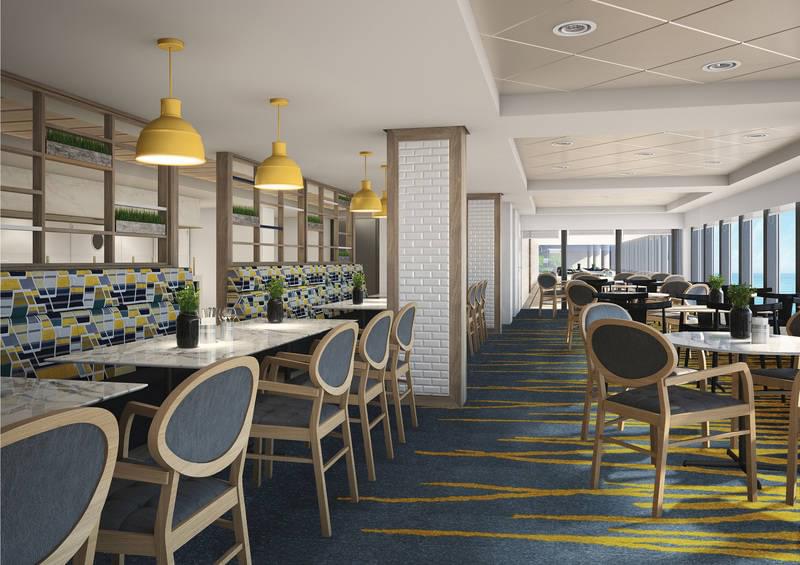 Garden Cafe
Serving up breakfast, lunch and dinner, the Garden Cafe features some live action stations such as made to order waffles and omelettes. There's also an Italian Pasta Bar and a carving station where you can get meat freshly sliced to your preference. As well as a great variety of savoury dishes, there's also an area lined with sweet treats for afters.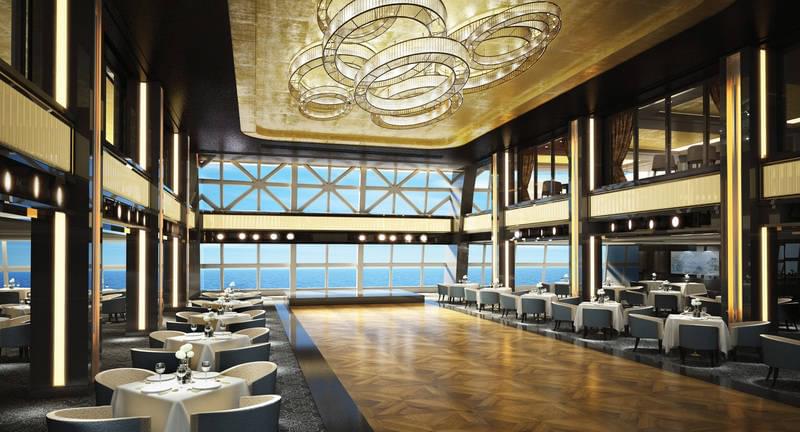 The Manhattan Room
The tag line of this restaurant is 'come for dinner, stay for dancing' as the Manhattan room has a subtle golden-era of Hollywood vibe to it. The venue comes alive with live music and guests are invited to show their moves on the dance floor.
The Haven Restaurant
This dining spot is exclusively for those staying in the Haven Suites. Breakfast, lunch and dinner is provided here in a secluded setting that offers impressive views.
Taste Main Dining Room
Similar to Savor Main Dining Room, Taste features a stylish, modern decor and offers an array of delectable dishes for you to enjoy each evening.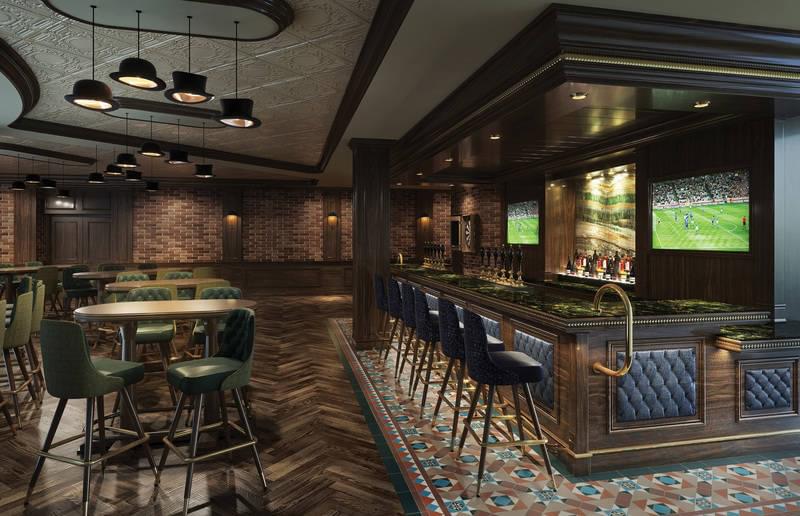 The Local
This relaxed and casual eaterie and bar offers traditional pub fare 24hrs a day. You can look forward to menu choices such as fish and chips and chicken pot pie as well as specials like prime rib. Featuring a 2-storey high screen and a welcoming bar service, this is the perfect place to make sure you don't miss the big game whilst you're at sea!
Take a look at the video below to learn more about the Activities and Dining onboard…
Bars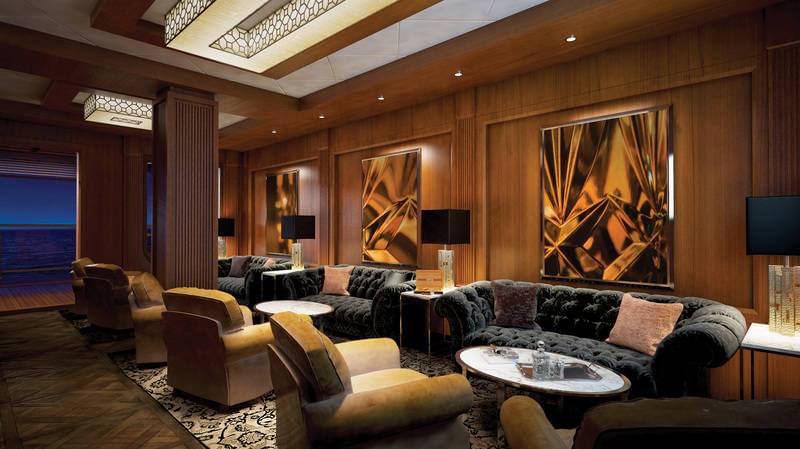 Humidor Cigar Lounge
Grab your favourite whiskey from Malting's Whiskey Bar and head to the Humidor to pair it with a good smoke. Recline into deep, leather armchairs and chat with friends or simply sit in amicable silence as you appreciate life's little luxuries.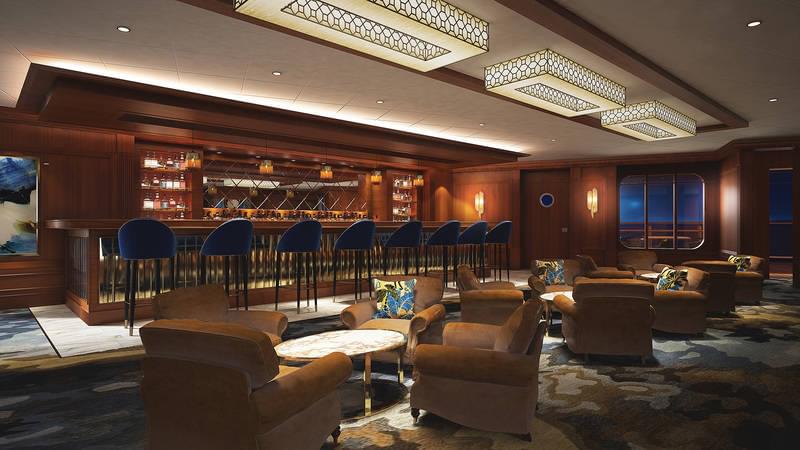 Maltings Whiskey Bar
Revel in an international choice of whiskeys and sit back and relax in perfectly comfy slouchy chairs as you sip your way around the world.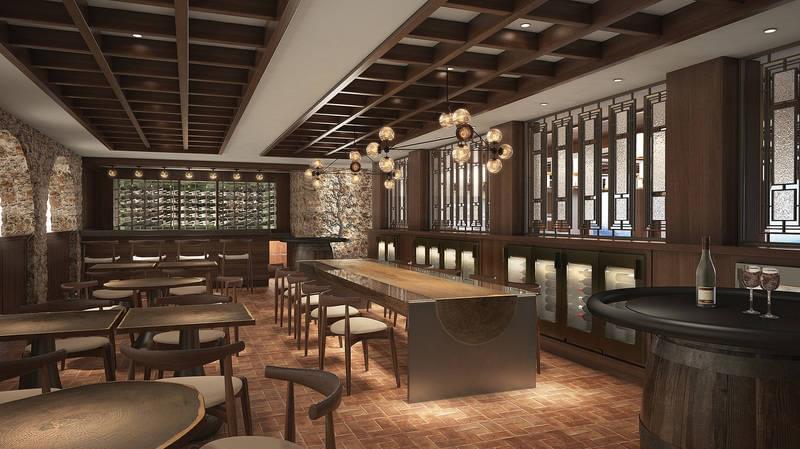 The Cellars Wine Bar
Designed in collaboration with Mondavi, a prestige winemaker in Napa Valley with over four generation of experience, The Cellars Wine Bar is the place to go to enjoy a great glass of wine with family and friends onboard. You can even enhance your wine IQ by partaking in one of the onboard programmes hosted by experts.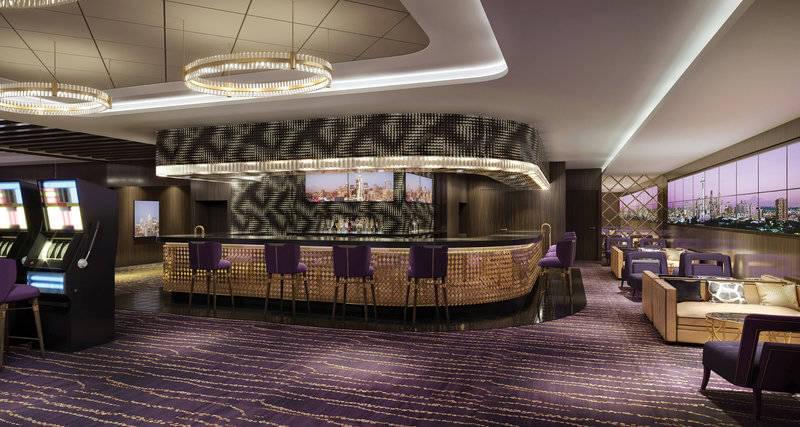 Skyline Bar
Situated in the ship's casino, the Skyline Bar features high definition landscapes that illuminate this sophisticated lounge. The plush interiors and great atmosphere make this the perfect venue for pre-dinner drinks.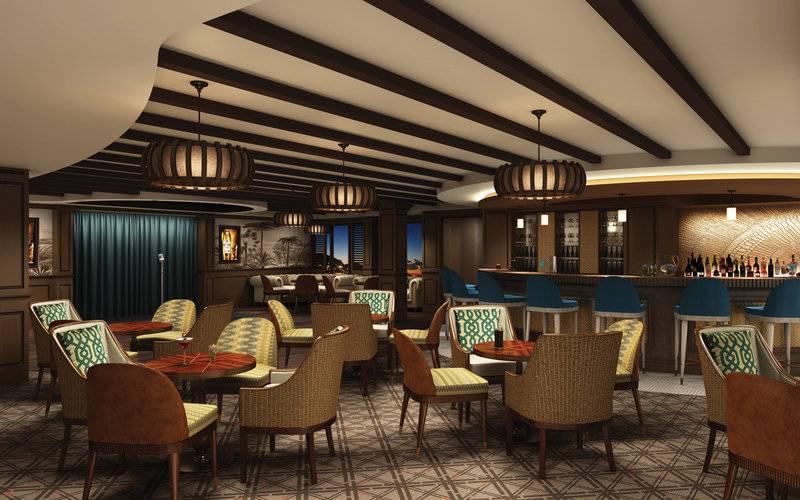 Sugarcane Mojito Bar
There's no better place to go for this well-loved holiday cocktail.
The Cavern Club
Taking inspiration from the famous Liverpool venue which was frequented by the legendary Beatles, the Cavern Club on the Norwegian Bliss offers live music in the form of a Beatles cover band. The low ceilings and mood lighting give this venue a cosy and artsy vibe.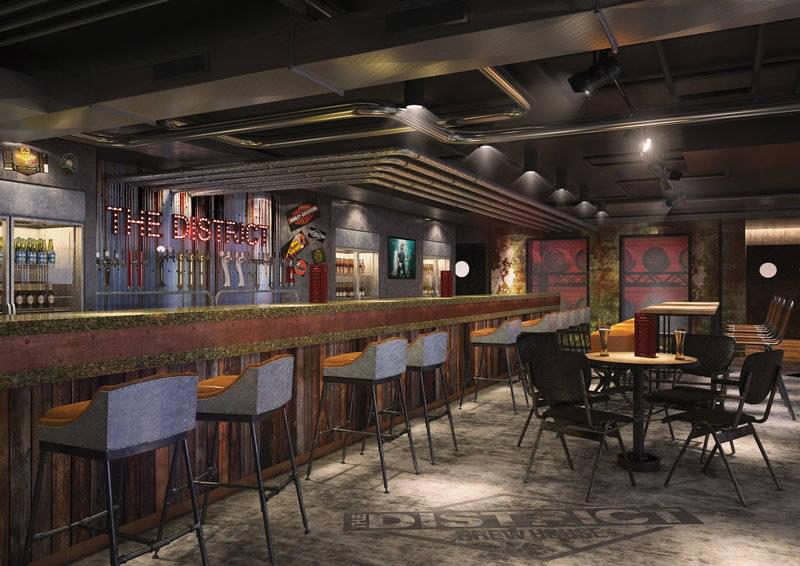 District Brewhouse
You're sure to find a beer you love at the District Brewhouse with a choice of 50 bottled beers and 24 draught beers on tap! For those who prefer something a little more fruity, there are also speciality cocktails you can sip on. To keep you entertained there are some of the best live music acts at sea plus a photobooth for you to capture some of the funnest moments of your cruise!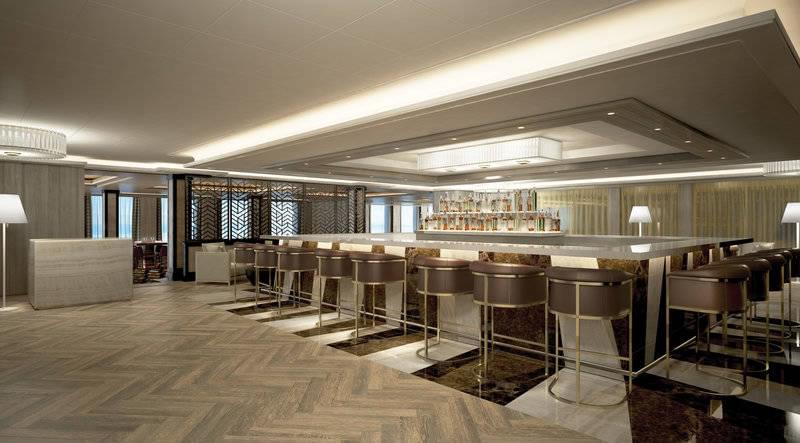 A List Bar
Positioned between Los Lobos and Cagney's Steakhouse, the chic A List Bar is where you go to be at the centre of the action. Get glammed up on the gala evenings of your cruise and head to the A List bar to sip some delicious handcrafted margaritas.
Mixx
Mixx is located between Taste and Savor. It's a hip bar where you can listen to live piano music whilst enjoying pre or post dinner drinks with friends.
Spice H20
This adult-only escape was inspired by the famous summer beach parties of Ibiza. Soak in the hot tubs and relax on the loungers by day, then by evening there's an entirely different tone as the venue comes alive with music so that you can dance the night away under the stars with vibrant images being displayed on the big screen to add to the epic ambience.
Entertainment
You'll find amazing entertainment in many of the venues around the ship such as live music in Mixx, the District Brewhouse and the Cavern Club. A cruise on the Norwegian Bliss also offers the chance to see one of Broadway's smash hits – The Jersey Boys. The theatre performance shows the incredible true story of Frankie Vallie and the Four Seasons and includes show-stopping renditions of hits like 'Oh, What a Night' and 'Can't Take My Eyes Off You'. In addition to The Jersey Boys, guests cruising on the Bliss can also watch a second theatrical performance; 'Happy Hour The Musical – Prohibition Edition'. Guests will feel like they've travelled back in time to January 16, 1919 – the eve of the Prohibition era. The show is set in Madam Lulu's New Orleans speakeasy where madams will regale viewers with tales of bootleggers and some of the era's most famous tunes. During the performance you'll even get to savour five of your own Prohibition Era speciality cocktails – each with a modern twist! Lastly, there's Social – a comedy and nightclub where the evening begins with 2 comedic performances before the DJ spins his decks and you can let loose and dance the night away on the dance floor.
Accommodation
Norwegian Cruise Line offer a great choice of staterooms for guests. For those seeking the ultimate luxury experience there are the Haven Suites, which offer modern and lavish accommodation with private balconies and access to the VIP Haven Lounge where cocktails and light bites are available. Those staying in the Haven Suites will also get access to the Haven Restaurant which offers private fine dining and serves unique signature dishes paired with an impressive wine selection. Those who are on holiday and want to pamper themselves and take full advantage of the spa facilities should certainly consider booking a Spa Suite, Mini Spa Suite or Spa Balcony stateroom. By booking one of these accommodations guests will have easy access to the spa and fitness centre with complimentary access to the Thermal Spa Suites during the cruise. Norwegian also offer the expected Mini Suites, Balcony, Ocean View and Inside staterooms that you'll find on all cruise ships.
Premium All Inclusive
Norwegian are now an all inclusive cruise line, which means that as well as having access to dining 24/7 for free, you'll also benefit from free drinks! Take a look at the image below to see what's included in the Premium All Inclusive experience: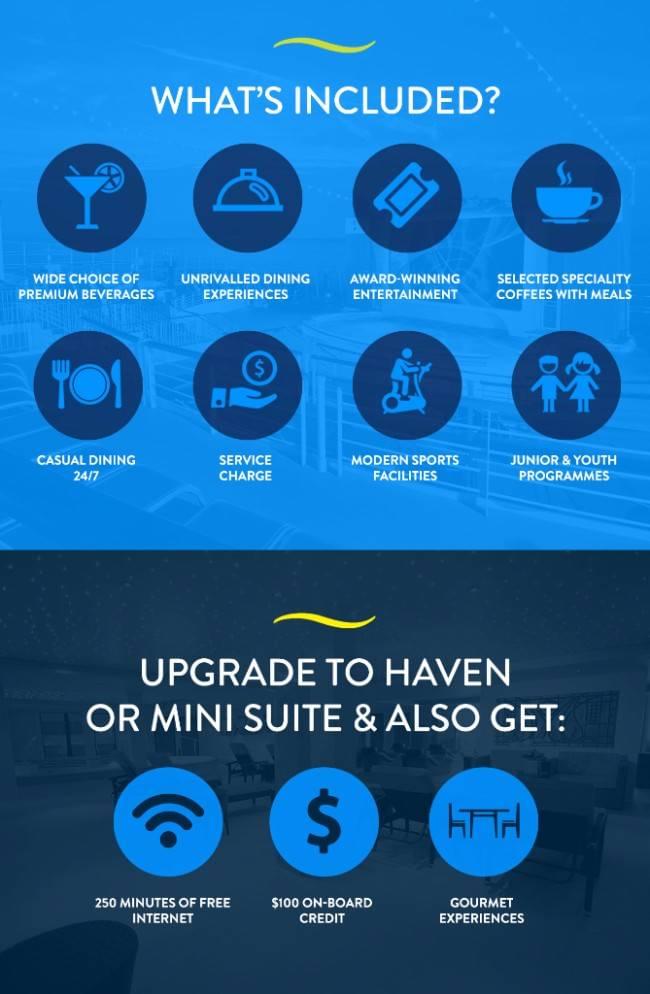 Norwegian Bliss Cruise Deals
Interested in a cruise on the Norwegian Bliss? Make sure to head to our website to view our Norwegian Cruise Line deals. Remember, you can save up to 50% with our Cruise Nation holidays which include flights and free stays as well as your cruise!