Find out what activities for kids are available on MSC Cruises to ensure little ones and teenagers alike, are kept entertained during your holiday.
If you're new to cruising, it's likely that you'll only be familiar with Royal Caribbean and P&O cruise lines, after all they have some of the strongest advertising campaigns here in the UK. Whilst Royal Caribbean and P&O offer an incredible experience, they can be a little pricier compared to more unfamiliar cruise brands such as MSC Cruises. Because of the price different, it's easy to think that the experience with a lesser-known cruise line might be inferior, but we wanted to banish these misconceptions by telling you a bit more about the experience that MSC Cruises can offer families who travel with them.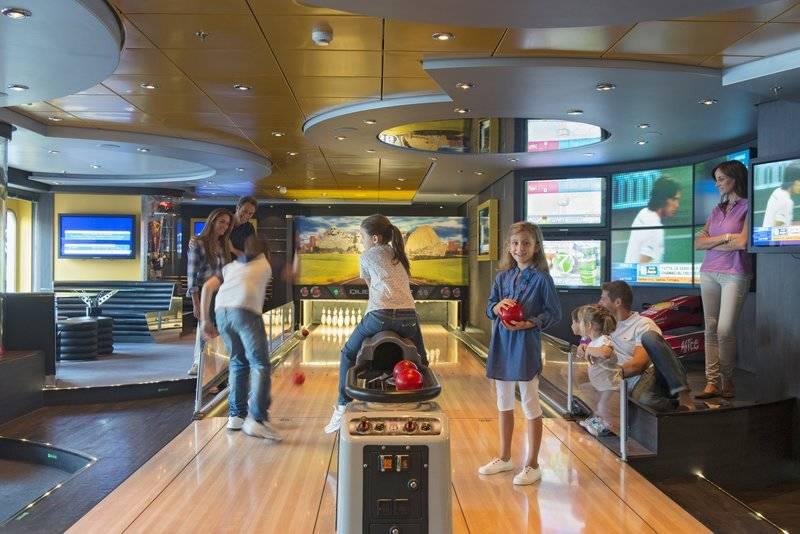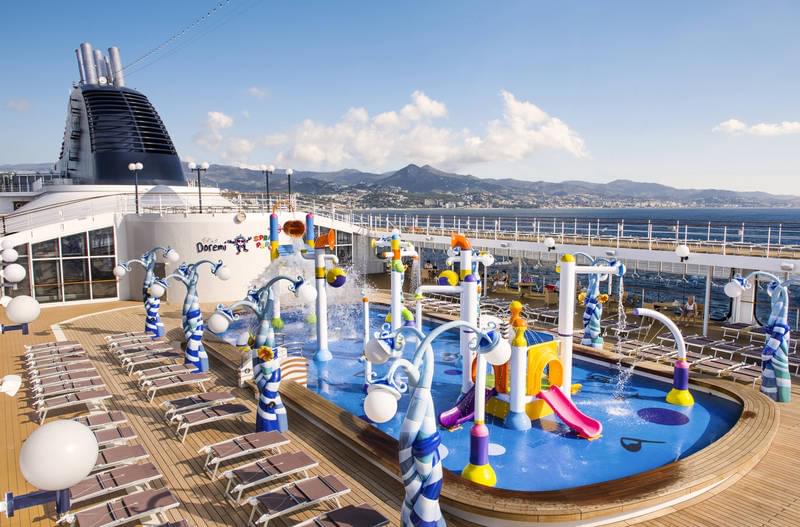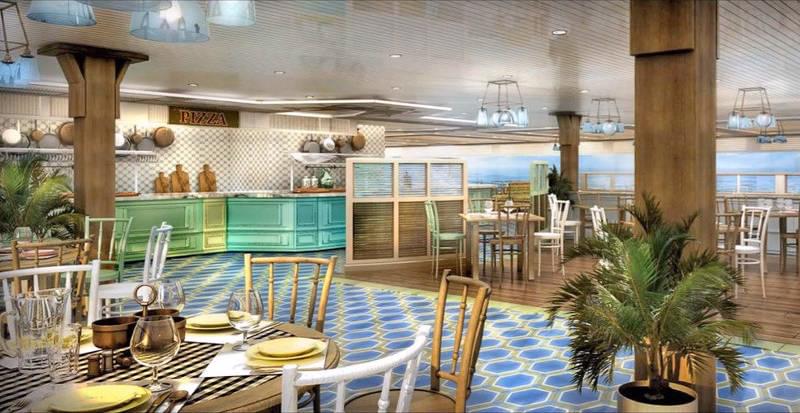 Ship Facilities
An MSC ship is like a floating wonderland with an array of facilities and services that will keep youngsters of all ages entertained. So much of the feedback we get here at Cruise Nation from first-time MSC cruisers is how impressed they were with the ship. As well as offering a wide choice of bars and lounges to relax and enjoy family time in, cruisers will also get access to a 4D Cinema, an F1 Simulator, an Aqua Park, Vertigo (the longest single-rider water slide at sea – on the MSC Preziosa), Children and Family Pools, a Virtual World Games Arcade and Mini Bowling.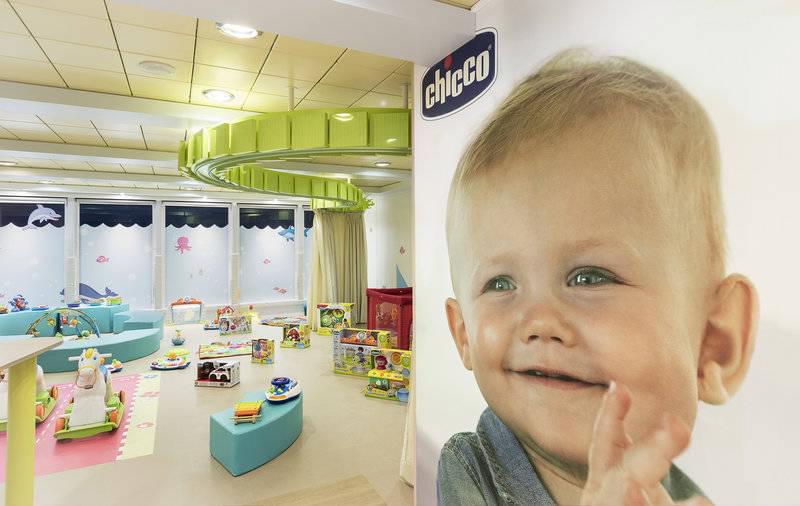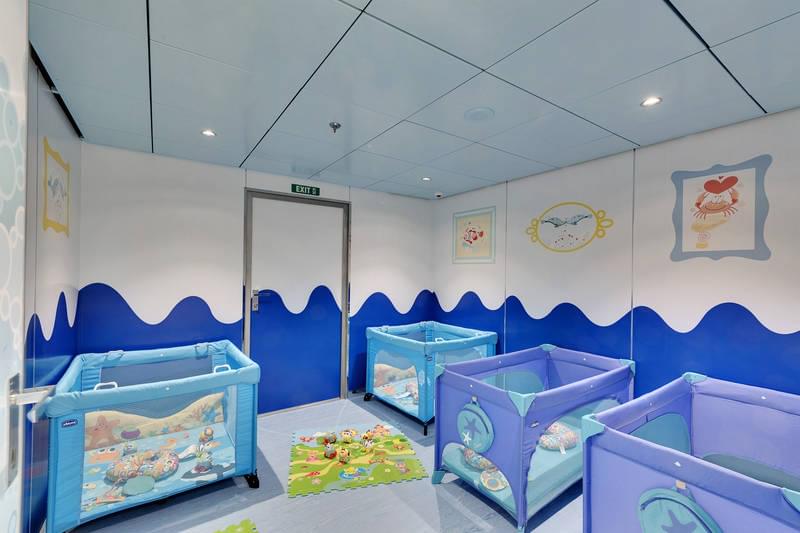 Babies and Toddlers
Sometimes it can be a hard decision whether to take very young children on holiday; whilst you want to spend time with them, the idea of lugging around all the equipment that comes with them can be off putting and it often involves tag-teaming with your significant other over who gets to relax on the loungers whilst the other changes nappies, continually reapplies sun cream and does the feeds. However, when a cruise line such as MSC takes away many of these tasks so you don't have to worry about them, the decision becomes a whole lot easier.
MSC Baby Care Service
Thanks to this baby service, parents can enjoy a little alone-time during their cruise. Whether you just want to enjoy a quiet, romantic meal for two or treat yourselves to a relaxing spa treatment, the service is open from 1pm to 2pm and then again from 6pm to 7pm. The service is available for children aged 1 to 3 years and must be booked in advance. Parents also need to provide the employees with feeding and nappy changing equipment.
Baby Laundry Service
Everyone knows how messy babies can be and it probably won't take long for your little one to get through half the clothes in their suitcase in just a few days. MSC have recognised that nobody wants to be doing laundry whilst they're on holiday, so they now offer a Baby Laundry Service. The Baby Laundry service uses a special machine with a sanitising programme and gentle detergents which are designed to clean even at lower washing temperatures of 30°C. Garments are collected from your cabin and returned to you the following day.
Mini Club
The Mini Club is designed for little ones up to the age of two. Qualified staff will take care of your little ones in a safe and secure environment packed with fun and creativity. The Mini Club offers a fantastic opportunity for your kids to meet and play with other children from all over the world. On port days the Mini Club is open from 8am to 10am, 4pm to 6pm and 8pm to 9pm. On sea days the Mini Club is open from 8am to 10am and 8pm to 9pm.
Playtime with Chicco Toys
MSC Cruise line have developed a unique collaboration with highly regarded baby brand, Chicco. As a result of this partnership, the Mini Club is packed with educational toys. Nursery employees on MSC ships also deliver a programme of entertainment and activities which have been carefully researched and created with the innovative Chicco Observatory – a developmental research lab.
Dining
The buffet is open for 20 hours a day and it offers an incredible variety of food that is sure to appeal to even the most fussy of eaters at almost any time of day. Varied menus are provided for children each day of your cruise to help them explore and discover new textures and flavours so that they might just go home with a new favourite meal!
Baby Chef
This activity is designed for children aged two to three years and it encourages them to get messy in the kitchen! With the help of the MSC Chefs the kids will prepare a tasty meal such as a delicious pizza for their parents to enjoy!
Bottle Warmers
If your baby likes their milk warmed, you'll be happy to hear that bottle warmers are available from various points around the ship. Speak to Guest Services for more information when you're onboard.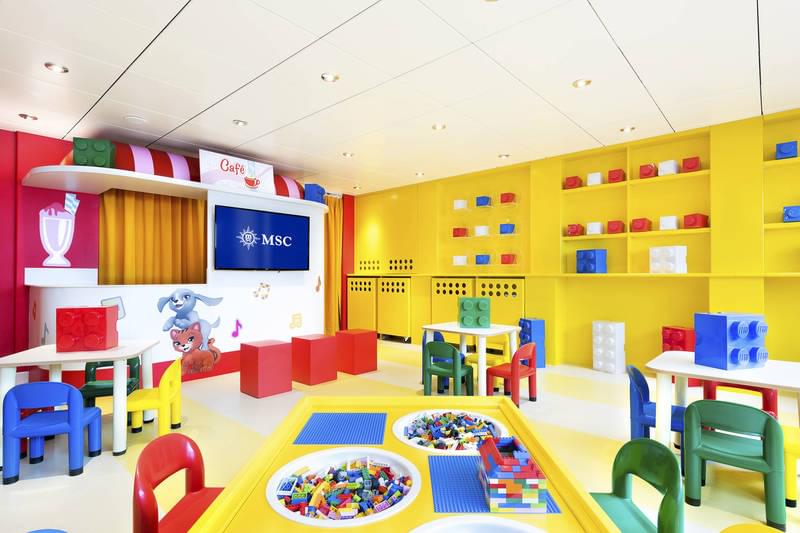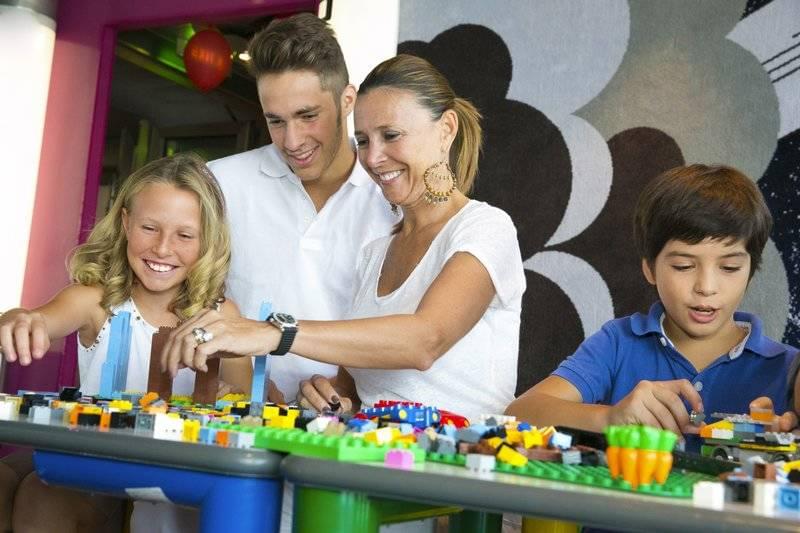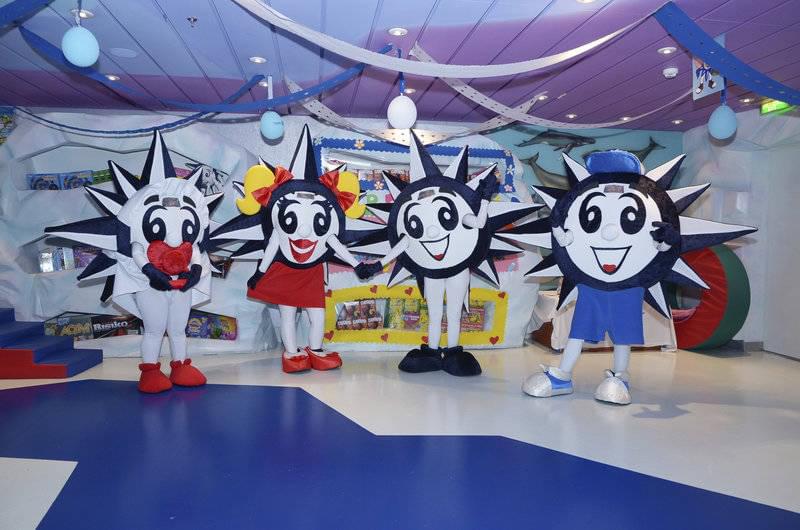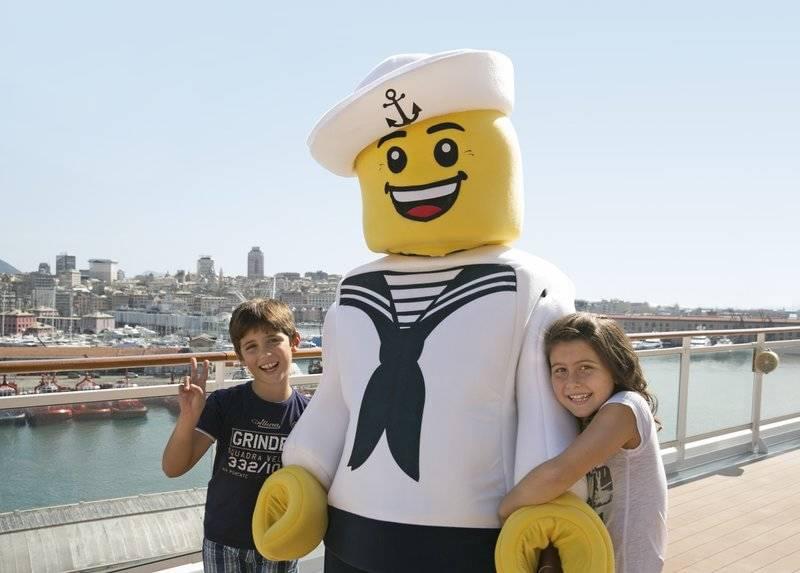 Children and Juniors
Kids Clubs
There are two clubs for children and juniors; Mini Club is for Sailors aged three to six years and Junior Club is for Pirates aged seven to eleven years. At each club, children will be stimulated with various activities including arts, crafts, sports, dance classes, performances and tech games such as XBOX and Playstation. On port days the clubs are open from 9am to 11pm and on sea days they are open from 9am to 1pm, 2.30pm to 5pm and 6pm to 11pm.
Doremi
Doremi is the mascot for MSC Cruises and along with his family, Doremi promotes a lively and fun cruising experience for families. Doremi has a sister called Mila, a brother called Dorebro and a baby brother called Dorebaby! There is an official Doremi dance and song which is performed in six different languages so that your children can learn the words and steps to join in. Doremi oversees a variety of activities including; Cookery classes, talent shows (Doremi Live), Doremix Family Disco, Fairytale Time, Razzmatazz Pool Parade, a kids costume parade and a special production show where kids perform alongside the ships dancers and artistes.
Dining
We all know that kids can be fussy eaters, which is why you'll be happy to hear that specially designed children's menus are available in each of the ships restaurants. MSC have tried to make dinner time a fun experience for their youngest cruisers and have launched Fun Time Dinners where performers keep children entertained as they dine in the buffet restaurant so that parents can grab a few mouthfuls whilst the kids are distracted! Perhaps one of the most considerate services offered by MSC Cruises is Happy Dinners. This service delivers a speedy service for children having dinner with parents so that they can then head off to the Miniclub, escorted by entertainment staff, leaving parents to sit back and enjoy a leisurely dinner. Fun Time Dinners and Happy Dinners are both FREE services!
Playtime with LEGO®
MSC Cruises have partnered with one of the biggest toy companies in the entire world to deliver a unique experience for some of their youngest cruisers. Children aged 3 to 11 can enjoy playing with a treasure trove of LEGO® toys each day of their cruise in the Mini and Junior Clubs. Once per sailing, MSC Cruises host a LEGO® Experience Onboard where children and their parents are encouraged to get involved with activities which will challenge their team work and creative skills!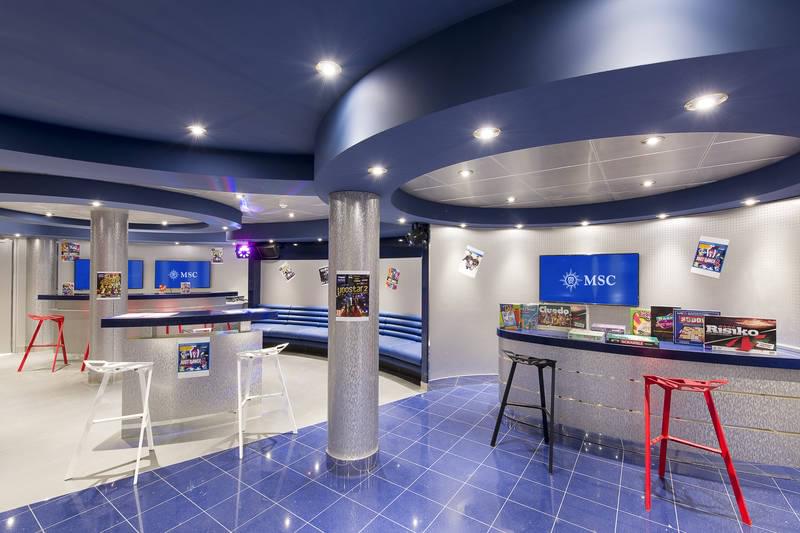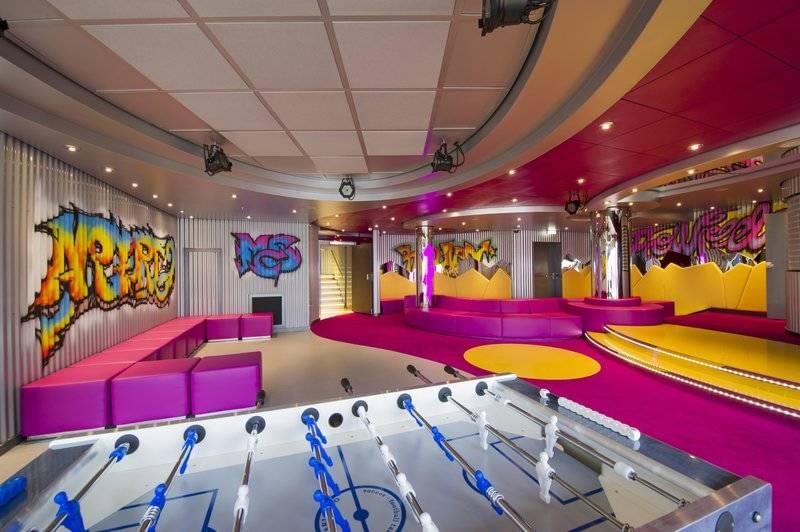 Tweens and Teens
Young Club and Teens Club
The last thing that tweens and teens want is to be treated like kids, so MSC Cruises have given them their own space onboard to relax, have fun and meet new friends their own age. It's a win, win situation – parents can enjoy some time to relax and teens get their own independence to do what they want to do on their holiday.
Young Club (12-14 years old) opening hours* with Youth Team service:
• 10:00 – 11:30 hrs
• 15.00 – 16:30 hrs
• 21:00 – 23:00 hrs
Teens Club (15-17 years old) opening hours* with Teen Entertainer service:
• 11:30 – 13:00 hrs
• 16:30 – 18:00 hrs
• 19:00 – 00:00 hrs
*Times may vary by ship or itinerary
Daily Activities
Activites and events are hosted throughout the day to keep 12 to 17 year olds entertained. There are sports competitions, dance classes, gaming stations (featuring Wii, XBOX and PS3) and even beauty and spa treatments designed especially for teens.
Nightly Activities
A lively evening programme of events will ensure that your teens make the most of their holiday. Each week the following events take place especially for teenagers: Teens White Party, MSC Flashmob, Hey Mr DJ!, MSC Generation Awards Talent Show, The Prom Teens Formal Night and Generation Dinner. In addition to these weekly events, there is also a jam-packed nightly programme featuring karaoke, Radio MSC (where tweens and teens can request songs), teen movie trivia and dancing competitions.
Teens Card
The Teens Card enables you to give your teen their own sense of freedom on their holiday. The Teen Card is a personalised and prepaid debit card for children aged 7 to 17 and parents can set the limit on how much balance they wish to add to the card. Teens can then use the card at various points throughout the ship such as the shopping boutiques, the spa or the arcade.
Single Parent Families
Families are more diverse than ever and with a rising number of single parents taking their children on holiday, MSC are ensuring that families of all sizes are having their needs looked after. With a range of kids clubs and babysitting services available, plus a great variety of facilities and services, keeping children entertained will be easier than ever.
Kelly and Kloe Onboard
Kelly and Kloe is an original web series produced by MSC Cruises. The series follows two young girls and their father as they experience life onboard an MSC cruise ship. The girls visit the 4D cinema, play in the water park, spend time in the kids clubs and much more. The actual kids club experiences are designed to follow the Kelly and Kloe series so that your kids can feel like a VIP as they experience the same things that the two characters of Kelly and Kloe do.
Booking an MSC Family Cruise
If you're interested in booking a family cruise with MSC, take a look our our MSC Cruise Deals, all of which include flights and a hotel stay as well as your cruise. Here at Cruise Nation we're one of the biggest MSC Cruises providers, so we secure the lowest rates in order to pass on these savings to you.