Discover insider tips for making the most of your cruise holiday…
Here at Cruise Nation we pride ourselves on employing some of the most knowledgeable cruise travel experts in the industry. Several of our Cruise Consultants have worked on cruise ships – some for as many as 15 years! With an abundance of insider tips to share, we decided to pick the brains of our team member Hannah Graham. Hannah previously worked as a Concierge with Royal Caribbean, visiting far-flung destinations such as Alaska, Canada and the Caribbean. Read on to find out 8 of Hannah's top tips for first time cruisers.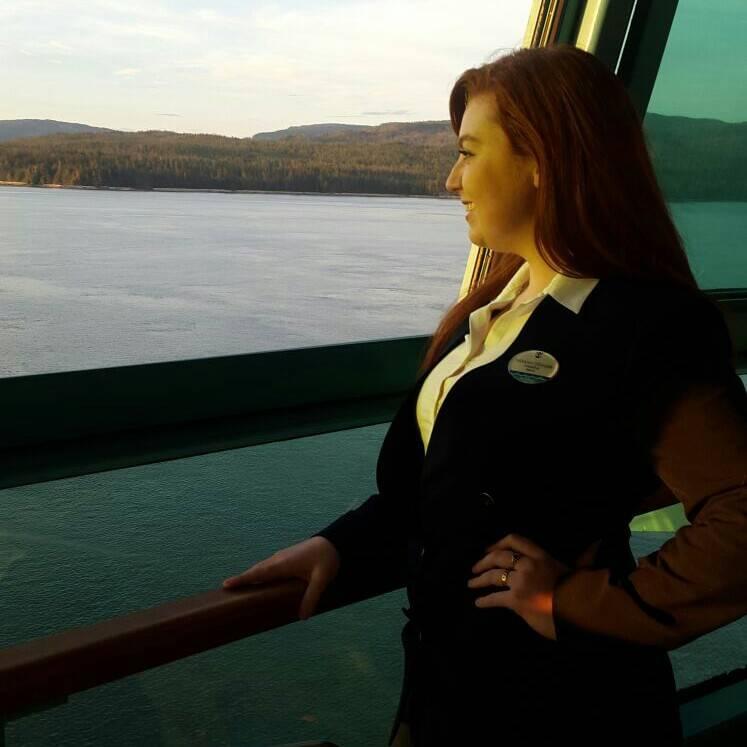 1. Working on cruise ships for such a long time you must have been to so many amazing places. Which one stands out for you that you would recommend to any first time cruiser?
One cruise I recommend for anyone  is the Scandinavian cruise. I visited Denmark, Sweden, Estonia, Helsinki and Russia and it was my all-time favourite, every time we got to a different port of call there was always something new to see. The palaces in Russia were so amazing, from the Catherine Palace to the Hermitage Museum (which has a room in which everything is gold!). One room we went into we had to place plastic covers on our shoes and heels were not allowed because the whole room was literally classed as art. One tip for this part of the world is watch for pick pocketers when you travel. It should not put people off but our Personal Belongings claims did increase!
2. Whilst working as a Concierge did you get any opportunities to try port excursions? If so, which would you say was your favourite?
Caribbean: Helmet diving… Walking on the floor bed of the ocean with a helmet on!
Russia: Hermitage and Catherine Palace's visit.
Canada and New England Cruise: Bar Harbour has a national park called Acadia and it is incredible! We rented bicycles and cycled the 3 mile round road but there is a 27 mile round road also if anyone is brave enough. And of course lobster must be sampled in these ports of call.
Alaska: I could talk for hours! Ways to see the best of the State is by seaplane and a crab feast is highly recommended!!
3. What would you say is the first thing cruisers should do when they get onboard the ship for the first time?
Top tips for first time cruisers is to get a drinks package and do your research. Drinks packages often work out more affordable than paying for all your drinks at the end of your cruise. Plus you can have peace of mind not worrying about costs when you feel like having that second cocktail whilst lounging by the pool. My second tip (research) is vital. Often on a cruise, you can be in a new port every day, so there's lots of new places to explore. You may have a limited time in each port, so it's important to note down the places you want to see or the things you want to do whilst you're there. Pay extra attention to the time you need to be back on the cruise ship by, it is never worth being sat on the dock watching the ship sailing away when you may be sunburnt and need your aloe vera!
4. What would you recommend cruisers carry with them when they are strolling around onboard? 
Seapass card – This is the charge card onboard most ships and your room key! It is a pain for yourselves to be enjoying your cruise and having to go to the reception to get a new key. You can purchase lanyards to wear around your neck to keep your card safe and this can be as glittery or plain as you like – they're a great holiday accessory.
5. If someone is travelling solo on a cruise, what would be your tip for them to meet some other cruisers whilst on board?
Cruise lines usually send out what Royal Caribbean call a "Cruise Compass" it is like a daily newspaper for the ship with a list of activities and their times. Check this for any solo events happening around the ship as they may have an event for solo travellers to meet. Get in touch with the cruise staff (the entertainment team) or Guest Services and ask them if they can do anything to organise this event onboard. Alternatively if they have a news bulletin board they can post a meeting place and a time themselves and hopefully other guests will see it and come along. Another great tip is to ask the Maitre'd on the day of boarding to be seated on a large table at dinner and this is another way to get meet new people and get chatting.
6. We know that sea sickness can affect some passengers when cruising, do you have any tips for helping to cope with this?
If you get sea sick, I'd recommend you book a category cabin that is low down in the mid-ship. Cruise lines recognise these cabins are the most popular and there is most of the time a little extra cost but it's worth it. I only ever once had sea sickness and that was the Bass Strait Sea between Australia and Tasmania. My office was located on Deck 12 and the waves were hitting our windows. But the reception desks and most crew will have easy access to sea sickness tablets, however these can make you feel drowsy. My top, top tip would be to EAT! It seems like a crazy idea when you have motion sickness, but even as a crew member you can have days where you feel uneasy but as soon as you get a good plate of food in you, your stomach settles and you feel much better. Green Apples, Ginger Beer and Crackers are great foods for motion sickness and if you see these foods popping up around the ship you know the wind could be picking up.
7. After living on a ship for so long, do you have any tips for those planning a 10 night+ cruise?
When going on a 10 day plus cruise my first tip would be to unpack. You need to make yourself at home in your cabin. Introduce yourself to the cabin steward! He/she will be your rock for anything you need.
8. What's your overall top tip for cruise holiday enthusiasts?
Top tip for cruisers in general is to join a loyalty scheme. If you ever go with a cruise line for the second time get involved in the on board loyalty programme. Royal Caribbean's is great from shop discounts to Welcome Back Parties where there is complimentary cocktails and the chance to meet the Captain. And another tip is when you get onboard to talk to your cabin steward. Tell him your preferences of what time you would like him to visit in the morning and afternoon and any requirements such as ice etc.
Have these tips from Hannah given you some insight into planning your first cruise? Perhaps you're a regular cruiser and you have some of your own tips to share? We'd love to hear about them if so – why not share them in the comments below or over on Twitter with @CruiseNation.