Oceania offers some of the best cruises in the world, with their destination-intensive intimate and luxurious ship experience which provides superior service and world class food.   They allow you to explore the world in unequalled style and comfort with their unrivalled level of personalised service, made possible by having two staff members on hand for every three guests.
If you need any more convincing, we have found five top reasons to book an Oceania cruise in the near future.
Intimate & Luxurious Ships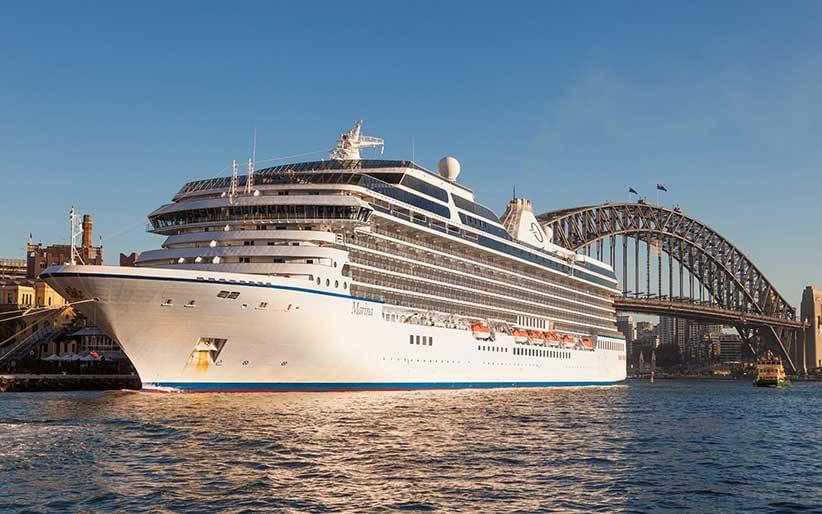 Oceania managed to have created real intimate and luxurious ships, which makes you instantly feel at home.  From the moment you step on board, you'll feel well looked after because of Oceania's dedication to service comes from the heart.
Being a line of medium sized ships, they provide the pronounced intimacy, cosiness and personalised vacation experience that bigger ships simply can't compete with. Their ships cater to only a maximum of 684-1250 pampered guests at a time, which helps create an instant feeling of warmth and conviviality.
The vessels sizes also allow them to be able to set anchor in boutique ports off-limits to larger cruise ships.
But most of all, the intimately sized ships allow you to feel at home and not get lost in crowds when you are looking for the best restaurant or show. There is no long line to wait in line for anything and no need to rush in case venues are over full. Spa treatments are readily available, and you'll always find an available sun lounger at the pool.  Sounds like pure bliss.
The Finest Cuisine at Sea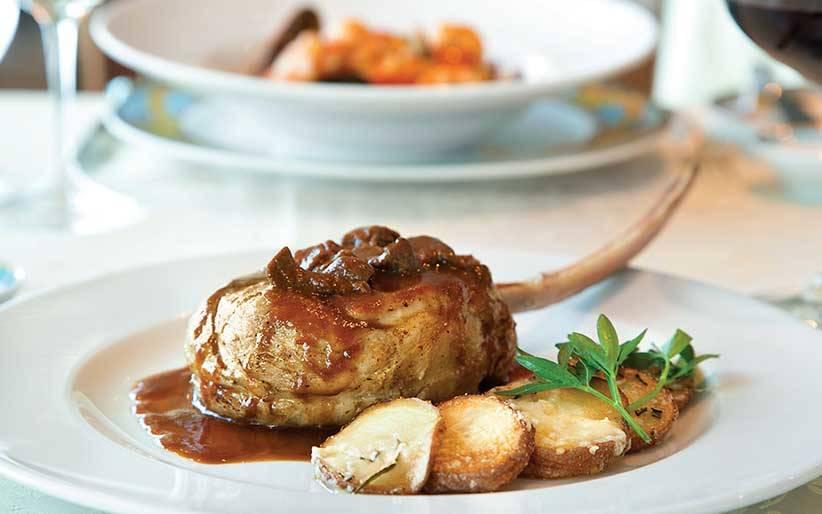 Oceania has some of the finest food at sea, which is carefully sourced and prepared à la minute.  You may think that this bold claim may be an overstatement, but it soon becomes clear that it is not.  They have some tremendous chefs helping them do this such as Master Chef Jacques Pépin, their Executive Culinary Director, who is known for his gastronomic wizardry.
They also ensure that you can enjoy all of their restaurants included in you fare, and their open seating arrangement means you can dine when you please and with whomever you please.
Here is some of the culinary delights you can look forward to on your Oceania cruise:
Multiple open-seating dining venues for breakfast, lunch and dinner, at no additional charge
Continental cuisine at the elegant Grand Dining Room
Steaks, chops and seafood at Polo Grill
Gourmet Italian dining at Toscana
Bold, contemporary flavours of Asia at Red Ginger
French country cuisine at Jacques
Inspirations from Polo Grill & Toscana at Tuscan Steak
French Bistro each afternoon at Jacques Bistro
Vintage wine and gourmet menu pairings in La Reserve by Wine Spectator
Host private dinners in Privée
Casual and alfresco breakfast, lunch and dinner served at Terrace Café
Poolside dining at Waves Grill including gourmet burgers and hand-dipped milkshakes
Extensive gourmet vegan menus at The Grand Dining Room
Raw Juice & Smoothie Bar at Waves Grill during breakfast
Baristas coffee and pastry bar
Extensive wine cellar
Classic English-style afternoon tea
Authentic pizzeria, ice cream and sundae bar
Canyon Ranch Spa Cuisine
Vegetarian, Kosher and special diets upon request
Gourmet canapés delivered each evening to all suites and served in all bars and lounges throughout the ship
Complimentary room service 24 hours a day
Wellness for Mind, Body & Soul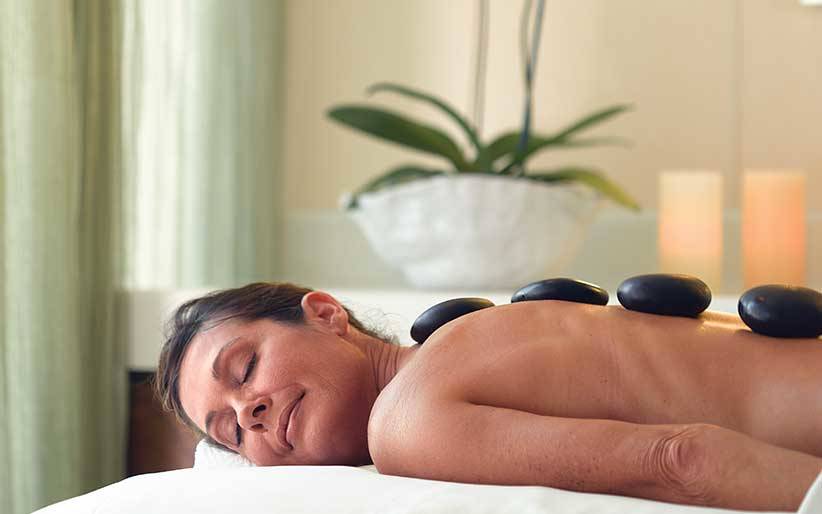 If you want to end your cruise feeling rejuvenated and well rested, turn to Oceania's unrivalled array of wellness options aboard their ships.
Alongside their spa, fitness centre and gourmet vegan cuisine on board, they also have a new exclusive shore excursion series – Wellness Tours Inspired by Canyon Ranch.
Oceania has the following to say about these exquisite tours:
"Our exclusive collection of wellness and healthy living tours invites you to nourish your mind, body and spirit in hand-picked locales across Europe, Asia, South America, Australia and beyond. Unique and innovative excursions unify culture, alluring destinations and healthy living into memorable and rejuvenating travel experiences. These immersive well-being explorations ashore bring you everything from tai chi in tranquil French gardens to an afternoon at a traditional Vietnamese tea-house."
OLife Ultimate Package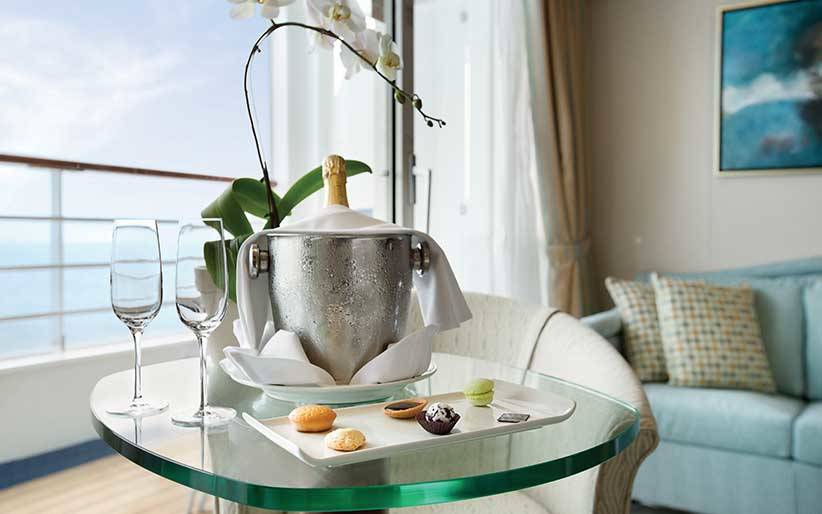 Oceana Cruises have some fantastic inclusive packages available, of which the OLife Ultimate is arguably the best.  On select cruises, you can receive this exclusive package, which includes all of the incredible amenities below:
Airfare & Internet
Up to 8 free Shore Excursions, which foodie shore excursions such as culinary discovery tours and wine tours
Free House Beverage Package
Up to US$800 free Shipboard Credit
Free Gratuities
This package definitely allows you to explore inspiring destinations at an incomparable value.
Oceania's Future Ships
Two Next-Generation Allura Class Ships is in the pipeline for Oceania Cruises. Fincantieri Shipyard in Italy is scheduled to complete the 1,200-passenger vessels, the first in the Allura Class, in 2022 and 2025; Riviera was the line's last new-build launched in 2012.
According to their press release, Oceania's Allura Class "will retain all the warmth, popular design elements and signature amenities of the line's award-winning Marina and Riviera while affording guests an additional level of comfort, convenience and many new luxury amenities."
Oceania has very ambitious plans for their brand-new ships and promises that guests will be pampered aboard intimate and luxurious ships and be enriched through in-depth destination exploration.  Seems like a new development to look out for!
To view our fantastic deals on Oceania Cruises, visit https://www.cruisenation.com/cruise-lines/oceania-cruises.