If you're feeling hungry then you might want to look away now, because things are about to get tasty…
If you're a self-declared foodie then you're going to love what we have in store for you in this blog. We'll be taking you on a tour of what we think are some of the best culinary collaborations to come aboard major cruise lines, to give cruisers the opportunity to dine on world-class cuisine.
1. Antonio Carluccio, James Martin and Charlie Turnbull on P&O Britannia
The Cookery Club on board P&O Britannia features 12 cooking stations where workshops of up to 24 cruisers at a time can up their culinary game. These two-hour classes are hosted by celebrity master chefs and set sail on October 9th 2015 is Antonio Carluccio, a restauranteur (owner of the Carluccio restaurant chain) and food expert based in London. Antonio is know for his BBC TV series 'Two Greedy Italians' which he filmed alongside fellow Italian chef Gennaro Cotaldo. Teaming up with Antonio on this culinary class is James Martin and Charlie Turnbull. You'll most likely recognise James Martin as the host of Saturday Kitchen, which he's been presenting for nearly 10 years! Charlie Turnbull is an artisan when it comes to ingredients, in fact he owns his own popular deli which is based in Shaftesbury, Dorest. The Cookery Club is £100 per person or £200 per person if there are two expert hosts.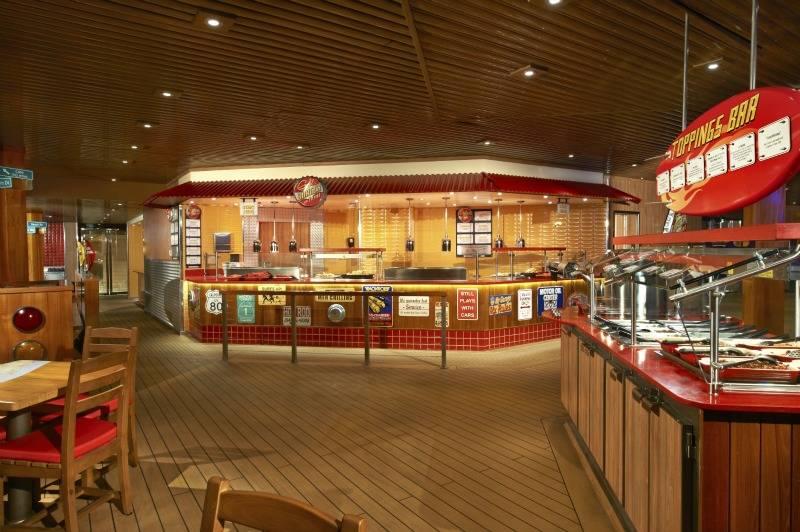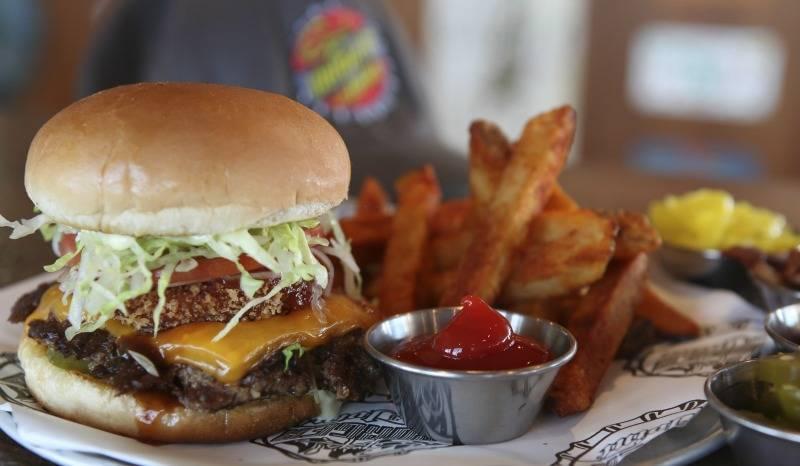 2. Guy Fieri's Burger Joint on Carnival Liberty, Breeze, Conquest, Freedom, Glory, Sunshine, Triumph
If you're from the UK, you might not know who Guy Fieri is just yet. However, let us assure you that Guy knows his stuff when it comes to creating the ultimate burger. As an American Restauranteur, Guy currently owns 5 restaurants throughout California as well as being a best-selling author and working as a host for 'Food Network'. Guy's collaboration with Carnival has seen the creation of an all-American menu where you can find fresh-off-the-grill burgers and fries.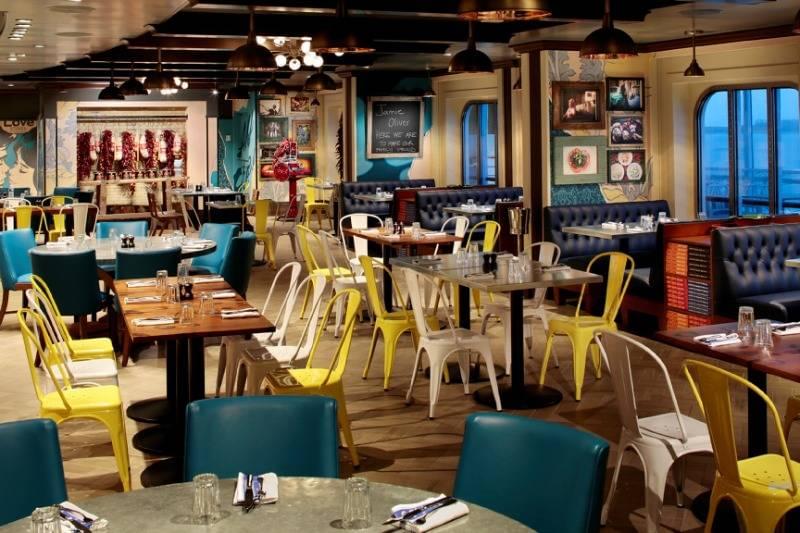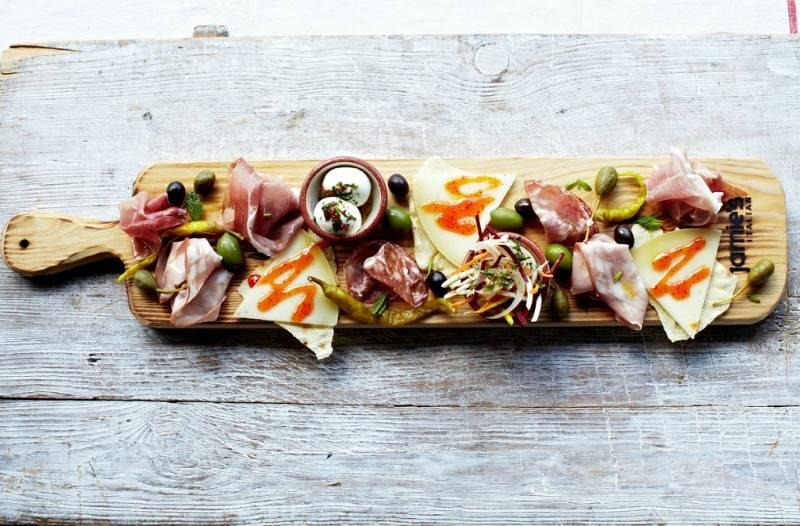 3.  Jamie's Italian on Royal Caribbean Anthem of the Seas
If you love food then chances are good you'e a big fan of Jamie Oliver… and now you can enjoy his delicious cuisine at sea! Jamie's Italian on Anthem of the Seas is all about quality ingredients which are full of flavour like his crab and avocado bruschetta which is a sourdough topped with Devonshire crab, avocado and yogurt, with apple, chilli, mint and lemon. The restaurant itself is equally as gorgeous as the food too. With an eclectic mix of colours and designs, it feels like you're in a quirky yet trendy Italian-American New York eaterie.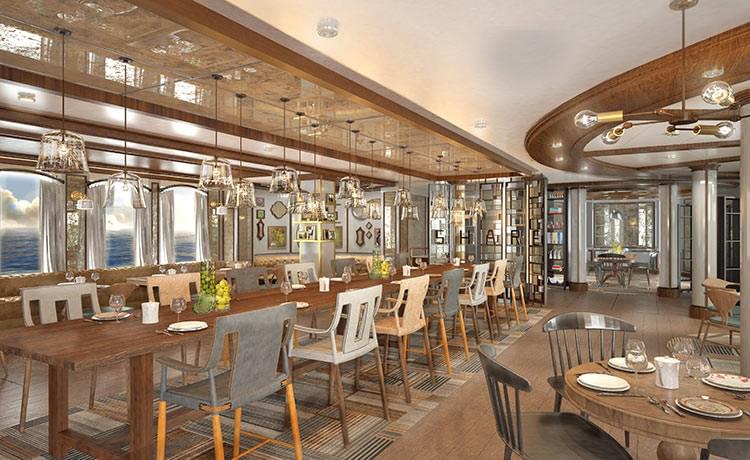 4. Chef Curtis Stone on Princess Cruises
Chef Stone's vision for this collaboration was to create happiness around the dinner table by bringing people together over a love of food. The speciality restaurant 'Share' has a menu which is designed specifically for sharing, from salads to desserts. With a focus on fresh flavour, Chef Stone trains all of the chefs across the Princess fleet to perfect his recipes. For those seeking the ultimate foodie experience, cruisers can book The Chef's Table experience where they'll be treated to champagne and hors d'oeuvres as they enjoy a galley tour before being seated to enjoy a special multi-course meal prepared by the ships executive chef and designed by Curtis Stone.
5. Ben and Jerry's on Royal Caribbean Enchantment of the Seas
Of course it's not just the savoury dishes which are getting all the attention when it comes to cruise ship dining. A holiday just wouldn't be a holiday without an icecream, and who makes amazing icecream? Ben and Jerry that's who! This whimsical duo found fame thanks to their adventurous attitude when it comes to inventive flavours and it's an attitude which has certainly paid off. With ingredients like chocolate, caramel, fudge, cookie dough, cherries, marshmallow and a whole lot more, it's enough to make your eyes light up like a kid in a candy shop. All we can say is thank goodness there are gyms onboard too…
6. Carlo's Bake Shop on Norwegian Cruise Line
As much as we love icecream, sometimes you just can't beat a slice of cake or a homely piece of pie. We don't know who's idea it was at Norwegian Cruise Lines to get Carlo's Bake Shop onboard but we pretty much think they're a genius. Carlo's Bake Shop is from Buddy Valastro the star of the popular TLC TV show Cake Boss. Carlo's Bake Shop has been in Buddy's family since 1910 which means they've been perfecting and developing new recipes for over 100 years! In the Bake Shop you'll find pretty cupcakes, mouthwatering sweet pastries and even specially made cakes available to order if you're celebrating a special occasion during your cruise.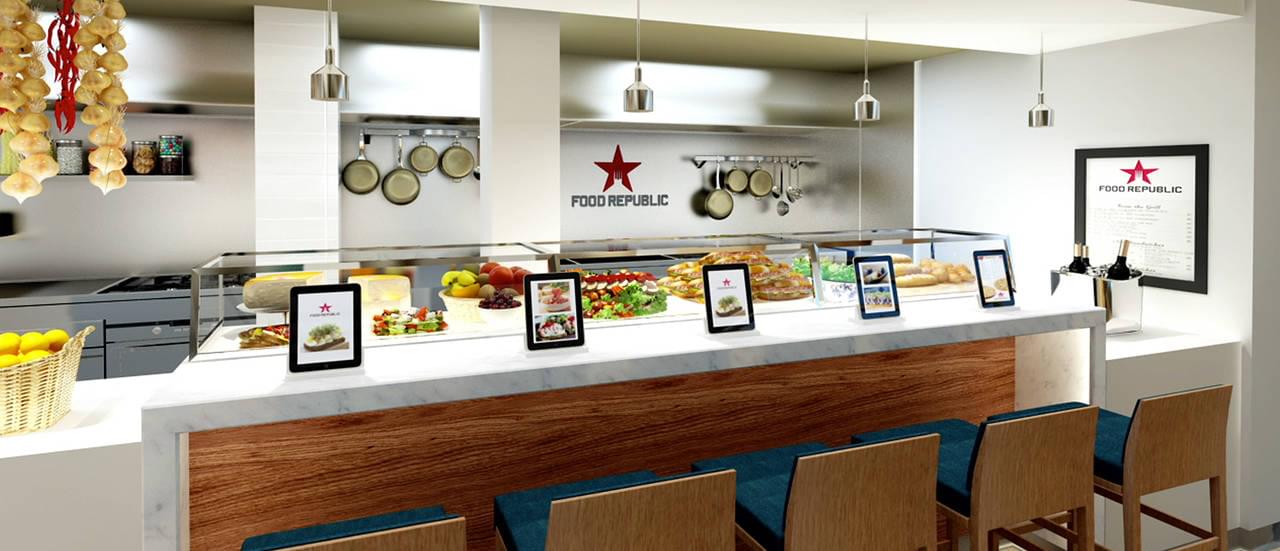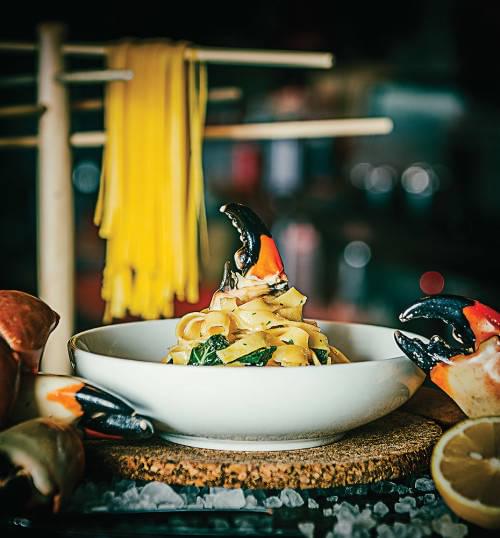 7. The Pubbelly Boys on Norwegian Escape
If you've been reading our blog recently, you'll know that we recently interviewed Chef Jose Mendez of the Pubbelly Boys about this collaboration, so needless to say we're pretty excited about the launch of Food Republic on the Norwegian Escape. The team of three have devised an incredible menu offering some of their signature favourites as well as some new dishes too.
Have you ever tried any of the cuisine from these 7 collaborative restaurants and eateries onboard? Let us know in the comments below or on Facebook or Twitter!