A Christmas market cruise is a great way to get you into the Christmas spirit as well as help you stock up on all your pressies in one go.  While some shops start a bit early by displaying gifts in October, there is nothing nicer than getting into the true spirit by late November and early December. This type of cruise has added festive cheer which can become a bit infectious and leave you ready for Christmas once you step off the cruise.
The added bonus of shopping at the European Christmas markets is that you can get something unique and often handmade, so friends and family won't instantly recognise the shop you got it from.  And let's be honest, it's a lot more thoughtful than simply picking up something during your weekly supermarket shop.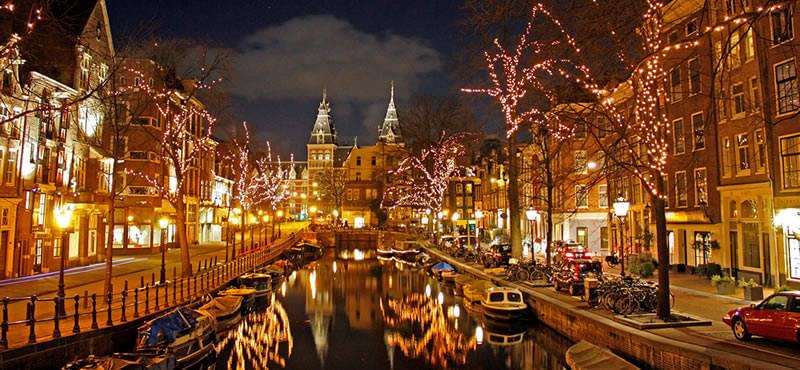 When is the Best Time for A Christmas Market Cruise?
Christmas markets have been an annual tradition in Europe for centuries, but they have only opened to cruises in the last few decades.  While many of them are river cruises, there are also bigger ocean liners doing the rounds from late November to just before Christmas.  The best time for these cruises to ensure maximum Christmas markets, is during the four weeks of Advent, which is the four Sundays leading up to Christmas. Think of your Christmas market cruise as the best Advent Calendar ever – just imagine of what you can explore behind every door (port).
Best Christmas Market Towns to Visit
There are so many wonderful markets to enjoy. Travellers can discover the festive Christmas Market set outside of Hamburg's most impressive town hall, or perhaps choose to explore all kinds of festive goods and a range of food and drink at the Christmas Market in Antwerp. There is also the Rotterdam Christmas Market, where a series of delightful stalls, full of seasonal gifts, await those that visit. Here, we look at our three favourite Christmas market towns:
Christmas Market Port Highlights
Amsterdam
Amsterdam is always a great place to visit, with its 17th century architecture, authentic wooden windmills winding canals, modern art and cosy cafes.  While the city is normally famed for its colourful flower markets, treasure-packed museums, vintage-filled shops, hyper-creative design, and lively drinking and dining scenes, it really comes alive with Christmas markets in late November.
The streets are decorated with Christmas light, and from 29 November onwards, the canals also come alight during the Amsterdam Light Festival.  In December there are Christmas trees in all shapes and sizes for sale on the flower market.  And for the ultimate Christmas feeling, visit the Christmas Palace, Amsterdam's shop where the 365 days a year is Christmas.
Hamburg
The Germans are famous for having some of the best Christmas markets in the world and Hamburg is definitely a highlight. Being the second largest city in Germany which has been famous for its food markets for decades, they have some really good Christmas markets.  It's main Weihnachtsmarkt is held in front of the Town Hall with a large Christmas tree marking the location and they also have various styles of markets dotted around the rest of the city.
Antwerp
Antwerp Christmas Market forms an integral part of Antwerp's overall 'Winter in Antwerp' festive programme and offers visitors a wonderful Advent experience. You will find around hundred stall holders at the market, selling everything from traditional wares and original gifts to designer ware and offerings which proceeds go to charity.  The market stretches from Groenplaats through to the Market Square, via Suikerrui to Steenplein, The Groenplaats is adorned with festive Christmas lights with music playing in the background.
Christmas Market Cruise Tips
Book Your Cruise Early or Last-Minute
As Christmas market cruises only operate for about a month in the year, they are often in high demand.  Some of the cruise ships doing these are also smaller, which means less cabins are available.  So, you can either book your cruise for next year now or take advantage of some last-minute offers for this year's cruises.
Dress Warmly and Be Aware of Limited Daylight Hours
If you're not used to spending December in Europe, we can tell you now that it will be really cold and daylight hours are limited, often only being really light between 10am and 4pm. So, wear warm comfortable shoes or shoes and wear your normal winter clothes with some extra outerwear like a hat, gloves and scarf.  Christmas present markets tend to close early, and night time markets often only focus on food and drink items. A warm gluhwein can go a long way to warm up your experience though.
Bring Cash
While some markets accept cards, you don't want to miss out on a great item just because you didn't pack enough euro.
When to Spend Your Cash
Try to have a budget per port – the trick is not to buy everything at the first market but also not to wait until the very last market to start spending.  Spend a few hours acquainting yourself with what that town's market have on offer and then buy the best and most affordable items available.
Booking Your Christmas Market Cruise at Cruise Nation
Why not visit the above fabulous festive markets all at once. Visit Cruise Nation website to find the best cruise deals available.