Find out everything you need to know about the MSC Seaside in our blog guide below.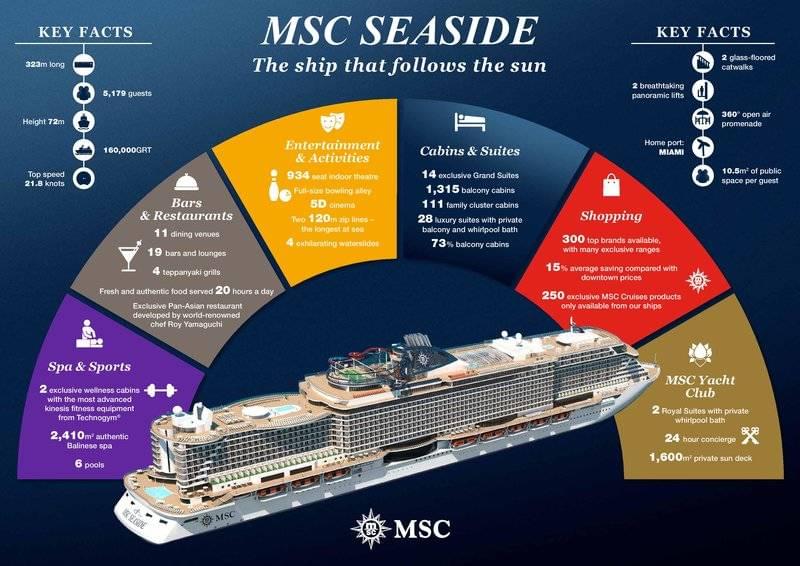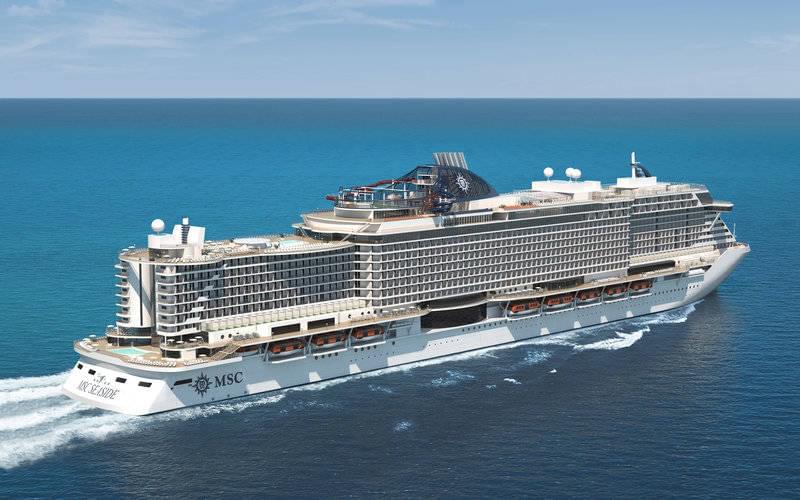 MSC Cruises will launch the first of its new Seaside Class of ships, the MSC Seaside, in December of this year, with a second due for summer of 2018, and the likely possibility of a third Seaside Class ship in 2021. With exquisite design to maximise outdoor space and a range of state-of-the-art facilities, the new MSC Seaside will be christened and homeport in Miami.
The new ship, which is currently being built in Italy, will be the first of European MSC Cruises ships to be christened in the U.S., and forms part of the company's €9 billion plan to double capacity by 2026.
The new MSC Seaside, which will offer the largest ratio of outdoor public spaces of any ship at sea – including a 360° Waterfront Boardwalk and outdoor promenade – will have the capacity for up to 5,179 passengers and a gross tonnage of 154,000 GRT.
The huge ship will also feature a giant aqua adventure park, three new standards of cabins, nine delicious dining options and the longest measuring zipline at sea.
Designed to provide incredible views no matter where you are on the ship, and no matter what the weather is doing, Seaview features panoramic glass elevators, glass "Infinity Bridges" and pool with a magrodome-roof, for all-weather swimming.
After her Miami christening, the MSC Seaside will sail on both Eastern and Western Caribbean cruises, with itineraries including stops at St. Maarten, Puerto Rico and the Bahamas, as well as the Cayman Islands, Jamaica and Mexico.
New Cabin Offerings on MSC Seaside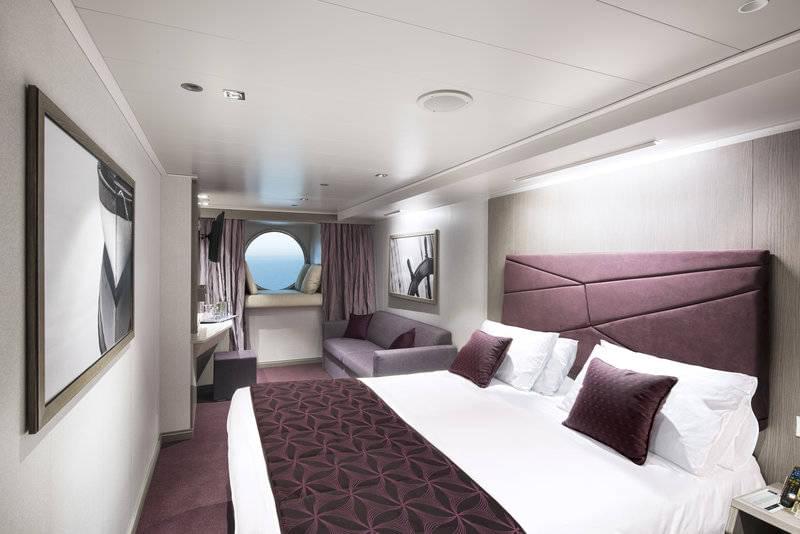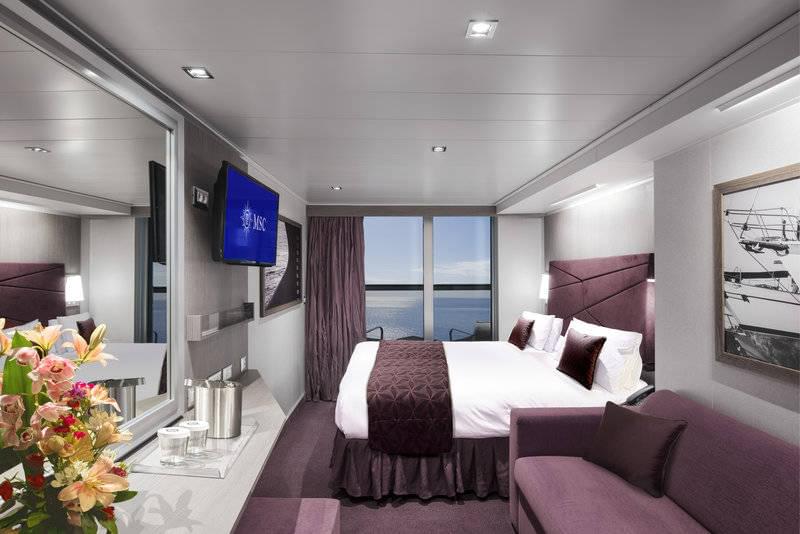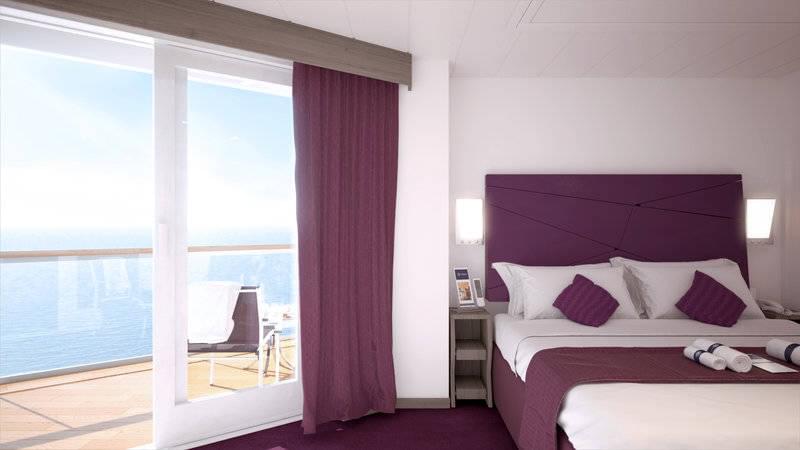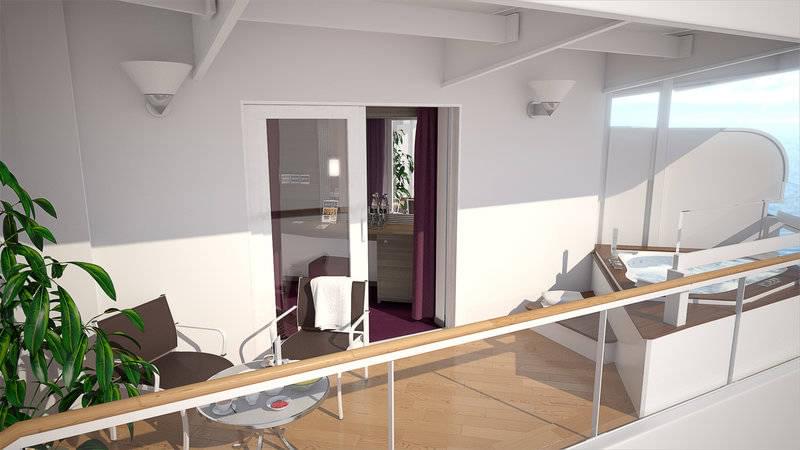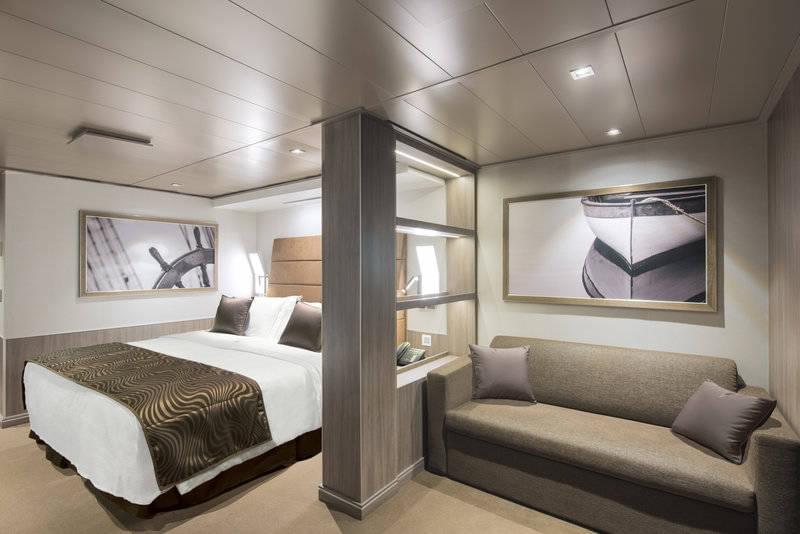 From luxury furnishing to family-friendly cabins, whirlpool baths to room service, MSC Seaside will provide accommodation for travellers of all tastes and styles.
Alongside MSC's standard cabin offerings, Seaside will feature 14 beautiful corner suites, new terraced balcony cabins located above the promenade with stunning sea views, family cluster cabins and luxury suites with private whirlpools.
At the highest end of onboard accommodation, Seaside's Yacht Club Royal Suites measure 667 sq.ft., with 355 sq.ft. balconies featuring outdoor whirlpools and enough seating for four – making them the largest suites onboard.
Alongside Seaside's Yacht Club's Royal Suites, passengers will find Yacht Club Deluxe Suites and Yacht Club Interior Suites – all of which benefit from luxury privileges including a 24hour butler service and unlimited drinks.
For large families or groups, Seaview's cabin clusters offer the perfect accommodation solution. Comprising of two or more connecting cabins, each with their own bathroom and balcony, these stylish and comfortable cabins can accommodation from six to 10 people.
Take a Culinary Journey Around the World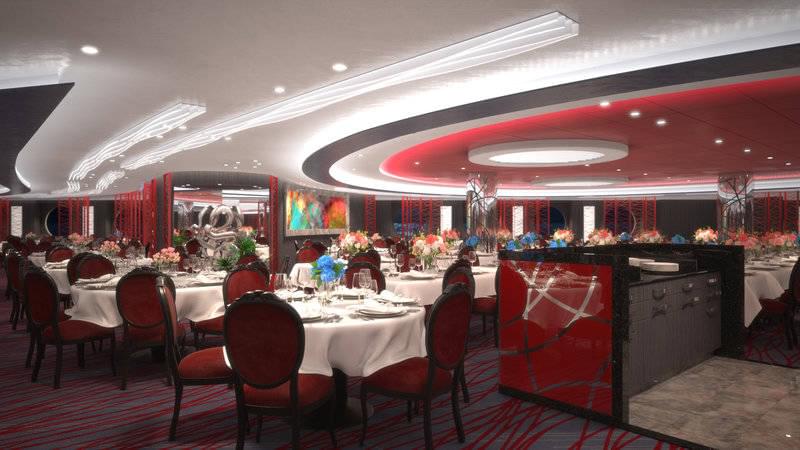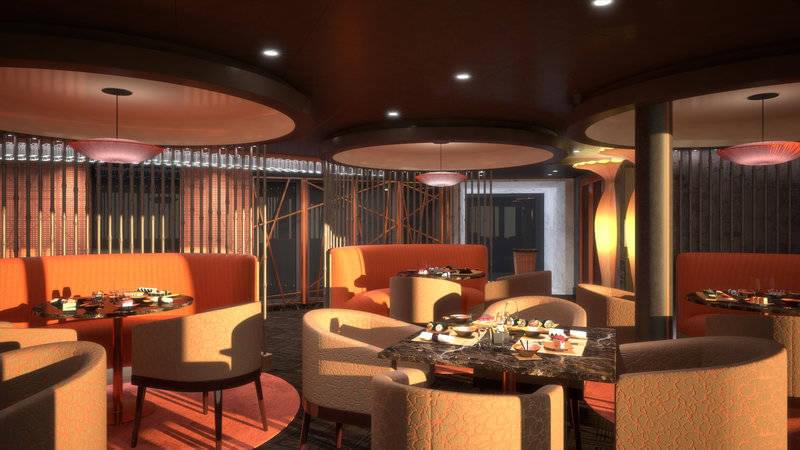 The new MSC Seaside will offer nine delicious onboard dining venues, with cuisine from every corner of the world. Among the most exciting eateries, two speciality restaurants created in partnership with top chef Roy Yamagunchi will be located on Deck 16.
The first – the Asian Market Kitchen – combines chef Yamagunchi's love of fresh ingredients with his Japanese heritage, with an a la carte-style Pan-Asia area and a sushi bar. His second onboard restaurant, the tempting Teppanyaki, will serve up traditional Asian cuisine with modern twists in a stylish and atmospheric surrounding.
In MSC Seaside's main restaurants, guests can expect to find freshly prepared Mediterranean fare, to be enjoyed alongside incredible sea views, as well as dedicated "kids only" buffets. For speciality seafood, the delicious Ocean Cay Restaurant will have a huge selection of meals and an extensive wine list, with the added option of booking the Chef's Table for a unique dining experience.
At the Butcher's Cut, a stylish steakhouse featuring prime cuts from around the world, hungry passengers can tuck into a range of meat dishes and a wide selection of beers, wine and cocktails. For families looking for hassle-free food for all ages, The Biscayne Bay Buffet & Pizzeria offers tasty and healthy dishes that children will love.
Those who are sailing as Yacht Club passengers can also enjoy delicious meals and snacks in the exclusive MSC Yacht Club Restaurant at the top of the ship.
No matter where you decide to eat on MSC Seaside, expect your meals to be served with the most spectacular sea views. There will also be a choice of 20 bars and lounges for thirsty passengers, with beach bars, champagne bars and sports bars amongst just a few of the options.
Be Entertained by Seaside's All-Ages Activities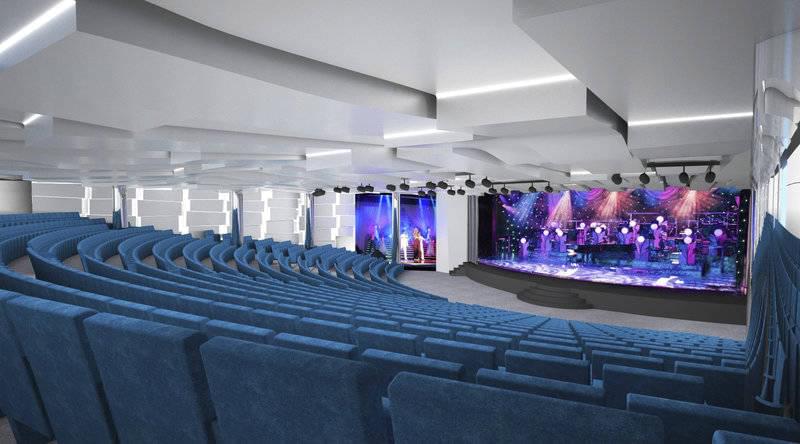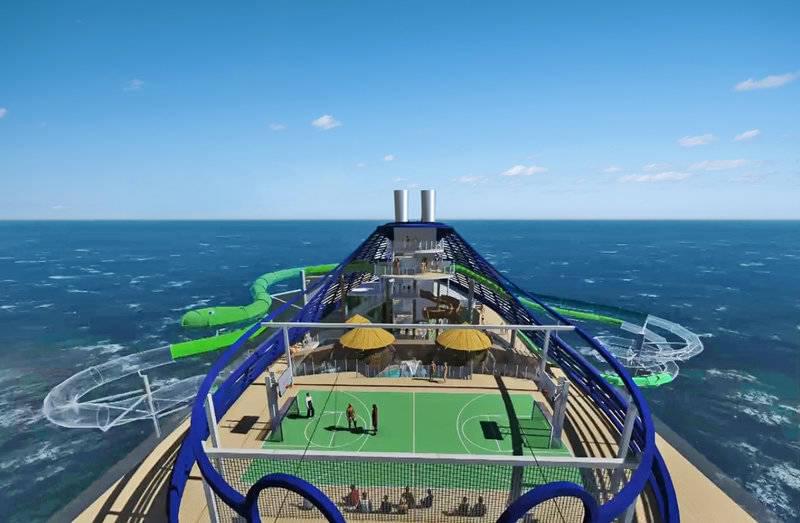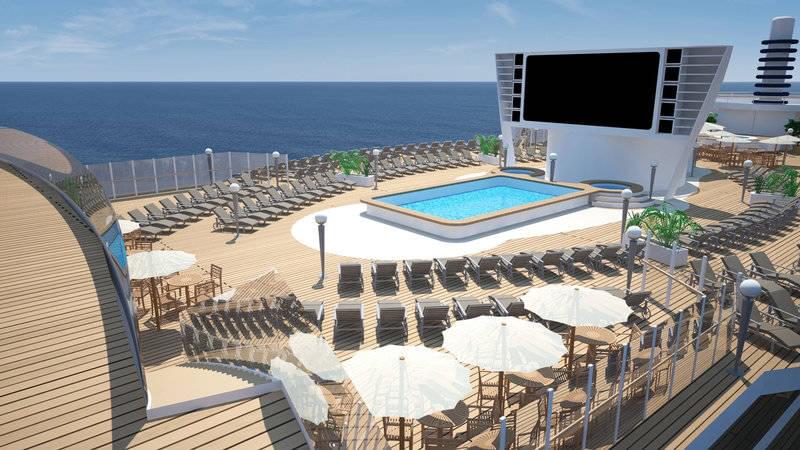 From Broadway-style shows to alfresco spa treatments, slideboarding to bowling and zipping across the world's longest at-sea zipline, MSC Seaside has something to keep even the most active entertained whilst onboard.
Running a hugely varied programme, with shows every evening of your cruise, the Metropolitan Theatre is a state-of-the-art venue designed for Broadway-style shows. Live comedy, held in the comfortable News Café, is the ideal place to enjoy an evening of drinks and laughter with friends, and, for those travelling with families, kids' entertainment is taken care of with clubs for babies, toddlers, juniors and teens. For those aged 1 to 3 years, the Baby Club offers activities and games designed in partnership with Chicco®, whilst those joining the Mini and Juniors clubs can enjoy a host of activities in partnership with LEGO®. Two different teen clubs – for those between 12-14 year olds and a separate club for 15-17 year olds – offer a teen-only cinema, gaming room and teenage disco. Children of all ages can enjoy daily onboard entertainment, including treasure hunts, quizzes, pool games and contests.
Guest can also expect to find a schedule of live music, with everything from live bands to classical concerts, karaoke, vocal performances and even musical contests and tournaments.
During the day, entertainment for all ages is easy, thanks to MSC Seaside's huge range of outside facilities. Onboard, guests will find the largest and most interactive water attraction at sea – the multi-story Forest Aquaventure and Adventure Park. This huge fun-filled water world features five different water slides, with two high speed racing slides, an adventure trail and the first "slide-boarding" technology to be found at sea.  With an AquaPlay™ area for smaller children too, this is somewhere the entire family can enjoy together.
Alongside the Forest Aquaventure and Adventure Park, MSC Seaside also features the longest zipline at sea. Not for the faint-hearted, the zipline measures 130-metres, and offers incredible views of the ship and sea.
For those who prefer to be entertained with their feet firmly on the ground, the seafront promenade on Deck 8 is lined with places to shop, sunbathe and eat. Those looking to keep active, with a little help from the onboard experts, will also find a range of exercise classes, including aerobics, Yoga, resistance training and spinning to choose from.
MSC Seaside will also offer a range of enrichment classes, for passengers looking to pick up some fun new skills whilst onboard. These are likely to include photography lessons, wine tasting workshops, art classes and dance lessons, as well as guest lectures from industry-leading experts.
Facilities to Relax, Keep Fit and Play on MSC Seaside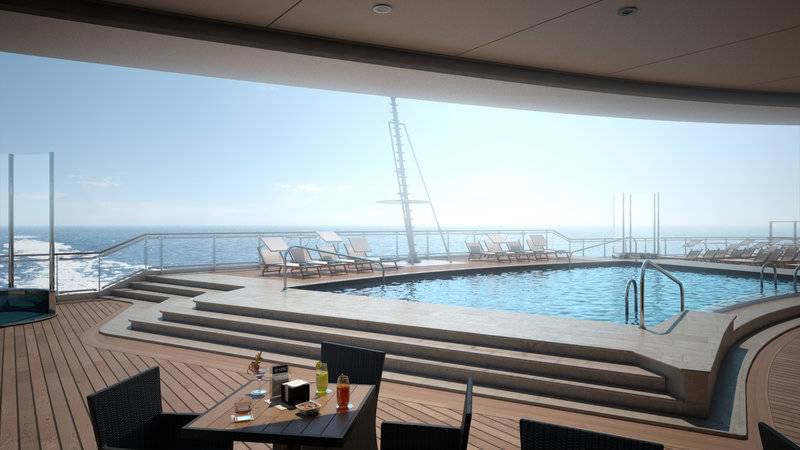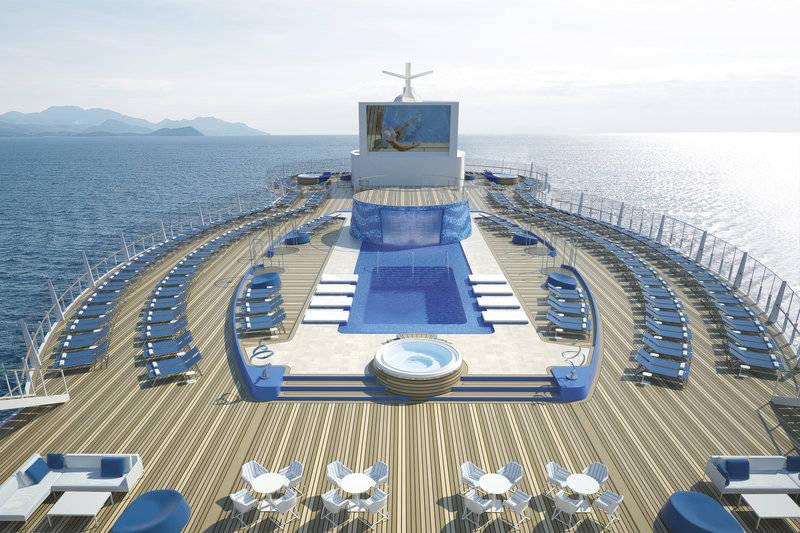 Designed to provide passengers with every facility they could possibly dream of, whether they want to relax, keep fit or learn something new, MSC Seaside offers everything from bowling alleys to boutiques and much more.
Guests will have the chance to use one of the ships three uniquely designed pools. The MSC Seaside Panorama Pool, with breathtaking sea views, was designed to bring passengers closer to the water, with specially designed sun loungers and, thanks to a magrodome roof, guest can take a refreshing dip no matter what the weather. In addition to the Panorama Pool, guests can also enjoy the laidback vibes of the Miami Beach Pool on Deck 16 and South Beach Pool on Deck 7 – which is connected to the top deck by two panoramic-view lifts.
Alongside the range of onboard pools, MSC Seaside will also feature a full-sized bowling alley, a 5D movie theatres, a wide range of shops and boutiques and an F1 simulator.
For those looking to keep fit, a state-of-the-art fitness centre, equipped with Technogym cardio and strength-training machines, will also offers a wide range of original fitness courses and training programmes. As with all MSC Cruises, passengers can also expect to find a range of sports facilities, including a basketball court, jogging track, shuffleboard, squash, table tennis and volleyball.
If relaxation is more what you had in mind, the MSC Aurea Spa will offer guests luxurious body treatments, as well as a beauty salon, nail boutique and a thermal area. The authentic Balinese spa offers a wide selection of traditional and exotic treatments, with more than 20 different types of massage to choose from. Featuring stunning sea views, expertly trained staff can help you choose the right treatment for your needs – leaving you feeling rejuvenated and relaxed for the rest of your cruise.
If you feel like indulging in a spot of retail therapy onboard, MSC Seaside has a wide selection of shops selling a range of goods, including duty-free, perfume and cosmetics, jewellery souvenirs and more, alongside onboard photography services and an art gallery.
 If you're interested in a cruise on the MSC Seaside, take a look at our MSC cruise deals on our website. We'd also love to hear your thoughts and questions about the MSC Seaside, so leave us a comment below or get in touch on Twitter or Facebook.