Most standard cruise tickets include your cabin, standard meals, entertainment and some activities. You can then choose to add some premium food, drinks and activities to your daily routine, but this can quickly add up. Therefore, the most important thing you can do is to read up on what is included in your all inclusive cruise and stay holiday.
  As can be expected, the more you pay for your all inclusive cruise, the more items will be included. You can also sometimes be upgraded or receive some all inclusive items if you book a special deal cruise.
Items that Can be Included:
Meals and drinks
All cruise ships include free meals and drinks but it's important to see what is free of charge and what you will have to pay for. It's especially important to read up on your inclusive drinks package if these include alcoholic beverages.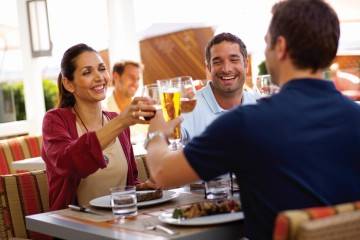 Flight tickets
Having inclusive flights come in very handy for peace of mind that you will reach your cruise even if there are any flight delays.
Hotel stays
Inclusive hotels are hand-picked by cruise tour operators, ensuring that you will be able to see the sights and get transport to and from your cruise ship.
Day Trips
Your cruise provider will offer some choices on day trips, most of which need to be paid for unless otherwise stated. They will know from experience which tours have the best ratings and which can be included in the time you have available on shore. Organised day trips are really helpful if you don't know the area your visiting and/or can't speak the language.
Gratuities
Tipping staff on cruise ships can quickly add up and having this included in your ticket price should provide extra peace of mind.