Alaska is an intriguing destination with thousands of miles of picturesque coastline that make it a popular draw for cruise ships.  This most northernly state of the US offers a lot of unique attractions like huge glaciers, towering mountains, tranquil and turbulent waterways, acres of rain forest and Arctic tundra.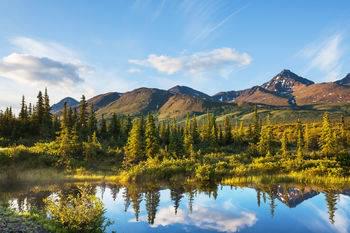 When to Go on an Alaskan Cruise
Due to its far northerly position, the main cruising season in Alaska is in the summer months, ranging between mid-June to mid-September.  It is famous for its wildlife, like bears, seals, eagles, moose, seabirds, sea otters and whales, which are most prominent in June and July.  These spectacular creatures can often be spotted from your ship mid cruise or in port, or further explored during a shore tour. 
Due to the changeable weather, most cruise lines only visit here between June and August, stopping in early September to avoid wintry weather.  Winter month cruises are only recommended if you want to go there to see the northern lights or to watch or take part in winter sports. 
Top Alaskan Ports to Visit
Alaska is a great cruise destination with a whole array of different ports, each giving their own perspective on life in the 49th US state.  Here we look at our seven top Alaskan ports:
1)Glacier Bay  
Glacier Bay is a bit of an honorary mention as it's not really a port, but many cruises stop here as Glacier Bay National Park is the highlight of any Alaska cruise. This huge bay gives cruises a front row seat to see how much our planet has changed over the last couple of centuries.  It is said that some of the glaciers that covered the bay around 250 years ago have now moved back by forty miles or more. 
Most cruises sail to Marjorie Glacier, which is 55 miles inside the Glacier Bay National park, and some even sail farther if the sea ice allows for it.  The most common sightings here are of humpback whales although the patient and the lucky also often get to spot mountain goats and brown bears.  Most of your cruise ships activities and venues will shut down while the ship is located here but there will be a lot to do while chatting to park rangers and doing viewings and attending presentations. 
2) Haines 
Haines is  the kind of laid-back place you picture when you think about an Alaskan town. The first thing you'll notice when you arrive is how scenically beautiful Haines is. The setting is probably the best of any Alaska town. The town is located on the shores of the Lynn Canal, the state's longest fjord, and is surrounded by glacier-covered mountains and rolling hills as well as some impressive lakes and rivers. 
3) Icy Strait Point, Alaska 
Here are our top three tours available in Icy Strait Point: 
The Icy Strait Premier Whale Watching Tour offers three hours of whale watching.  Its your chance to see humpbacks and orcas in the magnificently beautiful Alaskan waters. 
The Icy Strait Taste of Hoonah and City Tour allows you to take in the sights, smells and tastes of Hoonah.  Spend two hours relaxing and feasting with the locals and enjoy a beer at Icy Strait Brewing and great food at the Hoonah Beach House. 
The Icy Strait Exclusive Wildlife and Bear Search tour offers four hours of getting up close and personal with nature and discovering beautiful creatures in the wild.  These can include deer, bears, bald eagles, and more. 
4) Juneau 
Alaska's second-largest city, Juneau, is inaccessible by road, with a wild mountain landscape rising from the town to the massive Juneau Icefield which buries the US-Canada border. This makes it a great location to visit via a cruise. The town is known for its burgeoning dining scene, its old school saloons and the Alaska State Museum which highlights the state's human and natural history.  
5) Ketchikan  
Ketchikan is a centre for several Alaska Native cultures, known for its salmon runs in late summer and its great salmon canned products.  It has a very good art and crafts trade and is also known for its nearby Misty Fiords National Monument.  Other activities include visiting totem villages, going on fishing trips, or even trying snorkelling in this northernly part of the world.
6) Sitka  
Sitka has Russian and Alaska Native ties as it was formerly the capital of Russian America.  This sets it apart from other Alaskan towns because of its Russian cultural influences.  One good example is the incredible onion-domed St. Michael's Cathedral and the restored Russian Bishop's House. Some great activities include seal and otter tours as well as their guided kayak tours through the idyllic waters. 
7) Skagway  
This town is Gold Rush-era oriented and is one of only two towns in Alaska' southeast that is connected to other towns via road.  It conjures up images of the 'Wild West' during the gold rush and many of its historic buildings are restored and part of the six-block Klondike Gold Rush National Historic Park.  If you've got your passport and enough time, its possible to do a White Pass & Yukon Route Railroad trip on the railway that became known as "the railway built of gold." Or if you only have a few hours, visit Skagway Spirits, a family-run distillery, or for the more adventurous, head out to a hike on Lower Dewey Lake. 
 Booking Your Alaskan Cruise
Booking a trip to Alaska does come with a warning.  Great weather is never guaranteed, and you are likely to face cooler weather there than in the surrounding US areas.  Helicopter and plane tours are often cancelled because of bad weather and wildlife sightings can never be guaranteed.  But, if you have always wanted to see Alaska and you are willing to be flexible, you will find a great deal here at Cruise Nation .