If you're looking for a little inspiration for your 2018 cruise holiday, discover some of Cruise Nation's hottest destinations for next year:
The Mediterranean
Popular year-in, year-out, the Mediterranean offers something for every kind of holiday style. Yes, you'll find white beaches, aquamarine waters and almost year-round sunshine wherever you go, but it's the diverse range of cultures, attractions and activities that keep people coming back again and again.
From Italy's incredible cuisine to Greece's ancient historic sights, Spain's wine regions to Croatia's colourful towns, our 2018 Mediterranean cruise deals are the best way to experience the best of this incredible part of the world.
Alaska
Increasingly popular with those looking for adventure, Alaska is one of the last real "wild" destinations on the planet. Nowhere else can compete with the isolated, glacial beauty of Alaska, nor with its rich wildlife and unique towns.
Cruise Nation has a huge range of Alaska cruise 2018 deals and packages, taking in highlights such as the Inside Passage and Glacial Bay, as well as popular cities such as Seattle and Vancouver.
The Far East
Exotic lands, unique traditions and friendly, welcoming locals – the Far East has long been the ultimate destination for those seeking a culture-soaked cruise holiday. From the ancient temples of Cambodia and Thailand to the pristine beaches of Malaysia and the Philippines, the Far East is just waiting to be explored on one of Cruise Nation's 2018 cruise deals.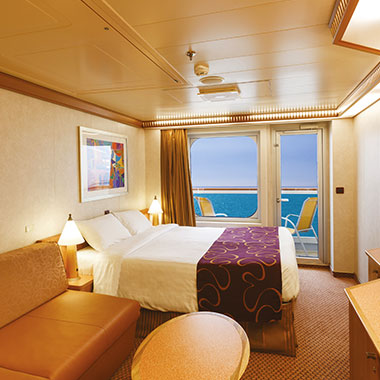 Barcelona
Whether it's history, food or art that floats your boat, Barcelona has it all. Those who choose to start or end their Mediterranean cruise with a stay in the city will discover why this is one of the most popular places to visit in Europe.
The cosmopolitan capital of Spain's Catalonia region offers some of the finest architecture in the world – from the wonders of the Sagrada Familia to gothic masterpieces such as the Cathedral.
Food and wine lovers will find never-ending options for dining out, and those who want to pick up fresh produce of their own will delight in the buzzing Mercado de San José de la Boquería.
Venice
One of the world's most romantic destinations, few places can compete with Italy's intriguing floating city of Venice.
Whether you choose to explore the maze of streets and waterways by foot, or hop onboard a gondola for a tour around the canals, cathedrals and casinos, Venice is guaranteed to charm.
From the busy San Marco and the Palazzo Ducale, to the winding backstreets and hidden squares, a Stay & Cruise deal that begins or ends with a stay in Venice is the perfect addition to any cruise holiday.
Miami
Diverse, delicious and almost always bathed in dazzling sunshine, Miami is one of our most popular Cruise & Stay destinations. After a cruise from the UK to America, or around the Caribbean, end your trip with a beach holiday in America's sun-worshipping town.
For those who prefer a little more culture, there's plenty of art, food and music to be discovered in this city too, and night owls will find bars and clubs of every description to keep them dancing until dawn.
If you like to be one step ahead of the crowd, Cruise Nation has some of the most exciting 2018 cruise deals – with soon-to-launch new liners, new routes and new destinations.
Many of the world's luxury cruise companies are unveiling new ships next year, including Carnival's huge new vessel Horizon, Norwegian Cruise Line's latest ship Norwegian Bliss, and the hotly anticipated Symphony of the Seas from Royal Caribbean.
Along with state-of-the-art design and features, these new vessels will offer passengers exciting new itineraries in popular regions such as the Caribbean and the Mediterranean.