Discover some of the highlights of the Caribbean aboard the stunning Royal Caribbean Explorer of the Seas with this 15-night offer! You can sail from Southampton to Miami from only £799 per person including your return flights and a FREE Miami stay!
Your journey will take your from Southampton across the Atlantic Ocean before arriving at St Lucia followed by Barbados, Dominica, Antigua and then finally Miami. You'll then enjoy a 1-night FREE stay in Miami giving you some time to explore this wonderful city.
On Explorer of the Seas, the fun never stops so you'll have plenty to keep you entertained. Try your hand at surfing on Flowrider, scale the rock climbing wall, enjoy a round of mini golf, show off your skills on the onboard ice rink or take in a broadway style show in the theatre. You'll also find a wide selection of dining options including Johnny Rockets - the original burger joint, Giovanni's Table - a sublime Italian Trattoria or Izumi - where you can feast on delicious sashimi or hand-rolled sushi!
This offer is exclusive to Cruise Nation so you won't find it anywhere else!
DESTINATIONS ON OFFER
St Lucia
Barbados
Dominica
Antigua
Miami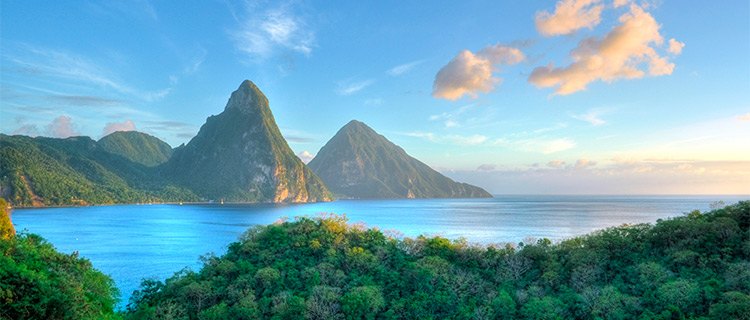 St Lucia
St. Lucia is an oasis of tropical calm, the island's capital Castries is a town of pastel coloured colonial buildings. This beautiful island welcomes visitors drawn to its exotic tropical landscapes, superb beaches and colourful marine life.
Points of Interest
---
The Pitons
These majestic twin peaks, a UNESCO World Heritage Site, seem to rise straight from the blue waters of the Caribbean Sea. Each tower created from hardened lava soars over 2,000 feet in the air.
Sulphur Springs Drive-In Volcano
Enjoy a short tour of the world's only drive in volcano and see the bubbling pools letting off puffs of odorous steam.
Outdoor Adventure
Zip lining, horseback riding, whale and dolphin watching, the aerial tram and 4WD fun are all trademarks of St. Lucia.
Pigeon Island
This beautiful 40-acre islet is a nature park reflecting a thousand years of history. The elegantly restored 1808 British officers mess building is the Museum and Interpretive Centre.
Morne Fortune
Visit Iniskilling Monument erected in 1932 to honour the Regiment that captured the Morne for the British in 1796, you can also enjoy sweeping views from this strategic outpost.
Soufriere
The reputed birthplace of Napoleon's Empress Josephine, Soufriere is the island's oldest town. Visit the marketplace with its colourful murals and gingerbread trim.
Marigot Bay
Described as "the most beautiful bay in the Caribbean" by author James Michener this lush yachtsman's haven has been in films including ''Dr. Dolittle'' and ''Fire Power.''
Diamond Botanical Gardens
Step into a world where waterfalls gush from the mouth of a volcano, and explore the nature trails, hot mineral springs fill the baths with age-old medicinal waters and flora and fauna abounds.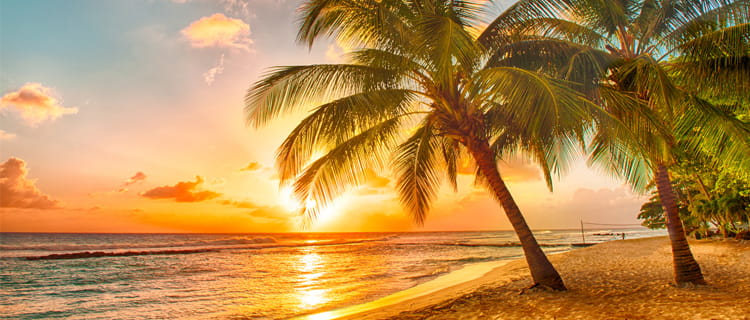 Barbados
Barbados exudes a charm all its own. Perhaps it is due to Bajan culture, that celebrated blend of English tradition and the African heritage brought to the island by slaves imported to work the sugar plantations where rich and fertile tropical fields meet a glistening, azure sea.
Points of Interest
---
Harrison's Cave
This massive cave system is one of the wonders of Barbados featuring 50 foot high caverns, rushing streams, glassy pools and a thunderous 40 foot waterfall that cascades into an emerald lake.
Turtle Encounter
Guests can swim with sea turtles in their natural habitat.
Beaches
Sparkling aqua marine waters, rolling waves, beautiful coral formations and velvety sands that perfectly cushion those who bask in the sun of the luscious Barbados beaches.
Andromeda Botanical Gardens
Situated on a cliff overlooking the ocean, this six acre botanical garden is renowned for its excellent collection of tropical flora and one of the world's largest palm trees.
Mount Gay Rum
Located on the Mount Gay plantation for nearly 300 years Mount Gay Rum has produced one of the finest and most celebrated golden spirits in the world.
Underwater Adventure
Explore the clear waters that Barbados has to offer on an exciting submarine tour and snorkel with gentle sea turtles, seahorses and a brilliant array of colourful fish.
Gun Hill Signal
This restored signal station which was originally built in 1818 to warn the island of approaching ships features sweeping 360 degree views of the island.
Sunbury Plantation
Built in 1650, this beautiful sugar estate houses a superb example of plantation life of a bygone era and features an amazing collection of antique carriages and memorabilia.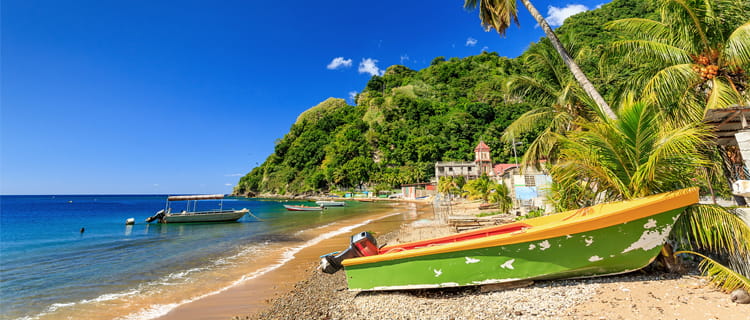 Dominica
A Caribbean islands lying between Guadeloupe and Martinique, Dominica is often known as "The Nature Island of the Caribbean" due to its spectacular and varied flora and fauna. Today Dominica draws visitors from around the world with its unspoilt beauty.
Points of Interest
---
Botanical Gardens
This 40-acre botanical garden is located in the capital, Roseau. Home to exotic flowers and tropical plants along with endangered parrots.
Rainforest Rivers
Visit some of the largest and longest rivers in Dominica, surrounded by cliffs and rainforests on both sides.
Morne Trois Pitons National Park
A UNESCO World Heritage Site, treasures include waterfalls, lakes, rivers the "Boiling Lake" and five volcanoes.
Emerald Pool
A wonderful grotto which has been featured in several movies, a popular site where visitors can swim in the pool.
Titou Gorge
A small waterfall deep in a water filled gorge, visitors take a short swim through this spectacular gorge.
Soufriere/Scotts Head Marine Reserve
Located on the south western tip of the island it's the most picturesque bay on the island, both below and above the water.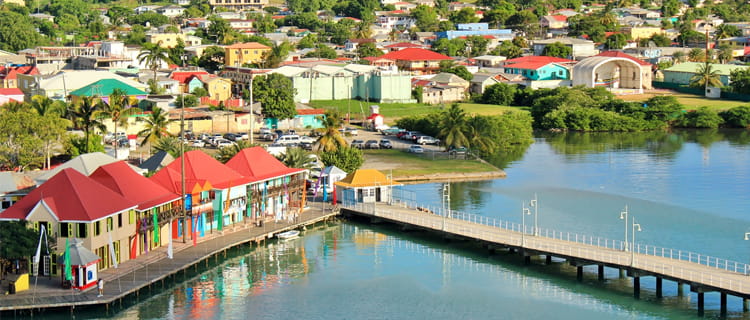 Antigua
Antigua boasts one of the Caribbean's most spectacular coastlines with sun drenched beaches and secluded coves. The island's capitals St. John's is bustling with a wealth of boutiques, restaurants and pubs.
Points of Interest
---
Bird Island
Early sailors were amazed by the number of bird's nesting on this islet which is smaller than most city parks.
Beaches
Antigua boasts a beach for every day of the year with white sand beaches, tranquil turquoise waters and a shoreline that invites you to relax in the sunshine.
Stingray City
Swim with stingrays in crystal clear water, pristine coral reefs and knowledgeable instructors in a safe aquatic adventure that's fun for the whole family.
Fig Tree Drive
A picturesque road that winds through lush vegetation, rainforest foliage and fruit groves where you will see quaint churches and sugar mills.
Dow's Hill Interpretation Centre
Watch a multimedia presentation that celebrates Antigua's history from prehistoric days to the present.
Nelson's Dockyard
Sample the finest example of a British naval yard in the Caribbean. Visit resorted buildings, boutiques and museum's that are part of the area's designated national park.
Shirley Heights
Breathtaking views of the English Harbour and Nelson's Dockyard can be found at this historical site.
Canopy Zipline Adventure
Soar high on a zip line to get a unique perspective of the amazing Antiguan rainforest on a zipline tour.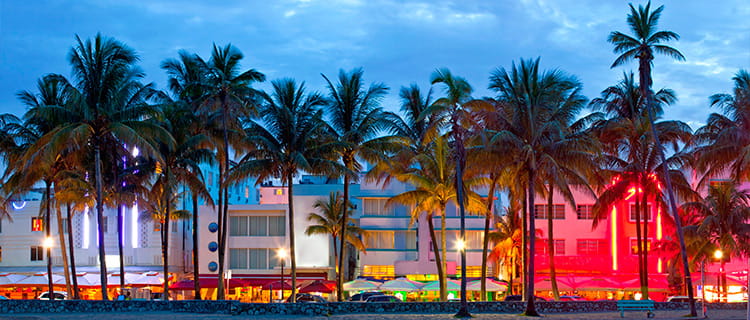 Miami
Miami is one of the world's most popular holiday spots, this vibrant city which has a Cuban influence is famous for its colourful Art Deco buildings, white sandy beaches, surfside hotels and trendsetting nightclubs.
Points of Interest
---
Vizcaya Museum & Gardens
This estate located in the Coconut Grove area was the winter residence of James Deering, the mansion has been beautifully maintained and is surrounded by acres of serene gardens. The ornamental breakwater is one of the most sublime sunset photo opportunities in Miami.
Everglades
Get up close and personal with Florida, as you glide through these expansive wetlands, providing plenty of photo opportunities to catch wildlife in their natural habitat.
South Beach
With its eclectic mix of boutiques, galleries, shops and Art Deco buildings. The beach is one of the best, highly sought after beach in the world, its a must see for anyone who visits Miami.
Miami Seaquarium
Enjoy a visit to this world class marine life entertainment park, a 38 acre tropical paradise where dolphins walk on water and killer whales fly through the air. There's an experience for everyone.