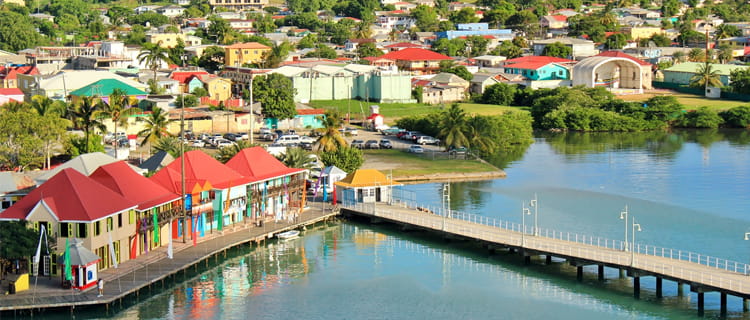 Antigua
Antigua boasts one of the Caribbean's most spectacular coastlines with sun drenched beaches and secluded coves. The island's capitals St. John's is bustling with a wealth of boutiques, restaurants and pubs.
Points of Interest
---
Bird Island
Early sailors were amazed by the number of bird's nesting on this islet which is smaller than most city parks.
Beaches
Antigua boasts a beach for every day of the year with white sand beaches, tranquil turquoise waters and a shoreline that invites you to relax in the sunshine.
Stingray City
Swim with stingrays in crystal clear water, pristine coral reefs and knowledgeable instructors in a safe aquatic adventure that's fun for the whole family.
Fig Tree Drive
A picturesque road that winds through lush vegetation, rainforest foliage and fruit groves where you will see quaint churches and sugar mills.
Dow's Hill Interpretation Centre
Watch a multimedia presentation that celebrates Antigua's history from prehistoric days to the present.
Nelson's Dockyard
Sample the finest example of a British naval yard in the Caribbean. Visit resorted buildings, boutiques and museum's that are part of the area's designated national park.
Shirley Heights
Breathtaking views of the English Harbour and Nelson's Dockyard can be found at this historical site.
Canopy Zipline Adventure
Soar high on a zip line to get a unique perspective of the amazing Antiguan rainforest on a zipline tour.
var chartData = [[7,9,13,17,22,26,28,28,24,18,12,8]]; filter.location = "venice"; filter.baseURL = "https://www.cruisenation.com/2_venice_dump_";
You have reached the end of this page. Go back to the top?
You have reached the end of the footer. Go back to the top?