Princess Cruises FREE Balcony Upgrade!
Wake up to a new view
Wake up to a new with view Princess cruises because you'll receive a FREE Balcony upgrade on Royal Class ships; Majestic, Royal, Regal, Sky, Enchanted & Discovery Princess! Now has never been a better time to book so give us a call to take advantage of this brilliant offer!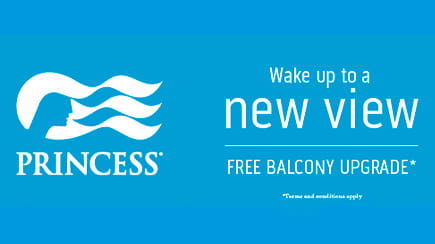 COME BACK NEW
Travel the world and come back new with Princess cruise line. Whether it's being inspired by amazing ocean views, tasting a new, exotic dish for the first time or just spending some quality time in the spa and sun loungers; Princess are committed to making sure you come back from your cruise feeling better than ever. So no matter where your itinerary takes you to, there are enough opportunities to fall in love with the landscape, savour every bite on the menu and seize the moment with unique shore excursions.
Each of the 18 ships are designed to ensure your holiday leaves you feeling refreshed and revitalised. On board you'll find a variety of dining options, spacious decks and an array of activities to keep you busy including the Sanctuary Spa, Casino, Fitness classes and a shopping arcade!