They say that travel is the only thing you buy that makes you richer, and this couldn't be a more apt explanation for the rising trend in enriching cruise experiences.
Now more than ever, we want to come back from our holidays with great new stories to tell, and whilst relaxation will always continue to be one of the top reasons for holidays and travel, there is now a rising trend of those who are travelling to enrich their mind, body and soul. Whether it's the increasing choice of itineraries and availability of unique destinations like Sir Bani Yas Island in Abu Dhabi with its nature reserve and free-roaming animals like Cheetah, Hyenas and Giraffes or the state of the art, spa and wellness facilities and education programmes available onboard; there's a world of ways that a cruise holiday can provide an enriching experience.
Working with 14 of the world's top cruise lines, there's a lot we can tell you about all of the enriching experiences available onboard, and whilst we could talk for days on the topic… instead we've hand-picked 8 of our favourite most enriching cruise ship experiences in the hope it'll inspire you when you come to book your next cruise holiday.

Princess cruise line have developed a fantastic concept called 'Festivals of the World'. This programme ties in with selected itineraries for destinations like New Orleans for Mardi Gras and Rio de Janeiro for the Rio Carnival, giving you the chance to experience some of the greatest and most famous celebrations in the world. Guests on Princess ships featuring the Rio Festivals of the World programme will can experience the following;
Local dancers perform a 30 minute Carnival show that will include some capoeira
Learn the Samba beat with our drum circle class
Cultural historical trivia
The History of Rio Carnival presentation
Decorating a traditional headdress
If you want to learn to cook, you may as well learn from the best, right? Well P&O have provided you with exactly the means to do so, making this an exceptional reason to cruise with them. With lessons hosted by culinary superstars such as Mary Berry, James Martin and Marco Pierre White you'll be mastering macaroons and soufflés in no time! Your friends and family back home will marvel at your new found flair in the kitchen and what could be a better excuse to tempt your love ones to gather around the dinner table than a spectacular meal with all the trimmings! As well as learning to cook from the experts, each of the chefs along with master sommelier Olly Smith, have collaborated with P&O to create an onboard dining experience that your taste buds will relish!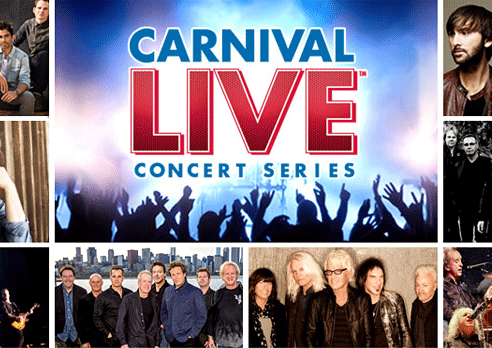 The Carnival Live experience is a concert at sea. There's live music from epic bands and singers and in 2016, we'll see Carnival introduce top comedy acts to the mix for the first time. On select cruises which stop in Nassau, Cozumel, Grand Cayman or Montego Bay, guests onboard have the opportunity to purchase discounted tickets to watch performers such as 'Rush Hour' actor and comedian Chris Tucker and contemporary country singer Sam Hunt. If you're interested in finding out more about the Carnival Live experience, check out our dedicated blog post. 
The Cunard Insights programme welcomes a variety of fascinating guest speakers from all walks of life. Grammy award-winning Jazz musician Gregory Porter is one of the performers involved with the Cunard Insights programme, with guests onboard being treated to live performances from not only the talented singer himself but also a line-up of acclaimed Blue Note artists. Legendary musician Herbie Hancock has been a previous performer onboard Cunard, as has TV presenter and journalist Jennie Bond who spent 14 years working as BBC's Royal correspondent.

Princess ships are destinations in their own right, each having their own selection of activities to experience – the ScholarShip@Sea programme being one of them. On each sailing, there are no less than 40 ScholarShip@Sea experiences to involve yourself with, ranging from creative card making to ice sculpture carving and wine tasting, so you can either enhance your existing knowledge or skills, or learn something completely new. The ScholarShip@Sea feature provides a great way for guests onboard to meet like-minded cruisers and maybe even make a friend or two for life!

Offering the most luxurious all-inclusive experience at sea, it's unsurprising that Regent's enrichment programme is nothing short of superb. As well as offering unlimited, inclusive shore excursions (an enriching experience in itself), guests can also partake in a selection of interesting activities whilst onboard. Guests with a penchant for cuisine will be intrigued by the Culinary Arts Kitchen which is inspired by one of France's most prestigious culinary schools with top of the range equipment and the finest ingredients. The featured lectures programme onboard welcomes guest speakers such as Terry Breen who shares her passion for Alaska and Latin America through riveting narratives and Dr Jean-Pierre Isbouts, an acclaimed historian and National Geographic author who has published works on the culture and civilisation of the Middle East. As well as offering lectures from these popular speakers-in-residence, Regent Seven Seas have also partnered with the Smithsonian to offer expert guides who are onboard throughout the duration of your cruise, offering you a chance to interact, socialise and be wowed by their knowledge and insight into the destinations you visit. Ranging from noted art historians to former diplomats, you'll be impressed by the anecdotes and pearls of wisdom they share.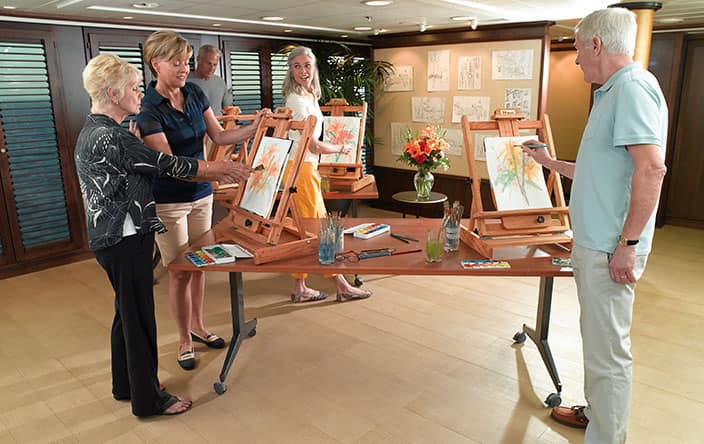 Budding artists can channel their inspiration into works of art with a visit to Oceania's onboard Artist Loft. Located in the Enrichment Centre, guests can attend workshops hosted by the Artists in Residence, learning to paint and draw using a variety of mediums from charcoal to watercolours. What better way to remember your cruise by than your very own piece of art inspired by the incredible destinations you've visited?
 Who better for Celebrity Cruises to partner with for their immersive collection of excursions than well-travelled, TV Presenter Ben Fogle? The new collection of excursions have been designed in collaboration with Fogle who aims to help cruise guests appreciate and experience the unique offerings of each destination they're visiting. For those of you who aren't as familiar with Fogle's travel experience, he has led expeditions all around the world, writing the book 'A Year of Adventures' for Lonely Planet which involved the presenter running the three peaks marathon in the Italian Dolomites, he's also completed the Marathon Des Sables (a seven day race across the Sahara). Fogle also competed in 'Race to the Pole' the first of its kind since Captain Scott and Amundsen raced one another 100 years ago. In his 'Extreme Dreams' series, Fogle led dozens of expeditions including the Black Cat trail across Papua New Guinea, Mount Kilimanjaro, the Mountains of the Moon in Uganda, Kaiteur Falls in Guyana, crossing Spitzbergen, and crossing the Peruvian Amazon. The most recent project of Fogle's is 'The Empty Quarter' which saw him recreate the epic desert journey of Wilfred Thesiger, using original food, gear, equipment and camels to trek more than 700km across one of the most hostile deserts on earth. Pretty impressive stuff eh? Using his destination knowledge, Ben Fogle has created more leisure-friendly excursions than his typical expeditions, with activities like a soft-rafting experience in Rome, hiking the city walls in Kotor and a guided kayaking tour around the Stockholm archipelago.
So there you have some of the most enriching cruise experiences – which of them most piques your interest? Let us know in the comments below or over on Twitter or Facebook. For alternative cruise experiences, why not check out our blog on the MSC Wellness Experience which aims to help you reach your health and fitness goals during your holiday.