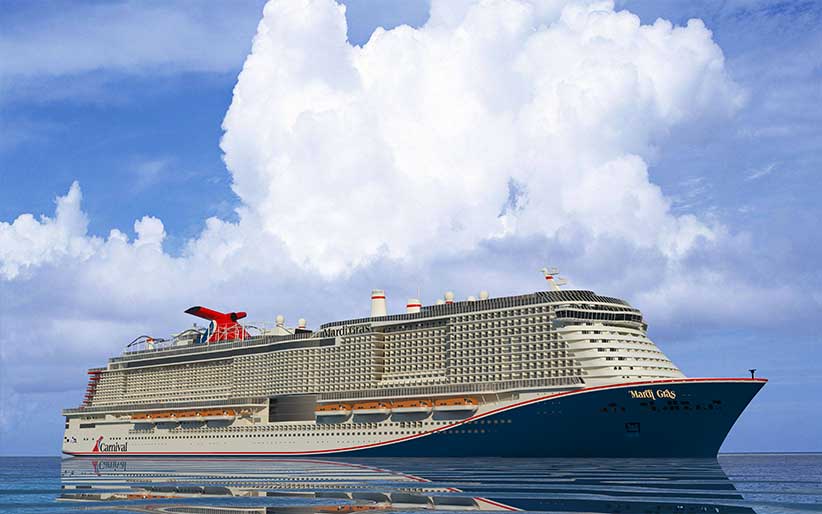 Designed for fun-fuelled vacation innovation, the New Mardi Gras ship set to launch in 2020, will be Carnival's biggest ship ever. It pays homage to Carnival's first ship, the 1972's TSS Mardi Gras, which surprised everyone and changed the cruise world by introducing cruisers to a less stuffy and more affordable cruise that everyone could enjoy.
What's New on the Mardi Gras?
The new Mardi Gras obviously has a LOT more innovative features while living up to its original fun ship's legacy.  The vessel's steel-cutting ceremony was on November 15, 2018 and this 180 000 GT new build will have new livery and will be LNG-powered. In fact, it's the first US ship to be powered by liquefied natural gas, a fuel which produces almost zero emission and represents a huge turning point for Carnival Cruise Lines.
The ship is split into six themed zone areas packed with new experiences for entertainment, eating, drinking and having some fantastic fun. Let's look at what these zones have in store for you:
Mardi Gras Grand Central Zone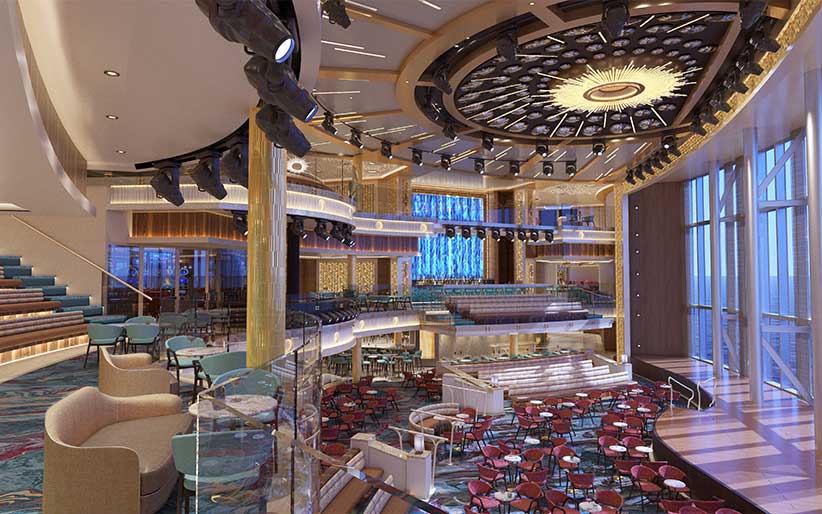 The Mardi Gras Grand Central atrium is completely revamped with three deck high ceilings and floor-to-ceiling windows that make the most of its incredible sea views. The Grand Central is the perfect place to enjoy live music, take a break with a good cup of coffee or kill time with an expertly blended cocktail.
Restaurants: There are some fantastic options here, including Bonsai Sushi and Bonsai Teppanyaki.
Entertainment: Enjoy a singalong at the Piano Bar 88 or some PG or adult-only laughs at the Punchliner Comedy Club.
Mardi Gras French Quarter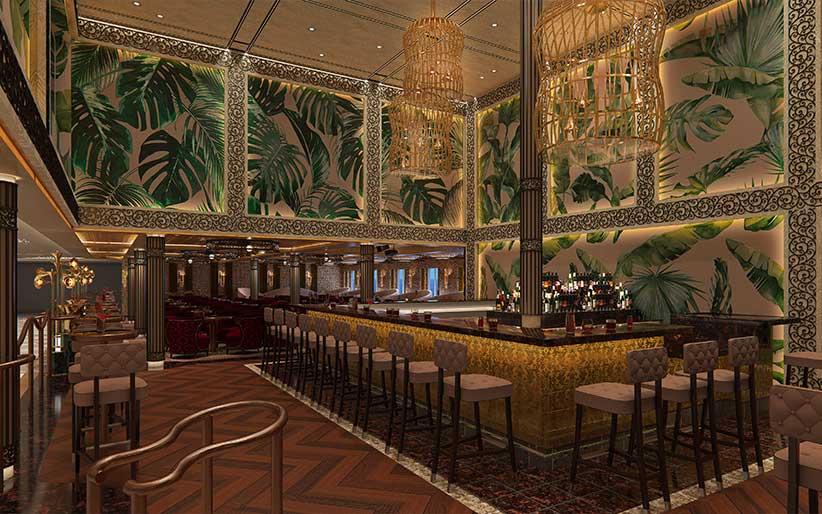 Inspired by the beauty and intoxicating atmosphere of New Orleans, this zone is full of bars and eateries that pay homage to this fabulous city.
Restaurants: Known for his Creole cuisine and authentic bayou flavours, this exciting new bistro is Emeril Lagasse's first-ever restaurant at sea!
Entertainment: A highlight amongst the bars and clubs here is the Crescent City jazz club which offers incredible live entertainment and handcrafted cocktails
Mardi Gras Summer Landing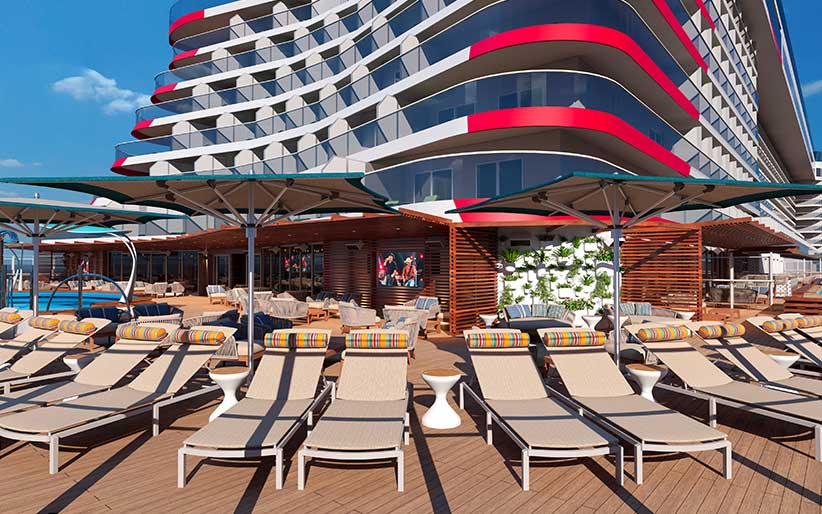 Carnival calls Summer Landing "the greatest chill spot at sea." There is an excellent pool and whirlpool as well as plenty of sun loungers to simply laze by the pool.
Restaurants: It doesn't get much better than a BBQ and a brew by the pool, especially if you start smelling all the delicious flavours coming from Guy's Pig & Anchor Smokehouse/ Brewhouse.
Entertainment: Enjoy a tour of the onboard Brewhouse microbrewery.
Mardi Gras La Piazza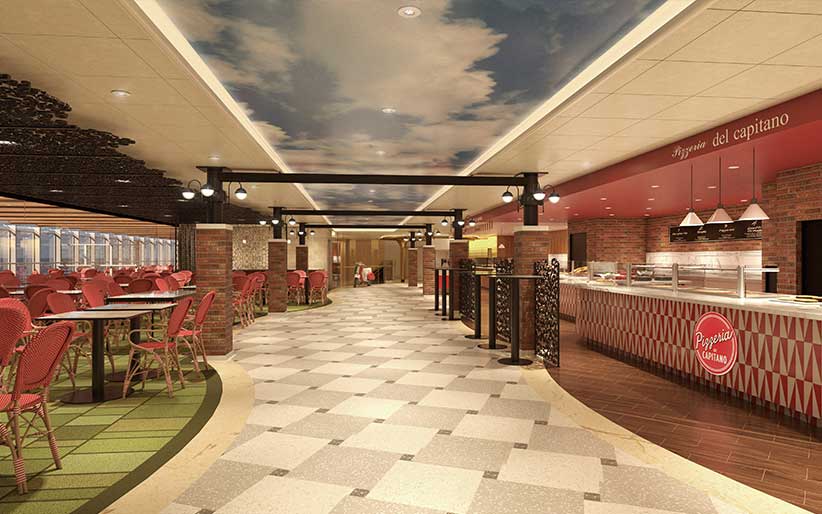 You can enjoy the La dolce vita atmosphere at La Piazza with Italian music and plenty of bars for that perfect Italian cocktail once the sun goes down. It has a hot new Mediterranean seafood restaurant and premium Italian hot drinks to enjoy during the day.
Restaurants: There are two restaurants influenced by the Italian captain himself, the Cucina del Capitano (captain's kitchen) for family favourites and the Pizzeria del Capitano for fresh and delizioso pizzas, which is available around the clock.
Entertainment: Roaming musicians provide an authentic soundtrack to the La Piazza.
Mardi Gras Lido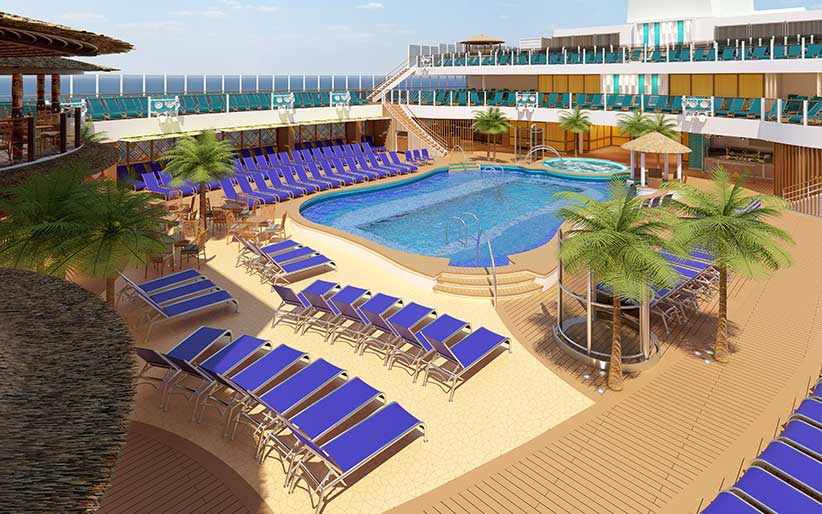 It's the Carnival's fun poolside Lido, but like you've never seen it before. With more fun and delicious ways to spend your days on board, you will find plenty of casual dining spots here. And your childhood dreams may just come true at Swirls, which serves free soft-serve ice creams 24 hours a day!
Restaurants: Too many to mention, with highlights including England-inspired Seafood Shack and the BlueIguana Cantina taco spot.
Entertainment: Take in a Dive-In Movie at the pool.
Mardi Gras Ultimate Playground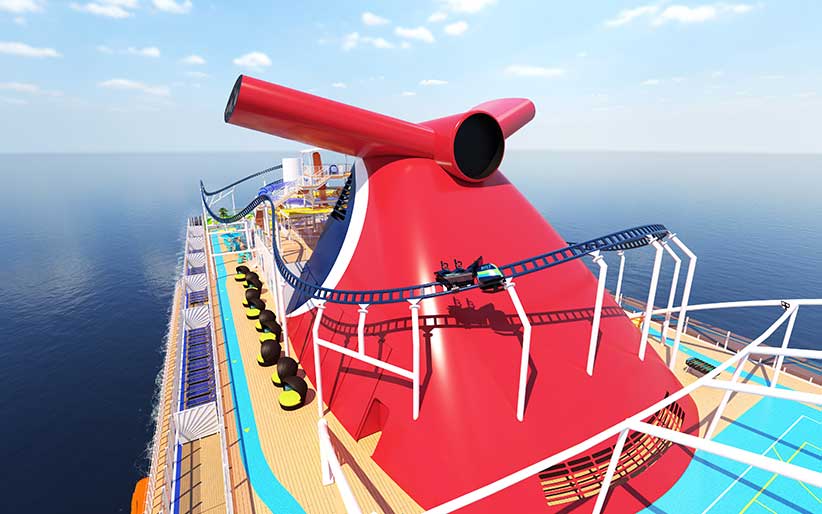 This ultimate fun zone for all ages is a great way to enjoy some thrills and possibly even burn some of those excessive buffet calories.
One of the Ultimate Playground's highlights is BOLT, the first rollercoaster at sea. This dazzling new innovation mixes a race car with a rollercoaster. Thrill seekers can go full throttle, or if you've always been terrified of the breakneck speed of normal rollercoasters, you simply have to go light on the pedal for a calmer experience and better sea views. The race track has length 244 m (800 ft), with twists, turns, drops and speeds up to 64 kph (40 mph). Individual speeds are posted after each race.
Then, there is also the largest Carnival WaterWorks ever with three huge spiralling slides as well as twin racing slides and a fun giant dumping bucket, to only mention a few.
Their new and improved SportSquare is the perfect place to take on family and friends at fantastic games of basketball, foosball, soccer, volleyball or mini golf or try the heights of SkyCourse if you're feeling adventurous.
The SkyCourse is a popular ropes course where adults and children can go and test their strength high above the deck. If this sounds terrifying to you, be ensured that you will be safely strapped in, which will help you boldly face any challenge this ropes course can throw at you.
What's the News for the Carnival Mardi Gras?
While we're patiently waiting for this incredible ship build to reach completion, Cruise Nation can keep you up to date on what's happening.
These are the latest headlines and announcements from Carnival:
06 Dec 2018 – Mardi Gras Selected as Name for Largest Carnival Cruise Line Ship Ever Constructed
13 Dec 2018 – First-Ever Roller Coaster at Sea to Offer One-Of-A-Kind Thrills Aboard Carnival Cruise Line's Newest and Most Innovative Ship, Mardi Gras
30 Jan 2019 – Carnival Cruise Line's Mardi Gras Opens for Sale as Company Announces Inaugural Season Itineraries
31 Jan 2019 – Carnival Cruise Line's Mardi Gras Breaks Sales Records on Opening Day
06 Mar 2019 – Emeril Lagasse Spices Up Carnival Cruise Line's Mardi Gras with First-Ever Restaurant at Sea