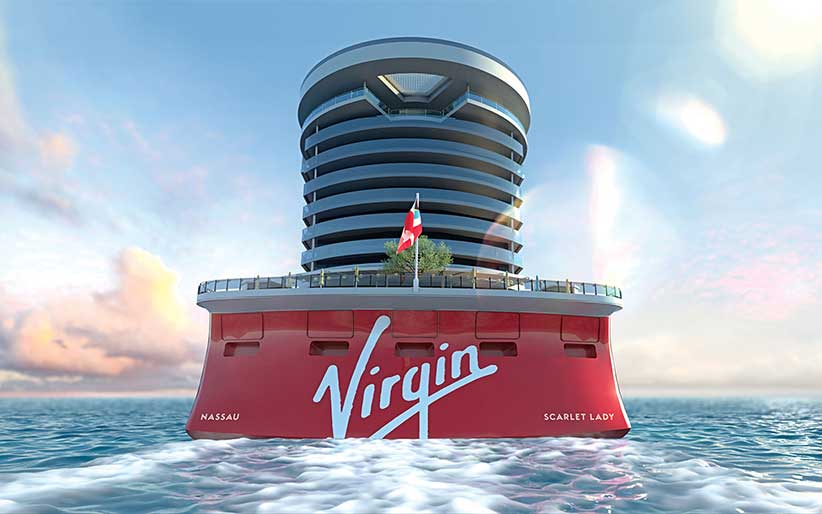 When Richard Branson takes on the cruise ship industry, you can be sure that cruise conventions will be thrown overboard. These voyages are a 24/7 festival at sea where tranquillity meets curiosity with no buffets, no kids, and no limits.
In essence, a voyage rather than a cruise, is all about escaping the chaos of your normal cruise ship. Virgin realised that many passengers are tired of finding the same things on board and therefore reinvented it for a more relaxing and fun filled experience.
Virgin Voyages likes to use the words 'Vitamin Sea' to describe their cruises.  It is – according to the cruise line – inspired by the oceans and their importance in health and well-being for the planet and our everyday lives. This is demonstrated on board with healthier menu options and several fitness classes and opportunities.
What's Different Aboard Virgin Voyages?
Well, a lot. No other ship has a tattoo parlour, a drag show, Korean street style food, and a special barbershop for men, to start with. Below we look at all the differences you can expect.
Virgin Voyages Passengers
They prefer to call passengers sailors. Richard Branson describes his 'sailors' as "young at heart people that want a good time." They will explore, have adventures and enjoy free-spirited days and nights without a care in the world.
Virgin Voyages Accommodation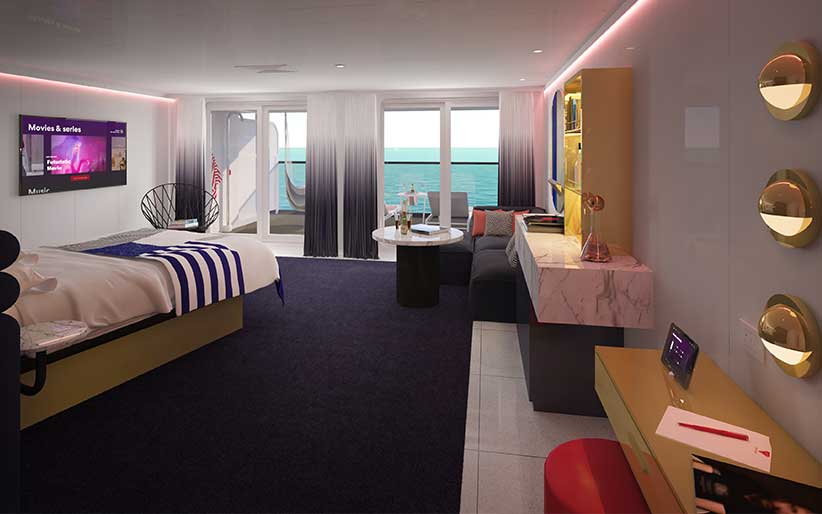 An impressive 93% of cabins have ocean views and all cabins include 4K TVs, configurable seabeds and glam areas.  You will be able to transform your room at the touch of a button as mood-matching lights and in-cabin tech come together to make your life easier.
Along their normal cabins, Sir Richard Branson's cruise line has released a preview of their 78 Tom Dixon-designed RockStar suites, which is inspired by mega yachts. The largest are the two Massive Suites featuring a guitar-clad music room, views of the ocean from every corner of the suite, hot tub, hammocks, star-gazing loungers and even a "runway" outdoor dining table replete with a staircase to help sailors make their way on top of the table for dancing. Touches of yacht materiality are sprinkled throughout the suites with real leather finishes, marble-clad bathrooms and Terrazzo flooring. Each suite is also equipped with a vinyl turntable.
Virgin Voyages Crew
They are hiring 1 150 crew from around the globe to take care of their 2 700 sailors aboard the Scarlet Lady.  The traditional cruise director role has been replaced by a group of staff ensuring you have the best cruise experience ever.
There will also be more female crew onboard the Scarlet Lady. Dee Cooper, Virgin Voyages' senior vice president of design, explained the plans to launch the "Scarlet Squad" programme, aimed at supporting female shipboard talent and growing opportunities to access leadership roles in onboard areas such as marine, technical and hotel management.
Virgin Voyages Entertainment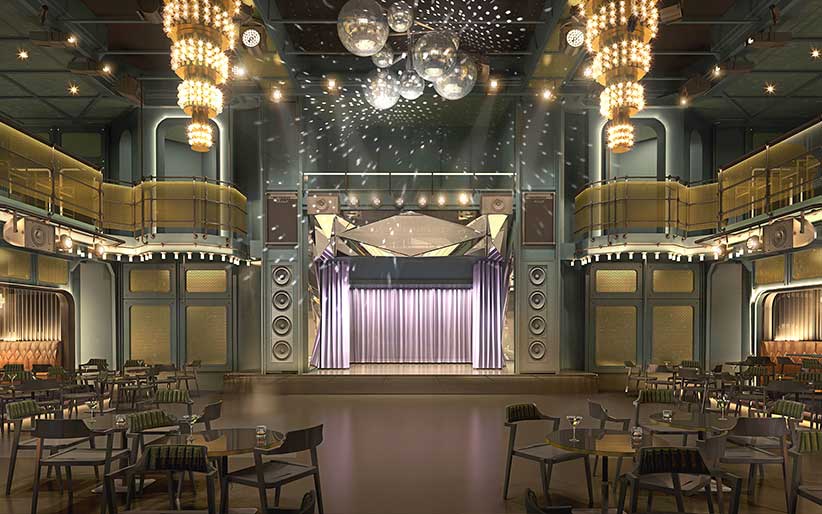 The Red Room Theatre
Virgin Voyages says its working with some of "the brightest creative minds who are pushing the boundaries of traditional theatre and entertainment on land". The main theatre, The Red Room, a larger-than-life entertainment space, is the first ever transformational, multi-form theatre at sea. Boundary-pushing performances on the traditional Proscenium stage or late-night dance parties on the flat-floor configuration – undiscovered experiences are always unfolding here. Meanwhile, Phantom Folktales, six micro plays that will be performed across the ship, should add some on board spontaneity.
The Manor
This two-story, three bar space, named after Richard's first recording studio, is inspired by a classic theatrical zeitgeist – layered with a moody 70s punk vibe. Ground-breaking shows will kick the night off before it transitions into a mind-blowing, goodbye-early-morning-workout nightclub.
Music Venues
Music is Virgin's first love, having been responsible for acts like the Rolling Stones, Sex Pistols, and many more. They have also turned many up-and-coming DJs into fully fledged superstars. "We're bringing that ethos, that belief in the weird and the daring, to our on-board acts," a spokesperson said.
Virgin Voyages Cuisine
Their first cruise ship, the Scarlet Lady, will have more than twenty dining options, including everything from casual eating up to haute cuisine.  And the best part is that it's all included in the fare.
A bonus is that they are the first cruise line to not do buffets, offering a lot more food on the go.  They have this fantastic section called the galley, which is a floating market of food-truck inspired, international vendors.  Room service is also available around the clock.
Everyone also gets to stay hydrated with free filtered still and sparkling water, non-pressed juices, sodas, teas or even drip coffee if you need a caffeine boost. And for those who enjoy the finer tastes in life, they also offer a premium drinks package. Think of shots of premium espresso, healthy wheatgrass shots and upmarket cocktails, all included in your package.
Its Drag Brunches, Razzle Dazzle, will be a hit with RuPaul fans. Scarlet Lady's resident drag performer and friends will offer entertainment and, for a small fee, guest can enjoy bottomless cocktails, such as "Yaaassss Queen".
They even have a cooking school at sea, called the Test Kitchen. This part restaurant, part cooking school is the place where you can try your hand at cooking classes or learn how to make the perfect cocktail or coffee. The Test Kitchen is also open for midnight snacks.
Virgin Voyages Activities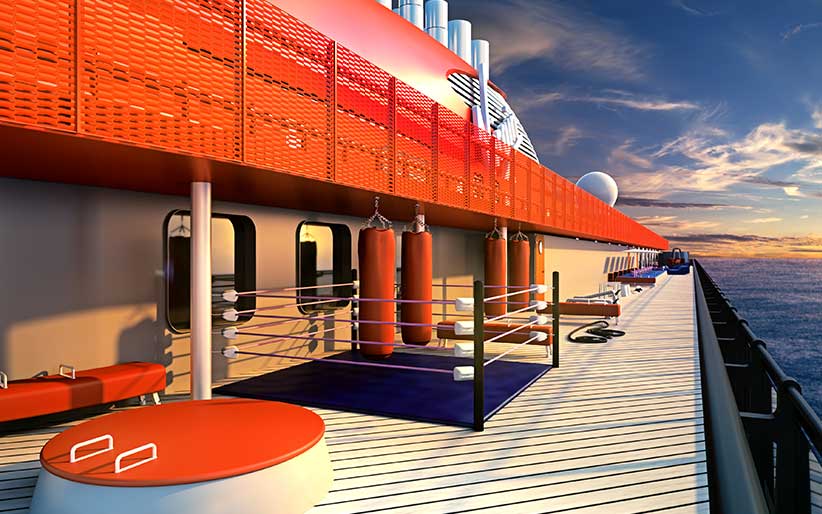 Virgin Voyages B-Complex Gym
Burn, Build, Balance or Bike, this gym has it all and then some. Plenty of weights, spinning, yoga, outdoor boxing, meditation, HITT workouts, wellness pool, and put door running track. For those keen to explore the islands a little more, there will be boating, snorkelling and wreck diving on offer as well as specifically curated hikes at their ports.
Virgin Voyages Redemption Spa
The Redemption Spa is cave-inspired and features hydrotherapy pools, mud room and quartz beds. It offers plenty of pampering options, including a blow dry bar, barbershop, male pedicure spa and mani-pedi spa.
Squid Ink Tattoo Parlour
If you want a lasting memento of your time at sea, head for Squid Ink tattoo parlour. Tattoo artist, Lou Rubino Jr, has handpicked two resident tattooists for the studio as well as a line-up of guest artists.
"Tattooing is a time-honoured seafaring tradition and we're continuing that legacy with rock and roll style by bringing some of the best ink artists to sea," Tom McAlpin, president and CEO of Virgin Voyages, said. "Our sailors are looking to make lifelong memories, and we think there's no better way to commemorate their first voyage with us than with a souvenir they'll never lose track of."
Virgin Voyages Impact on the Environment
Voyages is also doing everything in its power to be better for the environment. It starts with their clever cabins that are programmed to conserve energy automatically when you're not in them.
Then, to mark the single-use plastic ban at the ship's big reveal in Genoa, Branson crushed a giant plastic water bottle with a hammer. All their food is sustainably packaged, so you'll never feel guilty on the go.
Alongside the plastic ban, Virgin Voyages is developing clean energy technology. The line has recently ordered its fourth ship and each vessel will feature Azipod propulsion technology, which reduces fuel consumption by 15 percent.  It also has a partnership with Climeon, a Swedish start-up, with the aim of reducing carbon dioxide emissions by converting the heat from the ship's engines into electricity.
Booking your Virgin Voyages Cruise through Cruise Nation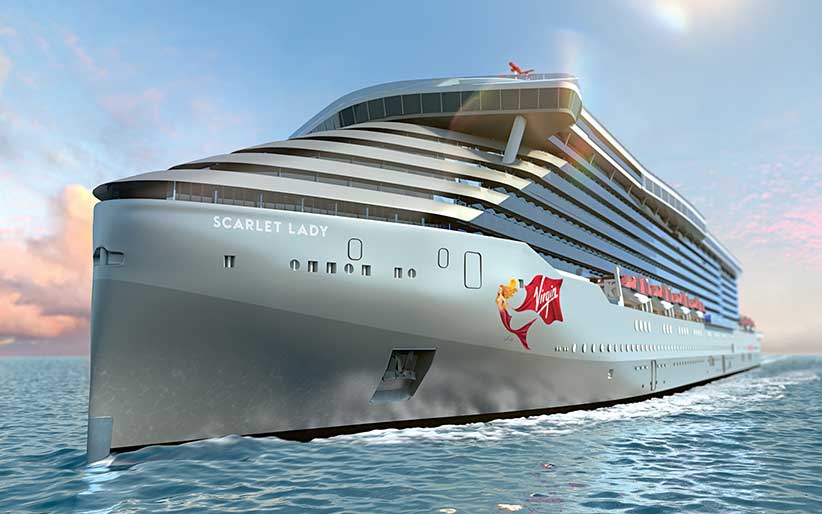 Virgin's first ship, the Scarlet Lady's inaugural season will be in the Caribbean with Havana, Cuba at the top of the agenda. Branson said: "Virgin Atlantic has been visiting Cuba for 13 years, and I cannot wait to see our iconic Scarlet Lady gleaming in the Havana harbour."
She'll set sail in 2020 for her inaugural season in the Caribbean and tickets are now available here – Virgin Voyages Cruise Deals. Prices start from £1,299 per person for an inside cabin for two, including Wi-Fi, basic non-alcoholic drinks, group fitness classes. With built-in tips, they also take the guesswork of taking care of your servers.
Cabins are expected to sell out fast, so the sooner you buy your ticket, the better.