A transatlantic sailing has remained a mystery to many, seven nights at sea, no ports of call, what could make this sailing so remarkable? From the moment you step foot onboard the world's only true ocean liner, the Queen Mary 2, you honestly feel like you've been transported to a different time.
Elegant yet contemporary the liner is one of a kind, the luxuriousness is deafening yet you still wouldn't feel out of place in shorts and a t-shirt. It can be as smart or as casual as you want it to be, but the evenings call for glamour as everyone dons their finest attire to eat and dance.
a sailing to remember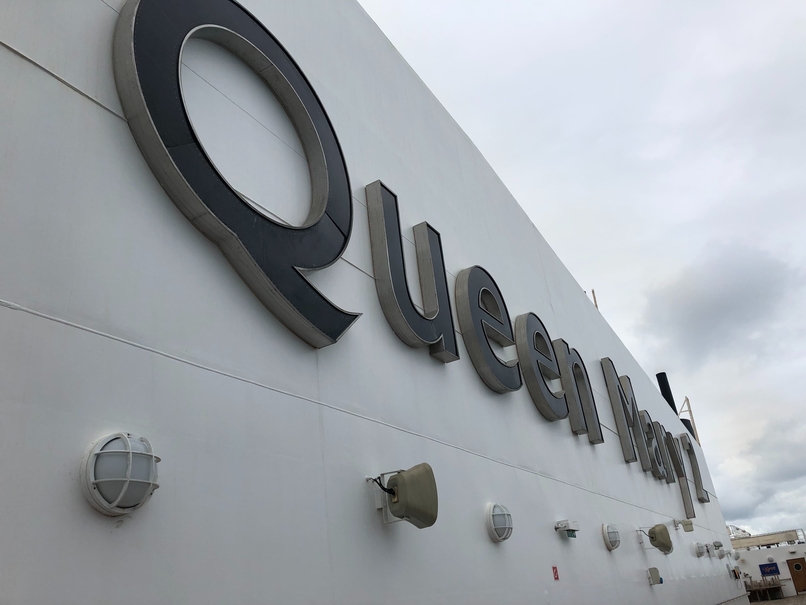 As you sail from Southampton grab a British flag and wave to the disappearing port and gaze on the approaching horizon which will be your view for seven nights. You'd think the seeing the same water every morning would be slightly monotonous, it is far from that. The horizon never changes but the sea itself does, from calm to choppy, the Queen Mary 2 will go through it all. Will you feel anything more than a slight wobble? Absolutely not. This liner was built for the toughest conditions so a bit of a rough sea is nothing for this magnificent structure. As you sip your champagne at the sail away party, it is clear to see the contrasting ages onboard. From couples celebrating their Gold wedding anniversary to young families with toddlers on shoulders, this is your cruise, make of it what you will.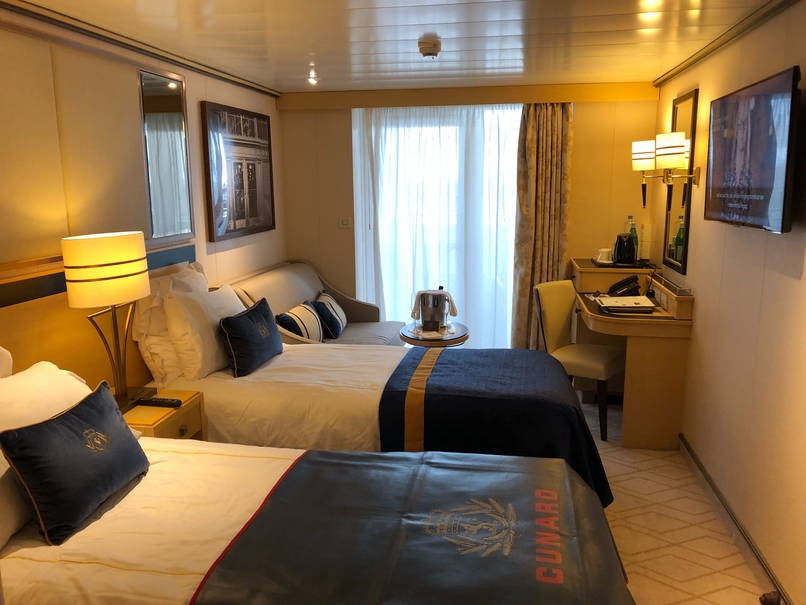 The first must-do onboard is a speciality dining option, the wonderful Steakhouse at The Verandah. Tucked away at the back of the ship this quaint restaurant offers some of the best meats onboard. With an extensive menu of steaks plus other traditional dishes such as roast chicken or pork chops, this is a must for any carnivore. Where else can you discuss your choice of steak with your waiter? Brought out to your table, you can see exactly what cut of steak you'll be having. You're advised on the best way to cook your steak with a bit of history as to where that cut of steak has come from. Whether it's the famous Wagyu beef or grass-fed Black Angus, you're sure to get a fantastic piece of steak. Once you've chosen your steak it's time to chose your knife, with various knife handles and blades this is as tailored a meal you'll ever get.
To work off last night's meal, head to the gym and spa. An expansive area which offers everything you could need, from treadmills to bikes to a selection of weights, this is the place to keep off those calories. If you're fancying a bit of scenery in your exercise take to the promenade, 3 laps of the ship equals one mile. So get your running shoes on and enjoy the waves crashing against the ship. If you're not really a gym person, don't fret, the ship offers a selection of sport based tournaments such as table tennis and golf. This means you can get some exercise but with a bit of competitiveness thrown in, and if you're just looking for something more casual, the table tennis tables are available all day in deck 12's Pavilion Pool.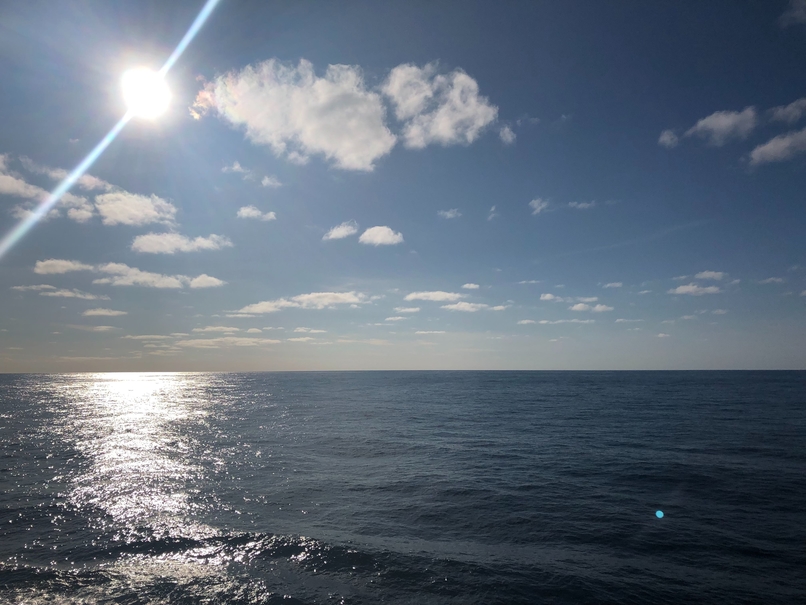 We all love a bit of competition and what's better than a pub quiz? There may be only one pub but there are many pub quizzes. If you're a quizzing novice, by the end of the week you'll be a pro. There are a selection of different quizzes from movies to music to general knowledge, the law of averages says you're bound to be good at one, right? Enjoy the atmosphere of the Golden Lion pub which is home to the quiz and some more fantastic food. It boasts a lunch menu which includes a variety of British classics such as cottage pie and chicken tikka masala. This is a must do but make sure to get your table early as it fills up very quickly! You won't only get some of the best food in the pub, you'll also get some of the best service. The service across the entire ship is incredible, from remembering your name and drink, to being able to have a laugh and enjoy their company, it is a class above. This is where the staff in the Golden Lion excel, it is clear they enjoy their jobs.
Enjoy the beauty of the Queen's Room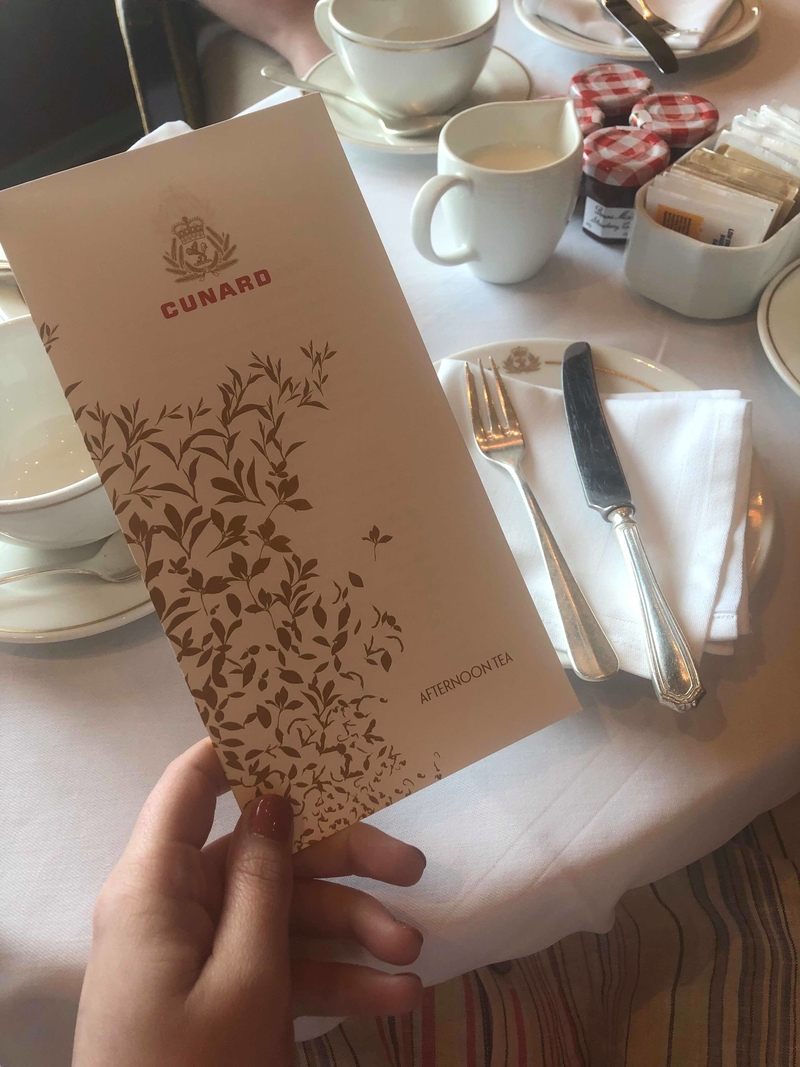 Once you've had your fill of food and laughs in the pub, it's time for one of three gala evenings onboard. Firstly, there's the Black and White Ball, as you can guess the theme is black and white, so everyone can get their best glad rags on and take to the dance floor to show off their best moves. Accompanied by a band of varying descriptions depending on the night, you can dance to your heart contents or enjoy watching from the comfort of the Queen's Room. Serving as a Zumba area in the morning, an afternoon tea venue in the afternoon and a hub of music in the evenings, the Queen's Room is one of the most versatile locations on ship. It's décor is grand yet understated with a grand chandelier hanging above the dance floor, there are worse places to Zumba. The afternoon tea is also a must do whilst at sea, served with white gloves and White Star Service by the wonderful staff, enjoy the taste canapes and sandwiches which will leave you always wanting more. There is a courtesy from the staff which is rare onboard some ships, not on the Queen Mary 2. Even if you're still in the Queen's Room from your Zumba or whether you've just been enjoying the view, the staff will not bother you whilst they set up. They will swarm around you, all the while you sit their oblivious that you could possibly be in the way. Bottomless tea is served, with the staff knowing your favourite canape and as soon as your plate is clear they'll be on hand to see if you'd like anymore. You will.
There's a lot more to do than eat onboard however, the ship offers a full daily programme with everything you could possibly imagine. Ever wanted to carve vegetables, try your hand at floristry or maybe learn a new type of dance? All this is available onboard. For the amateur dancers amongst us, line dancing offers a great introduction to dance. Join the 50 other people trying their hand at something new and loving it. A nice touch is playing a song you've learnt to dance to all week at the evening events in the Queen's Room. It can be your time to shine on the dance floor. Imagine stepping off the ship in New York with a plethora of new skills, skills you never knew you needed. You can also see the most talented people show off their skills in performances from RADA (Royal Academy of Dramatic Art) or musicians such as Elektra. Expand your horizons and watch something you normally wouldn't. The RADA performance of Much Ado About Nothing brought a classic play into the contemporary market with a unique take on a very much performed play.
applaud the arts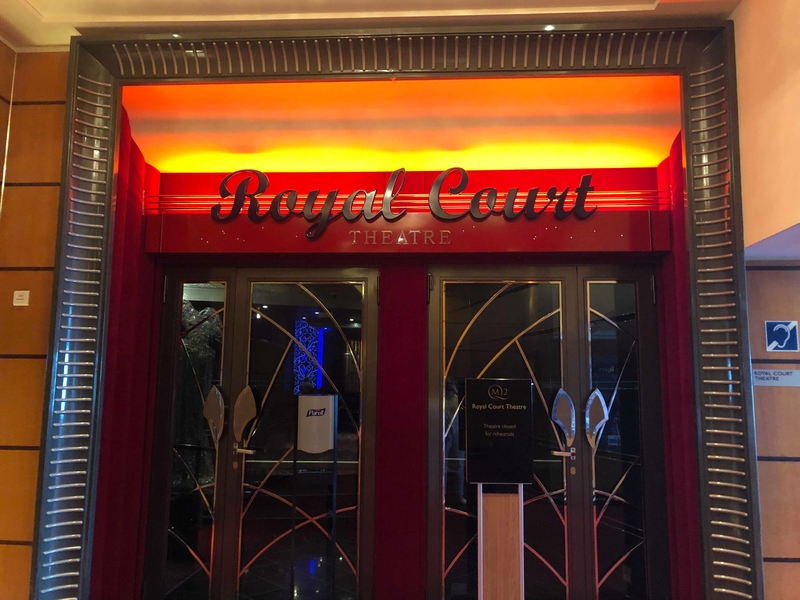 The home to the performances and musicians is the Royal Court Theatre, a large, luxurious theatre which wouldn't look out of place in the West End or on Broadway. You get a great view from every seat, with booths available so you can enjoy a drink whilst you appreciate the show you're about to watch. If it's a comedian like Roy Walker, who had the audience in raptures to a new musical show called Rhythm of the Night, each has their unique attraction for the guests. If something doesn't tickle your fancy one night, it will the next, and with all of the evening entertainment to chose from don't be afraid to wander the ship, you never know what you might find. In the pub you'll find the fantastic Stapleton Hill Duo singing the old classics and today's chart-toppers alike or you could find yourself enjoying a cocktail in one of the best places on ship.
Treat yourself to a cocktail or two
The Chart Room is a stunning, sprawling area full of comfortable seating, wonderful window views and an extensive cocktail menu. Boasting two different menus, afternoon and evening, you could have a Pina-choco Lada in the afternoon or a cocktail based on your star sign in the evening. The staff will break down each cocktail for you, so if you're cocktail knowledge is quite limited, don't fret, you'll know more by the time you leave due to the sheer extensive information from the staff. By giving your personal tastes, you can have a cocktail recommended for you. A cocktail you wouldn't have originally picked but is now on your must pick list when you next visit a bar. Home to a piano as well, you are sure to find someone extremely talented tickling the ivories, which serves as a lovely sound as you enjoy your cocktail whilst gazing out onto the Atlantic.
If your star sign cocktail has piqued your interest in space, then Illuminations is the next place for you. Boasting the largest Planetarium at Sea, sit, recline and appreciate the universe. There'll be several different shows, learn about the Dark Universe from Neil DeGrasse Tyson or asteroid exploration from Sigourney Weaver. You're not just watching a documentary, you're part of it as the planetarium lowers encompassing part of the theatre.
Enjoy a different favourite meal every night
No day would be complete without dining in the Britannia restaurant, Cunard is synonymous with food and the Queen Mary 2 does not disappoint. Enjoy a three course meal every evening or lunch time in the Queen Mary 2's main dining room. Its grandeur makes it an impressive eating area, with a huge picture of the Queen Mary 2 adorning the wall. The dinner served every night is top class, from extravagant starters to succulent mains, there is enough on the menu for every pallet. You will enjoy the company of the same waiters and sommeliers every evening so by the end of  the week they will know more about your eating habits than you! After you've enjoyed your meal and have slow danced in the Queen's Room, it's time to head to G32, Queen Mary 2's local nightclub, enjoy the club classics and request your favourite songs with their resident DJ. Open until late, you can party until the early hours with champagne, shots or your favourite cocktails. Make sure you don't miss it.
If you're feeling a big fragile from the night before, why not try the Canyon Ranch Spa, relax in the whirlpool, take a dip in the therapy or treat yourself to one of their numerous treatments. They're good value and why not treat yourself! With certain fares you'll be lucky enough to get onboard credit, which means you can treat yourself onboard for free. Cunard will cover it. What will you spend yours on? Maybe a spot of shopping, a nice massage or maybe a bottle of champagne.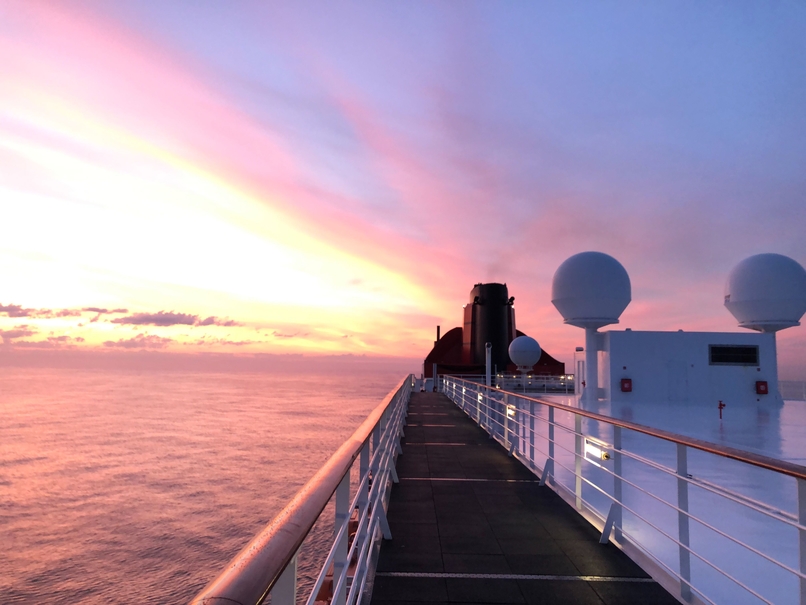 This little extra makes the sailing even more special. Cunard are all about the little things, learning your name, breakfast in bed, afternoon tea, an intellectual lecture, they're the small things which make the overall experience fantastic. You may think Cunard and a transatlantic is not for you, but imagine stepping off at your destination feeling invigorated and refreshed and more importantly full of some of the best food at sea. Sail by the Statue of Liberty and see the New York skyline in all it's glory all from the comfort of top deck. An incredible experience which needs to be experienced at least once. Cunard first and foremost do luxury, a luxury which isn't really replicated anywhere else at sea. Over 175 years of sailing means Cunard know how to do it, and they know how to do it well. A transatlantic cruise allows you to try new things and enjoy your favourite ones all the while relaxing in style and comfort.