The eagerly anticipated MSC mega ship, the MSC Meraviglia, has just had it's float out ceremony!
Last week the enormous MSC Meraviglia had its float-out ceremony in at the STX shipyard in France. Our Managing Director Phil Evans went along for the ceremony and for a look around the ship so far. Take a look at his pictures in the Facebook gallery below…
The Meraviglia is the first in a next generation of cruise ship for MSC cruise line. There's a significant focus on technology and leisure services which can be seen by the investment MSC have made in a partnership with fitness industry leader Technogym along with features around the ship including a giant LED screen ceiling which is designed to portray the sky outside. We've covered the new features that will be coming to the Meraviglia in our blog about the 11 new ships that MSC currently have on order. What many cruisers will appreciate about the new Meraviglia is the increased options for accommodation on board. There's a variety of different sized staterooms with varying facilities so that any cruiser can find something to suit.
Gianni Onorato, MSC Cruises Chief Executive Officer, commented: "MSC Meraviglia touched for the first time by water, a moment that symbolises the real "birth" of a ship."

MSC cruise line along with travel partners and industry journalists celebrated the float out of the MSC Meraviglia which is due to come into service in June 2017. The ceremony was attended by, amongst others esteemed MSC Cruises and STX France guests, Senator of Pays de la Loire Region, Bruno Retailleau, General Council President of Loire Atlantique, Philippe Grosvalet and the Mayor of Saint-Nazaire, David Samzun.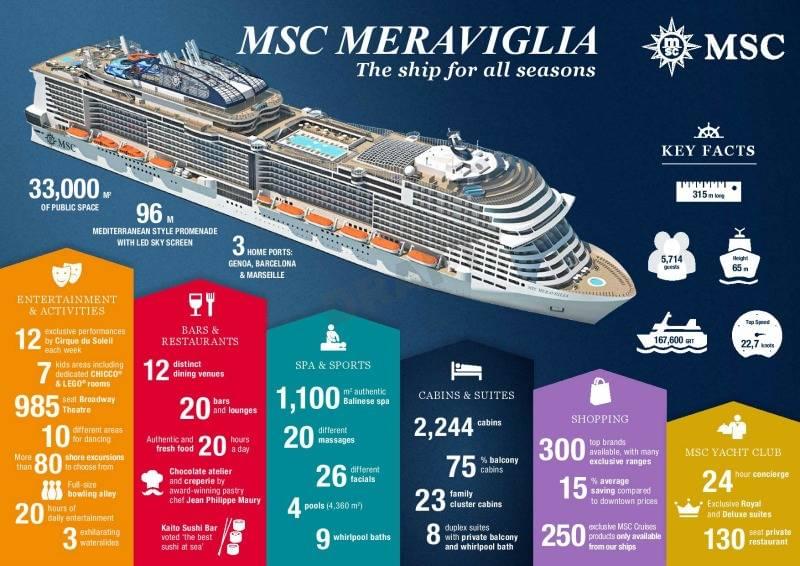 Mr Onorato concluded: "Since we opened sales last year for MSC Meraviglia's inaugural season in the Western Mediterranean, from the very beginning demand has been extremely encouraging. This makes us believe that this is a generation of ships with a bright future ahead, that has already caught the attention of holidaymakers from all markets."
Laurent Castaing, President of STX France, commented: "We are extremely proud to design and build MSC CRUISES' next generations of cruise ships. We are aware and thankful for the trust this amazing company has in our innovation ability. It's been more than 12 years that our industrial partnership has started, and we are always excited by the challenges of fulfilling MSC ambitions."
The float out is a key milestone in the construction of a ship: the dry dock is flooded, the ship is moved to a wet dock, where she then enters the final phase of her construction. Today's event presented a unique opportunity to showcase guests and global media alike the cutting edge design that makes the Meraviglia generation of MSC Cruises ultramodern mega-ships uniquely innovative, and a true destination in itself. This includes, amongst her many on-board features, the specially designed Carousel Lounge where Cirque du Soleil artists will perform shows created exclusively for MSC Cruises guests, a 96 metre-long Mediterranean-style promenade with an 80 metre LED sky that runs through the centre of the ship as well as an enhanced MSC Yacht Club – MSC Cruises' exclusive ship-in-ship luxury concept.
Things to Know About the MSC Meraviglia
Total capacity of 5,714 guests
 Itineraries around the west Mediterranean beginning June 2017
Three home ports (Marseille, Genoa & Barcelona)
Ability to call at all major cruise ports in the world
An average of 10.3 sqm of public space per guest
96m Mediterranean-style indoor promenade featuring multiple bars, restaurants and shops, with;
An 80 metre LED sky (the longest at sea) with daily shows and animations
Two exclusive Cirque du Soleil shows each night just for MSC Cruises guests, six nights a week
Purpose-built Carousel Lounge with 180 degree glass wall capable of holding 120 guests for dinner and an additional 290 seated guests for drinks
Super amusement park and children's area altogether on one deck for the first time
DOREMI Studio Lab broadcasting live entertainment throughout the ship as well as acting as a central hub for family activities
DOREMI Tech Lab allowing children to experience some of the latest technology
Continued partnership with the LEGO Group offering 'The LEGO Experience On-board' and themed children's area
Continued partnership with Chicco to provide facilities for babies and their families
Three action-packed waterslides, including;
-'Champagne Bowl' high-speed waterslide and the Himalayan Bridge crossing the width of the deck
Three pools including;
-Atmosphere Pool: 25m long main pool on-deck
-Bamboo Pool: 10m indoor pool with retractable roof
-Horizon Pool, which transforms into dance space at night
Most generous poolside space on any ship at sea
Total of 2,244 cabins
75% of these cabins with balconies
14 different types of cabin, something to suit every guest
Modular cabins capable of joining up to 3 cabins to accommodate up to 10 people
Enhanced MSC Yacht Club 'Ship within a ship' concept offering added exclusivity and privacy
-78 suites and 15 inside cabins
-24 hour butler service
-2 apartments (with large living room, 2 balconies with dining facilities and private whirlpool)
-Exclusive treatment room in the MSC Aurea Spa
-Private pool and sunbathing area on the ships highest deck
– Private restaurant
12 distinct dining venues serving a wide range of international and Mediterranean cuisines
My Choice Dining – added dinner flexibility with the ability to choose from eight sittings each night at selected restaurants
Chocolate atelier and creperie by award-winning pastry chef Jean Philippe Maury
Buffet serving fresh and authentic food 20 hours a day
-Wellness corner serving balanced and nutritious meals specifically designed to suit the Wellness experience on-board
-Ability to cater for groups with special dietary requirements
3 new speciality restaurants including
-Award-winning Kaito Sushi
– Kaito Teppanyaki
– Butcher's Cut – American steakhouse
If you're interested in a cruise on the MSC Meraviglia, check out our dedicated page to the ship which features available sailing dates for next year.