A STUNNING TROPICAL HAVEN
Offering the ultimate sun, sea and sand adventure, Hawaii gives cruisers a unique combination of relaxed daytime pursuits and excellent cosmopolitan culture. Cruise Nation are proud to offer a range of cruise packages to this part of the world.
There is little doubt that Hawaii has one of the most beautiful landscapes in the world. Filled with drama and awe - you will have the chance to visit monumental volcanoes, luscious tropical forests, and tranquil beaches throughout your cruise. Despite comprising of only eight different islands, Hawaii has a rich and vibrant cultural history. The islands have been continually inhabited for over 1,500 years - ever since Polynesians settled in this area from the Marquesas Islands. Since then, Hawaii has seen a variety of settlers come and go - including the Tahiti, British, Japanese, Filipino and Portuguese. The pineapple and sugar industry helped put Hawaii on the map, and its influx of merchants and travellers has given Hawaii a rich heritage and diversity - making it one of the most popular cruise destinations in the world.
When people mention paradise, it's often Hawaii's dream-like islands that come to mind. The remote, volcanic U.S. state is famed for its tropical shores, rugged cliffs and multi-coloured sands, ranging from gold to black and even red. Comprising of eight islands, most sun-seekers head for either Oahu and the beaches of Honolulu - the nation's capital - or Maui, but when you book a great value Hawaiian cruise through Cruise Nation, you'll be able to see these beautiful islands and many more. From Hawaii "The Big Island" to "The Friendly Island" of Molokai, everyone who visits this incredible part of the world leaves with their own favourite Hawaiian destination. Hawaii is home to settlers from all over the world, including the British, Japanese and Portuguese, giving the islands a unique and diverse cultural appeal. From fascinating local traditions to delicious fresh food, outstanding surfing to volcano trekking, these tropical islands have something to ensure visitors of all ages have fun in the sun.
CRUISE NATION
Alongside our popular Caribbean cruises, our Hawaii cruise deals are some of our customer's favourite offers, allowing passengers to experience paradise for a fraction of the cost they might expect. Here at Cruise Nation, we are committed to delivering the best cheap cruise deals to the world's most exciting holiday destinations, so whether you're looking for adventurous Polar Region Cruises, cruises to the Far East or New England cruises, we have locations to suit every kind of traveller. Our Hawaii cruises also give passengers the opportunity to explore other popular locations either before or after they embark on their journey, including North America and the South Pacific. Book one of our amazing value Cruise and Stay packages to Hawaii and enjoy free accommodation in America's best cities, including stays in San Francisco, LA and Las Vegas. With a Hawaii cruise which takes in the best of the South Pacific too, passengers will find themselves sailing through the paradise islands of Tahiti, Bora Bora and more after they have visited Hawaii, allowing even more time to explore some of the world's most luxurious, tropical destinations. With luxury last minute cruises, great deals on family cruises and low cost all inclusive cruises to Hawaii, Cruise Nation has a cruise to suit every budget.
HIGHLIGHTS OF HAWAII
With eight beautiful islands to see, you'll find our Hawaiian cruise deals take you to some of the most cosmopolitan cities, deserted beaches and incredible volcanic landscapes this region has to offer. Find out more about just a few of the highlights you can discover on one of our low cost Hawaiian cruises:
HAWAII, THE "BIG ISLAND"
Dubbed the "Big Island" so as not to be confused with the region in general, the island of Hawaii is one of the largest in the U.S., and is particularly famous for its incredibly colourful stretches of sand. Visit the unusual black sands of Punaluu Beach or experience the entirely unique sands of the beach at Papakolea – where olivine crystals in the lava rock make the sand appear green. Hawaii is also home to two active volcanoes, Kilauea and Mauna Loa, found within the aptly named Hawaii Volcanoes National Park. If you're looking for a little history and culture, the west coast town of Kailua-Kona is home to the 19th century Hulihee Palace and Mokuaikaua Church, Hawaii's oldest Christian place of worship.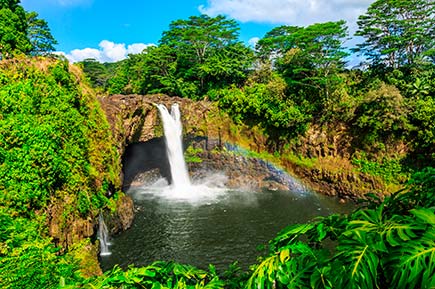 OAHU
Known as the "gathering place", Oahu is Hawaii's busiest and most populated island, with a well-earned reputation for being the ultimate holiday destination. Famous Waikiki beach in Honolulu, is popular with both surfers and sunbathers alike, and the whole beachside area comes alive at night with an array of cocktail bars, restaurants and table-side hula shows. If the buzzing Honolulu is a little too loud, Oahu's north shore is famed for its rugged coast and amazing surf – it's here that many of the world's pro surfers come to catch a wave. The island has plenty to offer history buffs too, with the iconic Pearl Harbor and top-rated Pacific Aviation Museum Pearl Harbor just a 40-minute drive away from Honolulu. Those who like to keep active will find never-ending options for water and land based activities, from skydiving and windsurfing to kayaking and hang gliding.
MOLOKAI
Considered by some as the last "true" Hawaiian island, Molokai has been left relatively untouched by tourism and development – making it the perfect destination for those who like to leave the crowds behind. Nicknamed the "Friendly Island", Molokai is the fifth largest of Hawaii's islands and has a population of fewer than 10,000 locals. Living up to its nickname, this slice of paradise is home to some of the most welcoming Hawaiians you'll ever meet, so expect "alohas" at every encounter. Believed to be the birthplace of hula, Molokai offers an authentic look at Hawaii before the masses, with beautiful beaches, incredible waterfalls and colourful coral reefs for snorkelling and kayaking.
LANAI
It might be the smallest of Hawaii's inhabited islands, but Lanai offers big rewards for those who make the nine-mile trip from neighbouring Maui. With luxury resorts, private beaches and a championship golf course on one side, the island is a mini-paradise for those who like to travel in style. For those who prefer to get off the beaten track, Lanai's less developed corners are home to lush forests and incredible snorkelling bays. No matter which kind of trip to the island you choose, you're guaranteed to fall in love with the laid-back, Lanai style.
MAUI
Known for gorgeous stretches of golden sand, the iconic Haleakalā volcano and the, now world-famous, Road to Hana, Maui offers an entirely different experience to that of her bigger sister Oahu, whilst still providing all of her friendliness, traditions and charm. Plenty of surfers can be found up and down the coasts of Maui, as well as mountain bikers, snorkelers and hikers – all of whom come to take advantage of the island's diverse and wonderful natural landscapes. Road tripping to Hana, on the infamously twisty, narrow 64.4-mile stretch of Hawaii Routes 36 has become something of a Maui must but for less confident drivers, tours can be organised to navigate the road's many bridges and one-track passing. Another unmissable sight is Maui's volcano, Haleakalā, which rise to over 10,000 ft. Although not for the faint hearted, the sunrise from Haleakalā's summit is said to be one of the most magical in the world.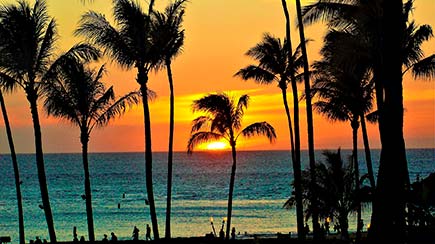 From the blog...
We're just checking with our authors to see what the latest is...
Let our cruise experts keep you up to date about the latest cruise industry news, the most luxurious new ships, and the hottest deals.
Visit the blog