THE BIG GREEK SALE
BIGGEST LOWEST PRICE SALE EVER
Save up to 53% on select cruises*
2 amazing excursions
Unlimited classic drinks
Onboard dining
Taxes and gratuities
AND, 1 BIG authentic Greek experience!
Book before 11th July 2022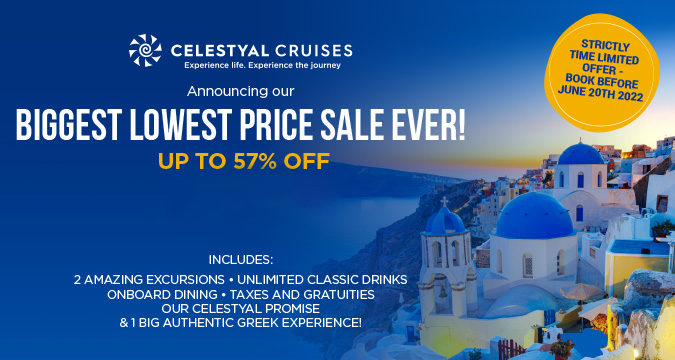 CELESTYAL CRUISES
Discover Celestyal Cruises
Experience breathtaking destinations, outstanding Greek hospitality and two enchanting cruise ships when you cruise with Celestyal Cruises.
Destinations
Celestyal specialise in sailing the Greek Isles and Eastern Mediterranean. As their ships are smaller than your average, they can visit unspoilt destinations that some larger ships cannot such as Patmos, Samos and Milos. As well as this, they still visit familiar favourites such as Santorini, Crete and Rhodes. In the Eastern Mediterranean, ancient sites, culture and cuisine awaits at Istabul, Cannakale, Kusadasi (Turkey), Cyprus, Ashdod (Israel), Port Said and Alexandria (Egypt).
AN INCLUSIVE EXPERIENCE
No extra costs
With Celestyal, your drinks, food, a selection of excursions, port charges and gratuities are all included in your cruise fare meaning you can relax and enjoy yourself!
The Unlimited Alcoholic and Non-Alcoholic drinks package includes a variety of beverages including spirits (whiskies, gin, rum, vodka, tequila for example), beer and wine and liqueurs. Under-18s will automatically receive a non-alcoholic drinks package featuring sparkling and mineral water, soft drinks, juices, cocktails, teas and coffees.
Your cruise will include three meals a day - breakfast, lunch and dinner, each lovingly prepared by the onboard chefs and served in the atmospheric dining rooms. Where possible they will always try to use the finest local ingredients so you can be sure you'll receive an authentic gastronomic experience.