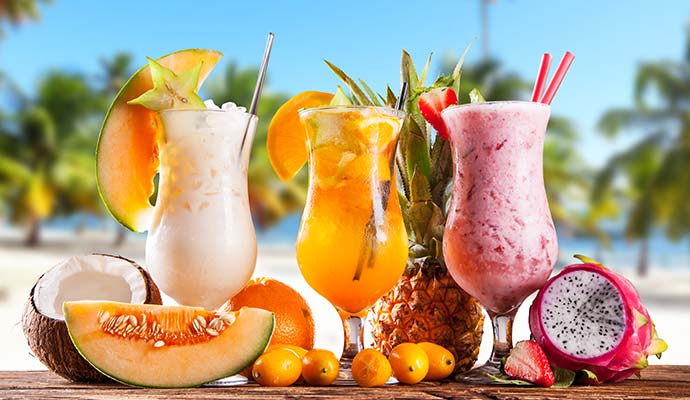 Fantastic FREE Drinks with MSC!
From the 12th December 2018 to 17th March 2019, we're giving away FREE Drinks worth up to £500 on all MSC bookings when you book a Fantastica stateroom!
There are a range of destinations on offer throughout Summer 2019 and Winter 2019-2020 including the mediterranean, Caribbean, Cuba and the Emirates.
Cruise Deals departing in
Departure
What's Included?
Price (From)

4nts Lake Garda & 7nt Mediterranean Magnificence

MSC Magnifica | 11 nights

15 May 19

Pre-Cruise Flight Included

Pre-Cruise Hotel 4night(s) Included

Post-Cruise Flight Included

£

CALL

View Deal

Europe, Mediterranean

MSC Magnifica

MSC Cruises

Venice

-

Bari

-

Katakolon

-

Santorini Island

-

Athens (Piraeus)

-

Corfu

-

Kotor

-

Venice

2nts Venice & 7nts Magnificent Med

MSC Magnifica | 9 nights

24 May 19

Pre-Cruise Flight Included

Pre-Cruise Hotel 2night(s) Included

£

CALL

View Deal

Europe, Mediterranean

MSC Magnifica

MSC Cruises

Venice

-

Bari

-

Katakolon

-

Santorini Island

-

Athens (Piraeus)

-

Corfu

-

Kotor

-

Venice

4nts Lake Garda & 7nt Mediterranean Magnificence

MSC Magnifica | 11 nights

10 Jul 19

Pre-Cruise Flight Included

Pre-Cruise Hotel 4night(s) Included

Post-Cruise Flight Included

£

CALL

View Deal

Europe, Mediterranean

MSC Magnifica

MSC Cruises

Venice

-

Bari

-

Katakolon

-

Santorini Island

-

Athens (Piraeus)

-

Corfu

-

Kotor

-

Venice

4nts Lake Garda & 7nt Mediterranean Magnificence

MSC Magnifica | 11 nights

25 Sep 19

Pre-Cruise Flight Included

Pre-Cruise Hotel 4night(s) Included

Post-Cruise Flight Included

£

CALL

View Deal

Europe, Mediterranean

MSC Magnifica

MSC Cruises

Venice

-

Bari

-

Katakolon

-

Santorini Island

-

Athens (Piraeus)

-

Corfu

-

Kotor

-

Venice

4nts Lake Garda & 7nt Mediterranean Magnificence

MSC Magnifica | 11 nights

02 Oct 19

Pre-Cruise Flight Included

Pre-Cruise Hotel 4night(s) Included

Post-Cruise Flight Included

£

CALL

View Deal

Europe, Mediterranean

MSC Magnifica

MSC Cruises

Venice

-

Bari

-

Katakolon

-

Santorini Island

-

Athens (Piraeus)

-

Corfu

-

Kotor

-

Venice

4nts Lake Garda & 7nt Mediterranean Magnificence

MSC Magnifica | 11 nights

16 Oct 19

Pre-Cruise Flight Included

Pre-Cruise Hotel 4night(s) Included

Post-Cruise Flight Included

£

CALL

View Deal

Europe, Mediterranean

MSC Magnifica

MSC Cruises

Venice

-

Bari

-

Katakolon

-

Santorini Island

-

Athens (Piraeus)

-

Corfu

-

Kotor

-

Venice

4nts Lake Garda & 7nt Mediterranean Magnificence

MSC Magnifica | 11 nights

23 Oct 19

Pre-Cruise Flight Included

Pre-Cruise Hotel 4night(s) Included

Post-Cruise Flight Included

£

CALL

View Deal

Europe, Mediterranean

MSC Magnifica

MSC Cruises

Venice

-

Bari

-

Katakolon

-

Santorini Island

-

Athens (Piraeus)

-

Corfu

-

Kotor

-

Venice

August Taster Cruise

Hamburg

-

Le Havre

-

Southampton

MSC Preziosa | 4 nights

17 Aug 19

FREE centrally located handpicked hotel stay
Flights Included

£

229

View Deal

Europe

MSC Preziosa

MSC Cruises

Hamburg

-

Le Havre

-

Southampton

Hamburg Stay & August Taster

Hamburg

-

Le Havre

-

Southampton

MSC Preziosa | 5 nights

16 Aug 19

FREE centrally located handpicked hotel stay
Flights Included
Upgrade to Fantastica & get Free Drinks package

£

299

View Deal

Europe

MSC Preziosa

MSC Cruises

Hamburg

-

Le Havre

-

Southampton

Hamburg 2nt Stay & 3nt Kiel to Southampton

Kiel

-

Copenhagen

-

Southampton

MSC Meraviglia | 5 nights

19 Sep 19

FREE centrally located handpicked hotel stay
Flights Included

£

329

View Deal

Mediterranean

MSC Meraviglia

MSC Cruises

Kiel

-

Copenhagen

-

Southampton

Marseille 2nt Stay & 3nt Med Taster

Marseille

-

Ibiza

-

Barcelona

-

Genoa

MSC Orchestra | 5 nights

07 Oct 19

FREE centrally located handpicked hotel stay
Flights Included

£

349

View Deal

Europe

MSC Orchestra

MSC Cruises

Marseille

-

Ibiza

-

Barcelona

-

Genoa

5nt Hamburg to Southampton

Hamburg

-

Le Havre

-

Southampton

MSC Preziosa | 5 nights

25 Apr 19

FREE centrally located handpicked hotel stay
Flights Included
Free Premium Drinks Package worth £110pp

£

369

View Deal

Europe, United Kingdom

MSC Preziosa

MSC Cruises

Hamburg

-

Le Havre

-

Southampton

Venice & Adriatic Explorer

Venice

-

Zadar, Croatia

-

Kotor

-

Ravenna

-

Venice

MSC Lirica | 5 nights

03 Apr 19

FREE centrally located handpicked hotel stay
Flights Included
Upgrade to Fantastica & get Free Drinks package
Free Upgrade to Oceanview Cabin

£

369

View Deal

Europe, Mediterranean

MSC Lirica

MSC Cruises

Venice

-

Zadar, Croatia

-

Kotor

-

Ravenna

-

Venice

Inaugural Sailing & Lisbon Stay

Southampton

-

La Coruna

-

Lisbon

MSC Bellissima | 6 nights

04 Mar 19

FREE centrally located handpicked hotel stay
Flights Included
Free Balcony Upgrade
Brand New Ship!
Upgrade to Fantastica & get Free Drinks package

£

369

View Deal

Europe, Iberian Peninsula

MSC Bellissima

MSC Cruises

Southampton

-

La Coruna

-

Lisbon

Hamburg Stay & All Inclusive Holiday

Hamburg

-

Le Havre

-

Southampton

MSC Preziosa | 6 nights

24 Apr 19

FREE centrally located handpicked hotel stay
Flights Included
Free Premium Drinks Package worth £110pp

£

399

View Deal

Europe, United Kingdom

MSC Preziosa

MSC Cruises

Hamburg

-

Le Havre

-

Southampton

4nt Italy & Croatia

Venice

-

Bari

-

Zadar, Croatia

-

Venice

MSC Lirica | 4 nights

24 Oct 19

FREE centrally located handpicked hotel stay
Flights Included
Upgrade to Fantastica & get Free Drinks package

£

399

View Deal

Europe, Mediterranean

MSC Lirica

MSC Cruises

Venice

-

Bari

-

Zadar, Croatia

-

Venice

Inaugural Sailing & Lisbon Stay

Southampton

-

La Coruna

-

Lisbon

MSC Bellissima | 8 nights

04 Mar 19

FREE centrally located handpicked hotel stay
Flights Included
Brand New Ship!
Free Upgrade to Oceanview Cabin
Upgrade to Fantastica & get Free Drinks package

£

399

View Deal

Europe, Iberian Peninsula

MSC Bellissima

MSC Cruises

Southampton

-

La Coruna

-

Lisbon

Venice & Adriatic Taster

Venice

-

Zadar, Croatia

-

Kotor

-

Ravenna

-

Venice

MSC Lirica | 6 nights

02 Apr 19

FREE centrally located handpicked hotel stay
Flights Included
Free Upgrade to Oceanview Cabin
Upgrade to Fantastica & get Free Drinks package

£

399

View Deal

Europe, Mediterranean

MSC Lirica

MSC Cruises

Venice

-

Zadar, Croatia

-

Kotor

-

Ravenna

-

Venice

4nt Italy, Slovenia, Croatia

Venice

-

Koper

-

Zadar, Croatia

-

Venice

MSC Orchestra | 4 nights

12 May 20

FREE centrally located handpicked hotel stay
Flights Included

£

429

View Deal

Mediterranean

MSC Orchestra

MSC Cruises

Venice

-

Koper

-

Zadar, Croatia

-

Venice

1nt Barcelona Stay with a Mini Med Cruise

Barcelona

-

Genoa

-

Marseille

-

Barcelona

MSC Poesia | 4 nights

30 Sep 20

FREE centrally located handpicked hotel stay
Flights Included

£

429

View Deal

Europe, Mediterranean

MSC Poesia

MSC Cruises

Barcelona

-

Genoa

-

Marseille

-

Barcelona

7nt Northern Europe

Southampton

-

Zeebrugge

-

Amsterdam

-

Hamburg

-

Le Havre

-

Southampton

MSC Preziosa | 7 nights

07 Oct 20

No Fly Cruise
Child price from only £119pp

£

449

View Deal

Europe

MSC Preziosa

MSC Cruises

Southampton

-

Zeebrugge

-

Amsterdam

-

Hamburg

-

Le Havre

-

Southampton

7nt Northern Europe

Southampton

-

Zeebrugge

-

Amsterdam

-

Hamburg

-

Le Havre

-

Southampton

MSC Preziosa | 7 nights

14 Oct 20

No Fly Cruise
Child price from only £119pp

£

449

View Deal

Europe

MSC Preziosa

MSC Cruises

Southampton

-

Zeebrugge

-

Amsterdam

-

Hamburg

-

Le Havre

-

Southampton

7nt Portugal, Spain, France & Italy with Stays

Lisbon

-

Barcelona

-

Marseille

-

Genoa

MSC Preziosa | 7 nights

10 Nov 19

FREE centrally located handpicked hotel stay
Flights Included
Free Premium Drinks Package worth £145pp

£

449

View Deal

Europe, Mediterranean

MSC Preziosa

MSC Cruises

Lisbon

-

Barcelona

-

Marseille

-

Genoa

Barcelona 3nt Stay & 3nt Spain,France & Italy

Barcelona

-

Marseille

-

Genoa

-

Barcelona

MSC Preziosa | 6 nights

11 Nov 19

FREE centrally located handpicked hotel stay
Flights Included
Upgrade to Fantastica & get Free Drinks package

£

449

View Deal

Europe, Mediterranean

MSC Preziosa

MSC Cruises

Barcelona

-

Marseille

-

Genoa

-

Barcelona

Southampton to Hamburg & Hamburg Stay

Southampton

-

Zeebrugge

-

Rotterdam

-

Hamburg

MSC Preziosa | 4 nights

22 May 19

FREE centrally located handpicked hotel stay
Flights Included
Upgrade to Fantastica cabin & get Premium Drinks Package worth £145pp

£

449

View Deal

Europe

MSC Preziosa

MSC Cruises

Southampton

-

Zeebrugge

-

Rotterdam

-

Hamburg

South of France & Spanish Cathedrals

Cannes

-

Palma De Mallorca

-

Barcelona

MSC Seaview | 7 nights

11 Nov 19

FREE centrally located handpicked hotel stay
Flights Included
Free All Inclusive

£

449

View Deal

Europe, Mediterranean

MSC Seaview

MSC Cruises

Cannes

-

Palma De Mallorca

-

Barcelona

1nt Barcelona Stay with a Mini Med Cruise

Barcelona

-

Genoa

-

Marseille

-

Barcelona

MSC Poesia | 4 nights

23 Sep 20

FREE centrally located handpicked hotel stay
Flights Included

£

449

View Deal

Europe, Mediterranean

MSC Poesia

MSC Cruises

Barcelona

-

Genoa

-

Marseille

-

Barcelona

Venice, Dubrovnik, Kotor & Zadar

Venice

-

Kotor

-

Dubrovnik

-

Zadar, Croatia

-

Venice

MSC Opera | 5 nights

30 Oct 19

FREE centrally located handpicked hotel stay
Flights Included

£

469

View Deal

Europe, Mediterranean

MSC Opera

MSC Cruises

Venice

-

Kotor

-

Dubrovnik

-

Zadar, Croatia

-

Venice

New Ship Taster & Marseille Stay

Marseille

-

Genoa

-

Barcelona

-

Marseille

MSC Bellissima | 6 nights

13 Mar 19

FREE centrally located handpicked hotel stay
Flights Included
Brand New Ship!
Free Upgrade to Oceanview Cabin

£

469

View Deal

Europe, Mediterranean

MSC Bellissima

MSC Cruises

Marseille

-

Genoa

-

Barcelona

-

Marseille

Venice and Adriatic Taster

Venice

-

Bari

-

Zadar, Croatia

-

Venice

MSC Lirica | 6 nights

22 Oct 19

FREE centrally located handpicked hotel stay
Flights Included
Upgrade to Fantastica & get Free Drinks package

£

479

View Deal

Europe, Mediterranean

MSC Lirica

MSC Cruises

Venice

-

Bari

-

Zadar, Croatia

-

Venice

3nt Venice Stay & 3nt Italy & Slovenia

Venice

-

Bari

-

Koper

-

Venice

MSC Lirica | 6 nights

18 Jun 19

FREE centrally located handpicked hotel stay
Flights Included
Free Upgrade to Oceanview Cabin
Free Premium Drinks Package worth £110pp

£

479

View Deal

Europe, Mediterranean

MSC Lirica

MSC Cruises

Venice

-

Bari

-

Koper

-

Venice

2nt Barcelona & 3nt Mini Med Cruise

Barcelona

-

Genoa

-

Marseille

-

Barcelona

MSC Orchestra | 5 nights

23 Sep 19

FREE centrally located handpicked hotel stay
Flights Included

£

479

View Deal

Europe, Mediterranean

MSC Orchestra

MSC Cruises

Barcelona

-

Genoa

-

Marseille

-

Barcelona

Hamburg to Lisbon

Hamburg

-

Le Havre

-

Southampton

-

St Peter Port, UK

-

Brest

-

Lisbon

MSC Preziosa | 9 nights

25 Apr 19

FREE centrally located handpicked hotel stay
Flights Included

£

479

View Deal

Europe, United Kingdom, Iberian Peninsula

MSC Preziosa

MSC Cruises

Hamburg

-

Le Havre

-

Southampton

-

St Peter Port, UK

-

Brest

-

Lisbon

3nt Lake Garda Stay & 3nt Italy & Slovenia

Venice

-

Bari

-

Koper

-

Venice

MSC Lirica | 6 nights

18 Jun 19

FREE centrally located handpicked hotel stay
Flights Included

£

499

View Deal

Europe, Mediterranean

MSC Lirica

MSC Cruises

Venice

-

Bari

-

Koper

-

Venice

7nt Northern Europe

Southampton

-

Zeebrugge

-

Amsterdam

-

Hamburg

-

Le Havre

-

Southampton

MSC Preziosa | 7 nights

06 May 20

No Fly Cruise
Child price from only £119pp

£

499

View Deal

Europe

MSC Preziosa

MSC Cruises

Southampton

-

Zeebrugge

-

Amsterdam

-

Hamburg

-

Le Havre

-

Southampton

7nt Northern Europe

Southampton

-

Zeebrugge

-

Amsterdam

-

Hamburg

-

Le Havre

-

Southampton

MSC Preziosa | 7 nights

13 May 20

No Fly Cruise
Child price from only £119pp

£

499

View Deal

Europe

MSC Preziosa

MSC Cruises

Southampton

-

Zeebrugge

-

Amsterdam

-

Hamburg

-

Le Havre

-

Southampton

Med Cities & South Of France Stay

Marseille

-

Genoa

-

Rome (Civitavecchia)

-

Palermo

-

Malta (La Valletta)

-

Barcelona

-

Marseille

MSC Meraviglia | 9 nights

08 Mar 19

FREE centrally located handpicked hotel stay
Flights Included

£

499

View Deal

Europe, Mediterranean

MSC Meraviglia

MSC Cruises

Marseille

-

Genoa

-

Rome (Civitavecchia)

-

Palermo

-

Malta (La Valletta)

-

Barcelona

-

Marseille

Valencia to Barcelona

Valencia

-

Marseille

-

Genoa

-

Barcelona

MSC Divina | 7 nights

29 Oct 19

FREE centrally located handpicked hotel stay
Flights Included

£

499

View Deal

Europe, Mediterranean

MSC Divina

MSC Cruises

Valencia

-

Marseille

-

Genoa

-

Barcelona

Divine Voyage to Lisbon

Genoa

-

Rome (Civitavecchia)

-

Valencia

-

Lisbon

MSC Divina | 9 nights

04 Nov 19

FREE centrally located handpicked hotel stay
Flights Included

£

499

View Deal

Europe, Mediterranean, Iberian Peninsula

MSC Divina

MSC Cruises

Genoa

-

Rome (Civitavecchia)

-

Valencia

-

Lisbon

Venice Stay + Mediterranean Cruise

Venice

-

Zadar, Croatia

-

Venice

MSC Sinfonia | 4 nights

09 Oct 20

FREE centrally located handpicked hotel stay
Flights Included

£

499

View Deal

Europe

MSC Sinfonia

MSC Cruises

Venice

-

Zadar, Croatia

-

Venice

7nt Bellissima Cosmopolitan Cities

Lisbon

-

Valencia

-

Barcelona

MSC Bellissima | 7 nights

07 Mar 19

FREE centrally located handpicked hotel stay
Flights Included
Brand New Ship!

£

499

View Deal

Europe, Mediterranean, Iberian Peninsula

MSC Bellissima

MSC Cruises

Lisbon

-

Valencia

-

Barcelona

3nt Barcelona & 3nt Mediterranean Escape

Barcelona

-

Marseille

-

Genoa

-

Barcelona

MSC Bellissima | 6 nights

05 Nov 19

FREE centrally located handpicked hotel stay
Flights Included
Upgrade to Fantastica & get Free Drinks package
Free Upgrade to Oceanview Cabin

£

499

View Deal

Europe

MSC Bellissima

MSC Cruises

Barcelona

-

Marseille

-

Genoa

-

Barcelona

Malaga to Hamburg

Malaga

-

La Coruna

-

Rotterdam

-

Hamburg

MSC Preziosa | 8 nights

05 May 19

FREE centrally located handpicked hotel stay
Flights Included

£

499

View Deal

Europe, Iberian Peninsula

MSC Preziosa

MSC Cruises

Malaga

-

La Coruna

-

Rotterdam

-

Hamburg

Lake Garda & Pearls of the Adriatic

Venice

-

Zadar, Croatia

-

Kotor

-

Ravenna

-

Venice

MSC Lirica | 8 nights

01 Apr 19

FREE centrally located handpicked hotel stay
Flights Included
Free Upgrade to Oceanview Cabin
FREE Shore Excursions
Upgrade to Fantastica & get Free Drinks package

£

499

View Deal

Europe, Mediterranean

MSC Lirica

MSC Cruises

Venice

-

Zadar, Croatia

-

Kotor

-

Ravenna

-

Venice

Venice & Croatian Gems

Venice

-

Zadar, Croatia

-

Dubrovnik

-

Rome (Civitavecchia)

MSC Opera | 7 nights

01 Nov 19

FREE centrally located handpicked hotel stay
Flights Included

£

499

View Deal

Europe, Mediterranean

MSC Opera

MSC Cruises

Venice

-

Zadar, Croatia

-

Dubrovnik

-

Rome (Civitavecchia)

5nt Italy, Montenegro & Croatia

Venice

-

Ravenna

-

Kotor

-

Split

-

Venice

MSC Orchestra | 5 nights

06 Nov 20

FREE centrally located handpicked hotel stay
Flights Included

£

499

View Deal

Europe, Mediterranean

MSC Orchestra

MSC Cruises

Venice

-

Ravenna

-

Kotor

-

Split

-

Venice

Iberian Sojourn & Costa Del Sol Stay

Hamburg

-

Le Havre

-

Southampton

-

St Peter Port, UK

-

Brest

-

Lisbon

-

Cadiz

-

Malaga

MSC Preziosa | 12 nights

27 Apr 19

FREE centrally located handpicked hotel stay
Flights Included

£

499

View Deal

Europe, Iberian Peninsula

MSC Preziosa

MSC Cruises

Hamburg

-

Le Havre

-

Southampton

-

St Peter Port, UK

-

Brest

-

Lisbon

-

Cadiz

-

Malaga

Med Sojourn with Free Drinks

Genoa

-

Marseille

-

Ibiza

-

Barcelona

MSC Orchestra | 6 nights

21 Sep 19

FREE centrally located handpicked hotel stay
Flights Included
Free All Inclusive

£

519

View Deal

Europe, Mediterranean

MSC Orchestra

MSC Cruises

Genoa

-

Marseille

-

Ibiza

-

Barcelona

1nt Barcelona Stay & 4nt Mini Med Cruise

Barcelona

-

Genoa

-

Marseille

-

Ibiza

-

Barcelona

MSC Poesia | 5 nights

26 Sep 20

FREE centrally located handpicked hotel stay
FREE All Inclusive or FREE 1st Child!

£

519

View Deal

Europe, Mediterranean

MSC Poesia

MSC Cruises

Barcelona

-

Genoa

-

Marseille

-

Ibiza

-

Barcelona

7nt Northern Europe

Southampton

-

Zeebrugge

-

Amsterdam

-

Hamburg

-

Le Havre

-

Southampton

MSC Preziosa | 7 nights

16 Sep 20

No Fly Cruise
Child price from only £119pp

£

529

View Deal

Europe

MSC Preziosa

MSC Cruises

Southampton

-

Zeebrugge

-

Amsterdam

-

Hamburg

-

Le Havre

-

Southampton

7nt Northern Europe

Southampton

-

Zeebrugge

-

Amsterdam

-

Hamburg

-

Le Havre

-

Southampton

MSC Preziosa | 7 nights

23 Sep 20

No Fly Cruise
Child price from only £119pp

£

529

View Deal

Europe

MSC Preziosa

MSC Cruises

Southampton

-

Zeebrugge

-

Amsterdam

-

Hamburg

-

Le Havre

-

Southampton

1nt Barcelona & 5nt Mini Med Cruise

Barcelona

-

Rome (Civitavecchia)

-

Genoa

-

Marseille

-

Barcelona

MSC Poesia | 6 nights

06 Oct 20

FREE centrally located handpicked hotel stay
Flights Included

£

529

View Deal

Europe, Mediterranean

MSC Poesia

MSC Cruises

Barcelona

-

Rome (Civitavecchia)

-

Genoa

-

Marseille

-

Barcelona

1nt Venice Stay & 4nt Med Cruise

Venice

-

Zadar, Croatia

-

Kotor

-

Ravenna

-

Venice

MSC Opera | 5 nights

26 Oct 19

FREE centrally located handpicked hotel stay
Flights Included

£

549

View Deal

Europe, Mediterranean

MSC Opera

MSC Cruises

Venice

-

Zadar, Croatia

-

Kotor

-

Ravenna

-

Venice

Venice, Dubrovnik, Koper & Zadar

Venice

-

Koper

-

Zadar, Croatia

-

Sarande

-

Dubrovnik

-

Venice

MSC Musica | 6 nights

19 May 19

FREE centrally located handpicked hotel stay
Flights Included

£

549

View Deal

Europe, Mediterranean

MSC Musica

MSC Cruises

Venice

-

Koper

-

Zadar, Croatia

-

Sarande

-

Dubrovnik

-

Venice

Rome 1nt Stay & 5nt Med Taster

Rome (Civitavecchia)

-

Cannes

-

Palma De Mallorca

-

Barcelona

-

Ajaccio

-

Genoa

MSC Seaview | 6 nights

12 Nov 19

FREE centrally located handpicked hotel stay
Flights Included

£

549

View Deal

Europe, Mediterranean

MSC Seaview

MSC Cruises

Rome (Civitavecchia)

-

Cannes

-

Palma De Mallorca

-

Barcelona

-

Ajaccio

-

Genoa

12nt Italy, France, Spain, Malta & Greece

Genoa

-

Marseille

-

Barcelona

-

Malta (La Valletta)

-

Corfu

-

Katakolon

-

Heraklion

-

Athens (Piraeus)

-

Rome (Civitavecchia)

-

Genoa

MSC Sinfonia | 12 nights

13 Mar 19

FREE centrally located handpicked hotel stay
Flights Included

£

549

View Deal

Europe, Mediterranean

MSC Sinfonia

MSC Cruises

Genoa

-

Marseille

-

Barcelona

-

Malta (La Valletta)

-

Corfu

-

Katakolon

-

Heraklion

-

Athens (Piraeus)

-

Rome (Civitavecchia)

-

Genoa

Venice Stay & Adriatic Adventure

Venice

-

Zadar, Croatia

-

Kotor

-

Koper

-

Ravenna

-

Venice

MSC Lirica | 6 nights

07 Apr 19

FREE centrally located handpicked hotel stay
Flights Included
Upgrade to Fantastica & get Free Drinks package

£

549

View Deal

Europe, Mediterranean

MSC Lirica

MSC Cruises

Venice

-

Zadar, Croatia

-

Kotor

-

Koper

-

Ravenna

-

Venice

Cannes & Spanish Sojourn

Cannes

-

Palma De Mallorca

-

Barcelona

-

Ajaccio

-

Genoa

MSC Seaview | 7 nights

11 Nov 19

FREE centrally located handpicked hotel stay
Flights Included

£

549

View Deal

Europe, Mediterranean

MSC Seaview

MSC Cruises

Cannes

-

Palma De Mallorca

-

Barcelona

-

Ajaccio

-

Genoa

Venice Stay + 4nt Mediterranean Cruise

Venice

-

Kotor

-

Dubrovnik

-

Zadar, Croatia

-

Venice

MSC Sinfonia | 5 nights

16 Oct 20

FREE centrally located handpicked hotel stay
Flights Included

£

549

View Deal

Mediterranean

MSC Sinfonia

MSC Cruises

Venice

-

Kotor

-

Dubrovnik

-

Zadar, Croatia

-

Venice

7nt Spanish & Italian School Holiday Sojourn

Palma De Mallorca

-

Ibiza

-

Naples

-

Livorno

-

Genoa

MSC Fantasia | 7 nights

19 Oct 19

FREE centrally located handpicked hotel stay
Flights Included
Upgrade to Fantastica & get Free Drinks package
Family of 4 fr £1599

£

549

View Deal

Europe, Mediterranean

MSC Fantasia

MSC Cruises

Palma De Mallorca

-

Ibiza

-

Naples

-

Livorno

-

Genoa

Barcelona 1nt Stay & 7nt Med Medley

Barcelona

-

Marseille

-

Genoa

-

Rome (Civitavecchia)

-

Palermo

-

Malta (La Valletta)

-

Barcelona

MSC Grandiosa | 8 nights

04 Dec 19

FREE centrally located handpicked hotel stay
Flights Included
Brand New Ship!

£

549

View Deal

Europe, Mediterranean

MSC Grandiosa

MSC Cruises

Barcelona

-

Marseille

-

Genoa

-

Rome (Civitavecchia)

-

Palermo

-

Malta (La Valletta)

-

Barcelona

8nt Maiden Voyage - Southampton to Barcelona

Southampton

-

La Coruna

-

Lisbon

-

Valencia

-

Barcelona

MSC Bellissima | 8 nights

04 Mar 19

Flights Included
Brand New Ship!
Includes Transfers

£

549

View Deal

Europe, Mediterranean, United Kingdom

MSC Bellissima

MSC Cruises

Southampton

-

La Coruna

-

Lisbon

-

Valencia

-

Barcelona

1nt Marseille & 3nt Med Mini Cruise

Marseille

-

Genoa

-

Barcelona

-

Marseille

MSC Bellissima | 4 nights

08 Nov 19

FREE centrally located handpicked hotel stay
Flights Included

£

549

View Deal

Europe

MSC Bellissima

MSC Cruises

Marseille

-

Genoa

-

Barcelona

-

Marseille

1nt Genoa Stay & 10nt Mediterranean Discovery

Genoa

-

Marseille

-

Barcelona

-

Valencia

-

Palma De Mallorca

-

Malta (La Valletta)

-

Messina

-

Rome (Civitavecchia)

-

Livorno

-

Genoa

MSC Sinfonia | 11 nights

24 Mar 19

FREE centrally located handpicked hotel stay
Flights Included

£

549

View Deal

Europe, Mediterranean

MSC Sinfonia

MSC Cruises

Genoa

-

Marseille

-

Barcelona

-

Valencia

-

Palma De Mallorca

-

Malta (La Valletta)

-

Messina

-

Rome (Civitavecchia)

-

Livorno

-

Genoa

1nt Barcelona Stay & 3nt Mini Med Cruise

Barcelona

-

Marseille

-

Genoa

-

Barcelona

MSC Opera | 4 nights

14 Apr 20

FREE centrally located handpicked hotel stay
Flights Included

£

549

View Deal

Europe, Mediterranean

MSC Opera

MSC Cruises

Barcelona

-

Marseille

-

Genoa

-

Barcelona

Maiden Voyage - Southampton to Barcelona

Southampton

-

La Coruna

-

Lisbon

-

Valencia

-

Barcelona

MSC Bellissima | 10 nights

04 Mar 19

FREE centrally located handpicked hotel stay
Flights Included
Brand New Ship!

£

549

View Deal

Europe, Mediterranean, United Kingdom

MSC Bellissima

MSC Cruises

Southampton

-

La Coruna

-

Lisbon

-

Valencia

-

Barcelona

Med, Madeira & Canaries

Barcelona

-

Funchal

-

Santa Cruz de Tenerife

-

Tangier

-

Cartagena, Spain

-

Rome (Civitavecchia)

-

Genoa

-

Marseille

-

Barcelona

MSC Sinfonia | 13 nights

03 Mar 19

FREE centrally located handpicked hotel stay
Flights Included

£

549

View Deal

Canaries, Europe, Mediterranean

MSC Sinfonia

MSC Cruises

Barcelona

-

Funchal

-

Santa Cruz de Tenerife

-

Tangier

-

Cartagena, Spain

-

Rome (Civitavecchia)

-

Genoa

-

Marseille

-

Barcelona

8nt Pearls of Adriatic & Dubrovnik

Venice

-

Split

-

Santorini Island

-

Sarande

-

Dubrovnik

-

Italy (Ancona)

-

Venice

MSC Sinfonia | 8 nights

25 Oct 19

FREE centrally located handpicked hotel stay
Flights Included

£

569

View Deal

Europe, Mediterranean

MSC Sinfonia

MSC Cruises

Venice

-

Split

-

Santorini Island

-

Sarande

-

Dubrovnik

-

Italy (Ancona)

-

Venice

4nt Italy, Croatia & Montenegro

Venice

-

Split

-

Kotor

-

Venice

MSC Musica | 4 nights

15 Apr 20

FREE centrally located handpicked hotel stay
Flights Included

£

569

View Deal

Mediterranean

MSC Musica

MSC Cruises

Venice

-

Split

-

Kotor

-

Venice

9nt Med Wonders

Barcelona

-

Marseille

-

Genoa

-

Rome (Civitavecchia)

-

Palermo

-

Malta (La Valletta)

-

Barcelona

MSC Meraviglia | 9 nights

28 Feb 19

FREE centrally located handpicked hotel stay
Flights Included
Free Balcony Upgrade

£

569

View Deal

Europe, Mediterranean

MSC Meraviglia

MSC Cruises

Barcelona

-

Marseille

-

Genoa

-

Rome (Civitavecchia)

-

Palermo

-

Malta (La Valletta)

-

Barcelona

8nt Pearls of Adriatic & Dubrovnik

Venice

-

Split

-

Santorini Island

-

Sarande

-

Dubrovnik

-

Italy (Ancona)

-

Venice

MSC Sinfonia | 8 nights

15 Nov 19

FREE centrally located handpicked hotel stay
Flights Included

£

579

View Deal

Europe, Mediterranean

MSC Sinfonia

MSC Cruises

Venice

-

Split

-

Santorini Island

-

Sarande

-

Dubrovnik

-

Italy (Ancona)

-

Venice

1nt Barcelona Stay and 7nt Mediterranean Cruise

Barcelona

-

Marseille

-

Genoa

-

Rome (Civitavecchia)

-

Palermo

-

Malta (La Valletta)

-

Barcelona

MSC Virtuosa | 8 nights

26 Nov 20

FREE centrally located handpicked hotel stay
Flights Included
Brand New Ship!

£

579

View Deal

Europe, Mediterranean

MSC Virtuosa

MSC Cruises

Barcelona

-

Marseille

-

Genoa

-

Rome (Civitavecchia)

-

Palermo

-

Malta (La Valletta)

-

Barcelona

Med & Greek Explorer

Genoa

-

Marseille

-

Barcelona

-

Malta (La Valletta)

-

Corfu

-

Katakolon

-

Heraklion

-

Athens (Piraeus)

-

Rome (Civitavecchia)

-

Genoa

MSC Sinfonia | 12 nights

14 Mar 19

FREE centrally located handpicked hotel stay
Flights Included

£

579

View Deal

Europe, Mediterranean

MSC Sinfonia

MSC Cruises

Genoa

-

Marseille

-

Barcelona

-

Malta (La Valletta)

-

Corfu

-

Katakolon

-

Heraklion

-

Athens (Piraeus)

-

Rome (Civitavecchia)

-

Genoa

1nt Barcelona Stay & 4nt Mini Med Cruise

Barcelona

-

Palma De Mallorca

-

Marseille

-

Genoa

-

Barcelona

MSC Opera | 5 nights

05 Apr 20

FREE centrally located handpicked hotel stay
Flights Included

£

579

View Deal

Europe

MSC Opera

MSC Cruises

Barcelona

-

Palma De Mallorca

-

Marseille

-

Genoa

-

Barcelona

Venice, Croatia & Rome

Venice

-

Zadar, Croatia

-

Dubrovnik

-

Rome (Civitavecchia)

-

Ajaccio

-

Marseille

MSC Opera | 7 nights

03 Nov 19

FREE centrally located handpicked hotel stay
Flights Included

£

579

View Deal

Europe, Mediterranean

MSC Opera

MSC Cruises

Venice

-

Zadar, Croatia

-

Dubrovnik

-

Rome (Civitavecchia)

-

Ajaccio

-

Marseille

Barcelona Stay & Mediterranean Cities

Barcelona

-

Valencia

-

Palma De Mallorca

-

Malta (La Valletta)

-

Messina

-

Rome (Civitavecchia)

-

Livorno

-

Genoa

-

Marseille

-

Barcelona

MSC Sinfonia | 11 nights

26 Mar 19

FREE centrally located handpicked hotel stay
Flights Included

£

599

View Deal

Europe, Mediterranean

MSC Sinfonia

MSC Cruises

Barcelona

-

Valencia

-

Palma De Mallorca

-

Malta (La Valletta)

-

Messina

-

Rome (Civitavecchia)

-

Livorno

-

Genoa

-

Marseille

-

Barcelona

8nt Pearls of Adriatic & Dubrovnik

Venice

-

Split

-

Santorini Island

-

Sarande

-

Dubrovnik

-

Italy (Ancona)

-

Venice

MSC Sinfonia | 8 nights

08 Nov 19

FREE centrally located handpicked hotel stay
Flights Included
Free Premium Drinks Package worth £250pp

£

599

View Deal

Europe, Mediterranean

MSC Sinfonia

MSC Cruises

Venice

-

Split

-

Santorini Island

-

Sarande

-

Dubrovnik

-

Italy (Ancona)

-

Venice

All Inclusive European Cities

Southampton

-

Zeebrugge

-

Rotterdam

-

Hamburg

-

Le Havre

-

Southampton

MSC Preziosa | 7 nights

11 Sep 19

No Fly Cruise
Free Premium Drinks Package worth £250pp
Child price from only £119pp

£

599

View Deal

Europe

MSC Preziosa

MSC Cruises

Southampton

-

Zeebrugge

-

Rotterdam

-

Hamburg

-

Le Havre

-

Southampton

Med & Adriatic Explorer

Genoa

-

Rome (Civitavecchia)

-

Kotor

-

Split

-

Venice

MSC Sinfonia | 9 nights

04 May 19

FREE centrally located handpicked hotel stay
Flights Included

£

599

View Deal

Europe, Mediterranean

MSC Sinfonia

MSC Cruises

Genoa

-

Rome (Civitavecchia)

-

Kotor

-

Split

-

Venice

Med & Lisbon Adventure

Genoa

-

Malaga

-

Casablanca

-

Lisbon

MSC Preziosa | 8 nights

02 Oct 19

FREE centrally located handpicked hotel stay
Flights Included
Upgrade to Fantastica & get Free Drinks package

£

599

View Deal

Europe, Mediterranean, Iberian Peninsula

MSC Preziosa

MSC Cruises

Genoa

-

Malaga

-

Casablanca

-

Lisbon

3nt Venice Stay & 4nt Italy, Croatia & Albania

Venice

-

Split

-

Sarande

-

Messina

-

Naples

MSC Lirica | 7 nights

21 Jun 19

FREE centrally located handpicked hotel stay
Flights Included
Upgrade to Fantastica & get Free Drinks package

£

599

View Deal

Europe, Mediterranean

MSC Lirica

MSC Cruises

Venice

-

Split

-

Sarande

-

Messina

-

Naples

All Inclusive European Cities

Southampton

-

Zeebrugge

-

Rotterdam

-

Hamburg

-

Le Havre

-

Southampton

MSC Preziosa | 7 nights

04 Sep 19

No Fly Cruise
Free Premium Drinks Package worth £250pp

£

599

View Deal

Europe

MSC Preziosa

MSC Cruises

Southampton

-

Zeebrugge

-

Rotterdam

-

Hamburg

-

Le Havre

-

Southampton

Barcelona 1nt Stay & 7nt Med Medley

Barcelona

-

Marseille

-

Genoa

-

Rome (Civitavecchia)

-

Palermo

-

Malta (La Valletta)

-

Barcelona

MSC Grandiosa | 8 nights

11 Dec 19

FREE centrally located handpicked hotel stay
Flights Included
Brand New Ship!

£

599

View Deal

Europe, Mediterranean

MSC Grandiosa

MSC Cruises

Barcelona

-

Marseille

-

Genoa

-

Rome (Civitavecchia)

-

Palermo

-

Malta (La Valletta)

-

Barcelona

8nt Bellissima Cosmopolitan Cities

Lisbon

-

Valencia

-

Barcelona

-

Marseille

-

Genoa

MSC Bellissima | 8 nights

07 Mar 19

FREE centrally located handpicked hotel stay
Flights Included
Brand New Ship!

£

599

View Deal

Europe, Mediterranean, Iberian Peninsula

MSC Bellissima

MSC Cruises

Lisbon

-

Valencia

-

Barcelona

-

Marseille

-

Genoa

School Holidays Rome to Venice

Rome (Civitavecchia)

-

Split

-

Venice

MSC Lirica | 7 nights

21 Jul 19

FREE centrally located handpicked hotel stay
Flights Included
Free Upgrade to Oceanview Cabin

£

599

View Deal

Mediterranean

MSC Lirica

MSC Cruises

Rome (Civitavecchia)

-

Split

-

Venice

Madeira, Canaries & The Med

Barcelona

-

Funchal

-

Santa Cruz de Tenerife

-

Tangier

-

Cartagena, Spain

-

Rome (Civitavecchia)

-

Genoa

MSC Sinfonia | 11 nights

16 Apr 19

FREE centrally located handpicked hotel stay
Flights Included

£

599

View Deal

Canaries, Europe, Mediterranean, Iberian Peninsula

MSC Sinfonia

MSC Cruises

Barcelona

-

Funchal

-

Santa Cruz de Tenerife

-

Tangier

-

Cartagena, Spain

-

Rome (Civitavecchia)

-

Genoa

Venice 1nt Stay & 7nt Greek Isles & Montenegro

Venice

-

Bari

-

Katakolon

-

Santorini Island

-

Athens (Piraeus)

-

Corfu

-

Kotor

-

Venice

MSC Magnifica | 8 nights

19 Oct 19

FREE centrally located handpicked hotel stay
Flights Included

£

629

View Deal

Europe, Mediterranean

MSC Magnifica

MSC Cruises

Venice

-

Bari

-

Katakolon

-

Santorini Island

-

Athens (Piraeus)

-

Corfu

-

Kotor

-

Venice

2nts Venice & 7nts Mediterranean Wonders

MSC Lirica | 9 nights

25 Sep 19

Pre-Cruise Flight Included

Pre-Cruise Hotel 2night(s) Included

£

629

View Deal

Europe, Mediterranean

MSC Lirica

MSC Cruises

Venice

-

Bari

-

Santorini Island

-

Chania, Crete

-

Cephalonia

-

Split

-

Venice

2nts Venice & 7nts Eastern Med Delights

MSC Lirica | 9 nights

02 Oct 19

Pre-Cruise Flight Included

Pre-Cruise Hotel 2night(s) Included

£

639

View Deal

Europe, Mediterranean

MSC Lirica

MSC Cruises

Venice

-

Bari

-

Santorini Island

-

Chania, Crete

-

Cephalonia

-

Split

-

Venice

Venice 1nt Stay & 7nt Greek Isles & Montenegro

Venice

-

Bari

-

Katakolon

-

Santorini Island

-

Athens (Piraeus)

-

Corfu

-

Kotor

-

Venice

MSC Magnifica | 8 nights

09 Nov 19

FREE centrally located handpicked hotel stay
Flights Included
Free Premium Drinks Package worth £250pp

£

649

View Deal

Europe, Mediterranean

MSC Magnifica

MSC Cruises

Venice

-

Bari

-

Katakolon

-

Santorini Island

-

Athens (Piraeus)

-

Corfu

-

Kotor

-

Venice

Venice 1nt Stay & 7nt Greek Isles & Montenegro

Venice

-

Bari

-

Katakolon

-

Santorini Island

-

Athens (Piraeus)

-

Corfu

-

Kotor

-

Venice

MSC Magnifica | 8 nights

23 Nov 19

FREE centrally located handpicked hotel stay
Flights Included
Free Premium Drinks Package worth £250pp

£

649

View Deal

Europe, Mediterranean

MSC Magnifica

MSC Cruises

Venice

-

Bari

-

Katakolon

-

Santorini Island

-

Athens (Piraeus)

-

Corfu

-

Kotor

-

Venice

1nt Barcelona Stay and 7nt Mediterranean Cruise

Barcelona

-

Marseille

-

Genoa

-

Rome (Civitavecchia)

-

Palermo

-

Malta (La Valletta)

-

Barcelona

MSC Virtuosa | 8 nights

12 Nov 20

FREE centrally located handpicked hotel stay
Flights Included
Brand New Ship!

£

649

View Deal

Europe, Mediterranean

MSC Virtuosa

MSC Cruises

Barcelona

-

Marseille

-

Genoa

-

Rome (Civitavecchia)

-

Palermo

-

Malta (La Valletta)

-

Barcelona

Barcelona & New Ship Med Taster

Barcelona

-

Marseille

-

Genoa

-

Barcelona

MSC Bellissima | 6 nights

11 Mar 19

FREE centrally located handpicked hotel stay
Flights Included
Brand New Ship!
Free Premium Drinks Package worth £110pp

£

649

View Deal

Mediterranean

MSC Bellissima

MSC Cruises

Barcelona

-

Marseille

-

Genoa

-

Barcelona

Venice & Greek Gems

Venice

-

Bari

-

Santorini Island

-

Chania, Crete

-

Cephalonia

-

Split

-

Venice

MSC Lirica | 10 nights

24 Sep 19

FREE centrally located handpicked hotel stay
Flights Included
Upgrade to Fantastica & get Free Drinks package worth £250

£

649

View Deal

Europe, Mediterranean

MSC Lirica

MSC Cruises

Venice

-

Bari

-

Santorini Island

-

Chania, Crete

-

Cephalonia

-

Split

-

Venice

1nt Rome Stay & 5nt Mediterranean Cruise

Rome (Civitavecchia)

-

Genoa

-

Marseille

-

Barcelona

-

Genoa

-

Rome (Civitavecchia)

MSC Magnifica | 6 nights

28 Apr 20

FREE centrally located handpicked hotel stay
Flights Included

£

649

View Deal

Europe, Mediterranean

MSC Magnifica

MSC Cruises

Rome (Civitavecchia)

-

Genoa

-

Marseille

-

Barcelona

-

Genoa

-

Rome (Civitavecchia)

2nts Marseille & 7nts Sunset Coasts

MSC Bellissima | 9 nights

14 Mar 19

Pre-Cruise Flight Included

Pre-Cruise Hotel 2night(s) Included

£

659

View Deal

Europe, Mediterranean

MSC Bellissima

MSC Cruises

Marseille

-

Genoa

-

Naples

-

Messina

-

Malta (La Valletta)

-

Barcelona

-

Marseille

8nt Italy, Croatia, Greek Isles

Venice

-

Split

-

Santorini Island

-

Sarande

-

Dubrovnik

-

Italy (Ancona)

-

Venice

MSC Sinfonia | 8 nights

02 Oct 20

FREE centrally located handpicked hotel stay
Flights Included

£

669

View Deal

Europe, Mediterranean

MSC Sinfonia

MSC Cruises

Venice

-

Split

-

Santorini Island

-

Sarande

-

Dubrovnik

-

Italy (Ancona)

-

Venice

2nts Venice & 7nts Eastern Med Delights

MSC Lirica | 9 nights

09 Oct 19

Pre-Cruise Flight Included

Pre-Cruise Hotel 2night(s) Included

£

669

View Deal

Europe, Mediterranean

MSC Lirica

MSC Cruises

Venice

-

Bari

-

Santorini Island

-

Chania, Crete

-

Cephalonia

-

Split

-

Venice

Maiden Voyage - Southampton to Genoa

Southampton

-

La Coruna

-

Lisbon

-

Valencia

-

Barcelona

-

Marseille

-

Genoa

MSC Bellissima | 12 nights

04 Mar 19

FREE centrally located handpicked hotel stay
Flights Included
Brand New Ship!
Upgrade to Fantastica & get Free Drinks package

£

669

View Deal

Europe, Mediterranean, United Kingdom

MSC Bellissima

MSC Cruises

Southampton

-

La Coruna

-

Lisbon

-

Valencia

-

Barcelona

-

Marseille

-

Genoa

8nt Italy, Greece, Albania & Croatia

Venice

-

Bari

-

Katakolon

-

Mykonos

-

Athens (Piraeus)

-

Sarande

-

Dubrovnik

-

Venice

MSC Orchestra | 8 nights

16 Oct 20

FREE centrally located handpicked hotel stay
Flights Included

£

679

View Deal

Europe

MSC Orchestra

MSC Cruises

Venice

-

Bari

-

Katakolon

-

Mykonos

-

Athens (Piraeus)

-

Sarande

-

Dubrovnik

-

Venice

2nts Venice & 7nts Eastern Med Delights

MSC Lirica | 9 nights

16 Oct 19

Pre-Cruise Flight Included

Pre-Cruise Hotel 2night(s) Included

£

679

View Deal

Europe, Mediterranean

MSC Lirica

MSC Cruises

Venice

-

Bari

-

Santorini Island

-

Chania, Crete

-

Cephalonia

-

Split

-

Venice

Venice & Greek Gems

Venice

-

Bari

-

Santorini Island

-

Chania, Crete

-

Cephalonia

-

Split

-

Venice

MSC Lirica | 10 nights

15 Oct 19

FREE centrally located handpicked hotel stay
Flights Included
Upgrade to Fantastica & get Free Drinks package worth £250

£

679

View Deal

Europe, Mediterranean

MSC Lirica

MSC Cruises

Venice

-

Bari

-

Santorini Island

-

Chania, Crete

-

Cephalonia

-

Split

-

Venice

Venice & Verona Opera

Venice

-

Bari

-

Koper

-

Venice

MSC Lirica | 9 nights

21 Jun 19

FREE centrally located handpicked hotel stay
Flights Included
Free Upgrade to Oceanview Cabin
FREE Verona Opera Tickets

£

679

View Deal

Europe, Mediterranean

MSC Lirica

MSC Cruises

Venice

-

Bari

-

Koper

-

Venice

1nt Barcelona & 9nt Mediterranean Cruise

Barcelona

-

Marseille

-

Genoa

-

Malaga

-

Casablanca

-

Lisbon

-

Barcelona

MSC Splendida | 10 nights

31 Oct 20

FREE centrally located handpicked hotel stay
Flights Included

£

679

View Deal

Europe, Mediterranean

MSC Splendida

MSC Cruises

Barcelona

-

Marseille

-

Genoa

-

Malaga

-

Casablanca

-

Lisbon

-

Barcelona

2nts Venice & 7nts Mediterranean Wonders

MSC Lirica | 9 nights

18 Sep 19

Pre-Cruise Flight Included

Pre-Cruise Hotel 2night(s) Included

£

689

View Deal

Europe, Mediterranean

MSC Lirica

MSC Cruises

Venice

-

Bari

-

Santorini Island

-

Chania, Crete

-

Cephalonia

-

Split

-

Venice

Barcelona 1nt Stay & 7nt Western Med

Barcelona

-

Ajaccio

-

Genoa

-

La Spezia

-

Cannes

-

Palma De Mallorca

-

Barcelona

MSC Seaview | 8 nights

01 Nov 19

FREE centrally located handpicked hotel stay
Flights Included
Brand New Ship!
Free Premium Drinks Package worth £250pp

£

699

View Deal

Europe, Mediterranean

MSC Seaview

MSC Cruises

Barcelona

-

Ajaccio

-

Genoa

-

La Spezia

-

Cannes

-

Palma De Mallorca

-

Barcelona

Majorca Stay & Med Medley

Palma De Mallorca

-

Ibiza

-

Naples

-

Livorno

-

Genoa

-

Marseille

-

Palma De Mallorca

MSC Fantasia | 10 nights

07 Oct 19

FREE centrally located handpicked hotel stay
Flights Included

£

699

View Deal

Europe, Mediterranean

MSC Fantasia

MSC Cruises

Palma De Mallorca

-

Ibiza

-

Naples

-

Livorno

-

Genoa

-

Marseille

-

Palma De Mallorca

Barcelona 1nt Stay & 7nt Western Med

Barcelona

-

Ajaccio

-

Genoa

-

La Spezia

-

Cannes

-

Palma De Mallorca

-

Barcelona

MSC Seaview | 8 nights

08 Nov 19

FREE centrally located handpicked hotel stay
Flights Included
Brand New Ship!
Free Premium Drinks Package worth £250pp

£

699

View Deal

Europe, Mediterranean

MSC Seaview

MSC Cruises

Barcelona

-

Ajaccio

-

Genoa

-

La Spezia

-

Cannes

-

Palma De Mallorca

-

Barcelona

Majorca Stay & Med Medley

Palma De Mallorca

-

Ibiza

-

Naples

-

Livorno

-

Genoa

-

Marseille

-

Palma De Mallorca

MSC Fantasia | 10 nights

29 Apr 19

FREE centrally located handpicked hotel stay
Flights Included

£

699

View Deal

Europe, Mediterranean

MSC Fantasia

MSC Cruises

Palma De Mallorca

-

Ibiza

-

Naples

-

Livorno

-

Genoa

-

Marseille

-

Palma De Mallorca

8nt Pearls of Adriatic & Dubrovnik

Venice

-

Split

-

Santorini Island

-

Sarande

-

Dubrovnik

-

Italy (Ancona)

-

Venice

MSC Sinfonia | 8 nights

11 Oct 19

FREE centrally located handpicked hotel stay
Flights Included
Free Premium Drinks Package worth £250pp

£

699

View Deal

Europe, Mediterranean

MSC Sinfonia

MSC Cruises

Venice

-

Split

-

Santorini Island

-

Sarande

-

Dubrovnik

-

Italy (Ancona)

-

Venice

8nt Pearls of Adriatic & Dubrovnik

Venice

-

Split

-

Santorini Island

-

Sarande

-

Dubrovnik

-

Italy (Ancona)

-

Venice

MSC Sinfonia | 8 nights

01 Nov 19

FREE centrally located handpicked hotel stay
Flights Included
Free Premium Drinks Package worth £250pp

£

699

View Deal

Europe, Mediterranean

MSC Sinfonia

MSC Cruises

Venice

-

Split

-

Santorini Island

-

Sarande

-

Dubrovnik

-

Italy (Ancona)

-

Venice

All Inclusive European Cities

Southampton

-

Zeebrugge

-

Rotterdam

-

Hamburg

-

Le Havre

-

Southampton

MSC Preziosa | 7 nights

28 Aug 19

No Fly Cruise
Free Premium Drinks Package worth £250pp
Child price from only £119pp

£

699

View Deal

Europe

MSC Preziosa

MSC Cruises

Southampton

-

Zeebrugge

-

Rotterdam

-

Hamburg

-

Le Havre

-

Southampton

All Inclusive European Cities

Southampton

-

Zeebrugge

-

Rotterdam

-

Hamburg

-

Le Havre

-

Southampton

MSC Preziosa | 7 nights

18 Sep 19

No Fly Cruise
Free Premium Drinks Package worth £250pp
Child price from only £119pp

£

699

View Deal

Europe

MSC Preziosa

MSC Cruises

Southampton

-

Zeebrugge

-

Rotterdam

-

Hamburg

-

Le Havre

-

Southampton

8nt Italy, Greece, Albania & Croatia

Venice

-

Bari

-

Katakolon

-

Mykonos

-

Athens (Piraeus)

-

Sarande

-

Dubrovnik

-

Venice

MSC Orchestra | 8 nights

30 Oct 20

FREE centrally located handpicked hotel stay
Flights Included

£

699

View Deal

Europe

MSC Orchestra

MSC Cruises

Venice

-

Bari

-

Katakolon

-

Mykonos

-

Athens (Piraeus)

-

Sarande

-

Dubrovnik

-

Venice

Venice & Greek Gems

Venice

-

Bari

-

Santorini Island

-

Chania, Crete

-

Cephalonia

-

Split

-

Venice

MSC Lirica | 10 nights

17 Sep 19

FREE centrally located handpicked hotel stay
Flights Included
Upgrade to Fantastica & get Free Drinks package worth £250

£

699

View Deal

Europe, Mediterranean

MSC Lirica

MSC Cruises

Venice

-

Bari

-

Santorini Island

-

Chania, Crete

-

Cephalonia

-

Split

-

Venice

3nt Lake Garda Stay & 4nt Italy, Croatia & Albania

Venice

-

Split

-

Sarande

-

Messina

-

Naples

MSC Lirica | 7 nights

21 Jun 19

FREE centrally located handpicked hotel stay
Flights Included
Upgrade to Fantastica & get Free Drinks package

£

699

View Deal

Europe, Mediterranean

MSC Lirica

MSC Cruises

Venice

-

Split

-

Sarande

-

Messina

-

Naples

1nt Barcelona & 7nt Mediterranean Seaviews

Barcelona

-

Ajaccio

-

Genoa

-

La Spezia

-

Rome (Civitavecchia)

-

Cannes

-

Palma De Mallorca

-

Barcelona

MSC Seaview | 8 nights

06 Nov 20

FREE centrally located handpicked hotel stay
Flights Included

£

699

View Deal

Europe, Mediterranean

MSC Seaview

MSC Cruises

Barcelona

-

Ajaccio

-

Genoa

-

La Spezia

-

Rome (Civitavecchia)

-

Cannes

-

Palma De Mallorca

-

Barcelona

Venice, Greek Gems & Split

Venice

-

Bari

-

Santorini Island

-

Chania, Crete

-

Cephalonia

-

Split

-

Venice

MSC Lirica | 8 nights

26 Sep 19

FREE centrally located handpicked hotel stay
Flights Included
Free Premium Drinks Package worth £250pp

£

699

View Deal

Europe, Mediterranean

MSC Lirica

MSC Cruises

Venice

-

Bari

-

Santorini Island

-

Chania, Crete

-

Cephalonia

-

Split

-

Venice

Venice, Greek Gems & Split

Venice

-

Bari

-

Santorini Island

-

Chania, Crete

-

Cephalonia

-

Split

-

Venice

MSC Lirica | 8 nights

03 Oct 19

FREE centrally located handpicked hotel stay
Flights Included
Free Premium Drinks Package worth £250pp

£

699

View Deal

Europe, Mediterranean

MSC Lirica

MSC Cruises

Venice

-

Bari

-

Santorini Island

-

Chania, Crete

-

Cephalonia

-

Split

-

Venice

Lake Garda, Adriatic Gems & Venice

Venice

-

Zadar, Croatia

-

Kotor

-

Koper

-

Ravenna

-

Venice

MSC Lirica | 10 nights

05 Apr 19

FREE centrally located handpicked hotel stay
Flights Included
Free Upgrade to Oceanview Cabin
Upgrade to Fantastica & get Free Drinks package

£

699

View Deal

Europe, Mediterranean

MSC Lirica

MSC Cruises

Venice

-

Zadar, Croatia

-

Kotor

-

Koper

-

Ravenna

-

Venice

Venice, Kotor & Greek Islands

Venice

-

Kotor

-

Mykonos

-

Santorini Island

-

Corfu

-

Bari

-

Venice

MSC Opera | 8 nights

12 Oct 19

FREE centrally located handpicked hotel stay
Flights Included
Free Premium Drinks Package worth £250pp

£

719

View Deal

Europe, Mediterranean

MSC Opera

MSC Cruises

Venice

-

Kotor

-

Mykonos

-

Santorini Island

-

Corfu

-

Bari

-

Venice

8nt Italy, Greece, Albania & Croatia

Venice

-

Bari

-

Katakolon

-

Mykonos

-

Athens (Piraeus)

-

Sarande

-

Dubrovnik

-

Venice

MSC Orchestra | 8 nights

02 Oct 20

FREE centrally located handpicked hotel stay
Flights Included

£

719

View Deal

Europe

MSC Orchestra

MSC Cruises

Venice

-

Bari

-

Katakolon

-

Mykonos

-

Athens (Piraeus)

-

Sarande

-

Dubrovnik

-

Venice

8nt Italy, Greece, Albania & Croatia

Venice

-

Bari

-

Katakolon

-

Mykonos

-

Athens (Piraeus)

-

Sarande

-

Dubrovnik

-

Venice

MSC Orchestra | 8 nights

09 Oct 20

FREE centrally located handpicked hotel stay
Flights Included

£

719

View Deal

Europe

MSC Orchestra

MSC Cruises

Venice

-

Bari

-

Katakolon

-

Mykonos

-

Athens (Piraeus)

-

Sarande

-

Dubrovnik

-

Venice

2nts Venice & 7nts Mediterranean Wonders

MSC Lirica | 9 nights

04 Sep 19

Pre-Cruise Flight Included

Pre-Cruise Hotel 2night(s) Included

£

719

View Deal

Europe, Mediterranean

MSC Lirica

MSC Cruises

Venice

-

Bari

-

Santorini Island

-

Chania, Crete

-

Cephalonia

-

Split

-

Venice

2nts Venice & 7nts Mediterranean Wonders

MSC Lirica | 9 nights

11 Sep 19

Pre-Cruise Flight Included

Pre-Cruise Hotel 2night(s) Included

£

719

View Deal

Europe, Mediterranean

MSC Lirica

MSC Cruises

Venice

-

Bari

-

Santorini Island

-

Chania, Crete

-

Cephalonia

-

Split

-

Venice

Venice, Greek Gems & Split

Venice

-

Bari

-

Santorini Island

-

Chania, Crete

-

Cephalonia

-

Split

-

Venice

MSC Lirica | 8 nights

17 Oct 19

FREE centrally located handpicked hotel stay
Flights Included
Free Premium Drinks Package worth £250pp

£

719

View Deal

Europe, Mediterranean

MSC Lirica

MSC Cruises

Venice

-

Bari

-

Santorini Island

-

Chania, Crete

-

Cephalonia

-

Split

-

Venice

1nt Barcelona & 9nt Mediterranean Cruise

Barcelona

-

Marseille

-

Genoa

-

Malaga

-

Casablanca

-

Lisbon

-

Barcelona

MSC Splendida | 10 nights

22 Oct 20

FREE centrally located handpicked hotel stay
Flights Included

£

719

View Deal

Europe, Mediterranean

MSC Splendida

MSC Cruises

Barcelona

-

Marseille

-

Genoa

-

Malaga

-

Casablanca

-

Lisbon

-

Barcelona

Venice, Greek Gems & Split

Venice

-

Bari

-

Santorini Island

-

Chania, Crete

-

Cephalonia

-

Split

-

Venice

MSC Lirica | 8 nights

10 Oct 19

FREE centrally located handpicked hotel stay
Flights Included
Free Premium Drinks Package worth £250pp

£

729

View Deal

Europe, Mediterranean

MSC Lirica

MSC Cruises

Venice

-

Bari

-

Santorini Island

-

Chania, Crete

-

Cephalonia

-

Split

-

Venice

8nt Italy, Croatia, Greek Isles

Venice

-

Split

-

Santorini Island

-

Sarande

-

Dubrovnik

-

Italy (Ancona)

-

Venice

MSC Sinfonia | 8 nights

17 Apr 20

FREE centrally located handpicked hotel stay
Flights Included

£

729

View Deal

Europe, Mediterranean

MSC Sinfonia

MSC Cruises

Venice

-

Split

-

Santorini Island

-

Sarande

-

Dubrovnik

-

Italy (Ancona)

-

Venice

8nt Italy, Croatia, Greek Isles

Venice

-

Split

-

Santorini Island

-

Sarande

-

Dubrovnik

-

Italy (Ancona)

-

Venice

MSC Sinfonia | 8 nights

24 Apr 20

FREE centrally located handpicked hotel stay
Flights Included

£

729

View Deal

Europe, Mediterranean

MSC Sinfonia

MSC Cruises

Venice

-

Split

-

Santorini Island

-

Sarande

-

Dubrovnik

-

Italy (Ancona)

-

Venice

Venice & Greek Gems

Venice

-

Bari

-

Santorini Island

-

Chania, Crete

-

Cephalonia

-

Split

-

Venice

MSC Lirica | 10 nights

10 Sep 19

FREE centrally located handpicked hotel stay
Flights Included
Upgrade to Fantastica & get Free Drinks package worth £250

£

729

View Deal

Europe, Mediterranean

MSC Lirica

MSC Cruises

Venice

-

Bari

-

Santorini Island

-

Chania, Crete

-

Cephalonia

-

Split

-

Venice

2nt Genoa Stay & 7nt Mediterranean Cruise

Genoa

-

Marseille

-

Palma De Mallorca

-

Ibiza

-

Naples

-

Livorno

-

Genoa

MSC Fantasia | 9 nights

10 Oct 19

FREE centrally located handpicked hotel stay
Flights Included
Free Premium Drinks Package worth £250pp

£

729

View Deal

Europe, Mediterranean

MSC Fantasia

MSC Cruises

Genoa

-

Marseille

-

Palma De Mallorca

-

Ibiza

-

Naples

-

Livorno

-

Genoa

2nt Genoa Stay & 7nt Mediterranean Cruise

Genoa

-

Marseille

-

Palma De Mallorca

-

Ibiza

-

Naples

-

Livorno

-

Genoa

MSC Fantasia | 9 nights

17 Oct 19

FREE centrally located handpicked hotel stay
Flights Included
Free Premium Drinks Package worth £250pp

£

729

View Deal

Europe, Mediterranean

MSC Fantasia

MSC Cruises

Genoa

-

Marseille

-

Palma De Mallorca

-

Ibiza

-

Naples

-

Livorno

-

Genoa

Southampton to Genoa with Lake Garda Stay

Southampton

-

La Coruna

-

Lisbon

-

Valencia

-

Barcelona

-

Marseille

-

Genoa

MSC Bellissima | 13 nights

04 Mar 19

FREE centrally located handpicked hotel stay
Flights Included
Brand New Ship!

£

729

View Deal

Europe, Mediterranean

MSC Bellissima

MSC Cruises

Southampton

-

La Coruna

-

Lisbon

-

Valencia

-

Barcelona

-

Marseille

-

Genoa

12nt Italy, France, Spain, Malta & Greece

Genoa

-

Marseille

-

Barcelona

-

Malta (La Valletta)

-

Corfu

-

Katakolon

-

Heraklion

-

Athens (Piraeus)

-

Rome (Civitavecchia)

-

Genoa

MSC Sinfonia | 12 nights

03 Apr 19

FREE centrally located handpicked hotel stay
Flights Included

£

729

View Deal

Europe, Mediterranean

MSC Sinfonia

MSC Cruises

Genoa

-

Marseille

-

Barcelona

-

Malta (La Valletta)

-

Corfu

-

Katakolon

-

Heraklion

-

Athens (Piraeus)

-

Rome (Civitavecchia)

-

Genoa

1nt Barcelona Stay & 5nt Mini Med Cruise

Barcelona

-

Palma De Mallorca

-

Marseille

-

Genoa

-

Barcelona

MSC Opera | 6 nights

09 Apr 20

FREE centrally located handpicked hotel stay
Flights Included

£

729

View Deal

Europe, Mediterranean

MSC Opera

MSC Cruises

Barcelona

-

Palma De Mallorca

-

Marseille

-

Genoa

-

Barcelona

2nts Venice & 7nts Mediterranean Wonders

MSC Lirica | 9 nights

28 Aug 19

Pre-Cruise Flight Included

Pre-Cruise Hotel 2night(s) Included

£

739

View Deal

Europe, Mediterranean

MSC Lirica

MSC Cruises

Venice

-

Bari

-

Santorini Island

-

Chania, Crete

-

Cephalonia

-

Split

-

Venice

4nts Verona & 7nts Mediterranean Magnificence

MSC Magnifica | 11 nights

20 Nov 19

Pre-Cruise Flight Included

Pre-Cruise Hotel 4night(s) Included

£

739

View Deal

Europe, Mediterranean

MSC Magnifica

MSC Cruises

Venice

-

Bari

-

Katakolon

-

Santorini Island

-

Athens (Piraeus)

-

Corfu

-

Kotor

-

Venice

2nts Barcelona & 7nts Western Med Bliss

MSC Bellissima | 9 nights

20 Mar 19

Pre-Cruise Flight Included

Pre-Cruise Hotel 2night(s) Included

£

739

View Deal

Europe, Mediterranean

MSC Bellissima

MSC Cruises

Barcelona

-

Marseille

-

Genoa

-

Naples

-

Messina

-

Malta (La Valletta)

-

Barcelona

Venice 1nt Stay & 7nt Greek Isles & Montenegro

Venice

-

Bari

-

Katakolon

-

Santorini Island

-

Athens (Piraeus)

-

Corfu

-

Kotor

-

Venice

MSC Magnifica | 8 nights

16 Nov 19

FREE centrally located handpicked hotel stay
Flights Included
Free Premium Drinks Package worth £250pp

£

749

View Deal

Europe, Mediterranean

MSC Magnifica

MSC Cruises

Venice

-

Bari

-

Katakolon

-

Santorini Island

-

Athens (Piraeus)

-

Corfu

-

Kotor

-

Venice

Majorca Stay & Med Medley

Palma De Mallorca

-

Ibiza

-

Naples

-

Livorno

-

Genoa

-

Marseille

-

Palma De Mallorca

MSC Fantasia | 10 nights

22 Apr 19

FREE centrally located handpicked hotel stay
Flights Included

£

749

View Deal

Europe, Mediterranean

MSC Fantasia

MSC Cruises

Palma De Mallorca

-

Ibiza

-

Naples

-

Livorno

-

Genoa

-

Marseille

-

Palma De Mallorca

Majorca Stay & Med Medley

Palma De Mallorca

-

Ibiza

-

Naples

-

Livorno

-

Genoa

-

Marseille

-

Palma De Mallorca

MSC Fantasia | 10 nights

13 May 19

FREE centrally located handpicked hotel stay
Flights Included

£

749

View Deal

Europe, Mediterranean

MSC Fantasia

MSC Cruises

Palma De Mallorca

-

Ibiza

-

Naples

-

Livorno

-

Genoa

-

Marseille

-

Palma De Mallorca

Barcelona 1nt Stay & 7nt Western Med

Barcelona

-

Marseille

-

Genoa

-

Naples

-

Messina

-

Malta (La Valletta)

-

Barcelona

MSC Bellissima | 8 nights

31 Oct 19

FREE centrally located handpicked hotel stay
Flights Included
Brand New Ship!
Free Premium Drinks Package worth £250pp

£

749

View Deal

Europe, Mediterranean

MSC Bellissima

MSC Cruises

Barcelona

-

Marseille

-

Genoa

-

Naples

-

Messina

-

Malta (La Valletta)

-

Barcelona

Venice, Greek Gems & Split

Venice

-

Bari

-

Santorini Island

-

Chania, Crete

-

Cephalonia

-

Split

-

Venice

MSC Lirica | 8 nights

19 Sep 19

FREE centrally located handpicked hotel stay
Flights Included
Free Premium Drinks Package worth £250pp

£

749

View Deal

Europe, Mediterranean

MSC Lirica

MSC Cruises

Venice

-

Bari

-

Santorini Island

-

Chania, Crete

-

Cephalonia

-

Split

-

Venice

8nt Italy, Croatia, Greek Isles

Venice

-

Split

-

Santorini Island

-

Sarande

-

Dubrovnik

-

Italy (Ancona)

-

Venice

MSC Sinfonia | 8 nights

25 Sep 20

FREE centrally located handpicked hotel stay
Flights Included

£

749

View Deal

Europe, Mediterranean

MSC Sinfonia

MSC Cruises

Venice

-

Split

-

Santorini Island

-

Sarande

-

Dubrovnik

-

Italy (Ancona)

-

Venice

2nts Venice & 7nts Mediterranean Wonders

MSC Lirica | 9 nights

05 Jun 19

Pre-Cruise Flight Included

Pre-Cruise Hotel 2night(s) Included

£

749

View Deal

Europe, Mediterranean

MSC Lirica

MSC Cruises

Venice

-

Bari

-

Santorini Island

-

Chania, Crete

-

Cephalonia

-

Split

-

Venice

2nts Venice & 7nts Mediterranean Wonders

MSC Lirica | 9 nights

12 Jun 19

Pre-Cruise Flight Included

Pre-Cruise Hotel 2night(s) Included

£

749

View Deal

Europe, Mediterranean

MSC Lirica

MSC Cruises

Venice

-

Bari

-

Santorini Island

-

Chania, Crete

-

Cephalonia

-

Split

-

Venice

2nts Marseille & 7nts Sunset Coasts

MSC Bellissima | 9 nights

21 Mar 19

Pre-Cruise Flight Included

Pre-Cruise Hotel 2night(s) Included

£

749

View Deal

Europe, Mediterranean

MSC Bellissima

MSC Cruises

Marseille

-

Genoa

-

Naples

-

Messina

-

Malta (La Valletta)

-

Barcelona

-

Marseille

3nt Verona Stay & Opera Tix & 4nt Med Cruise

Venice

-

Split

-

Sarande

-

Messina

-

Naples

MSC Lirica | 7 nights

21 Jun 19

FREE centrally located handpicked hotel stay
Flights Included
FREE Verona Opera Tickets
Upgrade to Fantastica & get Free Drinks package

£

749

View Deal

Europe, Mediterranean

MSC Lirica

MSC Cruises

Venice

-

Split

-

Sarande

-

Messina

-

Naples

Venice, Adriatic & Greece

Venice

-

Bari

-

Katakolon

-

Athens (Piraeus)

-

Sarande

-

Split

-

Venice

MSC Lirica | 7 nights

17 May 19

FREE centrally located handpicked hotel stay
Flights Included
Free Premium Drinks Package worth £220pp

£

749

View Deal

Europe, Mediterranean

MSC Lirica

MSC Cruises

Venice

-

Bari

-

Katakolon

-

Athens (Piraeus)

-

Sarande

-

Split

-

Venice

Valencia Stay + Western Mediterranean Cruise

Valencia

-

Marseille

-

Genoa

-

Rome (Civitavecchia)

-

Palermo

-

Cagliari

-

Palma De Mallorca

-

Valencia

MSC Fantasia | 8 nights

30 Sep 20

FREE centrally located handpicked hotel stay
Flights Included

£

749

View Deal

Europe, Mediterranean

MSC Fantasia

MSC Cruises

Valencia

-

Marseille

-

Genoa

-

Rome (Civitavecchia)

-

Palermo

-

Cagliari

-

Palma De Mallorca

-

Valencia

1nt Venice Stay & 7nt Italy, Greece & Croatia

Venice

-

Brindisi

-

Katakolon

-

Mykonos

-

Athens (Piraeus)

-

Sarande

-

Dubrovnik

-

Venice

MSC Musica | 8 nights

04 Oct 19

FREE centrally located handpicked hotel stay
Flights Included
Free Premium Drinks Package worth £250pp

£

749

View Deal

Europe, Mediterranean

MSC Musica

MSC Cruises

Venice

-

Brindisi

-

Katakolon

-

Mykonos

-

Athens (Piraeus)

-

Sarande

-

Dubrovnik

-

Venice

1nt Barcelona & 7nt Mediterranean Seaviews

Barcelona

-

Ajaccio

-

Genoa

-

La Spezia

-

Rome (Civitavecchia)

-

Cannes

-

Palma De Mallorca

-

Barcelona

MSC Seaview | 8 nights

09 Oct 20

FREE centrally located handpicked hotel stay
Flights Included

£

749

View Deal

Europe, Mediterranean

MSC Seaview

MSC Cruises

Barcelona

-

Ajaccio

-

Genoa

-

La Spezia

-

Rome (Civitavecchia)

-

Cannes

-

Palma De Mallorca

-

Barcelona

1nt Barcelona & 7nt Mediterranean Seaviews

Barcelona

-

Ajaccio

-

Genoa

-

La Spezia

-

Rome (Civitavecchia)

-

Cannes

-

Palma De Mallorca

-

Barcelona

MSC Seaview | 8 nights

30 Oct 20

FREE centrally located handpicked hotel stay
Flights Included

£

749

View Deal

Europe, Mediterranean

MSC Seaview

MSC Cruises

Barcelona

-

Ajaccio

-

Genoa

-

La Spezia

-

Rome (Civitavecchia)

-

Cannes

-

Palma De Mallorca

-

Barcelona

Palma & Med Medley

Palma De Mallorca

-

Ibiza

-

Naples

-

Livorno

-

Genoa

-

Marseille

-

Palma De Mallorca

MSC Fantasia | 8 nights

29 Sep 19

FREE centrally located handpicked hotel stay
Flights Included
Upgrade to Fantastica & get Free Drinks package worth £250

£

749

View Deal

Europe, Mediterranean

MSC Fantasia

MSC Cruises

Palma De Mallorca

-

Ibiza

-

Naples

-

Livorno

-

Genoa

-

Marseille

-

Palma De Mallorca

2nt Genoa Stay & 7nt Mediterranean Cruise

Genoa

-

Marseille

-

Palma De Mallorca

-

Ibiza

-

Naples

-

Livorno

-

Genoa

MSC Fantasia | 9 nights

19 Sep 19

FREE centrally located handpicked hotel stay
Flights Included
Free Premium Drinks Package worth £250pp

£

749

View Deal

Europe, Mediterranean

MSC Fantasia

MSC Cruises

Genoa

-

Marseille

-

Palma De Mallorca

-

Ibiza

-

Naples

-

Livorno

-

Genoa

1nt Barcelona & 9nt Mediterranean Cruise

Barcelona

-

Marseille

-

Genoa

-

Malaga

-

Casablanca

-

Lisbon

-

Barcelona

MSC Splendida | 10 nights

04 Oct 20

FREE centrally located handpicked hotel stay
Flights Included

£

749

View Deal

Europe, Mediterranean

MSC Splendida

MSC Cruises

Barcelona

-

Marseille

-

Genoa

-

Malaga

-

Casablanca

-

Lisbon

-

Barcelona

1nt Barcelona & 9nt Mediterranean Cruise

Barcelona

-

Marseille

-

Genoa

-

Malaga

-

Casablanca

-

Lisbon

-

Barcelona

MSC Splendida | 10 nights

13 Oct 20

FREE centrally located handpicked hotel stay
Flights Included

£

749

View Deal

Europe, Mediterranean

MSC Splendida

MSC Cruises

Barcelona

-

Marseille

-

Genoa

-

Malaga

-

Casablanca

-

Lisbon

-

Barcelona

2nts Venice & 7nts Mediterranean Delights

MSC Lirica | 9 nights

29 May 19

Pre-Cruise Flight Included

Pre-Cruise Hotel 2night(s) Included

£

759

View Deal

Europe, Mediterranean

MSC Lirica

MSC Cruises

Venice

-

Bari

-

Santorini Island

-

Chania, Crete

-

Cephalonia

-

Split

-

Venice

2nts Marseille & 7nts Sunset Coasts

MSC Bellissima | 9 nights

28 Mar 19

Pre-Cruise Flight Included

Pre-Cruise Hotel 2night(s) Included

£

759

View Deal

Europe, Mediterranean

MSC Bellissima

MSC Cruises

Marseille

-

Genoa

-

Naples

-

Messina

-

Malta (La Valletta)

-

Barcelona

-

Marseille

Barcelona 2nt Stay & 7nt Western Mediterranean

Barcelona

-

Marseille

-

Genoa

-

Naples

-

Messina

-

Malta (La Valletta)

-

Barcelona

MSC Bellissima | 9 nights

23 Oct 19

FREE centrally located handpicked hotel stay
Flights Included

£

769

View Deal

Europe, Mediterranean

MSC Bellissima

MSC Cruises

Barcelona

-

Marseille

-

Genoa

-

Naples

-

Messina

-

Malta (La Valletta)

-

Barcelona

Majorca Stay & Med Medley

Palma De Mallorca

-

Ibiza

-

Naples

-

Livorno

-

Genoa

-

Marseille

-

Palma De Mallorca

MSC Fantasia | 10 nights

09 Sep 19

FREE centrally located handpicked hotel stay
Flights Included

£

769

View Deal

Europe, Mediterranean

MSC Fantasia

MSC Cruises

Palma De Mallorca

-

Ibiza

-

Naples

-

Livorno

-

Genoa

-

Marseille

-

Palma De Mallorca

Majorca Stay & Med Medley

Palma De Mallorca

-

Ibiza

-

Naples

-

Livorno

-

Genoa

-

Marseille

-

Palma De Mallorca

MSC Fantasia | 10 nights

30 Sep 19

FREE centrally located handpicked hotel stay
Flights Included

£

769

View Deal

Europe, Mediterranean

MSC Fantasia

MSC Cruises

Palma De Mallorca

-

Ibiza

-

Naples

-

Livorno

-

Genoa

-

Marseille

-

Palma De Mallorca

5nt Adriatic Gems with Lake Garda & Venice Stays

Venice

-

Koper

-

Zadar, Croatia

-

Sarande

-

Dubrovnik

-

Venice

MSC Musica | 11 nights

16 May 19

FREE centrally located handpicked hotel stay
Flights Included
Free Balcony Upgrade

£

769

View Deal

Europe, Mediterranean

MSC Musica

MSC Cruises

Venice

-

Koper

-

Zadar, Croatia

-

Sarande

-

Dubrovnik

-

Venice

3nt Verona Stay & 5nt Cruise & 2nt Venice Stay

Venice

-

Koper

-

Zadar, Croatia

-

Sarande

-

Dubrovnik

-

Venice

MSC Musica | 10 nights

17 May 19

FREE centrally located handpicked hotel stay
Flights Included

£

769

View Deal

Europe, Mediterranean

MSC Musica

MSC Cruises

Venice

-

Koper

-

Zadar, Croatia

-

Sarande

-

Dubrovnik

-

Venice

Venice, Kotor & Greek Islands

Venice

-

Kotor

-

Mykonos

-

Santorini Island

-

Corfu

-

Bari

-

Venice

MSC Opera | 8 nights

19 Oct 19

FREE centrally located handpicked hotel stay
Flights Included
Free Premium Drinks Package worth £250pp

£

769

View Deal

Europe, Mediterranean

MSC Opera

MSC Cruises

Venice

-

Kotor

-

Mykonos

-

Santorini Island

-

Corfu

-

Bari

-

Venice

8nt Pearls of Adriatic & Dubrovnik

Venice

-

Split

-

Santorini Island

-

Sarande

-

Dubrovnik

-

Italy (Ancona)

-

Venice

MSC Sinfonia | 8 nights

18 Oct 19

FREE centrally located handpicked hotel stay
Flights Included
Free Premium Drinks Package worth £250pp

£

769

View Deal

Europe, Mediterranean

MSC Sinfonia

MSC Cruises

Venice

-

Split

-

Santorini Island

-

Sarande

-

Dubrovnik

-

Italy (Ancona)

-

Venice

1nt Copenhagen & 7nt Northern Europe

Copenhagen

-

Helsinki

-

St Petersburg, Russia

-

Tallinn

-

Kiel

-

Copenhagen

MSC Meraviglia | 8 nights

14 Sep 19

FREE centrally located handpicked hotel stay
Flights Included

£

769

View Deal

Scandinavia, Russia

MSC Meraviglia

MSC Cruises

Copenhagen

-

Helsinki

-

St Petersburg, Russia

-

Tallinn

-

Kiel

-

Copenhagen

8nt Greek & Croatian Gems

Venice

-

Split

-

Santorini Island

-

Mykonos

-

Dubrovnik

-

Italy (Ancona)

-

Venice

MSC Sinfonia | 8 nights

27 Sep 19

FREE centrally located handpicked hotel stay
Flights Included
Free Premium Drinks Package worth £250pp

£

769

View Deal

Europe, Mediterranean

MSC Sinfonia

MSC Cruises

Venice

-

Split

-

Santorini Island

-

Mykonos

-

Dubrovnik

-

Italy (Ancona)

-

Venice

Valencia Stay & Med Medley

Valencia

-

Marseille

-

Genoa

-

Rome (Civitavecchia)

-

Palermo

-

Cagliari

-

Palma De Mallorca

-

Valencia

MSC Divina | 10 nights

26 Aug 19

FREE centrally located handpicked hotel stay
Flights Included

£

769

View Deal

Europe, Mediterranean

MSC Divina

MSC Cruises

Valencia

-

Marseille

-

Genoa

-

Rome (Civitavecchia)

-

Palermo

-

Cagliari

-

Palma De Mallorca

-

Valencia

8nt Italy, Croatia & Greek Isles

Venice

-

Split

-

Santorini Island

-

Mykonos

-

Dubrovnik

-

Italy (Ancona)

-

Venice

MSC Sinfonia | 8 nights

08 May 20

FREE centrally located handpicked hotel stay
Flights Included

£

769

View Deal

Europe, Mediterranean

MSC Sinfonia

MSC Cruises

Venice

-

Split

-

Santorini Island

-

Mykonos

-

Dubrovnik

-

Italy (Ancona)

-

Venice

8nt Italy, Croatia & Greek Isles

Venice

-

Split

-

Santorini Island

-

Mykonos

-

Dubrovnik

-

Italy (Ancona)

-

Venice

MSC Sinfonia | 8 nights

15 May 20

FREE centrally located handpicked hotel stay
Flights Included

£

769

View Deal

Europe, Mediterranean

MSC Sinfonia

MSC Cruises

Venice

-

Split

-

Santorini Island

-

Mykonos

-

Dubrovnik

-

Italy (Ancona)

-

Venice

7nts Salou & 7nts Western Med Bliss

MSC Bellissima | 14 nights

11 Oct 19

Pre-Cruise Flight Included

Pre-Cruise Hotel 7night(s) Included

Post-Cruise Flight Included

£

769

View Deal

Europe, Mediterranean

MSC Bellissima

MSC Cruises

Barcelona

-

Marseille

-

Genoa

-

Naples

-

Messina

-

Malta (La Valletta)

-

Barcelona

2nt Barcelona & 5nt Mini Med Cruise

Barcelona

-

Rome (Civitavecchia)

-

Genoa

-

Marseille

-

Barcelona

MSC Magnifica | 7 nights

21 Dec 19

FREE centrally located handpicked hotel stay
Flights Included

£

769

View Deal

Mediterranean

MSC Magnifica

MSC Cruises

Barcelona

-

Rome (Civitavecchia)

-

Genoa

-

Marseille

-

Barcelona

Venice, Greek Gems & Split

Venice

-

Bari

-

Santorini Island

-

Chania, Crete

-

Cephalonia

-

Split

-

Venice

MSC Lirica | 8 nights

05 Sep 19

FREE centrally located handpicked hotel stay
Flights Included
Free Premium Drinks Package worth £250pp

£

779

View Deal

Europe, Mediterranean

MSC Lirica

MSC Cruises

Venice

-

Bari

-

Santorini Island

-

Chania, Crete

-

Cephalonia

-

Split

-

Venice

Majorca Stay & Med Medley

Palma De Mallorca

-

Ibiza

-

Naples

-

Livorno

-

Genoa

-

Marseille

-

Palma De Mallorca

MSC Fantasia | 10 nights

16 Sep 19

FREE centrally located handpicked hotel stay
Flights Included

£

779

View Deal

Europe, Mediterranean

MSC Fantasia

MSC Cruises

Palma De Mallorca

-

Ibiza

-

Naples

-

Livorno

-

Genoa

-

Marseille

-

Palma De Mallorca

Venice, Greek Gems & Split

Venice

-

Bari

-

Santorini Island

-

Chania, Crete

-

Cephalonia

-

Split

-

Venice

MSC Lirica | 8 nights

12 Sep 19

FREE centrally located handpicked hotel stay
Flights Included
Free Premium Drinks Package worth £250pp

£

779

View Deal

Europe, Mediterranean

MSC Lirica

MSC Cruises

Venice

-

Bari

-

Santorini Island

-

Chania, Crete

-

Cephalonia

-

Split

-

Venice

Rome 1nt Stay & 6nt Med Romance

Rome (Civitavecchia)

-

Cannes

-

Palma De Mallorca

-

Barcelona

-

Ajaccio

-

Genoa

-

Rome (Civitavecchia)

MSC Seaview | 7 nights

12 Nov 19

FREE centrally located handpicked hotel stay
Flights Included

£

779

View Deal

Europe

MSC Seaview

MSC Cruises

Rome (Civitavecchia)

-

Cannes

-

Palma De Mallorca

-

Barcelona

-

Ajaccio

-

Genoa

-

Rome (Civitavecchia)

Barcelona Stay + Mediterranean Cruise

Barcelona

-

Marseille

-

Genoa

-

Naples

-

Messina

-

Malta (La Valletta)

-

Palma De Mallorca

-

Barcelona

MSC Grandiosa | 9 nights

25 Mar 20

FREE centrally located handpicked hotel stay
Flights Included
Upgrade to Fantastica & get Free Drinks package worth £250

£

779

View Deal

Europe, Mediterranean

MSC Grandiosa

MSC Cruises

Barcelona

-

Marseille

-

Genoa

-

Naples

-

Messina

-

Malta (La Valletta)

-

Palma De Mallorca

-

Barcelona

Barcelona Stay + Mediterranean Cruise

Barcelona

-

Marseille

-

Genoa

-

Naples

-

Messina

-

Malta (La Valletta)

-

Barcelona

MSC Grandiosa | 8 nights

02 Apr 20

FREE centrally located handpicked hotel stay
Flights Included

£

779

View Deal

Europe, Mediterranean

MSC Grandiosa

MSC Cruises

Barcelona

-

Marseille

-

Genoa

-

Naples

-

Messina

-

Malta (La Valletta)

-

Barcelona

Lisbon to Hamburg

Lisbon

-

Cadiz

-

Malaga

-

La Coruna

-

Rotterdam

-

Hamburg

MSC Preziosa | 12 nights

01 May 19

FREE centrally located handpicked hotel stay
Flights Included

£

779

View Deal

Europe, Iberian Peninsula

MSC Preziosa

MSC Cruises

Lisbon

-

Cadiz

-

Malaga

-

La Coruna

-

Rotterdam

-

Hamburg

2nts Barcelona & 7nts Western Med Bliss

MSC Bellissima | 9 nights

27 Mar 19

Pre-Cruise Flight Included

Pre-Cruise Hotel 2night(s) Included

£

789

View Deal

Europe, Mediterranean

MSC Bellissima

MSC Cruises

Barcelona

-

Marseille

-

Genoa

-

Naples

-

Messina

-

Malta (La Valletta)

-

Barcelona

Barcelona 1nt Stay & 7nt Western Med

Barcelona

-

Marseille

-

Genoa

-

Naples

-

Messina

-

Malta (La Valletta)

-

Barcelona

MSC Bellissima | 8 nights

21 Mar 19

FREE centrally located handpicked hotel stay
Flights Included
Brand New Ship!
Free Premium Drinks Package worth £250pp

£

799

View Deal

Europe, Mediterranean

MSC Bellissima

MSC Cruises

Barcelona

-

Marseille

-

Genoa

-

Naples

-

Messina

-

Malta (La Valletta)

-

Barcelona

Barcelona 1nt Stay & 7nt Western Med

Barcelona

-

Marseille

-

Genoa

-

Naples

-

Messina

-

Malta (La Valletta)

-

Barcelona

MSC Bellissima | 8 nights

17 Oct 19

FREE centrally located handpicked hotel stay
Flights Included
Brand New Ship!
Free Premium Drinks Package worth £250pp

£

799

View Deal

Europe, Mediterranean

MSC Bellissima

MSC Cruises

Barcelona

-

Marseille

-

Genoa

-

Naples

-

Messina

-

Malta (La Valletta)

-

Barcelona

Venice, Kotor & Greek Islands

Venice

-

Kotor

-

Mykonos

-

Santorini Island

-

Corfu

-

Bari

-

Venice

MSC Opera | 8 nights

05 Oct 19

FREE centrally located handpicked hotel stay
Flights Included
Free Premium Drinks Package worth £250pp

£

799

View Deal

Europe, Mediterranean

MSC Opera

MSC Cruises

Venice

-

Kotor

-

Mykonos

-

Santorini Island

-

Corfu

-

Bari

-

Venice

8nt Italy, Greece, Albania & Croatia

Venice

-

Bari

-

Katakolon

-

Mykonos

-

Athens (Piraeus)

-

Sarande

-

Dubrovnik

-

Venice

MSC Orchestra | 8 nights

23 Oct 20

FREE centrally located handpicked hotel stay
Flights Included

£

799

View Deal

Europe

MSC Orchestra

MSC Cruises

Venice

-

Bari

-

Katakolon

-

Mykonos

-

Athens (Piraeus)

-

Sarande

-

Dubrovnik

-

Venice

8nt Italy, Greece, Albania & Croatia

Venice

-

Bari

-

Katakolon

-

Mykonos

-

Athens (Piraeus)

-

Sarande

-

Dubrovnik

-

Venice

MSC Orchestra | 8 nights

18 Sep 20

FREE centrally located handpicked hotel stay
Flights Included

£

799

View Deal

Europe

MSC Orchestra

MSC Cruises

Venice

-

Bari

-

Katakolon

-

Mykonos

-

Athens (Piraeus)

-

Sarande

-

Dubrovnik

-

Venice

8nt Italy, Greece, Albania & Croatia

Venice

-

Bari

-

Katakolon

-

Mykonos

-

Athens (Piraeus)

-

Sarande

-

Dubrovnik

-

Venice

MSC Orchestra | 8 nights

25 Sep 20

FREE centrally located handpicked hotel stay
Flights Included

£

799

View Deal

Europe

MSC Orchestra

MSC Cruises

Venice

-

Bari

-

Katakolon

-

Mykonos

-

Athens (Piraeus)

-

Sarande

-

Dubrovnik

-

Venice

8nt Italy, Croatia, Greek Isles

Venice

-

Split

-

Santorini Island

-

Sarande

-

Dubrovnik

-

Italy (Ancona)

-

Venice

MSC Sinfonia | 8 nights

11 Sep 20

FREE centrally located handpicked hotel stay
Flights Included

£

799

View Deal

Europe, Mediterranean

MSC Sinfonia

MSC Cruises

Venice

-

Split

-

Santorini Island

-

Sarande

-

Dubrovnik

-

Italy (Ancona)

-

Venice

8nt Italy, Croatia & Greek Isles

Venice

-

Split

-

Santorini Island

-

Mykonos

-

Dubrovnik

-

Italy (Ancona)

-

Venice

MSC Sinfonia | 8 nights

04 Sep 20

FREE centrally located handpicked hotel stay
Flights Included

£

799

View Deal

Europe, Mediterranean

MSC Sinfonia

MSC Cruises

Venice

-

Split

-

Santorini Island

-

Mykonos

-

Dubrovnik

-

Italy (Ancona)

-

Venice

1nt Barcelona & 7nt Mediterranean Seaviews

Barcelona

-

Ajaccio

-

Genoa

-

La Spezia

-

Rome (Civitavecchia)

-

Cannes

-

Palma De Mallorca

-

Barcelona

MSC Seaview | 8 nights

25 Sep 20

FREE centrally located handpicked hotel stay
Flights Included

£

799

View Deal

Europe, Mediterranean

MSC Seaview

MSC Cruises

Barcelona

-

Ajaccio

-

Genoa

-

La Spezia

-

Rome (Civitavecchia)

-

Cannes

-

Palma De Mallorca

-

Barcelona

1nt Barcelona & 7nt Mediterranean Seaviews

Barcelona

-

Ajaccio

-

Genoa

-

La Spezia

-

Rome (Civitavecchia)

-

Cannes

-

Palma De Mallorca

-

Barcelona

MSC Seaview | 8 nights

02 Oct 20

FREE centrally located handpicked hotel stay
Flights Included

£

799

View Deal

Europe, Mediterranean

MSC Seaview

MSC Cruises

Barcelona

-

Ajaccio

-

Genoa

-

La Spezia

-

Rome (Civitavecchia)

-

Cannes

-

Palma De Mallorca

-

Barcelona

1nt Barcelona & 7nt Mediterranean Seaviews

Barcelona

-

Ajaccio

-

Genoa

-

La Spezia

-

Rome (Civitavecchia)

-

Cannes

-

Palma De Mallorca

-

Barcelona

MSC Seaview | 8 nights

16 Oct 20

FREE centrally located handpicked hotel stay
Flights Included

£

799

View Deal

Europe, Mediterranean

MSC Seaview

MSC Cruises

Barcelona

-

Ajaccio

-

Genoa

-

La Spezia

-

Rome (Civitavecchia)

-

Cannes

-

Palma De Mallorca

-

Barcelona

1nt Barcelona & 7nt Mediterranean Seaviews

Barcelona

-

Ajaccio

-

Genoa

-

La Spezia

-

Rome (Civitavecchia)

-

Cannes

-

Palma De Mallorca

-

Barcelona

MSC Seaview | 8 nights

23 Oct 20

FREE centrally located handpicked hotel stay
Flights Included

£

799

View Deal

Europe, Mediterranean

MSC Seaview

MSC Cruises

Barcelona

-

Ajaccio

-

Genoa

-

La Spezia

-

Rome (Civitavecchia)

-

Cannes

-

Palma De Mallorca

-

Barcelona

Barcelona 2nt Stay & 5nt Spain,Italy & France

Barcelona

-

Genoa

-

Marseille

-

Ibiza

-

Palma De Mallorca

-

Barcelona

MSC Orchestra | 7 nights

30 Sep 19

FREE centrally located handpicked hotel stay
Flights Included
Free Upgrade to Oceanview Cabin

£

799

View Deal

Mediterranean

MSC Orchestra

MSC Cruises

Barcelona

-

Genoa

-

Marseille

-

Ibiza

-

Palma De Mallorca

-

Barcelona

Venice, Greek Gems & Split

Venice

-

Bari

-

Santorini Island

-

Chania, Crete

-

Cephalonia

-

Split

-

Venice

MSC Lirica | 8 nights

06 Jun 19

FREE centrally located handpicked hotel stay
Flights Included
Free Upgrade to Oceanview Cabin
Free Premium Drinks Package worth £250pp

£

799

View Deal

Europe, Mediterranean

MSC Lirica

MSC Cruises

Venice

-

Bari

-

Santorini Island

-

Chania, Crete

-

Cephalonia

-

Split

-

Venice

2nt Genoa Stay & 7nt Mediterranean Cruise

Genoa

-

Marseille

-

Palma De Mallorca

-

Ibiza

-

Naples

-

Livorno

-

Genoa

MSC Fantasia | 9 nights

05 Sep 19

FREE centrally located handpicked hotel stay
Flights Included
Free Premium Drinks Package worth £250pp

£

799

View Deal

Europe, Mediterranean

MSC Fantasia

MSC Cruises

Genoa

-

Marseille

-

Palma De Mallorca

-

Ibiza

-

Naples

-

Livorno

-

Genoa

2nt Genoa Stay & 7nt Mediterranean Cruise

Genoa

-

Marseille

-

Palma De Mallorca

-

Ibiza

-

Naples

-

Livorno

-

Genoa

MSC Fantasia | 9 nights

12 Sep 19

FREE centrally located handpicked hotel stay
Flights Included
Free Premium Drinks Package worth £250pp

£

799

View Deal

Europe, Mediterranean

MSC Fantasia

MSC Cruises

Genoa

-

Marseille

-

Palma De Mallorca

-

Ibiza

-

Naples

-

Livorno

-

Genoa

2nt Genoa Stay & 7nt Mediterranean Cruise

Genoa

-

Marseille

-

Palma De Mallorca

-

Ibiza

-

Naples

-

Livorno

-

Genoa

MSC Fantasia | 9 nights

26 Sep 19

FREE centrally located handpicked hotel stay
Flights Included
Free Premium Drinks Package worth £250pp

£

799

View Deal

Europe, Mediterranean

MSC Fantasia

MSC Cruises

Genoa

-

Marseille

-

Palma De Mallorca

-

Ibiza

-

Naples

-

Livorno

-

Genoa

2nt Genoa Stay & 7nt Mediterranean Cruise

Genoa

-

Marseille

-

Palma De Mallorca

-

Ibiza

-

Naples

-

Livorno

-

Genoa

MSC Fantasia | 9 nights

03 Oct 19

FREE centrally located handpicked hotel stay
Flights Included
Free Premium Drinks Package worth £250pp

£

799

View Deal

Europe, Mediterranean

MSC Fantasia

MSC Cruises

Genoa

-

Marseille

-

Palma De Mallorca

-

Ibiza

-

Naples

-

Livorno

-

Genoa

2nt Genoa Stay & 7nt Mediterranean Cruise

Genoa

-

Marseille

-

Palma De Mallorca

-

Ibiza

-

Naples

-

Livorno

-

Genoa

MSC Fantasia | 9 nights

09 May 19

FREE centrally located handpicked hotel stay
Flights Included
Free Premium Drinks Package worth £250pp

£

799

View Deal

Europe, Mediterranean

MSC Fantasia

MSC Cruises

Genoa

-

Marseille

-

Palma De Mallorca

-

Ibiza

-

Naples

-

Livorno

-

Genoa

2nt Genoa Stay & 7nt Mediterranean Cruise

Genoa

-

Marseille

-

Palma De Mallorca

-

Ibiza

-

Naples

-

Livorno

-

Genoa

MSC Fantasia | 9 nights

16 May 19

FREE centrally located handpicked hotel stay
Flights Included
Free Premium Drinks Package worth £250pp

£

799

View Deal

Europe, Mediterranean

MSC Fantasia

MSC Cruises

Genoa

-

Marseille

-

Palma De Mallorca

-

Ibiza

-

Naples

-

Livorno

-

Genoa

Venice, Greek Gems & Split

Venice

-

Bari

-

Santorini Island

-

Chania, Crete

-

Cephalonia

-

Split

-

Venice

MSC Lirica | 8 nights

29 Aug 19

FREE centrally located handpicked hotel stay
Flights Included
Free Premium Drinks Package worth £250pp

£

799

View Deal

Europe, Mediterranean

MSC Lirica

MSC Cruises

Venice

-

Bari

-

Santorini Island

-

Chania, Crete

-

Cephalonia

-

Split

-

Venice

Maiden Voyage - Southampton to Marseille

Southampton

-

La Coruna

-

Lisbon

-

Valencia

-

Barcelona

-

Marseille

MSC Bellissima | 11 nights

04 Mar 19

FREE centrally located handpicked hotel stay
Flights Included
Free Balcony Upgrade
Brand New Ship!
Upgrade to Fantastica & get Free Drinks package

£

799

View Deal

Europe, Mediterranean, United Kingdom

MSC Bellissima

MSC Cruises

Southampton

-

La Coruna

-

Lisbon

-

Valencia

-

Barcelona

-

Marseille

1nt Barcelona & 9nt Mediterranean Cruise

Barcelona

-

Marseille

-

Genoa

-

Malaga

-

Casablanca

-

Lisbon

-

Barcelona

MSC Splendida | 10 nights

25 Sep 20

FREE centrally located handpicked hotel stay
Flights Included

£

799

View Deal

Europe, Mediterranean

MSC Splendida

MSC Cruises

Barcelona

-

Marseille

-

Genoa

-

Malaga

-

Casablanca

-

Lisbon

-

Barcelona

Venice 1nt Stay & 7nt Greek Isles & Montenegro

Venice

-

Bari

-

Katakolon

-

Santorini Island

-

Athens (Piraeus)

-

Corfu

-

Kotor

-

Venice

MSC Magnifica | 8 nights

02 Nov 19

FREE centrally located handpicked hotel stay
Flights Included
Free Premium Drinks Package worth £250pp

£

819

View Deal

Europe, Mediterranean

MSC Magnifica

MSC Cruises

Venice

-

Bari

-

Katakolon

-

Santorini Island

-

Athens (Piraeus)

-

Corfu

-

Kotor

-

Venice

1nt Rome Stay & 7nt Western Med

Rome (Civitavecchia)

-

Palermo

-

Cagliari

-

Palma De Mallorca

-

Valencia

-

Marseille

-

Genoa

-

Rome (Civitavecchia)

MSC Divina | 8 nights

05 Oct 19

FREE centrally located handpicked hotel stay
Flights Included
Free Premium Drinks Package worth £250pp

£

819

View Deal

Europe, Mediterranean

MSC Divina

MSC Cruises

Rome (Civitavecchia)

-

Palermo

-

Cagliari

-

Palma De Mallorca

-

Valencia

-

Marseille

-

Genoa

-

Rome (Civitavecchia)

Majorca Stay & Med Medley

Palma De Mallorca

-

Ibiza

-

Naples

-

Livorno

-

Genoa

-

Marseille

-

Palma De Mallorca

MSC Fantasia | 10 nights

06 May 19

FREE centrally located handpicked hotel stay
Flights Included

£

819

View Deal

Europe, Mediterranean

MSC Fantasia

MSC Cruises

Palma De Mallorca

-

Ibiza

-

Naples

-

Livorno

-

Genoa

-

Marseille

-

Palma De Mallorca

8nt Valencian Sunsets

Valencia

-

Marseille

-

Genoa

-

Rome (Civitavecchia)

-

Palermo

-

Cagliari

-

Palma De Mallorca

-

Valencia

MSC Divina | 8 nights

02 Oct 19

FREE centrally located handpicked hotel stay
Flights Included
Free Premium Drinks Package worth £250pp

£

819

View Deal

Europe, Mediterranean

MSC Divina

MSC Cruises

Valencia

-

Marseille

-

Genoa

-

Rome (Civitavecchia)

-

Palermo

-

Cagliari

-

Palma De Mallorca

-

Valencia

8nt Valencian Sunsets

Valencia

-

Marseille

-

Genoa

-

Rome (Civitavecchia)

-

Palermo

-

Cagliari

-

Palma De Mallorca

-

Valencia

MSC Divina | 8 nights

16 Oct 19

FREE centrally located handpicked hotel stay
Flights Included
Free Premium Drinks Package worth £250pp

£

819

View Deal

Europe, Mediterranean

MSC Divina

MSC Cruises

Valencia

-

Marseille

-

Genoa

-

Rome (Civitavecchia)

-

Palermo

-

Cagliari

-

Palma De Mallorca

-

Valencia

8nt Italy, Greece, Albania & Croatia

Venice

-

Bari

-

Katakolon

-

Mykonos

-

Athens (Piraeus)

-

Sarande

-

Dubrovnik

-

Venice

MSC Orchestra | 8 nights

15 May 20

FREE centrally located handpicked hotel stay
Flights Included

£

819

View Deal

Europe

MSC Orchestra

MSC Cruises

Venice

-

Bari

-

Katakolon

-

Mykonos

-

Athens (Piraeus)

-

Sarande

-

Dubrovnik

-

Venice

8nt Italy, Croatia & Greek Isles

Venice

-

Split

-

Santorini Island

-

Mykonos

-

Dubrovnik

-

Italy (Ancona)

-

Venice

MSC Sinfonia | 8 nights

03 Jul 20

FREE centrally located handpicked hotel stay
Flights Included

£

819

View Deal

Europe, Mediterranean

MSC Sinfonia

MSC Cruises

Venice

-

Split

-

Santorini Island

-

Mykonos

-

Dubrovnik

-

Italy (Ancona)

-

Venice

2nts Nice & 7nts Beautiful Mediterranean

MSC Bellissima | 9 nights

18 Oct 19

Pre-Cruise Flight Included

Pre-Cruise Hotel 2night(s) Included

£

819

View Deal

Europe, Mediterranean

MSC Bellissima

MSC Cruises

Genoa

-

Naples

-

Messina

-

Malta (La Valletta)

-

Barcelona

-

Marseille

-

Genoa

2nts Barcelona & 7nts Western Med Bliss

MSC Bellissima | 9 nights

13 Mar 19

Pre-Cruise Flight Included

Pre-Cruise Hotel 2night(s) Included

£

819

View Deal

Europe, Mediterranean

MSC Bellissima

MSC Cruises

Barcelona

-

Marseille

-

Genoa

-

Naples

-

Messina

-

Malta (La Valletta)

-

Barcelona

1nts Genoa & 7nts Beautiful Med

MSC Bellissima | 8 nights

18 May 19

Pre-Cruise Flight Included

Pre-Cruise Hotel 1night(s) Included

Post-Cruise Flight Included

£

819

View Deal

Europe, Mediterranean

MSC Bellissima

MSC Cruises

Genoa

-

Naples

-

Messina

-

Malta (La Valletta)

-

Barcelona

-

Marseille

-

Genoa

Valencia + 7nt Westerm Mediterranean Cruise

Valencia

-

Marseille

-

Genoa

-

Rome (Civitavecchia)

-

Palermo

-

Cagliari

-

Palma De Mallorca

-

Valencia

MSC Fantasia | 8 nights

01 Apr 20

FREE centrally located handpicked hotel stay
Flights Included

£

819

View Deal

Europe, Mediterranean

MSC Fantasia

MSC Cruises

Valencia

-

Marseille

-

Genoa

-

Rome (Civitavecchia)

-

Palermo

-

Cagliari

-

Palma De Mallorca

-

Valencia

8nt Valencian Sunsets

Valencia

-

Marseille

-

Genoa

-

Rome (Civitavecchia)

-

Palermo

-

Cagliari

-

Palma De Mallorca

-

Valencia

MSC Divina | 8 nights

09 Oct 19

FREE centrally located handpicked hotel stay
Flights Included
Free Premium Drinks Package worth £250pp

£

819

View Deal

Europe, Mediterranean

MSC Divina

MSC Cruises

Valencia

-

Marseille

-

Genoa

-

Rome (Civitavecchia)

-

Palermo

-

Cagliari

-

Palma De Mallorca

-

Valencia

Venice, Greek Gems & Split

Venice

-

Bari

-

Santorini Island

-

Chania, Crete

-

Cephalonia

-

Split

-

Venice

MSC Lirica | 8 nights

13 Jun 19

FREE centrally located handpicked hotel stay
Flights Included
Free Upgrade to Oceanview Cabin
Free Premium Drinks Package worth £250pp

£

819

View Deal

Europe, Mediterranean

MSC Lirica

MSC Cruises

Venice

-

Bari

-

Santorini Island

-

Chania, Crete

-

Cephalonia

-

Split

-

Venice

2nt Genoa Stay & 7nt Mediterranean Cruise

Genoa

-

Marseille

-

Palma De Mallorca

-

Ibiza

-

Naples

-

Livorno

-

Genoa

MSC Fantasia | 9 nights

13 Jun 19

FREE centrally located handpicked hotel stay
Flights Included
Free Premium Drinks Package worth £250pp

£

819

View Deal

Europe, Mediterranean

MSC Fantasia

MSC Cruises

Genoa

-

Marseille

-

Palma De Mallorca

-

Ibiza

-

Naples

-

Livorno

-

Genoa

2nt Genoa Stay & 7nt Mediterranean Cruise

Genoa

-

Marseille

-

Palma De Mallorca

-

Ibiza

-

Naples

-

Livorno

-

Genoa

MSC Fantasia | 9 nights

20 Jun 19

FREE centrally located handpicked hotel stay
Flights Included
Free Premium Drinks Package worth £250pp

£

819

View Deal

Europe, Mediterranean

MSC Fantasia

MSC Cruises

Genoa

-

Marseille

-

Palma De Mallorca

-

Ibiza

-

Naples

-

Livorno

-

Genoa

2nt Genoa Stay & 7nt Mediterranean Cruise

Genoa

-

Marseille

-

Palma De Mallorca

-

Ibiza

-

Naples

-

Livorno

-

Genoa

MSC Fantasia | 9 nights

27 Jun 19

FREE centrally located handpicked hotel stay
Flights Included
Free Premium Drinks Package worth £250pp

£

819

View Deal

Europe, Mediterranean

MSC Fantasia

MSC Cruises

Genoa

-

Marseille

-

Palma De Mallorca

-

Ibiza

-

Naples

-

Livorno

-

Genoa

Barcelona 1nt Stay & 7nt Western Med

Barcelona

-

Ajaccio

-

Genoa

-

La Spezia

-

Cannes

-

Palma De Mallorca

-

Barcelona

MSC Seaview | 8 nights

11 Oct 19

FREE centrally located handpicked hotel stay
Flights Included
Brand New Ship!
Free Premium Drinks Package worth £250pp

£

829

View Deal

Europe, Mediterranean

MSC Seaview

MSC Cruises

Barcelona

-

Ajaccio

-

Genoa

-

La Spezia

-

Cannes

-

Palma De Mallorca

-

Barcelona

Barcelona 1nt Stay & 7nt Western Med

Barcelona

-

Ajaccio

-

Genoa

-

La Spezia

-

Cannes

-

Palma De Mallorca

-

Barcelona

MSC Seaview | 8 nights

25 Oct 19

FREE centrally located handpicked hotel stay
Flights Included
Brand New Ship!
Free Premium Drinks Package worth £250pp

£

829

View Deal

Europe, Mediterranean

MSC Seaview

MSC Cruises

Barcelona

-

Ajaccio

-

Genoa

-

La Spezia

-

Cannes

-

Palma De Mallorca

-

Barcelona

1nt Rome Stay & 7nt Western Med

Rome (Civitavecchia)

-

Palermo

-

Cagliari

-

Palma De Mallorca

-

Valencia

-

Marseille

-

Genoa

-

Rome (Civitavecchia)

MSC Divina | 8 nights

12 Oct 19

FREE centrally located handpicked hotel stay
Flights Included
Free Premium Drinks Package worth £250pp

£

829

View Deal

Europe, Mediterranean

MSC Divina

MSC Cruises

Rome (Civitavecchia)

-

Palermo

-

Cagliari

-

Palma De Mallorca

-

Valencia

-

Marseille

-

Genoa

-

Rome (Civitavecchia)

8nt Valencian Sunsets

Valencia

-

Marseille

-

Genoa

-

Rome (Civitavecchia)

-

Palermo

-

Cagliari

-

Palma De Mallorca

-

Valencia

MSC Divina | 8 nights

23 Oct 19

FREE centrally located handpicked hotel stay
Flights Included
Free Premium Drinks Package worth £250pp

£

829

View Deal

Europe, Mediterranean

MSC Divina

MSC Cruises

Valencia

-

Marseille

-

Genoa

-

Rome (Civitavecchia)

-

Palermo

-

Cagliari

-

Palma De Mallorca

-

Valencia

8nt Italy, Greece, Albania & Croatia

Venice

-

Bari

-

Katakolon

-

Mykonos

-

Athens (Piraeus)

-

Sarande

-

Dubrovnik

-

Venice

MSC Orchestra | 8 nights

04 Sep 20

FREE centrally located handpicked hotel stay
Flights Included

£

829

View Deal

Europe

MSC Orchestra

MSC Cruises

Venice

-

Bari

-

Katakolon

-

Mykonos

-

Athens (Piraeus)

-

Sarande

-

Dubrovnik

-

Venice

8nt Italy, Greece, Albania & Croatia

Venice

-

Bari

-

Katakolon

-

Mykonos

-

Athens (Piraeus)

-

Sarande

-

Dubrovnik

-

Venice

MSC Orchestra | 8 nights

11 Sep 20

FREE centrally located handpicked hotel stay
Flights Included

£

829

View Deal

Europe

MSC Orchestra

MSC Cruises

Venice

-

Bari

-

Katakolon

-

Mykonos

-

Athens (Piraeus)

-

Sarande

-

Dubrovnik

-

Venice

8nt Italy, Croatia, Greek Isles

Venice

-

Split

-

Santorini Island

-

Sarande

-

Dubrovnik

-

Italy (Ancona)

-

Venice

MSC Sinfonia | 8 nights

10 Apr 20

FREE centrally located handpicked hotel stay
Flights Included

£

829

View Deal

Europe, Mediterranean

MSC Sinfonia

MSC Cruises

Venice

-

Split

-

Santorini Island

-

Sarande

-

Dubrovnik

-

Italy (Ancona)

-

Venice

2nt Genoa Stay & 7nt Mediterranean Cruise

Genoa

-

Marseille

-

Palma De Mallorca

-

Ibiza

-

Naples

-

Livorno

-

Genoa

MSC Fantasia | 9 nights

02 May 19

FREE centrally located handpicked hotel stay
Flights Included
Free Premium Drinks Package worth £250pp
Free Upgrade to Balcony Stateroom

£

829

View Deal

Europe, Mediterranean

MSC Fantasia

MSC Cruises

Genoa

-

Marseille

-

Palma De Mallorca

-

Ibiza

-

Naples

-

Livorno

-

Genoa

8nt Miami & the Caribbean

Miami

-

San Juan, Puerto Rico

-

Charlotte Amalie

-

Nassau

-

Ocean Cay MSC Marine Reserve

-

Miami

MSC Seaside | 8 nights

29 Nov 19

FREE centrally located handpicked hotel stay
Flights Included
Upgrade to Fantastica & get Free Drinks package worth £250

£

829

View Deal

Caribbean, Bahamas

MSC Seaside

MSC Cruises

Miami

-

San Juan, Puerto Rico

-

Charlotte Amalie

-

Nassau

-

Ocean Cay MSC Marine Reserve

-

Miami

1nt Barcelona & 7nt Mediterranean Seaviews

Barcelona

-

Ajaccio

-

Genoa

-

La Spezia

-

Rome (Civitavecchia)

-

Cannes

-

Palma De Mallorca

-

Barcelona

MSC Seaview | 8 nights

24 Apr 20

FREE centrally located handpicked hotel stay
Flights Included

£

829

View Deal

Europe, Mediterranean

MSC Seaview

MSC Cruises

Barcelona

-

Ajaccio

-

Genoa

-

La Spezia

-

Rome (Civitavecchia)

-

Cannes

-

Palma De Mallorca

-

Barcelona

1nt Barcelona & 7nt Mediterranean Seaviews

Barcelona

-

Ajaccio

-

Genoa

-

La Spezia

-

Rome (Civitavecchia)

-

Cannes

-

Palma De Mallorca

-

Barcelona

MSC Seaview | 8 nights

11 Sep 20

FREE centrally located handpicked hotel stay
Flights Included

£

829

View Deal

Europe, Mediterranean

MSC Seaview

MSC Cruises

Barcelona

-

Ajaccio

-

Genoa

-

La Spezia

-

Rome (Civitavecchia)

-

Cannes

-

Palma De Mallorca

-

Barcelona

2nt Genoa Stay & 7nt Mediterranean Cruise

Genoa

-

Marseille

-

Palma De Mallorca

-

Ibiza

-

Naples

-

Livorno

-

Genoa

MSC Fantasia | 9 nights

30 May 19

FREE centrally located handpicked hotel stay
Flights Included
Free Premium Drinks Package worth £250pp

£

829

View Deal

Europe, Mediterranean

MSC Fantasia

MSC Cruises

Genoa

-

Marseille

-

Palma De Mallorca

-

Ibiza

-

Naples

-

Livorno

-

Genoa

2nts Marseille & 7nts Mediterranean Delights

MSC Bellissima | 9 nights

12 Sep 19

Pre-Cruise Flight Included

Pre-Cruise Hotel 2night(s) Included

£

839

View Deal

Europe, Mediterranean

MSC Bellissima

MSC Cruises

Marseille

-

Genoa

-

Naples

-

Messina

-

Malta (La Valletta)

-

Barcelona

-

Marseille

2nts Venice & 7nts Mediterranean Wonders

MSC Lirica | 9 nights

22 May 19

Pre-Cruise Flight Included

Pre-Cruise Hotel 2night(s) Included

£

839

View Deal

Europe, Mediterranean

MSC Lirica

MSC Cruises

Venice

-

Bari

-

Santorini Island

-

Chania, Crete

-

Cephalonia

-

Split

-

Venice

Majorca Stay & Med Medley

Palma De Mallorca

-

Ibiza

-

Naples

-

Livorno

-

Genoa

-

Marseille

-

Palma De Mallorca

MSC Fantasia | 10 nights

23 Sep 19

FREE centrally located handpicked hotel stay
Flights Included

£

849

View Deal

Europe, Mediterranean

MSC Fantasia

MSC Cruises

Palma De Mallorca

-

Ibiza

-

Naples

-

Livorno

-

Genoa

-

Marseille

-

Palma De Mallorca

Barcelona 1nt Stay & 7nt Western Med

Barcelona

-

Marseille

-

Genoa

-

Naples

-

Messina

-

Malta (La Valletta)

-

Barcelona

MSC Bellissima | 8 nights

10 Oct 19

FREE centrally located handpicked hotel stay
Flights Included
Brand New Ship!
Free Premium Drinks Package worth £250pp

£

849

View Deal

Europe, Mediterranean

MSC Bellissima

MSC Cruises

Barcelona

-

Marseille

-

Genoa

-

Naples

-

Messina

-

Malta (La Valletta)

-

Barcelona

Venice, Kotor & Greek Islands

Venice

-

Kotor

-

Mykonos

-

Santorini Island

-

Corfu

-

Bari

-

Venice

MSC Opera | 8 nights

21 Sep 19

FREE centrally located handpicked hotel stay
Flights Included
Free Premium Drinks Package worth £250pp

£

849

View Deal

Europe, Mediterranean

MSC Opera

MSC Cruises

Venice

-

Kotor

-

Mykonos

-

Santorini Island

-

Corfu

-

Bari

-

Venice

Barcelona 2nt Stay & 4nt Spain,Italy & France

Barcelona

-

Genoa

-

Marseille

-

Ibiza

-

Barcelona

MSC Orchestra | 6 nights

05 Oct 19

FREE centrally located handpicked hotel stay
Flights Included
Free Upgrade to Oceanview Cabin

£

849

View Deal

Mediterranean

MSC Orchestra

MSC Cruises

Barcelona

-

Genoa

-

Marseille

-

Ibiza

-

Barcelona

8nt Italy, Croatia, Greek Isles

Venice

-

Split

-

Santorini Island

-

Sarande

-

Dubrovnik

-

Italy (Ancona)

-

Venice

MSC Sinfonia | 8 nights

01 May 20

FREE centrally located handpicked hotel stay
Flights Included

£

849

View Deal

Europe, Mediterranean

MSC Sinfonia

MSC Cruises

Venice

-

Split

-

Santorini Island

-

Sarande

-

Dubrovnik

-

Italy (Ancona)

-

Venice

8nt Italy, Croatia & Greek Isles

Venice

-

Split

-

Santorini Island

-

Mykonos

-

Dubrovnik

-

Italy (Ancona)

-

Venice

MSC Sinfonia | 8 nights

29 May 20

FREE centrally located handpicked hotel stay
Flights Included

£

849

View Deal

Europe, Mediterranean

MSC Sinfonia

MSC Cruises

Venice

-

Split

-

Santorini Island

-

Mykonos

-

Dubrovnik

-

Italy (Ancona)

-

Venice

8nt Italy, Croatia & Greek Isles

Venice

-

Split

-

Santorini Island

-

Mykonos

-

Dubrovnik

-

Italy (Ancona)

-

Venice

MSC Sinfonia | 8 nights

05 Jun 20

FREE centrally located handpicked hotel stay
Flights Included

£

849

View Deal

Europe, Mediterranean

MSC Sinfonia

MSC Cruises

Venice

-

Split

-

Santorini Island

-

Mykonos

-

Dubrovnik

-

Italy (Ancona)

-

Venice

1nts Genoa & 7nts Beautiful Med

MSC Bellissima | 8 nights

05 Oct 19

Pre-Cruise Flight Included

Pre-Cruise Hotel 1night(s) Included

Post-Cruise Flight Included

£

849

View Deal

Europe, Mediterranean

MSC Bellissima

MSC Cruises

Genoa

-

Naples

-

Messina

-

Malta (La Valletta)

-

Barcelona

-

Marseille

-

Genoa

1nt Barcelona & 7nt Mediterranean Seaviews

Barcelona

-

Ajaccio

-

Genoa

-

La Spezia

-

Rome (Civitavecchia)

-

Cannes

-

Palma De Mallorca

-

Barcelona

MSC Seaview | 8 nights

18 Sep 20

FREE centrally located handpicked hotel stay
Flights Included

£

849

View Deal

Europe, Mediterranean

MSC Seaview

MSC Cruises

Barcelona

-

Ajaccio

-

Genoa

-

La Spezia

-

Rome (Civitavecchia)

-

Cannes

-

Palma De Mallorca

-

Barcelona

Barcelona 1nt Stay & 7nt Western Med

Barcelona

-

Marseille

-

Genoa

-

Naples

-

Messina

-

Malta (La Valletta)

-

Barcelona

MSC Bellissima | 8 nights

28 Mar 19

FREE centrally located handpicked hotel stay
Flights Included
Brand New Ship!
Free Premium Drinks Package worth £250pp

£

849

View Deal

Europe, Mediterranean

MSC Bellissima

MSC Cruises

Barcelona

-

Marseille

-

Genoa

-

Naples

-

Messina

-

Malta (La Valletta)

-

Barcelona

Barcelona 1nt Stay & 7nt Med Medley

Barcelona

-

Marseille

-

Genoa

-

Rome (Civitavecchia)

-

Palermo

-

Malta (La Valletta)

-

Barcelona

MSC Grandiosa | 8 nights

01 Jan 20

FREE centrally located handpicked hotel stay
Flights Included
Brand New Ship!

£

849

View Deal

Europe, Mediterranean

MSC Grandiosa

MSC Cruises

Barcelona

-

Marseille

-

Genoa

-

Rome (Civitavecchia)

-

Palermo

-

Malta (La Valletta)

-

Barcelona

2nt Genoa Stay & 7nt Mediterranean Cruise

Genoa

-

Marseille

-

Palma De Mallorca

-

Ibiza

-

Naples

-

Livorno

-

Genoa

MSC Fantasia | 9 nights

11 Jul 19

FREE centrally located handpicked hotel stay
Flights Included
Free Premium Drinks Package worth £250pp

£

849

View Deal

Europe, Mediterranean

MSC Fantasia

MSC Cruises

Genoa

-

Marseille

-

Palma De Mallorca

-

Ibiza

-

Naples

-

Livorno

-

Genoa

Lake Garda, Greece & Split

Venice

-

Bari

-

Katakolon

-

Athens (Piraeus)

-

Sarande

-

Split

-

Venice

MSC Lirica | 9 nights

15 May 19

FREE centrally located handpicked hotel stay
Flights Included
Free Premium Drinks Package worth £250pp

£

849

View Deal

Europe, Mediterranean

MSC Lirica

MSC Cruises

Venice

-

Bari

-

Katakolon

-

Athens (Piraeus)

-

Sarande

-

Split

-

Venice

Majorca Stay & Med Medley

Palma De Mallorca

-

Ibiza

-

Naples

-

Livorno

-

Genoa

-

Marseille

-

Palma De Mallorca

MSC Fantasia | 10 nights

17 Jun 19

FREE centrally located handpicked hotel stay
Flights Included

£

869

View Deal

Europe, Mediterranean

MSC Fantasia

MSC Cruises

Palma De Mallorca

-

Ibiza

-

Naples

-

Livorno

-

Genoa

-

Marseille

-

Palma De Mallorca

Majorca Stay & Med Medley

Palma De Mallorca

-

Ibiza

-

Naples

-

Livorno

-

Genoa

-

Marseille

-

Palma De Mallorca

MSC Fantasia | 10 nights

10 Jun 19

FREE centrally located handpicked hotel stay
Flights Included

£

869

View Deal

Europe, Mediterranean

MSC Fantasia

MSC Cruises

Palma De Mallorca

-

Ibiza

-

Naples

-

Livorno

-

Genoa

-

Marseille

-

Palma De Mallorca

Barcelona 1nt Stay & 7nt Western Med

Barcelona

-

Marseille

-

Genoa

-

Naples

-

Messina

-

Malta (La Valletta)

-

Barcelona

MSC Bellissima | 8 nights

24 Oct 19

FREE centrally located handpicked hotel stay
Flights Included
Brand New Ship!
Free Premium Drinks Package worth £250pp

£

869

View Deal

Europe, Mediterranean

MSC Bellissima

MSC Cruises

Barcelona

-

Marseille

-

Genoa

-

Naples

-

Messina

-

Malta (La Valletta)

-

Barcelona

1nt Venice Stay & 7nt Italy, Greece & Croatia

Venice

-

Brindisi

-

Katakolon

-

Mykonos

-

Athens (Piraeus)

-

Sarande

-

Dubrovnik

-

Venice

MSC Musica | 8 nights

27 Sep 19

FREE centrally located handpicked hotel stay
Flights Included
Free Premium Drinks Package worth £250pp

£

869

View Deal

Europe, Mediterranean

MSC Musica

MSC Cruises

Venice

-

Brindisi

-

Katakolon

-

Mykonos

-

Athens (Piraeus)

-

Sarande

-

Dubrovnik

-

Venice

8nt Italy, Greece, Albania & Croatia

Venice

-

Bari

-

Katakolon

-

Mykonos

-

Athens (Piraeus)

-

Sarande

-

Dubrovnik

-

Venice

MSC Orchestra | 8 nights

03 Jul 20

FREE centrally located handpicked hotel stay
Flights Included

£

869

View Deal

Europe

MSC Orchestra

MSC Cruises

Venice

-

Bari

-

Katakolon

-

Mykonos

-

Athens (Piraeus)

-

Sarande

-

Dubrovnik

-

Venice

8nt Italy, Croatia & Greek Isles

Venice

-

Split

-

Santorini Island

-

Mykonos

-

Dubrovnik

-

Italy (Ancona)

-

Venice

MSC Sinfonia | 8 nights

12 Jun 20

FREE centrally located handpicked hotel stay
Flights Included

£

869

View Deal

Europe, Mediterranean

MSC Sinfonia

MSC Cruises

Venice

-

Split

-

Santorini Island

-

Mykonos

-

Dubrovnik

-

Italy (Ancona)

-

Venice

8nt Italy, Croatia & Greek Isles

Venice

-

Split

-

Santorini Island

-

Mykonos

-

Dubrovnik

-

Italy (Ancona)

-

Venice

MSC Sinfonia | 8 nights

19 Jun 20

FREE centrally located handpicked hotel stay
Flights Included

£

869

View Deal

Europe, Mediterranean

MSC Sinfonia

MSC Cruises

Venice

-

Split

-

Santorini Island

-

Mykonos

-

Dubrovnik

-

Italy (Ancona)

-

Venice

All Inclusive 7nts Med Voyage & Genoa

Southampton

-

Vigo

-

Lisbon

-

Barcelona

-

Marseille

-

Genoa

MSC Preziosa | 9 nights

25 Sep 19

FREE centrally located handpicked hotel stay
Flights Included
Free Premium Drinks Package worth £250pp

£

869

View Deal

Europe, Mediterranean

MSC Preziosa

MSC Cruises

Southampton

-

Vigo

-

Lisbon

-

Barcelona

-

Marseille

-

Genoa

Venice, Kotor & Greek Islands

Venice

-

Kotor

-

Mykonos

-

Santorini Island

-

Corfu

-

Bari

-

Venice

MSC Opera | 8 nights

14 Sep 19

FREE centrally located handpicked hotel stay
Flights Included
Free Premium Drinks Package worth £250pp

£

869

View Deal

Europe, Mediterranean

MSC Opera

MSC Cruises

Venice

-

Kotor

-

Mykonos

-

Santorini Island

-

Corfu

-

Bari

-

Venice

2nt Genoa Stay & 7nt Mediterranean Cruise

Genoa

-

Marseille

-

Palma De Mallorca

-

Ibiza

-

Naples

-

Livorno

-

Genoa

MSC Fantasia | 9 nights

25 Apr 19

FREE centrally located handpicked hotel stay
Flights Included
Free Premium Drinks Package worth £250pp

£

869

View Deal

Europe, Mediterranean

MSC Fantasia

MSC Cruises

Genoa

-

Marseille

-

Palma De Mallorca

-

Ibiza

-

Naples

-

Livorno

-

Genoa

Barcelona 1nt Stay & 7nt Western Med

Barcelona

-

Ajaccio

-

Genoa

-

La Spezia

-

Cannes

-

Palma De Mallorca

-

Barcelona

MSC Seaview | 8 nights

18 Oct 19

FREE centrally located handpicked hotel stay
Flights Included
Brand New Ship!
Free Premium Drinks Package worth £250pp

£

879

View Deal

Europe, Mediterranean

MSC Seaview

MSC Cruises

Barcelona

-

Ajaccio

-

Genoa

-

La Spezia

-

Cannes

-

Palma De Mallorca

-

Barcelona

Venice, Kotor & Greek Islands

Venice

-

Kotor

-

Mykonos

-

Santorini Island

-

Corfu

-

Bari

-

Venice

MSC Opera | 8 nights

01 Jun 19

FREE centrally located handpicked hotel stay
Flights Included
Free Premium Drinks Package worth £250pp

£

879

View Deal

Europe, Mediterranean

MSC Opera

MSC Cruises

Venice

-

Kotor

-

Mykonos

-

Santorini Island

-

Corfu

-

Bari

-

Venice

Venice, Kotor & Greek Islands

Venice

-

Kotor

-

Mykonos

-

Santorini Island

-

Corfu

-

Bari

-

Venice

MSC Opera | 8 nights

08 Jun 19

FREE centrally located handpicked hotel stay
Flights Included
Free Premium Drinks Package worth £250pp

£

879

View Deal

Europe, Mediterranean

MSC Opera

MSC Cruises

Venice

-

Kotor

-

Mykonos

-

Santorini Island

-

Corfu

-

Bari

-

Venice

8nt Greek & Croatian Gems

Venice

-

Split

-

Santorini Island

-

Mykonos

-

Dubrovnik

-

Italy (Ancona)

-

Venice

MSC Sinfonia | 8 nights

17 May 19

FREE centrally located handpicked hotel stay
Flights Included
Free Premium Drinks Package worth £250pp

£

879

View Deal

Europe, Mediterranean

MSC Sinfonia

MSC Cruises

Venice

-

Split

-

Santorini Island

-

Mykonos

-

Dubrovnik

-

Italy (Ancona)

-

Venice

1nt Venice Stay & 7nt Italy, Greece & Croatia

Venice

-

Brindisi

-

Katakolon

-

Mykonos

-

Athens (Piraeus)

-

Sarande

-

Dubrovnik

-

Venice

MSC Musica | 8 nights

20 Sep 19

FREE centrally located handpicked hotel stay
Flights Included
Free Premium Drinks Package worth £250pp

£

879

View Deal

Europe, Mediterranean

MSC Musica

MSC Cruises

Venice

-

Brindisi

-

Katakolon

-

Mykonos

-

Athens (Piraeus)

-

Sarande

-

Dubrovnik

-

Venice

8nt Valencian Sunsets

Valencia

-

Marseille

-

Genoa

-

Rome (Civitavecchia)

-

Palermo

-

Cagliari

-

Palma De Mallorca

-

Valencia

MSC Divina | 8 nights

29 May 19

FREE centrally located handpicked hotel stay
Flights Included
Free Premium Drinks Package worth £250pp

£

879

View Deal

Europe, Mediterranean

MSC Divina

MSC Cruises

Valencia

-

Marseille

-

Genoa

-

Rome (Civitavecchia)

-

Palermo

-

Cagliari

-

Palma De Mallorca

-

Valencia

2nts Venice & 7nts Magnificent Med

MSC Magnifica | 9 nights

11 Oct 19

Pre-Cruise Flight Included

Pre-Cruise Hotel 2night(s) Included

£

879

View Deal

Europe, Mediterranean

MSC Magnifica

MSC Cruises

Venice

-

Bari

-

Katakolon

-

Santorini Island

-

Athens (Piraeus)

-

Corfu

-

Kotor

-

Venice

8nt Miami & the Caribbean

Miami

-

San Juan, Puerto Rico

-

Charlotte Amalie

-

Nassau

-

Ocean Cay MSC Marine Reserve

-

Miami

MSC Seaside | 8 nights

15 Nov 19

FREE centrally located handpicked hotel stay
Flights Included
Upgrade to Fantastica & get Free Drinks package worth £250

£

879

View Deal

Caribbean, Bahamas

MSC Seaside

MSC Cruises

Miami

-

San Juan, Puerto Rico

-

Charlotte Amalie

-

Nassau

-

Ocean Cay MSC Marine Reserve

-

Miami

9nt United Arab Emirates,Bahrain & Qatar

Dubai

-

Abu Dhabi

-

Sir Bani Yas Island (UAE)

-

Bahrain

-

Doha

-

Dubai

MSC Bellissima | 9 nights

16 Jan 20

FREE centrally located handpicked hotel stay
Flights Included
Upgrade to Fantastica & get Free Drinks package worth £250

£

879

View Deal

Dubai & Emirates

MSC Bellissima

MSC Cruises

Dubai

-

Abu Dhabi

-

Sir Bani Yas Island (UAE)

-

Bahrain

-

Doha

-

Dubai

9nt Dubai, United Arab Emirates & Oman

Dubai

-

Abu Dhabi

-

Sir Bani Yas Island (UAE)

-

Muscat

-

Khasab

-

Dubai

MSC Bellissima | 9 nights

23 Jan 20

FREE centrally located handpicked hotel stay
Flights Included
Upgrade to Fantastica & get Free Drinks package worth £250

£

879

View Deal

Middle East, Dubai & Emirates

MSC Bellissima

MSC Cruises

Dubai

-

Abu Dhabi

-

Sir Bani Yas Island (UAE)

-

Muscat

-

Khasab

-

Dubai

9nt United Arab Emirates,Bahrain & Qatar

Dubai

-

Abu Dhabi

-

Sir Bani Yas Island (UAE)

-

Bahrain

-

Doha

-

Dubai

MSC Bellissima | 9 nights

30 Jan 20

FREE centrally located handpicked hotel stay
Flights Included
Upgrade to Fantastica & get Free Drinks package worth £250

£

879

View Deal

Dubai & Emirates

MSC Bellissima

MSC Cruises

Dubai

-

Abu Dhabi

-

Sir Bani Yas Island (UAE)

-

Bahrain

-

Doha

-

Dubai

9nt Dubai, United Arab Emirates & Oman

Dubai

-

Abu Dhabi

-

Sir Bani Yas Island (UAE)

-

Muscat

-

Khasab

-

Dubai

MSC Bellissima | 9 nights

06 Feb 20

FREE centrally located handpicked hotel stay
Flights Included
Upgrade to Fantastica & get Free Drinks package worth £250

£

879

View Deal

Middle East, Dubai & Emirates

MSC Bellissima

MSC Cruises

Dubai

-

Abu Dhabi

-

Sir Bani Yas Island (UAE)

-

Muscat

-

Khasab

-

Dubai

1nts Genoa & 7nts Beautiful Med

MSC Bellissima | 8 nights

21 Sep 19

Pre-Cruise Flight Included

Pre-Cruise Hotel 1night(s) Included

Post-Cruise Flight Included

£

889

View Deal

Europe, Mediterranean

MSC Bellissima

MSC Cruises

Genoa

-

Naples

-

Messina

-

Malta (La Valletta)

-

Barcelona

-

Marseille

-

Genoa

2nts Barcelona & 11nts Western Med Delights

MSC Sinfonia | 13 nights

14 Mar 19

Pre-Cruise Flight Included

Pre-Cruise Hotel 2night(s) Included

£

889

View Deal

Europe, Mediterranean

MSC Sinfonia

MSC Cruises

Barcelona

-

Malta (La Valletta)

-

Corfu

-

Katakolon

-

Heraklion

-

Athens (Piraeus)

-

Rome (Civitavecchia)

-

Genoa

-

Marseille

-

Barcelona

Barcelona 1nt Stay & 7nt Western Med

Barcelona

-

Ajaccio

-

Genoa

-

La Spezia

-

Cannes

-

Palma De Mallorca

-

Barcelona

MSC Seaview | 8 nights

27 Sep 19

FREE centrally located handpicked hotel stay
Flights Included
Brand New Ship!
Free Premium Drinks Package worth £250pp

£

899

View Deal

Europe, Mediterranean

MSC Seaview

MSC Cruises

Barcelona

-

Ajaccio

-

Genoa

-

La Spezia

-

Cannes

-

Palma De Mallorca

-

Barcelona

1nt Rome Stay & 7nt Western Med

Rome (Civitavecchia)

-

Palermo

-

Cagliari

-

Palma De Mallorca

-

Valencia

-

Marseille

-

Genoa

-

Rome (Civitavecchia)

MSC Divina | 8 nights

18 May 19

FREE centrally located handpicked hotel stay
Flights Included
Free Premium Drinks Package worth £250pp

£

899

View Deal

Europe, Mediterranean

MSC Divina

MSC Cruises

Rome (Civitavecchia)

-

Palermo

-

Cagliari

-

Palma De Mallorca

-

Valencia

-

Marseille

-

Genoa

-

Rome (Civitavecchia)

1nt Rome Stay & 7nt Western Med

Rome (Civitavecchia)

-

Palermo

-

Cagliari

-

Palma De Mallorca

-

Valencia

-

Marseille

-

Genoa

-

Rome (Civitavecchia)

MSC Divina | 8 nights

15 Jun 19

FREE centrally located handpicked hotel stay
Flights Included
Free Premium Drinks Package worth £250pp

£

899

View Deal

Europe, Mediterranean

MSC Divina

MSC Cruises

Rome (Civitavecchia)

-

Palermo

-

Cagliari

-

Palma De Mallorca

-

Valencia

-

Marseille

-

Genoa

-

Rome (Civitavecchia)

1nt Rome Stay & 7nt Western Med

Rome (Civitavecchia)

-

Palermo

-

Cagliari

-

Palma De Mallorca

-

Valencia

-

Marseille

-

Genoa

-

Rome (Civitavecchia)

MSC Divina | 8 nights

28 Sep 19

FREE centrally located handpicked hotel stay
Flights Included
Free Premium Drinks Package worth £250pp

£

899

View Deal

Europe, Mediterranean

MSC Divina

MSC Cruises

Rome (Civitavecchia)

-

Palermo

-

Cagliari

-

Palma De Mallorca

-

Valencia

-

Marseille

-

Genoa

-

Rome (Civitavecchia)

Majorca Stay & Med Medley

Palma De Mallorca

-

Ibiza

-

Naples

-

Livorno

-

Genoa

-

Marseille

-

Palma De Mallorca

MSC Fantasia | 10 nights

14 Oct 19

FREE centrally located handpicked hotel stay
Flights Included

£

899

View Deal

Europe, Mediterranean

MSC Fantasia

MSC Cruises

Palma De Mallorca

-

Ibiza

-

Naples

-

Livorno

-

Genoa

-

Marseille

-

Palma De Mallorca

Majorca Stay & Med Medley

Palma De Mallorca

-

Ibiza

-

Naples

-

Livorno

-

Genoa

-

Marseille

-

Palma De Mallorca

MSC Fantasia | 10 nights

20 May 19

FREE centrally located handpicked hotel stay
Flights Included

£

899

View Deal

Europe, Mediterranean

MSC Fantasia

MSC Cruises

Palma De Mallorca

-

Ibiza

-

Naples

-

Livorno

-

Genoa

-

Marseille

-

Palma De Mallorca

Majorca Stay & Med Medley

Palma De Mallorca

-

Ibiza

-

Naples

-

Livorno

-

Genoa

-

Marseille

-

Palma De Mallorca

MSC Fantasia | 10 nights

03 Jun 19

FREE centrally located handpicked hotel stay
Flights Included

£

899

View Deal

Europe, Mediterranean

MSC Fantasia

MSC Cruises

Palma De Mallorca

-

Ibiza

-

Naples

-

Livorno

-

Genoa

-

Marseille

-

Palma De Mallorca

Barcelona 1nt Stay & 7nt Western Med

Barcelona

-

Marseille

-

Genoa

-

Naples

-

Messina

-

Malta (La Valletta)

-

Barcelona

MSC Bellissima | 8 nights

19 Sep 19

FREE centrally located handpicked hotel stay
Flights Included
Brand New Ship!
Free Premium Drinks Package worth £250pp

£

899

View Deal

Europe, Mediterranean

MSC Bellissima

MSC Cruises

Barcelona

-

Marseille

-

Genoa

-

Naples

-

Messina

-

Malta (La Valletta)

-

Barcelona

Venice, Kotor & Greek Islands

Venice

-

Kotor

-

Mykonos

-

Santorini Island

-

Corfu

-

Bari

-

Venice

MSC Opera | 8 nights

07 Sep 19

FREE centrally located handpicked hotel stay
Flights Included
Free Premium Drinks Package worth £250pp

£

899

View Deal

Europe, Mediterranean

MSC Opera

MSC Cruises

Venice

-

Kotor

-

Mykonos

-

Santorini Island

-

Corfu

-

Bari

-

Venice

8nt Italy, Greece, Albania & Croatia

Venice

-

Bari

-

Katakolon

-

Mykonos

-

Athens (Piraeus)

-

Sarande

-

Dubrovnik

-

Venice

MSC Orchestra | 8 nights

05 Jun 20

FREE centrally located handpicked hotel stay
Flights Included

£

899

View Deal

Europe

MSC Orchestra

MSC Cruises

Venice

-

Bari

-

Katakolon

-

Mykonos

-

Athens (Piraeus)

-

Sarande

-

Dubrovnik

-

Venice

8nt Italy, Croatia & Greek Isles

Venice

-

Split

-

Santorini Island

-

Mykonos

-

Dubrovnik

-

Italy (Ancona)

-

Venice

MSC Sinfonia | 8 nights

10 Jul 20

FREE centrally located handpicked hotel stay
Flights Included

£

899

View Deal

Europe, Mediterranean

MSC Sinfonia

MSC Cruises

Venice

-

Split

-

Santorini Island

-

Mykonos

-

Dubrovnik

-

Italy (Ancona)

-

Venice

8nt Italy, Croatia & Greek Isles

Venice

-

Split

-

Santorini Island

-

Mykonos

-

Dubrovnik

-

Italy (Ancona)

-

Venice

MSC Sinfonia | 8 nights

17 Jul 20

FREE centrally located handpicked hotel stay
Flights Included

£

899

View Deal

Europe, Mediterranean

MSC Sinfonia

MSC Cruises

Venice

-

Split

-

Santorini Island

-

Mykonos

-

Dubrovnik

-

Italy (Ancona)

-

Venice

Italy, Greece, Croatia

Venice

-

Bari

-

Santorini Island

-

Chania, Crete

-

Cephalonia

-

Split

-

Venice

MSC Lirica | 7 nights

26 Jul 19

£

899

View Deal

Europe, Mediterranean

MSC Lirica

MSC Cruises

Venice

-

Bari

-

Santorini Island

-

Chania, Crete

-

Cephalonia

-

Split

-

Venice

1nts Genoa & 7nts Beautiful Med

MSC Bellissima | 8 nights

01 Jun 19

Pre-Cruise Flight Included

Pre-Cruise Hotel 1night(s) Included

Post-Cruise Flight Included

£

899

View Deal

Europe, Mediterranean

MSC Bellissima

MSC Cruises

Genoa

-

Naples

-

Messina

-

Malta (La Valletta)

-

Barcelona

-

Marseille

-

Genoa

3nt Verona Stay & Opera & 7nt Eastern Med

Venice

-

Bari

-

Santorini Island

-

Chania, Crete

-

Cephalonia

-

Dubrovnik

-

Venice

MSC Lirica | 10 nights

03 Sep 19

FREE centrally located handpicked hotel stay
Flights Included
FREE Verona Opera Tickets
Free Premium Drinks Package worth £250pp

£

899

View Deal

Europe, Mediterranean

MSC Lirica

MSC Cruises

Venice

-

Bari

-

Santorini Island

-

Chania, Crete

-

Cephalonia

-

Dubrovnik

-

Venice

Marseille Stay & 11nt Mediterranean Cruise

Marseille

-

Barcelona

-

Malta (La Valletta)

-

Corfu

-

Katakolon

-

Heraklion

-

Athens (Piraeus)

-

Rome (Civitavecchia)

-

Genoa

-

Marseille

MSC Sinfonia | 12 nights

04 Apr 19

FREE centrally located handpicked hotel stay
Flights Included

£

899

View Deal

Europe, Mediterranean

MSC Sinfonia

MSC Cruises

Marseille

-

Barcelona

-

Malta (La Valletta)

-

Corfu

-

Katakolon

-

Heraklion

-

Athens (Piraeus)

-

Rome (Civitavecchia)

-

Genoa

-

Marseille

Miami 2nt Stay & 7nt Caribbean & Cuba

Miami

-

Ocean Cay MSC Marine Reserve

-

Montego Bay

-

George Town, Cayman Islands

-

Havana

-

Miami

MSC Armonia | 9 nights

09 Nov 19

FREE centrally located handpicked hotel stay
Flights Included
FREE Shore Excursions
Upgrade to Fantastica & get Free Drinks package worth £250

£

899

View Deal

North America, Bahamas

MSC Armonia

MSC Cruises

Miami

-

Ocean Cay MSC Marine Reserve

-

Montego Bay

-

George Town, Cayman Islands

-

Havana

-

Miami

1nt Dubai & 7nt Dubai & Emirates Explorer

Dubai

-

Abu Dhabi

-

Sir Bani Yas Island (UAE)

-

Bahrain

-

Doha

-

Dubai

MSC Bellissima | 8 nights

06 Dec 19

FREE centrally located handpicked hotel stay
Flights Included
Upgrade to Fantastica & get Free Drinks package worth £250

£

899

View Deal

Dubai & Emirates

MSC Bellissima

MSC Cruises

Dubai

-

Abu Dhabi

-

Sir Bani Yas Island (UAE)

-

Bahrain

-

Doha

-

Dubai

10nt Divine Med

Genoa

-

Rome (Civitavecchia)

-

Palermo

-

Cagliari

-

Palma De Mallorca

-

Valencia

MSC Divina | 10 nights

03 Apr 19

FREE centrally located handpicked hotel stay
Flights Included

£

899

View Deal

Mediterranean

MSC Divina

MSC Cruises

Genoa

-

Rome (Civitavecchia)

-

Palermo

-

Cagliari

-

Palma De Mallorca

-

Valencia

1nt Barcelona & 7nt Mediterranean Seaviews

Barcelona

-

Ajaccio

-

Genoa

-

La Spezia

-

Rome (Civitavecchia)

-

Cannes

-

Palma De Mallorca

-

Barcelona

MSC Seaview | 8 nights

17 Apr 20

FREE centrally located handpicked hotel stay
Flights Included

£

899

View Deal

Europe, Mediterranean

MSC Seaview

MSC Cruises

Barcelona

-

Ajaccio

-

Genoa

-

La Spezia

-

Rome (Civitavecchia)

-

Cannes

-

Palma De Mallorca

-

Barcelona

1nt Barcelona & 7nt Mediterranean Seaviews

Barcelona

-

Ajaccio

-

Genoa

-

La Spezia

-

Rome (Civitavecchia)

-

Cannes

-

Palma De Mallorca

-

Barcelona

MSC Seaview | 8 nights

01 May 20

FREE centrally located handpicked hotel stay
Flights Included

£

899

View Deal

Europe, Mediterranean

MSC Seaview

MSC Cruises

Barcelona

-

Ajaccio

-

Genoa

-

La Spezia

-

Rome (Civitavecchia)

-

Cannes

-

Palma De Mallorca

-

Barcelona

1nt Barcelona & 7nt Mediterranean Seaviews

Barcelona

-

Ajaccio

-

Genoa

-

La Spezia

-

Rome (Civitavecchia)

-

Cannes

-

Palma De Mallorca

-

Barcelona

MSC Seaview | 8 nights

08 May 20

FREE centrally located handpicked hotel stay
Flights Included

£

899

View Deal

Europe, Mediterranean

MSC Seaview

MSC Cruises

Barcelona

-

Ajaccio

-

Genoa

-

La Spezia

-

Rome (Civitavecchia)

-

Cannes

-

Palma De Mallorca

-

Barcelona

1nt Barcelona & 7nt Mediterranean Seaviews

Barcelona

-

Ajaccio

-

Genoa

-

La Spezia

-

Rome (Civitavecchia)

-

Cannes

-

Palma De Mallorca

-

Barcelona

MSC Seaview | 8 nights

15 May 20

FREE centrally located handpicked hotel stay
Flights Included

£

899

View Deal

Europe, Mediterranean

MSC Seaview

MSC Cruises

Barcelona

-

Ajaccio

-

Genoa

-

La Spezia

-

Rome (Civitavecchia)

-

Cannes

-

Palma De Mallorca

-

Barcelona

1nt Barcelona & 7nt Mediterranean Seaviews

Barcelona

-

Ajaccio

-

Genoa

-

La Spezia

-

Rome (Civitavecchia)

-

Cannes

-

Palma De Mallorca

-

Barcelona

MSC Seaview | 8 nights

03 Apr 20

FREE centrally located handpicked hotel stay
Flights Included

£

899

View Deal

Europe, Mediterranean

MSC Seaview

MSC Cruises

Barcelona

-

Ajaccio

-

Genoa

-

La Spezia

-

Rome (Civitavecchia)

-

Cannes

-

Palma De Mallorca

-

Barcelona

Big Apple & Bermuda In a Balcony

Miami

-

New York

-

King's Wharf, Bermuda

-

Ponta Delgada, Azores

-

Lisbon

MSC Divina | 16 nights

13 Mar 19

FREE centrally located handpicked hotel stay
Flights Included
Free Upgrade to Balcony Stateroom

£

899

View Deal

Europe, North America, Transatlantic, Iberian Peninsula, Bermuda

MSC Divina

MSC Cruises

Miami

-

New York

-

King's Wharf, Bermuda

-

Ponta Delgada, Azores

-

Lisbon

2nt Genoa Stay & 7nt Mediterranean Cruise

Genoa

-

Marseille

-

Palma De Mallorca

-

Ibiza

-

Naples

-

Livorno

-

Genoa

MSC Fantasia | 9 nights

18 Jul 19

FREE centrally located handpicked hotel stay
Flights Included
Free Premium Drinks Package worth £250pp

£

899

View Deal

Europe, Mediterranean

MSC Fantasia

MSC Cruises

Genoa

-

Marseille

-

Palma De Mallorca

-

Ibiza

-

Naples

-

Livorno

-

Genoa

2nt Genoa Stay & 7nt Mediterranean Cruise

Genoa

-

Marseille

-

Palma De Mallorca

-

Ibiza

-

Naples

-

Livorno

-

Genoa

MSC Fantasia | 9 nights

29 Aug 19

FREE centrally located handpicked hotel stay
Flights Included
Free Premium Drinks Package worth £250pp

£

899

View Deal

Europe, Mediterranean

MSC Fantasia

MSC Cruises

Genoa

-

Marseille

-

Palma De Mallorca

-

Ibiza

-

Naples

-

Livorno

-

Genoa

11nt Italy to Hamburg

Genoa

-

Marseille

-

Barcelona

-

Cadiz

-

Lisbon

-

Vigo

-

Le Havre

-

Southampton

-

Hamburg

MSC Orchestra | 14 nights

02 May 19

FREE centrally located handpicked hotel stay
Flights Included
Upgrade to Fantastica & get Free Drinks package

£

899

View Deal

Europe, Iberian Peninsula

MSC Orchestra

MSC Cruises

Genoa

-

Marseille

-

Barcelona

-

Cadiz

-

Lisbon

-

Vigo

-

Le Havre

-

Southampton

-

Hamburg

2nts Barcelona & 7nts Western Med Bliss

MSC Bellissima | 9 nights

15 May 19

Pre-Cruise Flight Included

Pre-Cruise Hotel 2night(s) Included

Post-Cruise Flight Included

£

909

View Deal

Europe, Mediterranean

MSC Bellissima

MSC Cruises

Barcelona

-

Marseille

-

Genoa

-

Naples

-

Messina

-

Malta (La Valletta)

-

Barcelona

2nts Nice & 7nts Beautiful Mediterranean

MSC Bellissima | 9 nights

25 Oct 19

Pre-Cruise Flight Included

Pre-Cruise Hotel 2night(s) Included

£

909

View Deal

Europe, Mediterranean

MSC Bellissima

MSC Cruises

Genoa

-

Naples

-

Messina

-

Malta (La Valletta)

-

Barcelona

-

Marseille

-

Genoa

Barcelona 1nt Stay & 7nt Western Med

Barcelona

-

Ajaccio

-

Genoa

-

La Spezia

-

Cannes

-

Palma De Mallorca

-

Barcelona

MSC Seaview | 8 nights

17 May 19

FREE centrally located handpicked hotel stay
Flights Included
Brand New Ship!
Free Premium Drinks Package worth £250pp

£

919

View Deal

Europe, Mediterranean

MSC Seaview

MSC Cruises

Barcelona

-

Ajaccio

-

Genoa

-

La Spezia

-

Cannes

-

Palma De Mallorca

-

Barcelona

1nt Rome Stay & 7nt Western Med

Rome (Civitavecchia)

-

Palermo

-

Cagliari

-

Palma De Mallorca

-

Valencia

-

Marseille

-

Genoa

-

Rome (Civitavecchia)

MSC Divina | 8 nights

04 May 19

FREE centrally located handpicked hotel stay
Flights Included
Free Premium Drinks Package worth £250pp

£

919

View Deal

Europe, Mediterranean

MSC Divina

MSC Cruises

Rome (Civitavecchia)

-

Palermo

-

Cagliari

-

Palma De Mallorca

-

Valencia

-

Marseille

-

Genoa

-

Rome (Civitavecchia)

1nt Venice Stay & 7nt Italy, Greece & Croatia

Venice

-

Brindisi

-

Katakolon

-

Mykonos

-

Athens (Piraeus)

-

Sarande

-

Dubrovnik

-

Venice

MSC Musica | 8 nights

13 Sep 19

FREE centrally located handpicked hotel stay
Flights Included
Free Premium Drinks Package worth £250pp

£

919

View Deal

Europe, Mediterranean

MSC Musica

MSC Cruises

Venice

-

Brindisi

-

Katakolon

-

Mykonos

-

Athens (Piraeus)

-

Sarande

-

Dubrovnik

-

Venice

8nt Valencian Sunsets

Valencia

-

Marseille

-

Genoa

-

Rome (Civitavecchia)

-

Palermo

-

Cagliari

-

Palma De Mallorca

-

Valencia

MSC Divina | 8 nights

26 Jun 19

FREE centrally located handpicked hotel stay
Flights Included
Free Premium Drinks Package worth £250pp

£

919

View Deal

Europe, Mediterranean

MSC Divina

MSC Cruises

Valencia

-

Marseille

-

Genoa

-

Rome (Civitavecchia)

-

Palermo

-

Cagliari

-

Palma De Mallorca

-

Valencia

8nt Valencian Sunsets

Valencia

-

Marseille

-

Genoa

-

Rome (Civitavecchia)

-

Palermo

-

Cagliari

-

Palma De Mallorca

-

Valencia

MSC Divina | 8 nights

25 Sep 19

FREE centrally located handpicked hotel stay
Flights Included
Free Premium Drinks Package worth £250pp

£

919

View Deal

Europe, Mediterranean

MSC Divina

MSC Cruises

Valencia

-

Marseille

-

Genoa

-

Rome (Civitavecchia)

-

Palermo

-

Cagliari

-

Palma De Mallorca

-

Valencia

8nt Italy, Greece, Albania & Croatia

Venice

-

Bari

-

Katakolon

-

Mykonos

-

Athens (Piraeus)

-

Sarande

-

Dubrovnik

-

Venice

MSC Orchestra | 8 nights

12 Jun 20

FREE centrally located handpicked hotel stay
Flights Included

£

919

View Deal

Europe

MSC Orchestra

MSC Cruises

Venice

-

Bari

-

Katakolon

-

Mykonos

-

Athens (Piraeus)

-

Sarande

-

Dubrovnik

-

Venice

8nt Italy, Greece, Albania & Croatia

Venice

-

Bari

-

Katakolon

-

Mykonos

-

Athens (Piraeus)

-

Sarande

-

Dubrovnik

-

Venice

MSC Orchestra | 8 nights

19 Jun 20

FREE centrally located handpicked hotel stay
Flights Included

£

919

View Deal

Europe

MSC Orchestra

MSC Cruises

Venice

-

Bari

-

Katakolon

-

Mykonos

-

Athens (Piraeus)

-

Sarande

-

Dubrovnik

-

Venice

8nt Italy, Croatia & Greek Isles

Venice

-

Split

-

Santorini Island

-

Mykonos

-

Dubrovnik

-

Italy (Ancona)

-

Venice

MSC Sinfonia | 8 nights

26 Jun 20

FREE centrally located handpicked hotel stay
Flights Included

£

919

View Deal

Europe, Mediterranean

MSC Sinfonia

MSC Cruises

Venice

-

Split

-

Santorini Island

-

Mykonos

-

Dubrovnik

-

Italy (Ancona)

-

Venice

2nts Barcelona & 7nts Western Med Bliss

MSC Bellissima | 9 nights

10 Apr 19

Pre-Cruise Flight Included

Pre-Cruise Hotel 2night(s) Included

Post-Cruise Flight Included

£

919

View Deal

Europe, Mediterranean

MSC Bellissima

MSC Cruises

Barcelona

-

Marseille

-

Genoa

-

Naples

-

Messina

-

Malta (La Valletta)

-

Barcelona

2nt Genoa Stay & 7nt Mediterranean Cruise

Genoa

-

Marseille

-

Palma De Mallorca

-

Ibiza

-

Naples

-

Livorno

-

Genoa

MSC Fantasia | 9 nights

06 Jun 19

FREE centrally located handpicked hotel stay
Flights Included
Free Premium Drinks Package worth £250pp

£

919

View Deal

Europe, Mediterranean

MSC Fantasia

MSC Cruises

Genoa

-

Marseille

-

Palma De Mallorca

-

Ibiza

-

Naples

-

Livorno

-

Genoa

1nt Rome Stay & 7nt Western Med

Rome (Civitavecchia)

-

Palermo

-

Cagliari

-

Palma De Mallorca

-

Valencia

-

Marseille

-

Genoa

-

Rome (Civitavecchia)

MSC Divina | 8 nights

21 Sep 19

FREE centrally located handpicked hotel stay
Flights Included
Free Premium Drinks Package worth £250pp

£

929

View Deal

Europe, Mediterranean

MSC Divina

MSC Cruises

Rome (Civitavecchia)

-

Palermo

-

Cagliari

-

Palma De Mallorca

-

Valencia

-

Marseille

-

Genoa

-

Rome (Civitavecchia)

1nt Rome Stay & 7nt Western Med

Rome (Civitavecchia)

-

Palermo

-

Cagliari

-

Palma De Mallorca

-

Valencia

-

Marseille

-

Genoa

-

Rome (Civitavecchia)

MSC Divina | 8 nights

19 Oct 19

FREE centrally located handpicked hotel stay
Flights Included
Free Premium Drinks Package worth £250pp

£

929

View Deal

Europe, Mediterranean

MSC Divina

MSC Cruises

Rome (Civitavecchia)

-

Palermo

-

Cagliari

-

Palma De Mallorca

-

Valencia

-

Marseille

-

Genoa

-

Rome (Civitavecchia)

Barcelona 1nt Stay & 7nt Western Med

Barcelona

-

Marseille

-

Genoa

-

Naples

-

Messina

-

Malta (La Valletta)

-

Barcelona

MSC Bellissima | 8 nights

26 Sep 19

FREE centrally located handpicked hotel stay
Flights Included
Brand New Ship!
Free Premium Drinks Package worth £250pp

£

929

View Deal

Europe, Mediterranean

MSC Bellissima

MSC Cruises

Barcelona

-

Marseille

-

Genoa

-

Naples

-

Messina

-

Malta (La Valletta)

-

Barcelona

Venice, Kotor & Greek Islands

Venice

-

Kotor

-

Mykonos

-

Santorini Island

-

Corfu

-

Bari

-

Venice

MSC Opera | 8 nights

15 Jun 19

FREE centrally located handpicked hotel stay
Flights Included
Free Premium Drinks Package worth £250pp

£

929

View Deal

Europe, Mediterranean

MSC Opera

MSC Cruises

Venice

-

Kotor

-

Mykonos

-

Santorini Island

-

Corfu

-

Bari

-

Venice

1nt Venice Stay & 7nt Italy, Greece & Croatia

Venice

-

Brindisi

-

Katakolon

-

Mykonos

-

Athens (Piraeus)

-

Sarande

-

Dubrovnik

-

Venice

MSC Musica | 8 nights

06 Sep 19

FREE centrally located handpicked hotel stay
Flights Included
Free Premium Drinks Package worth £250pp

£

929

View Deal

Europe, Mediterranean

MSC Musica

MSC Cruises

Venice

-

Brindisi

-

Katakolon

-

Mykonos

-

Athens (Piraeus)

-

Sarande

-

Dubrovnik

-

Venice

8nt Italy, Croatia & Greek Isles

Venice

-

Split

-

Santorini Island

-

Mykonos

-

Dubrovnik

-

Italy (Ancona)

-

Venice

MSC Sinfonia | 8 nights

22 May 20

FREE centrally located handpicked hotel stay
Flights Included

£

929

View Deal

Europe, Mediterranean

MSC Sinfonia

MSC Cruises

Venice

-

Split

-

Santorini Island

-

Mykonos

-

Dubrovnik

-

Italy (Ancona)

-

Venice

4nts Pisa & 7nts Mediterranean Wonders

MSC Bellissima | 11 nights

25 Sep 19

Pre-Cruise Flight Included

Pre-Cruise Hotel 4night(s) Included

Post-Cruise Flight Included

£

929

View Deal

Europe, Mediterranean

MSC Bellissima

MSC Cruises

Genoa

-

Naples

-

Messina

-

Malta (La Valletta)

-

Barcelona

-

Marseille

-

Genoa

2nts Marseille & 7nts Mediterranean Delights

MSC Bellissima | 9 nights

13 Jun 19

Pre-Cruise Flight Included

Pre-Cruise Hotel 2night(s) Included

£

929

View Deal

Europe, Mediterranean

MSC Bellissima

MSC Cruises

Marseille

-

Genoa

-

Naples

-

Messina

-

Malta (La Valletta)

-

Barcelona

-

Marseille

Miami 2nt Stay & 7nt Caribbean & Cuba

Miami

-

Ocean Cay MSC Marine Reserve

-

Montego Bay

-

George Town, Cayman Islands

-

Havana

-

Miami

MSC Armonia | 9 nights

04 Jan 20

FREE centrally located handpicked hotel stay
Flights Included
FREE Shore Excursions
Upgrade to Fantastica & get Free Drinks package worth £250

£

929

View Deal

North America, Bahamas

MSC Armonia

MSC Cruises

Miami

-

Ocean Cay MSC Marine Reserve

-

Montego Bay

-

George Town, Cayman Islands

-

Havana

-

Miami

1nt Barcelona & 7nt Mediterranean Seaviews

Barcelona

-

Ajaccio

-

Genoa

-

La Spezia

-

Rome (Civitavecchia)

-

Cannes

-

Palma De Mallorca

-

Barcelona

MSC Seaview | 8 nights

05 Jun 20

FREE centrally located handpicked hotel stay
Flights Included

£

929

View Deal

Europe, Mediterranean

MSC Seaview

MSC Cruises

Barcelona

-

Ajaccio

-

Genoa

-

La Spezia

-

Rome (Civitavecchia)

-

Cannes

-

Palma De Mallorca

-

Barcelona

1nt Barcelona & 7nt Mediterranean Seaviews

Barcelona

-

Ajaccio

-

Genoa

-

La Spezia

-

Rome (Civitavecchia)

-

Cannes

-

Palma De Mallorca

-

Barcelona

MSC Seaview | 8 nights

04 Sep 20

FREE centrally located handpicked hotel stay
Flights Included

£

929

View Deal

Europe, Mediterranean

MSC Seaview

MSC Cruises

Barcelona

-

Ajaccio

-

Genoa

-

La Spezia

-

Rome (Civitavecchia)

-

Cannes

-

Palma De Mallorca

-

Barcelona

19nt Lisbon Voyage to Miami

Lisbon

-

Bridgetown

-

Fort de France

-

Philipsburg, St Maarten

-

San Juan, Puerto Rico

-

Miami

MSC Divina | 19 nights

08 Nov 19

FREE centrally located handpicked hotel stay
Flights Included
Free Balcony Upgrade

£

929

View Deal

Transatlantic

MSC Divina

MSC Cruises

Lisbon

-

Bridgetown

-

Fort de France

-

Philipsburg, St Maarten

-

San Juan, Puerto Rico

-

Miami

8nt Dubai and United Arab Emirates, Oman

Dubai

-

Abu Dhabi

-

Sir Bani Yas Island (UAE)

-

Muscat

-

Khasab

-

Dubai

MSC Bellissima | 8 nights

29 Nov 19

FREE centrally located handpicked hotel stay
Flights Included
Free Upgrade to Oceanview Cabin
Upgrade to Fantastica & get Free Drinks package worth £250

£

929

View Deal

Dubai & Emirates

MSC Bellissima

MSC Cruises

Dubai

-

Abu Dhabi

-

Sir Bani Yas Island (UAE)

-

Muscat

-

Khasab

-

Dubai

7nts Salou & 7nts Western Med Bliss

MSC Bellissima | 14 nights

13 Sep 19

Pre-Cruise Flight Included

Pre-Cruise Hotel 7night(s) Included

Post-Cruise Flight Included

£

939

View Deal

Europe, Mediterranean

MSC Bellissima

MSC Cruises

Barcelona

-

Marseille

-

Genoa

-

Naples

-

Messina

-

Malta (La Valletta)

-

Barcelona

2nts Marseille & 7nts Mediterranean Delights

MSC Bellissima | 9 nights

02 May 19

Pre-Cruise Flight Included

Pre-Cruise Hotel 2night(s) Included

£

939

View Deal

Europe, Mediterranean

MSC Bellissima

MSC Cruises

Marseille

-

Genoa

-

Naples

-

Messina

-

Malta (La Valletta)

-

Barcelona

-

Marseille

1nt Rome Stay & 7nt Western Med

Rome (Civitavecchia)

-

Palermo

-

Cagliari

-

Palma De Mallorca

-

Valencia

-

Marseille

-

Genoa

-

Rome (Civitavecchia)

MSC Divina | 8 nights

11 May 19

FREE centrally located handpicked hotel stay
Flights Included
Free Premium Drinks Package worth £250pp

£

949

View Deal

Europe, Mediterranean

MSC Divina

MSC Cruises

Rome (Civitavecchia)

-

Palermo

-

Cagliari

-

Palma De Mallorca

-

Valencia

-

Marseille

-

Genoa

-

Rome (Civitavecchia)

Majorca Stay & Med Medley

Palma De Mallorca

-

Ibiza

-

Naples

-

Livorno

-

Genoa

-

Marseille

-

Palma De Mallorca

MSC Fantasia | 10 nights

01 Jul 19

FREE centrally located handpicked hotel stay
Flights Included

£

949

View Deal

Europe, Mediterranean

MSC Fantasia

MSC Cruises

Palma De Mallorca

-

Ibiza

-

Naples

-

Livorno

-

Genoa

-

Marseille

-

Palma De Mallorca

Sorrento 2nts Stay & 7nts Med Cruise

Naples

-

Messina

-

Malta (La Valletta)

-

Barcelona

-

Marseille

-

Genoa

-

Naples

MSC Bellissima | 9 nights

30 Mar 19

FREE centrally located handpicked hotel stay
Flights Included
Free Premium Drinks Package worth £250pp
Upgrade to Fantastica & get Free Drinks package worth £250

£

949

View Deal

Europe, Mediterranean

MSC Bellissima

MSC Cruises

Naples

-

Messina

-

Malta (La Valletta)

-

Barcelona

-

Marseille

-

Genoa

-

Naples

Venice, Kotor & Greek Islands

Venice

-

Kotor

-

Mykonos

-

Santorini Island

-

Corfu

-

Bari

-

Venice

MSC Opera | 8 nights

22 Jun 19

FREE centrally located handpicked hotel stay
Flights Included
Free Premium Drinks Package worth £250pp

£

949

View Deal

Europe, Mediterranean

MSC Opera

MSC Cruises

Venice

-

Kotor

-

Mykonos

-

Santorini Island

-

Corfu

-

Bari

-

Venice

Miami 2nt Stay & 7nt Caribbean & Cuba

Miami

-

Ocean Cay MSC Marine Reserve

-

Montego Bay

-

George Town, Cayman Islands

-

Havana

-

Miami

MSC Armonia | 9 nights

11 Jan 20

FREE centrally located handpicked hotel stay
Flights Included
FREE Shore Excursions
Upgrade to Fantastica & get Free Drinks package worth £250

£

949

View Deal

North America, Bahamas

MSC Armonia

MSC Cruises

Miami

-

Ocean Cay MSC Marine Reserve

-

Montego Bay

-

George Town, Cayman Islands

-

Havana

-

Miami

Miami 2nt Stay & 7nt Caribbean & Cuba

Miami

-

Ocean Cay MSC Marine Reserve

-

Montego Bay

-

George Town, Cayman Islands

-

Havana

-

Miami

MSC Armonia | 9 nights

18 Jan 20

FREE centrally located handpicked hotel stay
Flights Included
FREE Shore Excursions
Upgrade to Fantastica & get Free Drinks package worth £250

£

949

View Deal

North America, Bahamas

MSC Armonia

MSC Cruises

Miami

-

Ocean Cay MSC Marine Reserve

-

Montego Bay

-

George Town, Cayman Islands

-

Havana

-

Miami

1nt Venice Stay & 7nt Italy, Greece & Croatia

Venice

-

Brindisi

-

Katakolon

-

Mykonos

-

Athens (Piraeus)

-

Sarande

-

Dubrovnik

-

Venice

MSC Musica | 8 nights

30 Aug 19

FREE centrally located handpicked hotel stay
Flights Included
Free Premium Drinks Package worth £250pp

£

949

View Deal

Europe, Mediterranean

MSC Musica

MSC Cruises

Venice

-

Brindisi

-

Katakolon

-

Mykonos

-

Athens (Piraeus)

-

Sarande

-

Dubrovnik

-

Venice

8nt Italy, Greece, Albania & Croatia

Venice

-

Bari

-

Katakolon

-

Mykonos

-

Athens (Piraeus)

-

Sarande

-

Dubrovnik

-

Venice

MSC Orchestra | 8 nights

26 Jun 20

FREE centrally located handpicked hotel stay
Flights Included

£

949

View Deal

Europe

MSC Orchestra

MSC Cruises

Venice

-

Bari

-

Katakolon

-

Mykonos

-

Athens (Piraeus)

-

Sarande

-

Dubrovnik

-

Venice

8nt Italy, Greece, Albania & Croatia

Venice

-

Bari

-

Katakolon

-

Mykonos

-

Athens (Piraeus)

-

Sarande

-

Dubrovnik

-

Venice

MSC Orchestra | 8 nights

10 Jul 20

FREE centrally located handpicked hotel stay
Flights Included

£

949

View Deal

Europe

MSC Orchestra

MSC Cruises

Venice

-

Bari

-

Katakolon

-

Mykonos

-

Athens (Piraeus)

-

Sarande

-

Dubrovnik

-

Venice

8nt Italy, Greece, Albania & Croatia

Venice

-

Bari

-

Katakolon

-

Mykonos

-

Athens (Piraeus)

-

Sarande

-

Dubrovnik

-

Venice

MSC Orchestra | 8 nights

17 Jul 20

FREE centrally located handpicked hotel stay
Flights Included

£

949

View Deal

Europe

MSC Orchestra

MSC Cruises

Venice

-

Bari

-

Katakolon

-

Mykonos

-

Athens (Piraeus)

-

Sarande

-

Dubrovnik

-

Venice

8nt Italy, Croatia & Greek Isles

Venice

-

Split

-

Santorini Island

-

Mykonos

-

Dubrovnik

-

Italy (Ancona)

-

Venice

MSC Sinfonia | 8 nights

07 Aug 20

FREE centrally located handpicked hotel stay
Flights Included

£

949

View Deal

Europe, Mediterranean

MSC Sinfonia

MSC Cruises

Venice

-

Split

-

Santorini Island

-

Mykonos

-

Dubrovnik

-

Italy (Ancona)

-

Venice

2nts Venice & 7nts Mediterranean Wonders

MSC Lirica | 9 nights

14 Aug 19

Pre-Cruise Flight Included

Pre-Cruise Hotel 2night(s) Included

£

949

View Deal

Europe, Mediterranean

MSC Lirica

MSC Cruises

Venice

-

Bari

-

Santorini Island

-

Chania, Crete

-

Cephalonia

-

Split

-

Venice

3nt Verona Stay & Opera & 7nt Eastern Med

Venice

-

Bari

-

Santorini Island

-

Chania, Crete

-

Cephalonia

-

Dubrovnik

-

Venice

MSC Lirica | 10 nights

27 Aug 19

FREE centrally located handpicked hotel stay
Flights Included
FREE Verona Opera Tickets
Free Premium Drinks Package worth £250pp

£

949

View Deal

Europe, Mediterranean

MSC Lirica

MSC Cruises

Venice

-

Bari

-

Santorini Island

-

Chania, Crete

-

Cephalonia

-

Dubrovnik

-

Venice

Miami 3nt Stay & 3nt Caribbean Cruise & 4nt Vegas

Miami

-

Nassau

-

Ocean Cay MSC Marine Reserve

-

Miami

MSC Meraviglia | 10 nights

18 Nov 19

FREE centrally located handpicked hotel stay
Flights Included
Upgrade to Fantastica cabin & get Premium Drinks Package worth £145pp

£

949

View Deal

Caribbean

MSC Meraviglia

MSC Cruises

Miami

-

Nassau

-

Ocean Cay MSC Marine Reserve

-

Miami

2nts Barcelona & 7nts Western Med Bliss

MSC Bellissima | 9 nights

03 Apr 19

Pre-Cruise Flight Included

Pre-Cruise Hotel 2night(s) Included

Post-Cruise Flight Included

£

949

View Deal

Europe, Mediterranean

MSC Bellissima

MSC Cruises

Barcelona

-

Marseille

-

Genoa

-

Naples

-

Messina

-

Malta (La Valletta)

-

Barcelona

Copenhagen 1nt Stay & 11nt Northern Europe

Copenhagen

-

Warnemunde

-

Amsterdam

-

Vigo

-

Lisbon

-

Cadiz

-

Cartagena, Spain

-

Genoa

MSC Poesia | 12 nights

17 Sep 19

FREE centrally located handpicked hotel stay
Flights Included
Upgrade to Fantastica & get Free Drinks package

£

949

View Deal

Europe

MSC Poesia

MSC Cruises

Copenhagen

-

Warnemunde

-

Amsterdam

-

Vigo

-

Lisbon

-

Cadiz

-

Cartagena, Spain

-

Genoa

1nt Barcelona & 7nt Mediterranean Seaviews

Barcelona

-

Ajaccio

-

Genoa

-

La Spezia

-

Rome (Civitavecchia)

-

Cannes

-

Palma De Mallorca

-

Barcelona

MSC Seaview | 8 nights

12 Jun 20

FREE centrally located handpicked hotel stay
Flights Included

£

949

View Deal

Europe, Mediterranean

MSC Seaview

MSC Cruises

Barcelona

-

Ajaccio

-

Genoa

-

La Spezia

-

Rome (Civitavecchia)

-

Cannes

-

Palma De Mallorca

-

Barcelona

2nt Genoa Stay & 7nt Mediterranean Cruise

Genoa

-

Marseille

-

Palma De Mallorca

-

Ibiza

-

Naples

-

Livorno

-

Genoa

MSC Fantasia | 9 nights

23 May 19

FREE centrally located handpicked hotel stay
Flights Included
Free Premium Drinks Package worth £250pp

£

949

View Deal

Europe, Mediterranean

MSC Fantasia

MSC Cruises

Genoa

-

Marseille

-

Palma De Mallorca

-

Ibiza

-

Naples

-

Livorno

-

Genoa

2nt Genoa Stay & 7nt Mediterranean Cruise

Genoa

-

Marseille

-

Palma De Mallorca

-

Ibiza

-

Naples

-

Livorno

-

Genoa

MSC Fantasia | 9 nights

04 Jul 19

FREE centrally located handpicked hotel stay
Flights Included
Free Premium Drinks Package worth £250pp

£

949

View Deal

Europe, Mediterranean

MSC Fantasia

MSC Cruises

Genoa

-

Marseille

-

Palma De Mallorca

-

Ibiza

-

Naples

-

Livorno

-

Genoa

Athens 1nt Stay & 7nt Mediterranean & Adriatic

Athens (Piraeus)

-

Santorini Island

-

Kotor

-

Messina

-

Naples

-

Barcelona

Emerald Princess | 8 nights

13 Sep 19

FREE centrally located handpicked hotel stay
Flights Included

£

949

View Deal

Europe, Mediterranean

Emerald Princess

Princess Cruises

Athens (Piraeus)

-

Santorini Island

-

Kotor

-

Messina

-

Naples

-

Barcelona

2nts Barcelona & 7nts Western Med Bliss

MSC Bellissima | 9 nights

29 May 19

Pre-Cruise Flight Included

Pre-Cruise Hotel 2night(s) Included

Post-Cruise Flight Included

£

959

View Deal

Europe, Mediterranean

MSC Bellissima

MSC Cruises

Barcelona

-

Marseille

-

Genoa

-

Naples

-

Messina

-

Malta (La Valletta)

-

Barcelona

2nts Marseille & 7nts Mediterranean Delights

MSC Bellissima | 9 nights

26 Sep 19

Pre-Cruise Flight Included

Pre-Cruise Hotel 2night(s) Included

£

959

View Deal

Europe, Mediterranean

MSC Bellissima

MSC Cruises

Marseille

-

Genoa

-

Naples

-

Messina

-

Malta (La Valletta)

-

Barcelona

-

Marseille

1nt Rome Stay & 7nt Western Med

Rome (Civitavecchia)

-

Palermo

-

Cagliari

-

Palma De Mallorca

-

Valencia

-

Marseille

-

Genoa

-

Rome (Civitavecchia)

MSC Divina | 8 nights

14 Sep 19

FREE centrally located handpicked hotel stay
Flights Included
Free Premium Drinks Package worth £250pp

£

969

View Deal

Europe, Mediterranean

MSC Divina

MSC Cruises

Rome (Civitavecchia)

-

Palermo

-

Cagliari

-

Palma De Mallorca

-

Valencia

-

Marseille

-

Genoa

-

Rome (Civitavecchia)

Sorrento 2nts Stay & 7nts Med Cruise

Naples

-

Messina

-

Malta (La Valletta)

-

Barcelona

-

Marseille

-

Genoa

-

Naples

MSC Bellissima | 9 nights

23 Mar 19

FREE centrally located handpicked hotel stay
Flights Included
Free Premium Drinks Package worth £250pp
Upgrade to Fantastica & get Free Drinks package worth £250

£

969

View Deal

Europe, Mediterranean

MSC Bellissima

MSC Cruises

Naples

-

Messina

-

Malta (La Valletta)

-

Barcelona

-

Marseille

-

Genoa

-

Naples

6nt Hamburg to Lisbon & 2nt Lisbon Stay

Hamburg

-

Le Havre

-

Southampton

-

Vigo

-

Lisbon

MSC Preziosa | 8 nights

22 Sep 19

FREE centrally located handpicked hotel stay
Flights Included

£

969

View Deal

Europe, Iberian Peninsula

MSC Preziosa

MSC Cruises

Hamburg

-

Le Havre

-

Southampton

-

Vigo

-

Lisbon

8nt Valencian Sunsets

Valencia

-

Marseille

-

Genoa

-

Rome (Civitavecchia)

-

Palermo

-

Cagliari

-

Palma De Mallorca

-

Valencia

MSC Divina | 8 nights

11 Sep 19

FREE centrally located handpicked hotel stay
Flights Included
Free Premium Drinks Package worth £250pp

£

969

View Deal

Europe, Mediterranean

MSC Divina

MSC Cruises

Valencia

-

Marseille

-

Genoa

-

Rome (Civitavecchia)

-

Palermo

-

Cagliari

-

Palma De Mallorca

-

Valencia

1nts Genoa & 7nts Beautiful Med

MSC Bellissima | 8 nights

08 Jun 19

Pre-Cruise Flight Included

Pre-Cruise Hotel 1night(s) Included

Post-Cruise Flight Included

£

969

View Deal

Europe, Mediterranean

MSC Bellissima

MSC Cruises

Genoa

-

Naples

-

Messina

-

Malta (La Valletta)

-

Barcelona

-

Marseille

-

Genoa

Med Voyage & 3nt Lake Garda Stay

Southampton

-

Vigo

-

Lisbon

-

Barcelona

-

Marseille

-

Genoa

MSC Preziosa | 10 nights

25 Sep 19

FREE centrally located handpicked hotel stay
Flights Included
Upgrade to Fantastica & get Free Drinks package worth £250

£

969

View Deal

Europe, Mediterranean

MSC Preziosa

MSC Cruises

Southampton

-

Vigo

-

Lisbon

-

Barcelona

-

Marseille

-

Genoa

Copenhagen 1nt Stay & 7nt Northern Europe

Copenhagen

-

Hellesylt

-

Flam

-

Stavanger

-

Kiel

-

Copenhagen

MSC Meraviglia | 8 nights

07 Sep 19

FREE centrally located handpicked hotel stay
Flights Included
Free Premium Drinks Package worth £250pp

£

969

View Deal

Europe, Scandinavia

MSC Meraviglia

MSC Cruises

Copenhagen

-

Hellesylt

-

Flam

-

Stavanger

-

Kiel

-

Copenhagen

9nt Dubai, United Arab Emirates & Oman

Dubai

-

Abu Dhabi

-

Sir Bani Yas Island (UAE)

-

Muscat

-

Khasab

-

Dubai

MSC Bellissima | 9 nights

12 Dec 19

FREE centrally located handpicked hotel stay
Flights Included
Upgrade to Fantastica & get Free Drinks package worth £250

£

969

View Deal

Middle East, Dubai & Emirates

MSC Bellissima

MSC Cruises

Dubai

-

Abu Dhabi

-

Sir Bani Yas Island (UAE)

-

Muscat

-

Khasab

-

Dubai

Miami 2nt stay & 7nts Caribbean

Miami

-

Costa Maya

-

Belize

-

Isla de Roatan, Honduras

-

Ocean Cay MSC Marine Reserve

-

Miami

MSC Meraviglia | 9 nights

06 Dec 19

FREE centrally located handpicked hotel stay
Flights Included
Free Premium Drinks Package worth £250pp

£

969

View Deal

Caribbean, Mexico

MSC Meraviglia

MSC Cruises

Miami

-

Costa Maya

-

Belize

-

Isla de Roatan, Honduras

-

Ocean Cay MSC Marine Reserve

-

Miami

All Inclusive Caribbean Calypso

Miami

-

San Juan, Puerto Rico

-

Philipsburg, St Maarten

-

St John's, Antigua

-

Miami

MSC Divina | 9 nights

08 Jan 20

FREE centrally located handpicked hotel stay
Flights Included
Free Premium Drinks Package worth £250pp

£

969

View Deal

Caribbean

MSC Divina

MSC Cruises

Miami

-

San Juan, Puerto Rico

-

Philipsburg, St Maarten

-

St John's, Antigua

-

Miami

Venice, Greek Gems & Split

Venice

-

Bari

-

Santorini Island

-

Chania, Crete

-

Cephalonia

-

Split

-

Venice

MSC Lirica | 8 nights

23 May 19

FREE centrally located handpicked hotel stay
Flights Included
Free Premium Drinks Package worth £250pp

£

979

View Deal

Europe, Mediterranean

MSC Lirica

MSC Cruises

Venice

-

Bari

-

Santorini Island

-

Chania, Crete

-

Cephalonia

-

Split

-

Venice

Venice, Greek Gems & Split

Venice

-

Bari

-

Santorini Island

-

Chania, Crete

-

Cephalonia

-

Split

-

Venice

MSC Lirica | 8 nights

25 Jul 19

FREE centrally located handpicked hotel stay
Flights Included
Free Premium Drinks Package worth £250pp

£

979

View Deal

Europe, Mediterranean

MSC Lirica

MSC Cruises

Venice

-

Bari

-

Santorini Island

-

Chania, Crete

-

Cephalonia

-

Split

-

Venice

Majorca Stay & Med Medley

Palma De Mallorca

-

Ibiza

-

Naples

-

Livorno

-

Genoa

-

Marseille

-

Palma De Mallorca

MSC Fantasia | 10 nights

24 Jun 19

FREE centrally located handpicked hotel stay
Flights Included

£

979

View Deal

Europe, Mediterranean

MSC Fantasia

MSC Cruises

Palma De Mallorca

-

Ibiza

-

Naples

-

Livorno

-

Genoa

-

Marseille

-

Palma De Mallorca

8nt Greek & Croatian Gems

Venice

-

Split

-

Santorini Island

-

Mykonos

-

Dubrovnik

-

Italy (Ancona)

-

Venice

MSC Sinfonia | 8 nights

30 Aug 19

FREE centrally located handpicked hotel stay
Flights Included
Free Premium Drinks Package worth £250pp

£

979

View Deal

Europe, Mediterranean

MSC Sinfonia

MSC Cruises

Venice

-

Split

-

Santorini Island

-

Mykonos

-

Dubrovnik

-

Italy (Ancona)

-

Venice

Barcelona 1nt Stay & 7nt Western Med

Barcelona

-

Marseille

-

Genoa

-

Naples

-

Messina

-

Malta (La Valletta)

-

Barcelona

MSC Bellissima | 8 nights

14 Mar 19

FREE centrally located handpicked hotel stay
Flights Included
Brand New Ship!
Free Premium Drinks Package worth £250pp

£

979

View Deal

Europe, Mediterranean

MSC Bellissima

MSC Cruises

Barcelona

-

Marseille

-

Genoa

-

Naples

-

Messina

-

Malta (La Valletta)

-

Barcelona

Barcelona 1nt Stay & 7nt Western Med

Barcelona

-

Marseille

-

Genoa

-

Naples

-

Messina

-

Malta (La Valletta)

-

Barcelona

MSC Bellissima | 8 nights

04 Apr 19

FREE centrally located handpicked hotel stay
Flights Included
Brand New Ship!
Free Premium Drinks Package worth £250pp

£

979

View Deal

Europe, Mediterranean

MSC Bellissima

MSC Cruises

Barcelona

-

Marseille

-

Genoa

-

Naples

-

Messina

-

Malta (La Valletta)

-

Barcelona

Barcelona 1nt Stay & 7nt Western Med

Barcelona

-

Marseille

-

Genoa

-

Naples

-

Messina

-

Malta (La Valletta)

-

Barcelona

MSC Bellissima | 8 nights

16 May 19

FREE centrally located handpicked hotel stay
Flights Included
Brand New Ship!
Free Premium Drinks Package worth £250pp

£

979

View Deal

Europe, Mediterranean

MSC Bellissima

MSC Cruises

Barcelona

-

Marseille

-

Genoa

-

Naples

-

Messina

-

Malta (La Valletta)

-

Barcelona

Barcelona 1nt Stay & 7nt Western Med

Barcelona

-

Marseille

-

Genoa

-

Naples

-

Messina

-

Malta (La Valletta)

-

Barcelona

MSC Bellissima | 8 nights

12 Sep 19

FREE centrally located handpicked hotel stay
Flights Included
Brand New Ship!
Free Premium Drinks Package worth £250pp

£

979

View Deal

Europe, Mediterranean

MSC Bellissima

MSC Cruises

Barcelona

-

Marseille

-

Genoa

-

Naples

-

Messina

-

Malta (La Valletta)

-

Barcelona

Venice, Kotor & Greek Islands

Venice

-

Kotor

-

Mykonos

-

Santorini Island

-

Corfu

-

Bari

-

Venice

MSC Opera | 8 nights

31 Aug 19

FREE centrally located handpicked hotel stay
Flights Included
Free Premium Drinks Package worth £250pp

£

979

View Deal

Europe, Mediterranean

MSC Opera

MSC Cruises

Venice

-

Kotor

-

Mykonos

-

Santorini Island

-

Corfu

-

Bari

-

Venice

1nt Venice Stay & 7nt Italy, Greece & Croatia

Venice

-

Brindisi

-

Katakolon

-

Mykonos

-

Athens (Piraeus)

-

Sarande

-

Dubrovnik

-

Venice

MSC Musica | 8 nights

28 Jun 19

FREE centrally located handpicked hotel stay
Flights Included
Free Premium Drinks Package worth £250pp

£

979

View Deal

Europe, Mediterranean

MSC Musica

MSC Cruises

Venice

-

Brindisi

-

Katakolon

-

Mykonos

-

Athens (Piraeus)

-

Sarande

-

Dubrovnik

-

Venice

Barcelona 1nt Stay & 7nt Western Med

Barcelona

-

Marseille

-

Genoa

-

Naples

-

Messina

-

Malta (La Valletta)

-

Barcelona

MSC Bellissima | 8 nights

09 May 19

FREE centrally located handpicked hotel stay
Flights Included
Brand New Ship!
Free Premium Drinks Package worth £250pp

£

979

View Deal

Europe, Mediterranean

MSC Bellissima

MSC Cruises

Barcelona

-

Marseille

-

Genoa

-

Naples

-

Messina

-

Malta (La Valletta)

-

Barcelona

8nt Italy, Greece, Albania & Croatia

Venice

-

Bari

-

Katakolon

-

Mykonos

-

Athens (Piraeus)

-

Sarande

-

Dubrovnik

-

Venice

MSC Orchestra | 8 nights

22 May 20

FREE centrally located handpicked hotel stay
Flights Included

£

979

View Deal

Europe

MSC Orchestra

MSC Cruises

Venice

-

Bari

-

Katakolon

-

Mykonos

-

Athens (Piraeus)

-

Sarande

-

Dubrovnik

-

Venice

2nts Barcelona & 7nts Western Med Bliss

MSC Bellissima | 9 nights

01 May 19

Pre-Cruise Flight Included

Pre-Cruise Hotel 2night(s) Included

Post-Cruise Flight Included

£

979

View Deal

Europe, Mediterranean

MSC Bellissima

MSC Cruises

Barcelona

-

Marseille

-

Genoa

-

Naples

-

Messina

-

Malta (La Valletta)

-

Barcelona

7nts Costa Brava & 7nts Med Adventure

MSC Bellissima | 14 nights

20 Sep 19

Pre-Cruise Flight Included

Pre-Cruise Hotel 7night(s) Included

£

979

View Deal

Europe, Mediterranean

MSC Bellissima

MSC Cruises

Barcelona

-

Marseille

-

Genoa

-

Naples

-

Messina

-

Malta (La Valletta)

-

Barcelona

2nts Barcelona & 7nts Western Med Bliss

MSC Bellissima | 9 nights

17 Apr 19

Pre-Cruise Flight Included

Pre-Cruise Hotel 2night(s) Included

Post-Cruise Flight Included

£

979

View Deal

Europe, Mediterranean

MSC Bellissima

MSC Cruises

Barcelona

-

Marseille

-

Genoa

-

Naples

-

Messina

-

Malta (La Valletta)

-

Barcelona

Miami 2nt Stay & 7nt Caribbean & Cuba

Miami

-

Isla de Roatan, Honduras

-

Costa Maya

-

Cozumel

-

Havana

-

Miami

MSC Armonia | 9 nights

02 Nov 19

FREE centrally located handpicked hotel stay
Flights Included
FREE Shore Excursions
Upgrade to Fantastica & get Free Drinks package worth £250

£

979

View Deal

Caribbean, Mexico

MSC Armonia

MSC Cruises

Miami

-

Isla de Roatan, Honduras

-

Costa Maya

-

Cozumel

-

Havana

-

Miami

2nt Miami Stay & 7nt Caribbean Cruise

Miami

-

San Juan, Puerto Rico

-

Roadtown

-

Philipsburg, St Maarten

-

Nassau

-

Miami

MSC Divina | 9 nights

29 Jan 20

FREE centrally located handpicked hotel stay
Flights Included
Upgrade to Fantastica & get Free Drinks package

£

979

View Deal

Caribbean, Central America

MSC Divina

MSC Cruises

Miami

-

San Juan, Puerto Rico

-

Roadtown

-

Philipsburg, St Maarten

-

Nassau

-

Miami

2nts Miami and Captivating Caribbean

Miami

-

Montego Bay

-

George Town, Cayman Islands

-

Cozumel

-

Havana

-

Miami

MSC Armonia | 9 nights

28 Sep 19

FREE centrally located handpicked hotel stay
Flights Included
FREE Shore Excursions
Free Premium Drinks Package worth £250pp

£

979

View Deal

Caribbean, North America

MSC Armonia

MSC Cruises

Miami

-

Montego Bay

-

George Town, Cayman Islands

-

Cozumel

-

Havana

-

Miami

2nts Venice & 7nts Mediterranean Wonders

MSC Lirica | 9 nights

31 Jul 19

Pre-Cruise Flight Included

Pre-Cruise Hotel 2night(s) Included

£

989

View Deal

Europe, Mediterranean

MSC Lirica

MSC Cruises

Venice

-

Bari

-

Santorini Island

-

Chania, Crete

-

Cephalonia

-

Split

-

Venice

2nts Barcelona & 7nts Western Med Bliss

MSC Bellissima | 9 nights

02 Oct 19

Pre-Cruise Flight Included

Pre-Cruise Hotel 2night(s) Included

Post-Cruise Flight Included

£

989

View Deal

Europe, Mediterranean

MSC Bellissima

MSC Cruises

Barcelona

-

Marseille

-

Genoa

-

Naples

-

Messina

-

Malta (La Valletta)

-

Barcelona

7nts Costa Brava & 7nts Med Adventure

MSC Bellissima | 14 nights

04 Oct 19

Pre-Cruise Flight Included

Pre-Cruise Hotel 7night(s) Included

£

989

View Deal

Europe, Mediterranean

MSC Bellissima

MSC Cruises

Barcelona

-

Marseille

-

Genoa

-

Naples

-

Messina

-

Malta (La Valletta)

-

Barcelona

1nt Rome Stay & 7nt Western Med

Rome (Civitavecchia)

-

Palermo

-

Cagliari

-

Palma De Mallorca

-

Valencia

-

Marseille

-

Genoa

-

Rome (Civitavecchia)

MSC Divina | 8 nights

22 Jun 19

FREE centrally located handpicked hotel stay
Flights Included
Free Premium Drinks Package worth £250pp

£

999

View Deal

Europe, Mediterranean

MSC Divina

MSC Cruises

Rome (Civitavecchia)

-

Palermo

-

Cagliari

-

Palma De Mallorca

-

Valencia

-

Marseille

-

Genoa

-

Rome (Civitavecchia)

1nt Rome Stay & 7nt Western Med

Rome (Civitavecchia)

-

Palermo

-

Cagliari

-

Palma De Mallorca

-

Valencia

-

Marseille

-

Genoa

-

Rome (Civitavecchia)

MSC Divina | 8 nights

29 Jun 19

FREE centrally located handpicked hotel stay
Flights Included
Free Premium Drinks Package worth £250pp

£

999

View Deal

Europe, Mediterranean

MSC Divina

MSC Cruises

Rome (Civitavecchia)

-

Palermo

-

Cagliari

-

Palma De Mallorca

-

Valencia

-

Marseille

-

Genoa

-

Rome (Civitavecchia)

Majorca Stay & Med Medley

Palma De Mallorca

-

Ibiza

-

Naples

-

Livorno

-

Genoa

-

Marseille

-

Palma De Mallorca

MSC Fantasia | 10 nights

22 Jul 19

FREE centrally located handpicked hotel stay
Flights Included

£

999

View Deal

Europe, Mediterranean

MSC Fantasia

MSC Cruises

Palma De Mallorca

-

Ibiza

-

Naples

-

Livorno

-

Genoa

-

Marseille

-

Palma De Mallorca

Majorca Stay & Med Medley

Palma De Mallorca

-

Ibiza

-

Naples

-

Livorno

-

Genoa

-

Marseille

-

Palma De Mallorca

MSC Fantasia | 10 nights

02 Sep 19

FREE centrally located handpicked hotel stay
Flights Included

£

999

View Deal

Europe, Mediterranean

MSC Fantasia

MSC Cruises

Palma De Mallorca

-

Ibiza

-

Naples

-

Livorno

-

Genoa

-

Marseille

-

Palma De Mallorca

Sorrento 2nts Stay & 7nts Med Cruise

Naples

-

Messina

-

Malta (La Valletta)

-

Barcelona

-

Marseille

-

Genoa

-

Naples

MSC Bellissima | 9 nights

16 Mar 19

FREE centrally located handpicked hotel stay
Flights Included
Free Premium Drinks Package worth £250pp
Upgrade to Fantastica & get Free Drinks package worth £250

£

999

View Deal

Europe, Mediterranean

MSC Bellissima

MSC Cruises

Naples

-

Messina

-

Malta (La Valletta)

-

Barcelona

-

Marseille

-

Genoa

-

Naples

Barcelona 1nt Stay & 7nt Western Med

Barcelona

-

Marseille

-

Genoa

-

Naples

-

Messina

-

Malta (La Valletta)

-

Barcelona

MSC Bellissima | 8 nights

30 May 19

FREE centrally located handpicked hotel stay
Flights Included
Brand New Ship!
Free Premium Drinks Package worth £250pp

£

999

View Deal

Europe, Mediterranean

MSC Bellissima

MSC Cruises

Barcelona

-

Marseille

-

Genoa

-

Naples

-

Messina

-

Malta (La Valletta)

-

Barcelona

Venice, Kotor & Greek Islands

Venice

-

Kotor

-

Mykonos

-

Santorini Island

-

Corfu

-

Bari

-

Venice

MSC Opera | 8 nights

13 Jul 19

FREE centrally located handpicked hotel stay
Flights Included
Free Premium Drinks Package worth £250pp

£

999

View Deal

Europe, Mediterranean

MSC Opera

MSC Cruises

Venice

-

Kotor

-

Mykonos

-

Santorini Island

-

Corfu

-

Bari

-

Venice

9nt Med Cruise & Stay with Monaco Grand Prix Tix

Genoa

-

Rome (Civitavecchia)

-

Palermo

-

Cagliari

-

Palma De Mallorca

-

Valencia

-

Marseille

-

Genoa

MSC Divina | 9 nights

18 May 19

Flights Included
Free Balcony Upgrade
Grand Prix Tickets

£

999

View Deal

Europe, Mediterranean

MSC Divina

MSC Cruises

Genoa

-

Rome (Civitavecchia)

-

Palermo

-

Cagliari

-

Palma De Mallorca

-

Valencia

-

Marseille

-

Genoa

1nt Venice Stay & 7nt Italy, Greece & Croatia

Venice

-

Brindisi

-

Katakolon

-

Mykonos

-

Athens (Piraeus)

-

Sarande

-

Dubrovnik

-

Venice

MSC Musica | 8 nights

12 Jul 19

FREE centrally located handpicked hotel stay
Flights Included
Free Premium Drinks Package worth £250pp

£

999

View Deal

Europe, Mediterranean

MSC Musica

MSC Cruises

Venice

-

Brindisi

-

Katakolon

-

Mykonos

-

Athens (Piraeus)

-

Sarande

-

Dubrovnik

-

Venice

Dubai Stay & 7nt Dubai & Emirates

Dubai

-

Abu Dhabi

-

Khor al Fakkan, UAE

-

Muscat

-

Khasab

-

Dubai

MSC Lirica | 8 nights

12 Mar 20

FREE centrally located handpicked hotel stay
Flights Included
F