Cutting across the Isthmus of Panama, The Panama Canal is a hugely popular destination with our customers. Opened in 1914, this 48-mile artificial canal connects the Atlantic Ocean with the Pacific Ocean. Often referred to as the world's 'greatest shortcut', the Panama Canal took more than 400 years to finish. But the benefit of this canal has been momentous - saving cruise liners an additional 8,000 miles from travelling around South America. It takes between 8-10 hours to cross through the Panama Canal - and you'll be greeted with wonderful sights, including lush forest and a variety of on-board activities.
There are a number of ways to visit this fascinating region including a Full Transit where you can sail from ocean to ocean, a partial transit that will take you through the Gatun Locks and into the breathing Gatun Lakes or a 2-day Canal Experience where you can visit Fuerte Amador, a man-made peninsula that extends out to the Pacific Ocean.
A Panama Canal cruise will provide a cruising experience like no other in the world. You'll see influences from across the globe, and rise up to 85 feet above sea level as you traverse the series of locks. Whether you're interested in a full transit, leaving from ports like Fort Lauderdale, or a partial transit across this beautiful canal, we offer a range of excellent Panama deals.
Weather in The Panama Canal
The World's Greatest Shortcut
Considered a modern wonder of the world, and recently listed as one of Condé Nast Traveler's "7 Cruise Wonders of the World" bucket-list destinations, The Panama Canal cuts across the Isthmus of Panama, allowing cruise liners to easily traverse between the Atlantic and the Pacific Oceans.
Opened more than 100 years ago, the 48-mile artificial canal is often referred to as "the world's greatest shortcut", providing cruise liners with an alternative to the 8,000-mile trip around the bottom tip of South America. With its series of locks rising to 85ft above sea level, lush rainforests and colonial towns, a Panama Canal Cruise is a travel experience like no other. The crossing, which takes between 8-10 hours, gives passengers the opportunity to see the highlights of the Panama Canal, as well as relax onboard their luxury cruise liner and make full use of the facilities.
WHY CRUISE NATION?
At Cruise Nation, we offer a wide range of low-cost deals on Panama Canal Cruises. Whether you want to tick the Full Transit crossing - sailing ocean to ocean - off your bucket list, experience a partial transit and take in the stunning Gatun Lakes and Gatun Locks, or you want to add the Panama Canal to a longer cruise in destinations like the Caribbean and North America, we have a cruise itinerary and price to make exploring Panama easier and cheaper than ever before. Thanks to our great value Smart Packages, Fly and Cruise deals and Cruise and Stay Packages, customers who have more time to spare can enjoy exciting overnight city stays, included airfare and amazing freebies on their Panama Canal Cruise. Read on to find out more about a cruise on the Panama Canal and see our great offers below:
HOW TO CHOOSE A PANAMA CANAL CRUISE
With so many great Panama Canal deals to choose from, you might be wondering how to pick the best one for your next cruise. Finding the right Panama Canal Cruise depends on a few factors; most importantly, whether you want to embark on a Trans-Canal Crossing or a Partial Crossing. We look at these in more detail below:
TRANS-CANAL CROSSING
Still considered as a cruise bucket-list item by many experienced cruisers, the Trans-Canal Crossing follows the Florida to West Coast route, sailing the entire canal. This is one of our customers favourite cruise destinations, offering the chance to spend a full day crossing from the Atlantic Ocean to the Pacific Ocean in one day. The most common departure ports for these Trans-Canal Cruises Ft Lauderdale and Miami, with the most popular West Coast destinations including LA, San Francisco and even as far as Seattle. Passengers can enjoy the ingenuity of the canal, as well as the tropical scenery and onboard facilities.
The Trans-Canal Crossing is generally seen as the best option for those who want the Full Panama Canal Experience and, with most taking in stops such as the Caribbean, Costa Rica and Colombia, there will still be plenty of time to explore destinations on either side of the canal.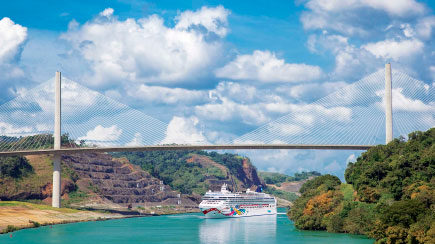 PARTIAL CROSSING
For those who have already ticked the full Trans-Canal Crossing off their bucket list, our great deals on partial canal cruises provide an excellent alternative, with the chance to explore some of the sights that are usually missed during the Trans-Canal day crossing. Partial Crossing cruises usually sail through one lock on the canal, before passengers disembark to explore Panama on a series of shore excursions. It's common to cross through the Gatun Locks and onto the beautiful Gatun Lakes.
HOW MANY DAYS?
The other important factor to consider when choosing your Panama Canal Cruise is how many days or weeks you have to spare. Many Panama Cruise itineraries follow a similar route and timeframe, taking 14 days to travel from Florida to the Pacific, commonly including stops in the Caribbean, Central America and Mexico. Shorter cruises include those which take just seven or nine days, and for those with plenty of time to spare, there are cruises lasting three weeks to a month that continue up the West Coast to the likes of Seattle, Vancouver and even Alaska.
PORTS OF CALL ON A PANAMA CANAL CRUISE
From active volcanos to lush rainforests, heritage-listed cities to traditional water-towns, a Panama Canal Cruise was made for explorers. Read on to find out more about some of the most common ports of call:
COLÓN, PANAMA
Positioned at the entrance to the Panama Canal, Colón is an old, colonial town with one major pull for visiting cruisers - the vast Colón Free Trade Zone. Partake in a little tax-free shopping, visit the Fort San Lorenzo military structure and take in the impressive view from The Canal Expansion Observation Center, which looks towards the Atlantic locks and Gatún Lake.
FUERTE AMADOR, PANAMA
Situated on the Pacific Ocean entrance of the Panama Canal, Fuerte Amador is a one-mile, man-made peninsula which extends out into the ocean. Offering panoramic views of the Panama City skyline, as well as an array of restaurants, shops and bars, the peninsula is also home the Smithsonian Institute of Tropical Research.
PUERTO VALLARTA, MEXICO
White sand beaches, palm-covered mountains and tropical jungles make Mexico's laid-back coastal destination a favourite for Panama Canal Cruise goers. Relax on the beach, explore the picturesque streets or sample some of the excellent cuisine at one of the boardwalk's many restaurants.
THE BEST TIME OF YEAR FOR A PANAMA CANAL CRUISE
To get the most from your Panama Canal Cruise, it is important to remember that the weather is best in the winter and the spring, with the official Panama Cruise season running from the end of September through until April. Many advise cruising after November to guarantee good weather, with the peak months being December and January.
WHICH CRUISE LINES SAIL THE PANAMA CANAL?
Many of the biggest names in the cruise industry offer a choice of Panama Canal sailings each year. Some have been specifically designed to sail the Panama Canal, including Princess Cruise's vessels, the Island Princess and the Coral Princess. There is also the possibility to find a great Panama Canal Cruise deal on a repositioning cruise between Alaska and the Caribbean. Here are a few of the Cruise Lines who sail the Panama Canal:
SAVE WITH CRUISE & STAY PANAMA CANAL DEALS
For those looking to find great value for money, and extend their holiday time, Cruise Nation offers a fantastic selection of Cruise and Stay Packages. These low-cost cruise deals include accommodation, either before or after your Panama Canal Cruise, in some of the region's most well-loved destinations. Choose from Cruise & Stay packages with hotel stays in Miami, San Francisco, Seattle, Vancouver and the Caribbean. With extra time to explore these exciting destinations at your own pace, you'll find plenty of opportunities to relax on the beach, join adventurous excursions or discover the hot spots of city locations.
WHY BOOK YOUR PANAMA CANAL CRUISE WITH CRUISE NATION?
As the official Number 1 Cruise Holiday Retailer in the UK, Cruise Nation is dedicated to bringing our customers the best range of deals on low-cost cruises. Our team of expert cruise advisors know the industry better than anyone and provide assistance at every stage of the booking process. When you book a Panama Canal Cruise with Cruise Nation, not only are you guaranteed to receive the biggest savings online, you can also enjoy incredible offers on Fly and Cruise holidays, low cost luxury cruises and cruise that come with amazing free extras, including accommodation and drinks packages.
Get in touch with one of our award-winning team today to find out how much you can save on your next cruise holiday.
From the blog...
We're just checking with our authors to see what the latest is...
Let our cruise experts keep you up to date about the latest cruise industry news, the most luxurious new ships, and the hottest deals.
Visit the blog