Consistently named as one of the top countries in the world to visit, Cruise Nation's Canada cruises offer travellers the chance to see the best of this spectacularly beautiful nation. With some of the finest National Parks on planet, incredible mountain ranges – including the unmissable Canadian Rockies – and a host of historically rich and multi-cultural cities to explore, visitors to the "Great White North" are guaranteed to leave with a feeling of awe at everything this amazing country has to offer.
At Cruise Nation, we offer a huge range of cruises to Canada, including USA cruises which take in some of Canada's most beautiful coastal regions, alongside vibrant American cities like Boston and Portland. For adventurous travellers looking to discover the best of Canada's epic scenery and the wild beauty of Alaska, our Alaska Cruises offer the best of both worlds – onboard some of the world's leading cruise ships. Our extensive online cruise deals also cover South American Cruises, which give cruise-goers with more time the opportunity to see Canada's most impressive sights, alongside the colourful countries of South America.
WHY CRUISE NATION?
At Cruise Nation, we offer one of the biggest and lowest-priced ranges of Canada cruises online, with Canada and USA cruises, Canada and Alaska cruises and Alaska Cruise and Stay Holidays. Our low cost Cruise and Stay holidays, allow you more time to explore exciting destinations around the world, whether it's a Bali Cruise and Stay holiday, a Canadian Cruise and Stay Package or a Cruise and Stay deal to the Caribbean. If you're hoping to book a cheap, last minute cruise to Canada, you've come to the right place. Our last minute, luxury Canada cruises give you the chance to make incredible savings on cruises from some of the biggest names in the cruise industry, including Cunard Cruises, Norwegian Cruise Line and Royal Caribbean Cruises.
WHY BOOK A CANADA CRUISE?
With the opportunity to see and experience Canada's most beautiful cities, incredible landscapes and famous landmarks, a cruise to Canada is an outdoor enthusiast's dream come true. And, with our range of Canada cruises which also take in the highlights of countries including America, Alaska and even the Caribbean, you'll be able to pick the perfect itinerary for your dream cruise. Maybe you want to spend a few days exploring Vancouver, before embarking on your Canada cruise? With our low cost cruises, you can fly to Vancouver, stay in the city with free accommodation before setting sail to see the rest of the country. If sight-seeing in New York is more your idea of the perfect break, choose one of our Cruise and Stay Canada cruises which includes a couple of nights in the Big Apple, allowing you to discover the city at your own pace before embarking on your luxury cruise liner to Canada.
No matter what kind of traveller you are, Cruise Nation has a Canada cruises to suit every style, and for families of all ages. With our huge range of cheap deals, you'll be able to book the Canada Cruise you've always hoped to experience for a lot less than you might imagine. With our award-winning advisors, including our expert Product Building Team who specialise in creating tailored Smart Packages, you'll find it easy to get the advice and support you need to make your Canada cruise dream a reality.
With Canada Cruise itineraries to keep city and nature lovers alike entertained, here are just a few of the port highlights you could discover on your Canada Cruise:
QUEBEC
Canada's "country within a country", French Quebec is a rare example of European and North American cultures mixing in near perfect. As one of North America's first township settlements, Quebec's pretty Old Town is a UNESCO World Heritage Site, where cobbled streets lead to magnificent examples of 17th and 18th century architecture. The city's coffee culture has a definitive European feel, with sidewalk cafes and charming squares, but venture just outside and you'll find yourself back in Canada's familiar epic wild landscapes and stunning mountain ranges.
HALIFAX
Nova Scotia's breezy capital city is often ranked amongst the top cities to live in the world, and consistently listed as one of the cities with the best quality of life. When you set sail on a Canada cruise which stops in Halifax, you'll see why the local "Haligonians" are so happy – with a beautiful waterfront, rich history and pretty green parks. Halifax also has an impressive food and drink scene, with a growing craft beer movement and tons of quirky places to grab a bite to eat and order a coffee. Entertainment is mostly focused on the city's popular live music joints, as well as the wonderfully old-world Victoria Theatre.
ST. JOHN
Rainbow coloured houses define America's oldest town, the historic St. John in Newfoundland. Closer in distance to Dublin, Ireland - from where many of its resident's ancestors came - than fellow Canadian city Toronto, St. John's blends a mixture of both British and Irish influences. St. John's pretty harbour and fascinating old town are ideal places to leisurely wander around, whilst Cabot Tower, built to commemorates John Cabot's discovery of Newfoundland, is the most popular tourist attraction. Although small, St. John still has plenty to offer the more active cruise-goers, with a range of outdoor activities. Above the city, the walking trail at Signal Hill is worth the effort to visit the site of the first ever, transatlantic wireless communication, whilst pretty Bowring Park has offers sports courts and a golf club.
NEW YORK
Many of our most popular Canada cruises depart from New York and, thanks to our great value Cruise and Stay deals, you can spend a few days exploring the city before you embark on your Canada Cruise. From the bright lights of Times Square to the iconic Statue of Liberty and the surprising tranquillity of Central Park, New York is a city full of contrasts, quirks and culture. Known as the "world capital" for almost every in the creative industry – from music to fashion and food to design – the "city that never sleeps" is packed with designer shops, first-class eateries and some of the best entertainment options in the world. With time to spare, check out some of New York's diverse surrounding neighbourhoods, including Downtown Brooklyn, Harlem, Williamsburg and Soho.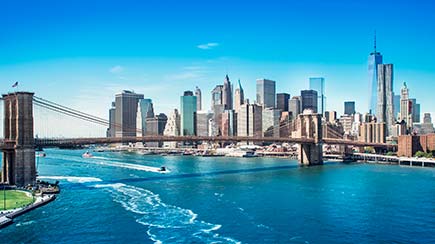 From the blog...
We're just checking with our authors to see what the latest is...
Let our cruise experts keep you up to date about the latest cruise industry news, the most luxurious new ships, and the hottest deals.
Visit the blog