Seize Your Chance to Save on a New Exploration!
Here is a special offer to inspire your next grand exploration. Save up to 15%* and receive $500 Onboard Credit* on a wide variety of voyages sailing from 7th January 2022 to 5th May 2023. That's of course on top of our inclusive amenities such as included gratuities, select beverages, exclusive cultural events and more.
Glide along the deep turquoise waters of Melissani Lake inside the rocky caves of Argostoli, Greece. Wander through a secluded art gallery in Tallinn, Estonia, tucked into cellars below a medieval monastery. Or enjoy a round of drinks at the Swedish bar built from ice and kept at a bracing -7 degrees Celsius, 365 days a year. From the grandeur of Northern Europe to the sun-drenched Mediterranean, your savings don't stop with this collection of 2022 & 2023 sailings. You can combine them with any other onboard discounts, credits, or Loyalty Quarterly Savings you've already acquired.
**Book by 31st March 2022**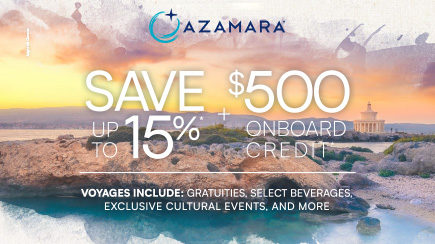 UNPARALLELED ITINERARIES. IMMERSIVE CULTURES. AUTHENTIC SERVICE.
Experience a truly special luxury cruise with Azamara and enjoy free drinks, free gratuities and free stays. Enjoy spectacular destinations such as Australia, Cape Town, Dubai, Iceland, the Mediterranean & the North Cape.
What's included with Azamara's All-Inclusive amenities...?
• AzAmazing Evenings® event*
• Select standard spirits, international beers and wines.
• Gratuities.
• Bottled water, soft drinks, specialty coffees and teas.
• Self-service laundry.
• Shuttle service to and from port communities, where available.
• Concierge services for personal guidance and reservations.
From the blog...
We're just checking with our authors to see what the latest is...
Let our cruise experts keep you up to date about the latest cruise industry news, the most luxurious new ships, and the hottest deals.
Visit the blog