Set sail for the destinations, come back for the crew.
Black Friday Sale
Up to 15% off & $1000 OBC
Explore Europe with Azamara® in 2023 and you'll not only stay in port longer, we'll also give you a USD$1000 credit to spend onboard!* Use it to enhance your voyage with speciality dining, relaxing spa experiences, upgraded beverage packages, or even immersive shore excursions that are curated to provide a truly authentic look at our destinations.
Plus, if you book soon, you can Save up to 15%* on select 2023 sailings! Explore the art of winemaking in Crete. Marvel at Moorish architecture in Cádiz. Gaze at Michelangelo's frescoes at the Sistine Chapel in Rome. Or sip limoncello in Sorrento as you wander cobbled paths scented with olives and citrus. With such valuable offers, where can we take you?
Azamara itineraries give you more time in port and include late-night stays and even overnights so you can dive deeper into your destination and showing you the world at an unhurried pace. Plus, you'll always enjoy inclusive amenities featuring included gratuities, exclusive cultural events, select beverages and more.
BOOK BY 2 DECEMBER 2022.*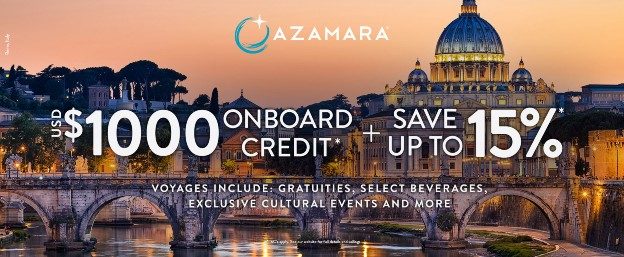 UNPARALLELED ITINERARIES. IMMERSIVE CULTURES. AUTHENTIC SERVICE.
Experience a truly special luxury cruise with Azamara and enjoy free drinks, free gratuities and free stays. Enjoy spectacular destinations such as Australia, Cape Town, Dubai, Iceland, the Mediterranean & the North Cape.
What's included with Azamara's All-Inclusive amenities...?
• AzAmazing Evenings® event*
• Select standard spirits, international beers and wines.
• Gratuities.
• Bottled water, soft drinks, specialty coffees and teas.
• Self-service laundry.
• Shuttle service to and from port communities, where available.
• Concierge services for personal guidance and reservations.
From the blog...
We're just checking with our authors to see what the latest is...
Let our cruise experts keep you up to date about the latest cruise industry news, the most luxurious new ships, and the hottest deals.
Visit the blog