Welcome to the comfort zone, a cabin where you'll feel even better than at home. Every ship offers a wide range of cabins, furnished with all the best comforts. If you're looking for something special we have private balconies overlooking the sea and suites where you can over indulge in a few extra luxuries.
Internal Cabins, ideal for those seeking the lowest price without comprising the quality of the cruise. Ocean View Cabins, with large windows to admire the view, or simply enjoy the first rays of morning sunshine. Ocean View Cabin with private balcony, with your own personal outside space for which to enjoy the views and spectacular sunsets.
Every cabin, on every ship in the fleet, is equipped with:
Adjustable air conditioning with thermostat
Flat screen interactive satellite TV
Hair dryer, Safety deposit box
Steward, always available
Linen required for your stay (sheets and towels) supplied and changed regularly
Bathrooms with soap bars and liquid soap for showering
Minibar and 24-hour Room Service (extra charges apply)
WiFi connection (extra charges apply)
Suites: If you want nothing but the best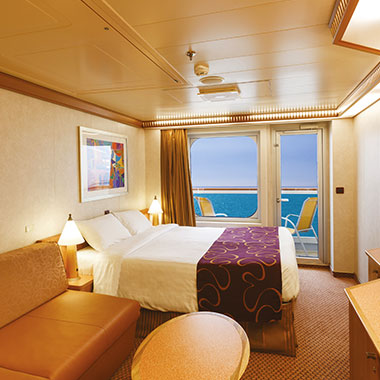 Classic Cabins are located on the first decks of the ship; they offer the most affordable prices for each cabin type, providing all the comforts of a standard cabin and the freedom to enjoy all the services and facilities available on the ship. Classic Cabin's are also eligible for Costa Club points.
Premium Cabins are privileged cabins in terms of size and position onboard. They provide extra benefits, including free continental breakfast delivered to your cabin on request, free 24hr room service in your cabin and the option to book dinner for a specific time in the restaurant. Premium Cabin are eligible to receive double Costa Club points.
Samsara Cabins and Suites are located inside the SPA area or nearby. In addition to all the benefits of a Premium cabin, anyone choosing a Samsara cabin can enjoy other truly exclusive privileges: unlimited access to the spa area, a dedicated restaurant and an exceptional welcome ritual including a series of wellness treatments and special care reserved for people who want to treat themselves to the best. Samsara Cabins and Suites are eligible to receive double Costa Club points. Suites: Welcoming, stylish and spacious, the Suites provide premium services for people seeking a high class holiday. In addition to all the benefits of a Premium cabin, exclusive services include, priority boarding, welcome with dedicated valet (excluding Mini Suites), 1 bottle of sparkling wine and other little delicacies to enjoy.
Suites: Welcoming, stylish and spacious, the Suites provide premium services for people seeking a high class holiday. In addition to all the benefits of a Premium cabin, exclusive services include, priority boarding, welcome with dedicated valet (excluding Mini Suites), 1 bottle of sparkling wine and other little delicacies to enjoy.
Dining
Food on Costa is inspired by the Mediterranean and the art of Italian cooking. You can eat formally or casually, in the open air or in a stylish restaurant – day or night! Dining choices are abound from poolside to our world-class specialty restaurants. Each day there is always something new to tantalize your tastebuds.
Costa offers a whole range of dining options, Each day you may choose to dine casual style in the buffet or for an a la carte experience the traditional style in the main restaurants are open for breakfast, lunch and dinner. On formal nights the main restaurants come alive in a mesmerising way to celebrate the event. If this is not enough, cosy bistros serve pizza, gelato, cappuccino and espresso and room service awaits your call 24 hours a day.
Here's a taste of the variety of dining experiences onboard every Costa ship:
"Trattoria Italiana" ~ Casual Dining in the buffet or by the pool deck.
"Tradizionale" ~ Traditional Dining in the main restaurant.
"Salute e Benessere" ~ Spa Menu for the health conscious.
"Dining di Lusso" ~ Deluxe Dining in one of our speciality restaurants.
"Piccolo Morso" ~ A Lite Bite from the buffet or room service 24 hours a day.
"Pizzeria" ~ Pizza in the bistro.
"Spuntino" ~ Treats to Sweets from the midnight buffet.
For that special evening aboard head to Costa's exclusive à la carte Club Restaurant, where you can indulge in an exceptional gastronomic experience, based on great taste and authenticity.
It's a magical celebration of culinary art where highly trained chefs use their expertise and creativity to prepare dishes using the finest ingredients to make this dinner one to remember. (Please note a cover charge applies to this restaurant)
Entertainment & Facilities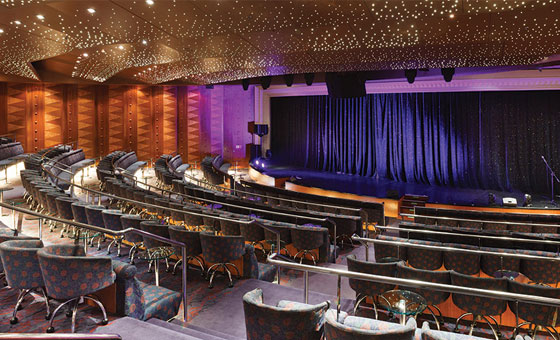 Calling all 30 something's, whilst some cruise lines market themselves towards the older guest Costa is proud to lead the way to make cruising appealing to the 30 something's traveller with dedicated entertainment going on throughout the ship that specifically targets the fun and lively crowd.
If your ideal holiday is visiting the world's best beaches to soak up the sun or to party the night away with entertainment that could rival most clubs (with no entry charge) then a Costa cruise is just for you! Our average age is much younger than traditional cruise lines and the 30 something crowd are flocking from all over the globe to meet new friends and have fun at sea.
Meeting the need of today's hip crowd Costa has recently introduced "La Bianca Notte" or a white party aboard its ships where the guest will experience a night aboard like no other on deck above the stars with live bands and DJ's taking centre stage.
Facilities
With all the choices of a fine resort. Days are filled with sports activities, cultural classes and lounging by the pool. During the evening, theme nights, bands, discos, dance extravaganzas and musical revues take centre stage. Kids love cruising too with activities and areas just for them...keeping the most demanding happy.
When you holiday with Costa, You'll discover 'Cruising Italian Style'. There is always something going on, in fact you can have the holiday of a lifetime without even setting foot ashore. Will you join with the shipboard activities like art auctions, horse racing, bridge games, Italian lessons and trivia contests? Or learn how to prepare perfect pesto in an Italian cooking class.
And at night, it's all bright lights and parties. There are cocktail parties indoors and deck parties outdoors. take in a Las Vegas style show in the Theatre or choose from piano bars, jazz, classical, Latin and ballroom dancing or hits in the disco or.
The night is long and full of surprises... One thing you must do is explore all the possibilities available to you when you're Cruising Italian Style with Costa Cruises.
Costa neoCollection
We all have hectic lifestyle's and the new Costa neoCollection is designed to offer you the ultimate me time on your holiday aboard boutique style ships, ideal for couples, honeymooners and for groups of friends, the new slow paced cruise offers services of the highest quality to allow each guest to experience the cruise at their own pace, the buzzwords being freedom and flexibility.
neoCollection cruises offer unique destinations of natural beauty and superb cultural attractions, places that are inaccessible to the big ships, including some that have been declared UNESCO World Heritage Sites.
More time to explore the neoCollection stays longer in each port, often overnight and the next day, allow you maximum time on shore and the chance to explore in depth each place visited, thanks to the new "neoExperience" excursions – tours tailor-made for small groups of not more than 25 people and planned down to the last detail to let you lap up the culture, scenery and flavours of each destination.
When it comes to dining aboard a neoCollection ship the choice of food & wine is simply staggering: Guests are able to enjoy local gastronomic traditions based on wholesome ingredients available in the various ports of call. In keeping with the leisurely pace of the neoCollection cruises, you can dine at any time without having to choose a particular sitting. The slow food approach continues ashore, where the longer calls give you chance to indulge in tasting home-grown products and dinners in typical local restaurants.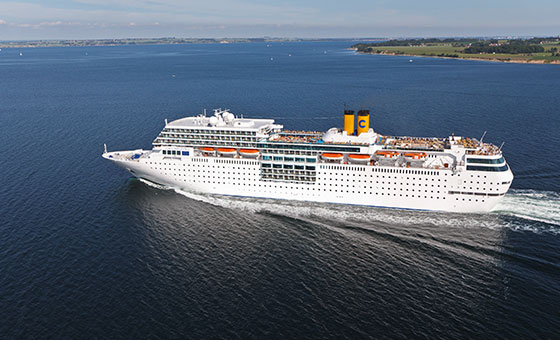 Costa Drinks Packages
Costa Cruises offers quite possibly the best value "All Inclusive Beverages Package" at sea, you don't have to be a heavy drinker for this package to pay for its self considering so much is included. Start your holiday the way you mean to without having to worry about budgeting for drinks whilst onboard.
Adult All Inclusive Package includes a selection of unlimited alcoholic and soft drinks by the glass to be enjoyed at any time of the day in the restaurant and buffet (lunch and dinner) or at the bars. Available from as little as £18.80 per day if pre-booked
Take a look at our example menu: Drinks Menu | Kids Drinks Menu
The new Costa neoCollection ships have an All Inclusive Beverages Packages of its own designed especially for this style of holiday! Adult All Inclusive neoCollection Package is only available on neoCollection ships. It includes a selection of unlimited alcoholic and soft drinks by the glass to be enjoyed at any time of the day in the restaurant and buffet (lunch and dinner) or at the bars. It also includes special aperitifs at sunset and fruit and chocolate smoothies. In the Restaurant it also includes regional wines by the glass that has been carefully paired with the menu by our expert sommeliers. Available from as little as £23 per day if pre-booked
Take a look at our example neoCollection menu: Drinks Menu | Kids Drinks Menu