Big Sale
Celebrate a new start with Costa Cruises' extraordinary discount of up to 40%!
Offer valid on all fares, all ships and all departures until May 31, 2021.

Discover new destinations on their newest ships!
Want more? Book Comfort Premium or Comfort Plus Rate and get BRINDIAMO beverage package included!
Changed your mind? Free cancellations up to 15 days before departure included.

HURRY!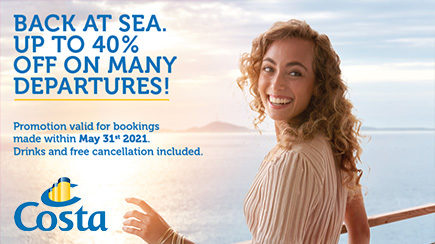 From the blog...
We're just checking with our authors to see what the latest is...
Let our cruise experts keep you up to date about the latest cruise industry news, the most luxurious new ships, and the hottest deals.
Visit the blog