GET A TASTE OF FREEDOM
We all know it. The whole country is gasping for the chance to soak up some rays on the holiday of a lifetime. But on the off chance that you need any more convincing after hearing about our luxury ships ft. the tallest waterslides at sea, out of this world cuisine, and even a bar staffed by robots, then we've got the perfect cherry on top, just for you. Right now we're giving away up to $150 onboard spend with all 2022 sailings. And that's not the only cherry on top either. We're also taking up to £240 off staterooms on bookings made within the next 5 days. If that's not a holiday worth waiting for we don't know what is!
- Up to $150 onboard spend** on all 2022 sailings booked before 30th June 2021
- Up to £240 off your stateroom* for 5 days only. Offer ends 14th June 2021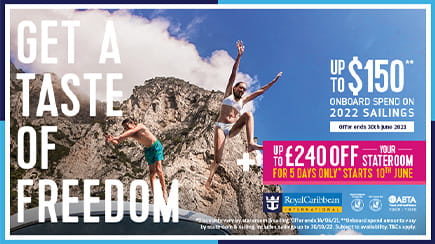 GET A TASTE OF FREEDOM
Up to $150* on board spend for sailings from Autumn 2021 right up until the end of 2022
Whether you're twirling your fork in Florence or indulging on lobster in Lisbon, a Royal Caribbean holiday really is a feast for the soul. And this year there's something even more delightful on the menu for you; for sailings from Autumn 2021 right up until the end of 2022 we're giving away up to $150 onboard spend. A Royal Caribbean holiday is a holiday worth waiting for, and now it tastes even more delicious.
- Up to $150 Onboard spend
- On all sailings from Autumn 2021 to the end of 2022
- Offer ends 30th June 2021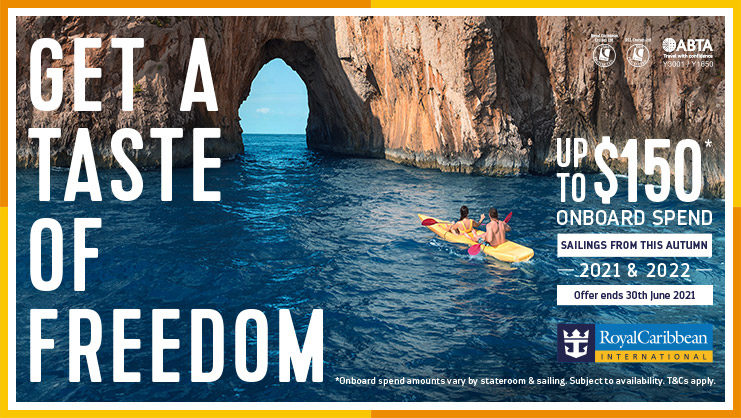 The new Wonder of the Seas
Unlock the best of Japan, one adventure-fueled day at a time
You've never seen Asia like this. Start your journey into the East on Royal Caribbean's boldest ship ever in Shanghai, where neon-lit skyscrapers share streets with centuries-old Buddhist temples. Hike the foothills of Mount Fuji during an extended visit in Shimizu and explore Tokyo's traditional side in the historic Asakusa district. In between shores, China's first Oasis Class ship brims with thrills on every deck — like the tallest slide at sea, Ultimate Abyss℠, unforgettable performances at the AquaTheater, and world-class dining to please every palate. Be among the first to chase adventure east onboard the new Wonder of the Seas, arriving in Shanghai in March 2022.
Latest Promotions
Perfect Day
Royal Caribbean have revolutionised their private island - Cococay and turned it into a resort style paradise full of thrills and chills!
Key attractions of Cococay include Thrill waterpark, the Oasis lagoon, the Zip line, a 450-feet helium balloon ride and Captain Jack's dining.
A HOLIDAY WORTH WAITING FOR
Now more than ever, you deserve a holiday. So, give yourself something spectacular to look forward to in 2022 with a big European break. Take your daydreams on an adventure as you imagine everything you'll explore. Sail from Southampton and bask at Norwegian Fjords onboard Anthem of the Seas, or begin in Barcelona and sail through the Med onboard Allure of the Seas. Stand by for glorious sunshine and set your sights on cultural delights. This is a holiday worth waiting for.
Allure of the Seas​
The most awarded ship in the world is stealing the spotlight again with all new ways to play and stay in the Mediterranean. With endless onboard adventures sailing the best shores of Europe, the boldest way to make a continent's worth of memories is on the newly Amplified Allure of the Seas®.
WHY CHOOSE Royal Caribbean
From the blog...
We're just checking with our authors to see what the latest is...
Let our cruise experts keep you up to date about the latest cruise industry news, the most luxurious new ships, and the hottest deals.
Visit the blog