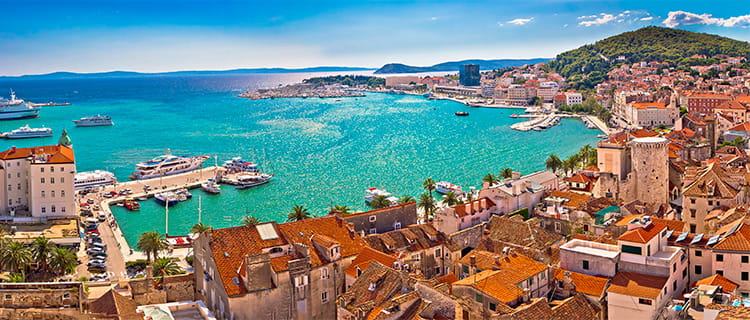 Split
Split was originally built around the Diocletian palace where locals sought refuge centuries ago. With pine-clad hills, secluded coves and beaches it's easy to see why Split has been a premier destination since the days of the Roman emperors.
Points of Interest
---
Diocletian's Palace and Cellar
An incredible walled palace that was built by the Roman Emperor of Diocletian, it is built from local white limestone and marble.
St. Domnius Cathedral
This cathedral's striking features include a colonnade of Corinthium columns, the Bell Tower that dates back to 1100 AD and breath-taking Romanesque sculptures.
People's Square and Old Town
A history buff's dream, explore the Diocletian Palace and its monumental courtyard. Take a stroll along the Riva a bustling waterfront promenade or shop till you drop on Marmontova Street.
Temple of Jupiter
Originally the temple faced the cathedral across the Peristyle. Take a look at the barrel-vaulted ceiling and a decorative frieze on the walls.
Krka National Park
The river Krka with seven waterfalls is a natural phenomenon flowing through a limestone landscape. It's home to more than 400 species of animal and was declared a national park in 1985.
Mestrovic Gallery
Considered Croatia's greatest sculptor Ivan Mestrovic, many of his wonderful sculptures can be seen in this museum and gallery.
Trogir - St Lawrence Cathedral
Trogir sits on top of a small island that's connected to the mainland by a small bridge. Visit the magnificent St Jacob's Cathedral and Kamerlengo Castle and fortress.
Sibenik - Cathedral of St. James
Founded in 1066, the year of the Norman Conquest, stunning Sibenik is considered an important Croatian heritage site.
var chartData = [[7,9,13,17,22,26,28,28,24,18,12,8]]; filter.location = "venice"; filter.baseURL = "https://www.cruisenation.com/2_venice_dump_";
You have reached the end of this page. Go back to the top?
You have reached the end of the footer. Go back to the top?